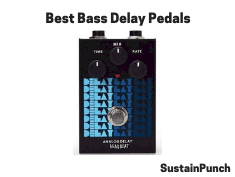 In this article, we're going to be talking about the top … Bass Delay Pedals. However, before we get into that, let's first talk about what exactly a bass delay pedal is, how it works and how it differs from, let's say a bass reverb pedal for instance.
What is a Bass Delay Pedal?
Simply put, a Bass Delay Pedal will take the input bass signal and repeat the processing of this signal, so that it is audibly repeated based on a number of different settings on the interface. This includes the length of the delay time, with some modern units providing up to 7 seconds of delay time, alongside feedback time and tempo requirements.
A bass delay unit differs from a bass reverb unit due to the time increment in which the irignal signal is repeated, if it's below 100ms it's perceived as a reverberation, as the ear cannot differentiate the two signals based on this small timeframe.
Traditionally, in the early days of roch and roll, tape delay machines were heavily used to help achieve this effect, with the likes of famous musicians such as Buddy Holly and Elvis using it in their recordings.
Towards the 80's, analog delay pedals were used, with the likes of the famous Boss DM-1 Delay pedal being launched in 1978 and the Boss DM-2 model being launched in 1981. The key difference between these units was the fact that Boss introduced Bucket Brigade Circuitry in the DM-2, as opposed to Charged-Couple technology. Little did they know that the Bucket Brigade Technology is still used even today, with companies like MXR swearing by it's superior warm sound quality, and example being in the MXR M169 Carbon Copy.
Nowadays, digital technology (DSP) has become more readily utilized for many bass guitar effects, and some companies such as Boss have been leading the way on this front, with some great examples of pedals which use this being, the Boss DD-3 up to the current DD-7 issue.
Analog Bass Delay Pedal or Digital Bass Delay Pedal? Which is better?
This is a tricky question, and an even more difficult answer, as there are benefits and drawbacks to each type of delay technology. However, to understand this question, we need to first understand the mechanisms behind both technologies:
Analog Bass Delay Pedal
They used Bucket Brigade Technology, which works by sending the inputted analog signal through a series of capacitors, a single step per clock cycle. As this process repeats, the delays get warmer sounding, but more broken up. Therefore, the limitation to analog delay is they simply cannot provide as long delay lengths as digital pedals, with their maximum capacity being around 300-500ms,
Advantages
Disadvantages
As delays repeat, they can start to sound more broken up
Maximum delay length of around 300-500ms
Digital Bass Delay Pedal
They use Digital Signal Processing (DSP) chips, which are able to produce versatile delay effects, long or short with added tonal effects. The inputted analog signal is converted to a digital signal using high-quality converters, offering a 24-bit resolution.
Advantages
Able to provide longer delay timing lengths
Disadvantages
Not as warm sounding as an Analog Pedal
Therefore, it's a question as to which advantages apply to the way in which I play as a bassist, and the sound that I want to achieve. Based on this, you'll be able to make a good decision on the technology that you want to use.
Before we get going into the top delay pedals for bass, it's important to realise that a delay pedal can muddy up your bass signal, therefore having a logical signal path is crucial, with compression/equalization and other polishing processers towards the end of the signal chain.
Well, let's get to it!
What are the top Bass Delay Pedals?
MXR ILD169 I Love Dust [Limited Edition] Carbon Copy Analog Delay Pedal – $169.99 – Buy on Amazon
Boss DD-3 Digital Delay Bundle – $139.99 – Buy on Amazon
Donner Multi Digital Delay Pedal Echo Square – $45.00 – Buy on Amazon
Caline Blue Ocean Digital Delay Pedal – $35.90 – Buy on Amazon
Delay LAY LAY Analog Delay Effect Pedal – $49.99 – Buy on Amazon
CNZ Audio Analog Delay Effects Pedal – $49.99 – Buy on Amazon
EX AD-6 Analog Mini Delay Pedal – $31.99 – Buy on Amazon
Empress Superdelay Pedal – $381.65 – Buy on Amazon
Conclusion – Which is the best delay pedal for Bass?
If you're familiar with the way in which we recommend products, our single aim is to help you (personally) find the ideal processor for you, no matter your budget or requirements… This is why we like to make multiple recommendations based on these different criteria.
For the bassist with a decent budget, who's looking for a well-built pedal from a reputable brand which won't let them down, providing around 600ms (Maximum) of delay… take your pick from the MXR M169 ($149.99 – Buy on Amazon), Boss DD-3 ($139.99 – Buy on Amazon) & Boss DD-7 ($159.90 – Buy on Amazon).
For the bassist with a decent budget, who's looking for a well-built pedal from a reputable brand which won't let them down, providing a larger limit of 1200ms(Maximum) of delay… take a look at the MXR M169's older brother, the MXR M292 ($179.00 – Buy on Amazon).
For the money-savvy bassist, looking for a mix of high quality, incredibly aesthetics and lovely tones (can you tell this is our favourite)… Take a look at the Delay Lay Lay Analog pedal ($49.99 – Buy on Amazon), it's AWESOME!
For the bassist with a lower budget, looking for a nice sounding pedal for jamming and the occasional gig… The Behringer Vintage Delay VD400 ($24.99 – Buy on Amazon) is most likely for you!