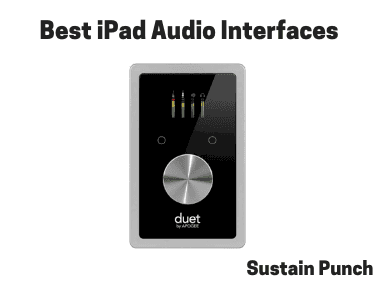 Welcome to Sustain Punch! In this article, we're going to be discussing the top 18 best audio interfaces for iPad in 2019.
We felt that we really had to create this article, reviewing all of these audio interfaces suitable for iPad, as there seems to be minimal information on the topic, in a condensed, easy to read format!
We realize that everyone reading this will (more than likely) have or own an iPad, hence the reason you are looking for a compatible audio interface; However, not everyone has the same budget, nor the same input/output requirements… So we've structured the article in a very logical format, segmenting on the main criteria, which is the number of inputs available, and then sub-criteria which is the price.
All of this information is nicely condensed and summed up in the table directly below, but for you guys who want all of the information and videos to watch the audio interface in action, keep reading!
So let's get to it, what are the 18 best audio interfaces for iPad in 2019?
Top Audio Interfaces for iPad
| Product | Input | Price | Shop | Recommendation |
| --- | --- | --- | --- | --- |
| Tascam iXZ Audio Interface | 1 | $ | Buy on Amazon | |
| IK Multimedia 1 iRig HD2 | 1 | $ | Buy on Amazon | |
| Shure MVi (iOS) Audio Interface | 1 | $ | Buy on Amazon | |
| IK Multimedia iRig Pro I/O | 1 | $$ | Buy on Amazon | |
| Apogee Jam 96k Premium-Grade Audio Interface | 1 | $$$ | Buy on Amazon | |
| Steinberg UR22MKII 2-Channel USB Interface | 2 | $ | Buy on Amazon | |
| Presonus Audio Interface (Audiobox iTwo) | 2 | $$ | Buy on Amazon | |
| Tascam iXR USB Audio Recording Interface | 2 | $$ | Buy on Amazon | |
| IK Multimedia iRig Pro Duo 2 | 2 | $$ | Buy on Amazon | #1 Recommendation for portability, affordability and quality |
| iConnectAUDIO2+ Audio Interface | 2 | $$ | Buy on Amazon | |
| Apogee One - iOS & iPad Audio Interface | 2 | $$$ | Buy on Amazon | |
| Apogee Duet - iOS & iPad Audio Interface | 2 | $$$$ | Buy on Amazon | |
| Yamaha AG03 3-Channel Audio Interface/Mixer  | 3 | $$ | Buy on Amazon | |
| iConnectAUDIO4+ Audio Interface | 4 | $$$ | Buy on Amazon | #2 Recommendation - Great value for money considering inputs vs cost |
| Steinberg UR-RT2 Audio Interface | 4 | $$$ | Buy on Amazon | |
| RME Babyface Pro Audio Interface | 4 | $$$$ | Buy on Amazon | #3 Recommendation - Ultra-High Quality, Portable and Ability for Standalone operation |
| Apogee Quartet USB Audio Interface | 4 | $$$$$ | Buy on Amazon | |
| Steinberg UR-RT4 Audio Interface | 6 | $$$$ | Buy on Amazon | |
iPad Audio Interface with 1 input
iPad Audio Interface with 2 inputs
iPad Audio Interface with 3 inputs
iPad Audio Interface with 4 inputs
iPad Audio Interface with 6 inputs
Conclusion
We've provided our three favourite iPad Audio Interfaces below, all of which have been chosen for different reasons, including their affordability, functionality and portability: