Dimensions
2.37″ x 1″ x 1.75″ inches
As the name suggests, clip-on bass tuners are a great, portable way to quickly tune your bass guitar no matter where you are.  If you don't care about portability and are looking for the highest accuracy for bass guitar tuning, you would likely want to go with a bass tuner pedal. However, if you want to be able to tune your bass guitar quickly, without having to plug in your bass, whether you are at home, at a gig, or on the go, then a clip-on tuner is the way to go.
A tuner is one of the most essential accessories that you will buy for your bass guitar or electric guitar because, quite simply, if you are not in tune, you will not sound good.
The top clip-on bass tuners are those with the highest accuracy as well as a sharp, clear displays, and strong grip that keeps the tuner in place.  
What Do Clip-On Bass Tuners Do?
A clip-on tuner is designed to be a simple tool to help you tune your bass guitar correctly, allowing you to get the proper tuning for each string of your instrument without having to plug in the instrument. A clip-on tuner gives you the opportunity for fast tuning of each string of your bass guitar on the fly.
If you're a newbie and you just can't seem to tune your bass properly, then fret no more (pun intended). Bass is a relatively easy instrument to tune. The pitch of a bass note can be identified by the length of the string. A bass tuner helps make it easier than ever to get the right notes from your bass guitar.
Growth of Guitar Tuners
Over the last decade, the popularity of guitar tuners has grown, which has resulted in more tuning products being available than ever before. In fact, a tuner is likely the first accessory (other than maybe a gig bag or case) that a bassist would get. Staying in tune is essential to playing, whether it's during practice, during a lesson, or during a show.
The world of guitar tuners can be confusing to newcomers, so we're here to help you find the best bass tuner for your needs, which range from basic clip-on tuners for bass players to fancy multi-function tuners for guitarists. Our guide will help you find the right tuner for whatever your requirements may be.
Playing a bass guitar may be simple. You just plug it in and you're ready to go. But getting it to sound good is another thing altogether. Just like with guitars, most bass players discover they need a tuner to know when they're in tune. Fortunately, there are lots of great bass tuners out there.
Let's check them out.
---
Top 10 Clip On Bass Tuners
1. Snark Super Tight ST-2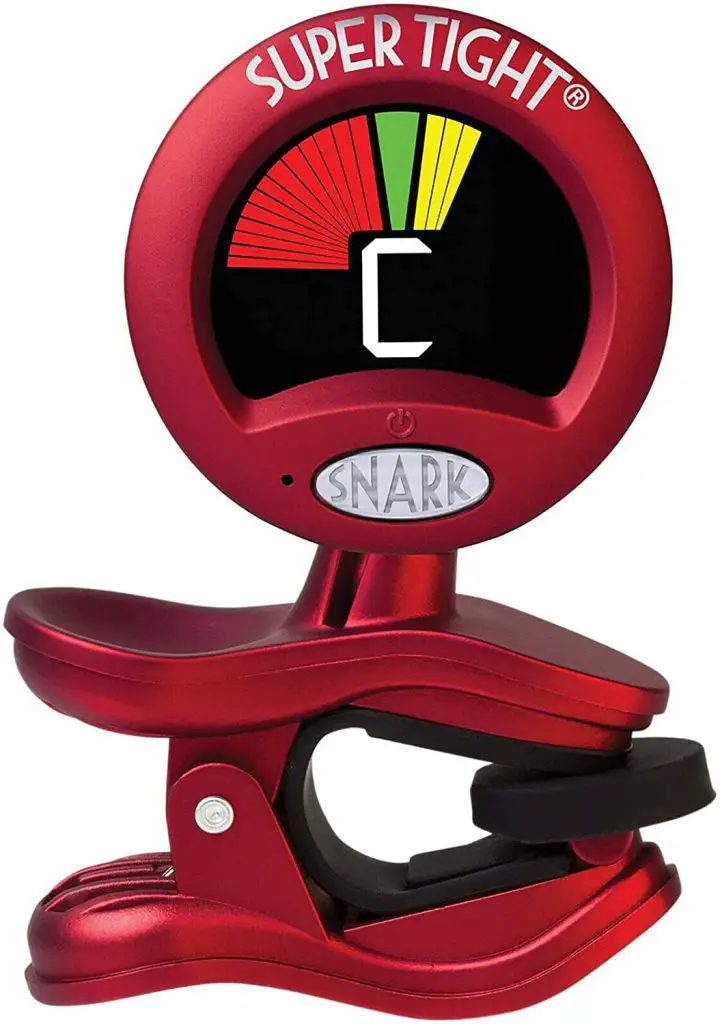 FEATURES
Fully Chromatic Tuner for Bass and Guitar
High sensitivity vibration sensor and internal mic
Built-in microphone
Extended frequency range for all instruments
New brighter display and 360 swivel head allow tuning at all angles.
One of the cheapest bass tuners on our list – great for bassists on a budget
Pitch Calibration (415Hz-466 Hz)
Stay-put clip
Tap tempo metronome
Flat tuning/Transpose feature & rotate 360°
TECHNICAL SPECIFICATIONS
Type: Chromatic
Format: Clip-On
Display Type: High Definition 360 degree LCD display
Reference Pitch: (415Hz-466 Hz)
Tuning Mode: Flat/Transpose
Manufacturer Part Number: ST-2
Summary
Snark Tuners are a trusted brand and have a reputation for reliable, long-lasting tuning. The ST-2 is a clip-on tuner that connects to your guitar and does an excellent job of maintaining accurate tuning. It is also a favorite among bass players. It is incredibly simple to use and the sheer convenience of having it on your belt is one of the reasons it is so popular. If you're looking for a tuner that works well for all your musical needs, the Snark ST-fast is your best choice.
---
2. Peterson StroboClip HD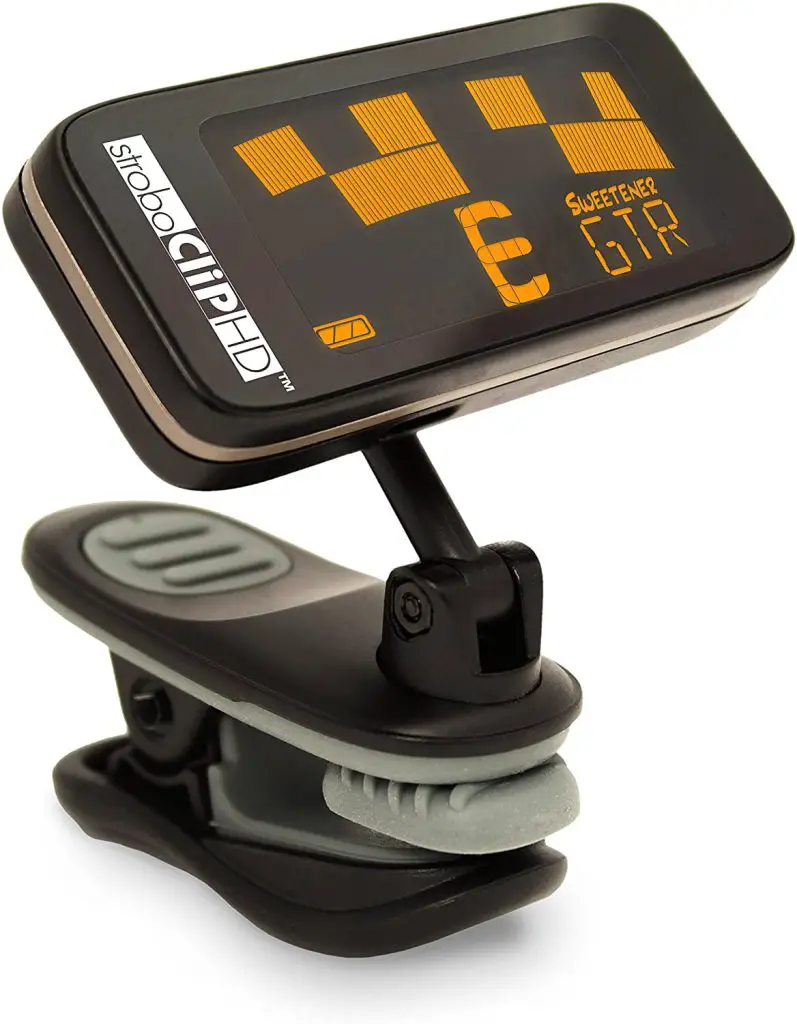 Features
Supreme accuracy: True strobe 1 thousandth of a semitone (0.1 cent)
Small clip-on format with soft rubber jaws — convenient and non-marring
Comes with over 50 Sweetened Tunings for optimized offsets that enhance tonal richness.
Tour-tough chassis protect the StroboClip from damage for worry-free performance
HD high-visibility backlit LCD display is easy to read regardless of light levels
Wider viewing angle – visible in direct sunlight
Firmware updatable
Creates an octave under the low B on bass
Adjustable calibration from 390 Hz up to 490 Hz
Drop Tuning and Capo Settings
TECHNICAL SPECIFICATIONS
Type: Chromatic
Format: Clip-On
Display Type: Strobe, HD backlit LCD display
Reference Pitch: Concert A = 390 Hz-490 Hz
Tuning Range: C0-B6(16-1975Hz)
Accuracy: 0.1Cent
Tuning Mode: 50+ Tuning Modes
Manufacturer Part Number: 403868
Summary
In this day and age, it's hard for anyone to find a tuner that is reliable, accurate, and durable. The Peterson StroboClip HD Tuner is breaking all the rules. It's a tuner that you can take anywhere, and use it without problems for hours on end (when you're not changing the strings, that is). As the name implies, this tuner uses a strobe backlight to illuminate the display, and it works extremely well. The Peterson StroboClip HD is a tuner that not only looks sharp, but sounds great as well.
---
3. Korg Sledgehammer Pro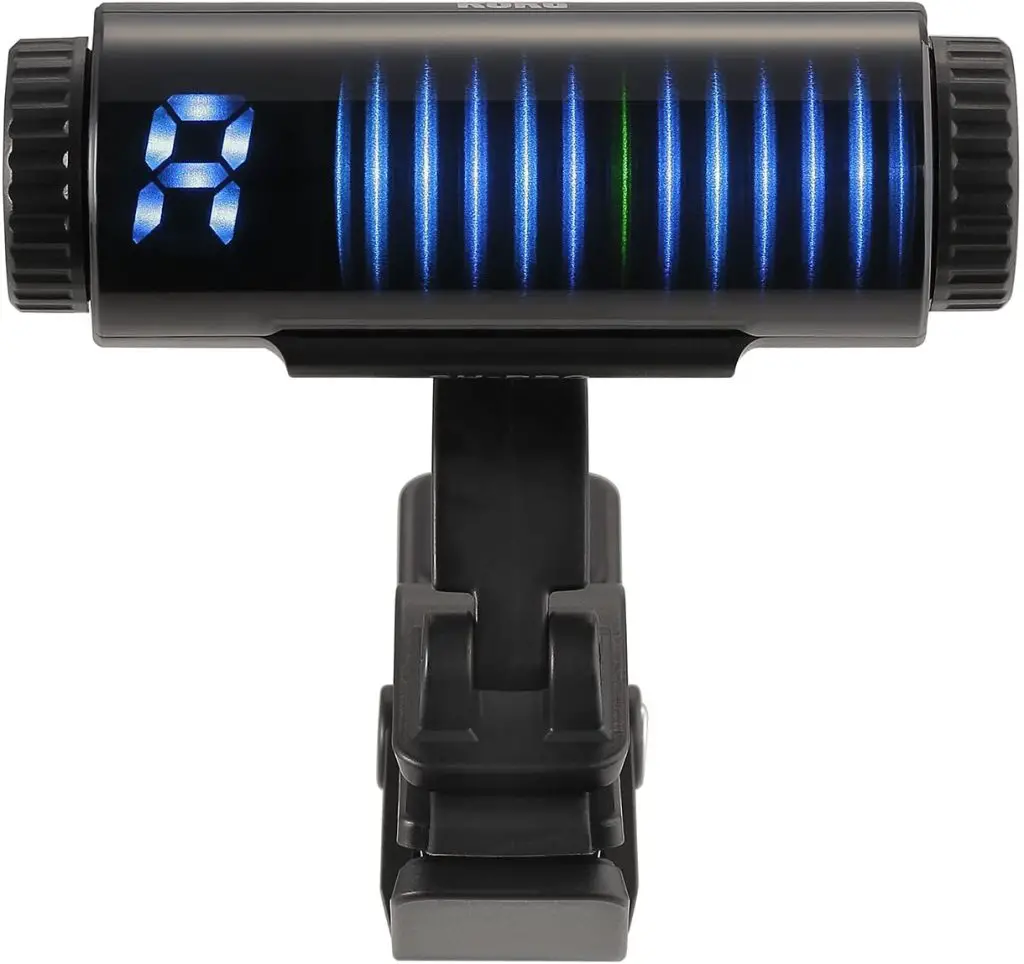 FEATURES
High-performance chromatic easy to use clips to headstock tuner for guitar and bass
High-contrast, 3-dimensional display
Extreme tuning accuracy of +/- 0.1 Cents
Reference Pitch: A4 = 436–445 Hz (1 Hz steps)
Tuning Range: A0 (27.50 Hz)–C8 (4186 Hz)
It includes calibration, auto power-off, and memory backup functions
Three Meter-Display Modes
3D Tubular LED Visual Meter
Calibrate to Different Reference Pitches
TECHNICAL SPECIFICATIONS
Type: Chromatic
Format: Clip-On
Display Type: LED, strobe, Half-Strobe
Reference Pitch: A4= 436-445Hz
Tuning Range: A0-C8 (27.5-4186 Hz)
Accuracy: ±0.1 cent
Manufacturer Part Number: SHPRO
Summary
When it comes to tuning your guitar or bass, you want the easiest and most accurate tuner around, and that is the Korg Sledgehammer Pro headstock tuner. All you have to do is tune up your instrument, then pick up the Sledgehammer Pro and the 3-dimensional display will show you your pitch and you can tune your guitar to any note or chord, or just any tuning you want! The display has a high visibility display so you can see it in the daylight, and the shuttle switch on the body makes it easy to tune one-handed, even when you're playing.
---
4. D'Addario Micro Headstock Tuner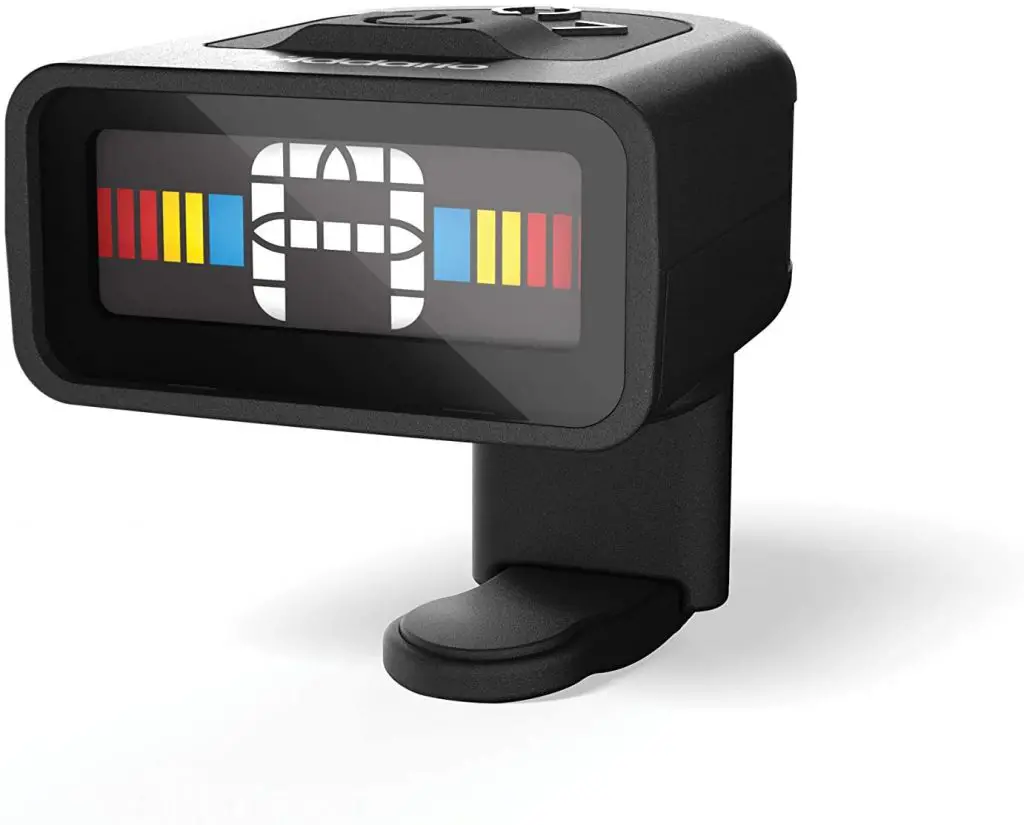 FEATURES
Low-profile design lets you tune inconspicuously
Super-bright, backlit LCD display is easy to see in dim or bright environments
Multicolor reversible screen fits on top or back of headstock
Suitable for instruments with nitro lacquer and headstocks of guitars and basses.
Amazing accuracy and note recognition
Wide calibration Range 410 to 480 Hz
Comes with CR2032 3-volt battery
Very sensitive piezo pickup
Bright display
TECHNICAL SPECIFICATIONS
Type: Chromatic
Format: Clip-On
Display Type: Multi color LCD
Reference Pitch: 410-480Hz calibration range
Batteries: 410-480Hz Calibration Range
Manufacturer Part Number: PW-CT-12
Summary
The new Micro Headstock Tuner is on of the smallest headstock tuners on the market, yet still packs all of the features of full size D'Addario tuners. The new reversible screen is a great selling point for guitarists looking for a tuner that looks cool and works great. The display lights up with a multicolor array of lights that gives the user a more visually appealing way to tune. The new tuner features a super-sensitive piezo sensor that gives the user more accuracy and tuning versatility.
---
5. Fender Bullet Chromatic Tuner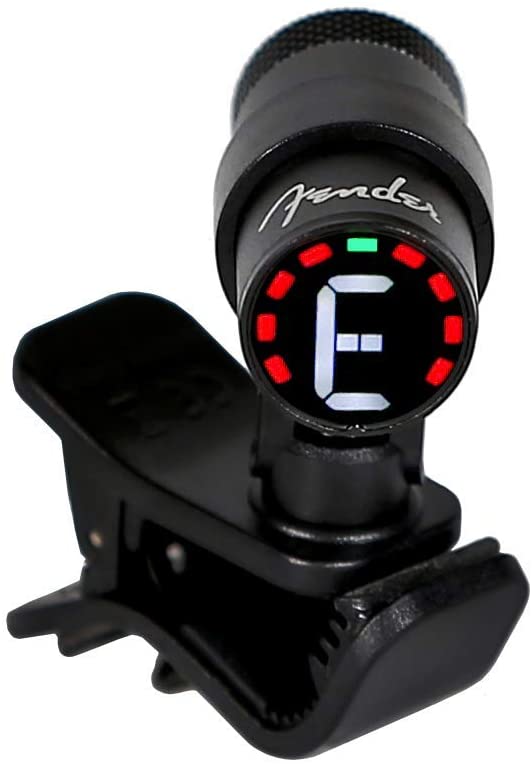 FEATURES
Aircraft grade aluminium, compact chromatic tuner
Power supply: 1.5V (LR44) alkaline batteries (2)(included)
360° Rotatable
Tuning range: A (27.5Hz)–C (4186.0Hz)
Accuracy: /- 1 cent
A4 range: 440Hz
Waterproof
No power consumption in standby mode
Automatic shutdown
Strong clamp
TECHNICAL SPECIFICATIONS
Type: Chromatic
Format: Clip-On
Display Type: LED
Material: Aluminum
Weight: 13.5kg
Power Source: 1.5V alkaline batteries(LR44) (2) Included.
Summary
For musicians who want to tune their instruments in real time, the Bullet Tuner is the perfect tool. The device features a powerful engine with a noise-proof vibration sensor that allows for precise chromatic tuning for electric, acoustic and bass guitar players alike. The stylish, bullet-shaped tuner is easy to carry and hide in the palm of your hand, yet provides high visibility during rehearsals and performances. A bright, color LED screen shows easy-to-see readings in any environment.
---
6. TC Electronic PolyTune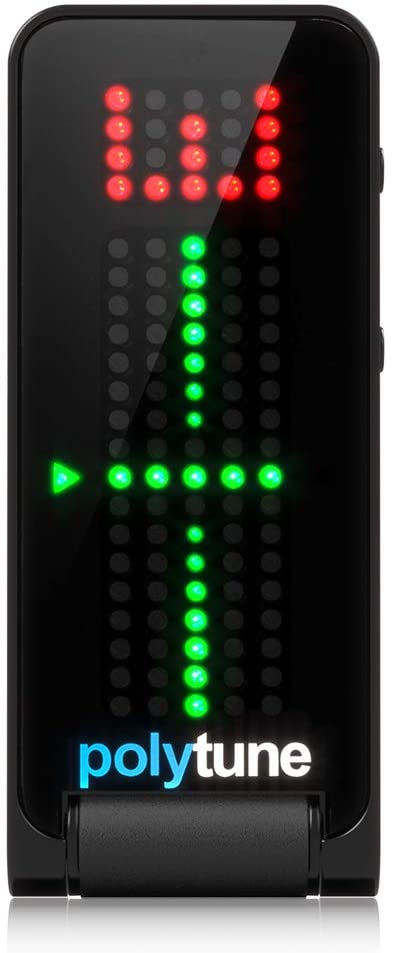 Features
Chromatic (+/-0.5 cent) and extra accurate strobe tuner (+/-0.02 cent) modes
Big, ultra bright adaptive display makes tuning easy with any orientation.
Tune all of your strings at once, quickly and accurately
Elegant and bright 105 LEDs display lets you see the tuning for each string anywhere.
Durable design with high quality stainless steel clip
Save and recall default tuning and a reference pitch
TC Electronic's brightest PolyTune model to date
Perfect for full sunlight and dark stages alike
Display automatically adapts to stay right-side up
State of the art clip-on tuner
Technical Specifications
Type: Chromatic strobe tuner, clip-on
Tuning Range: A0 (27.5 Hz) to C8 (4186 Hz)
Tuning Accuracy: Chromatic tuning mode: ±0.5 cent
Strobe tuning mode: ±0.02 cent
Reference Pitch: A4=435 to 445 Hz, Adjustable in 1 Hz steps
Summary
TC Electronic's PolyTune Clip is a clip-style tuner that is designed to replace your traditional tuner and clip-style tuner. The PolyTune Clip is a clip-style tuner that uses a bright, multi-colored LED display with non-slip rubber for enhanced grip and is designed to clip onto any guitar or bass and is designed to work with most types of bass guitars and electric and acoustic guitars.
---
7. Roadie Bass Tuner and Winder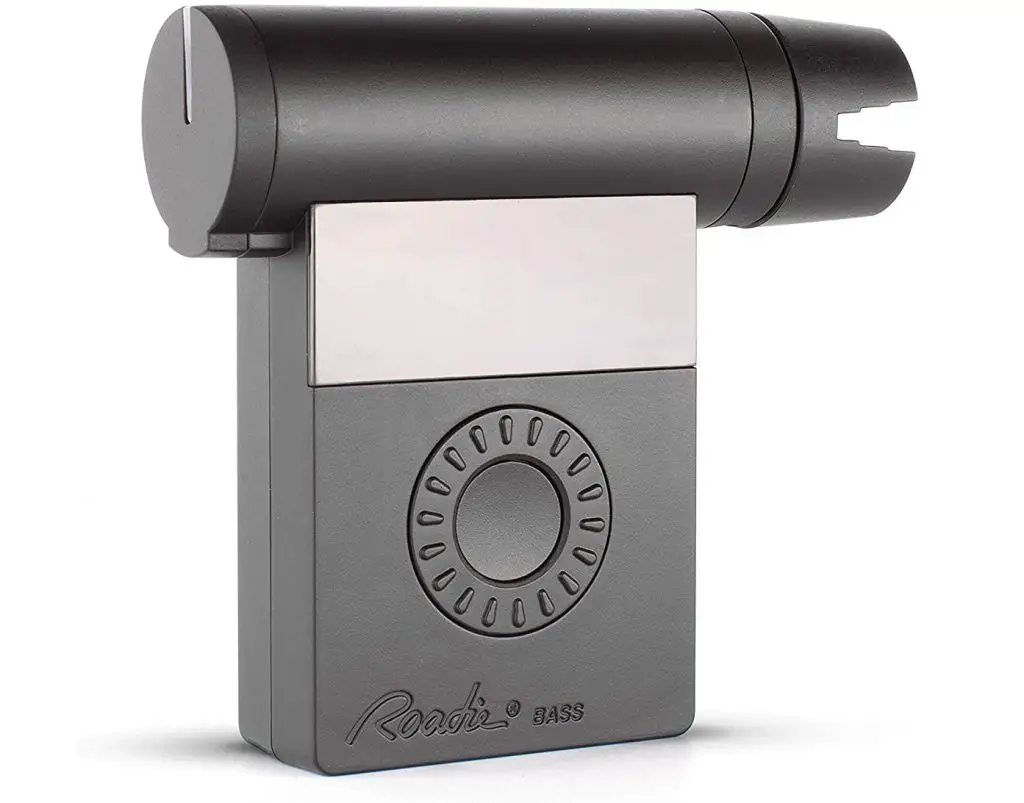 Features
Its white and black display screen is located on the side, not visible for left-handed players or while tuning pegs on the bottom of the neck
Scroll wheel and button navigation system
Comes with 40+ built-in tunings
Limited space for custom tuning
Winds/unwinds strings at 40 RPM
No metronome function
"Tune up" setting available
USB-C rechargeable battery
Bluetooth connectivity
Change A4 reference pitch in 1Hz increments
Tune with a capo on
Technical Specifications
Type: Chromatic
Display Type: LED
Tunes string up to 140 gauge
Frequency Direction: 27.5Hz and 880Hz
Rotation Speed: Up to 40RPM
Battery: 1 Lithium Polymer batteries required.
Manufacturer Part Number: RD250
Summary
Roadie Bass is the new automatic string tuner that combines headstock detection, vibration detection, a simple interface and integrated calibration right into a compact bass-shaped design. It can also wind strings at up to 40 RPM to help you change and tune strings quickly. Roadie Bass is one of the small number of tuners that are made specifically for the bass guitar. Roadie Bass can effectively tune bass guitars in a mere 20 seconds to save you time and ensure your instrument stays in tune. The Roadie Bass tuner is small in size, lightweight, and convenient to carry.
---
8. D'Addario Eclipse Cello/Bass Tuner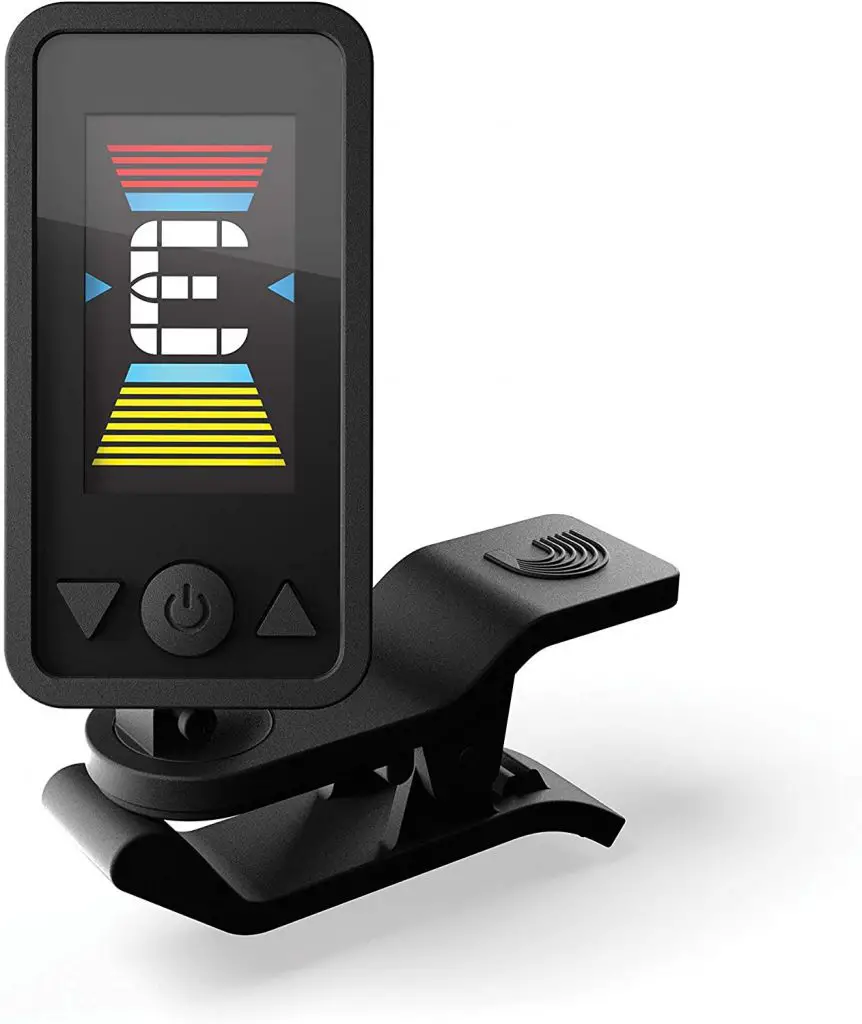 Features
Clip-on headstock tuner for a great deal
Vertical full color display is easy to read
Extremely accurate quick tuning
Limitless viewing angles
Dual-swivel mount makes positioning easy
Low-profile design fits compactly behind your bass guitar's headstock
Full-color display
Technical Specifications
Type: Chromatic
Instrument: Bass, Cello
Format: Clip-on
Display Type: Full color
Reference Pitch: 435-450Hz calibration range
Summary
The Eclipse clip-on tuner delivers high precision and accuracy and is a great solution at a great price. Unlike many other tuners, this tuner is designed to work with lower-stringed instruments. It has a multi-swivel action, providing you with a great viewing angle no matter what your viewpoint it. With the clip-on design, it connects firmly to your headstock, giving you fast, dependable tuning anywhere.
---
9. KLIQ UberTuner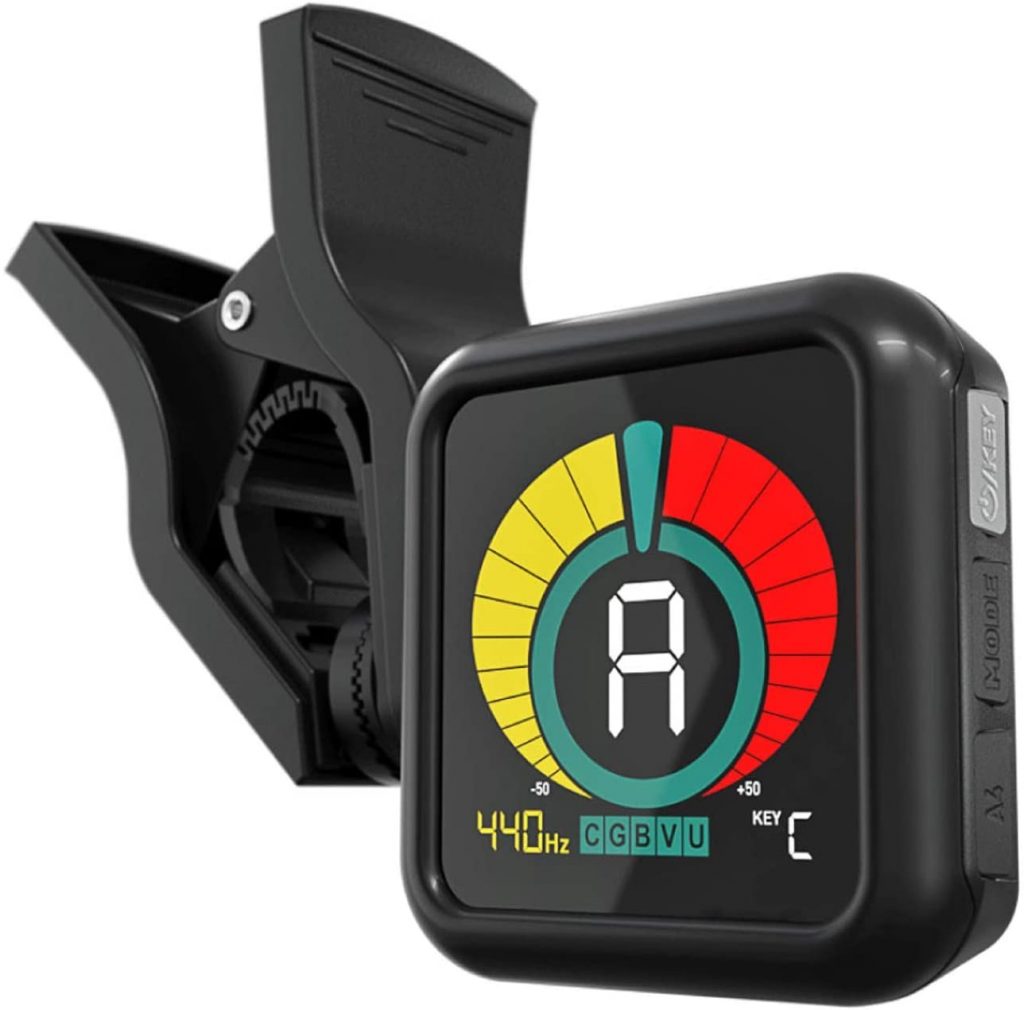 Features
Full color Excellent Large LCD display
Easy to use
Fully adjustable angles
Good battery life
Technical Specifications
Tuning Accuracy: ±1 cent
Tuning Range: A0 (27.50 Hz) – C8 (4,186 Hz)
Reference Pitch: 430-450 Hz (in 1 Hz steps)
Tuning Modes: Guitar, bass, violin, ukulele and chromatic
Transpose Range: C, F, B-flat, E-flat
Display: Full color LED backlit LCD display
Summary
The UberTuner by KLIQ is an all-around guitar tuner that has proven to be a huge hit with both beginners and more advanced players, offering easy tuning along with some nice add-on features like a metronome, chord generator and pitch pipe.
---
10. Martisan Clip On Tuner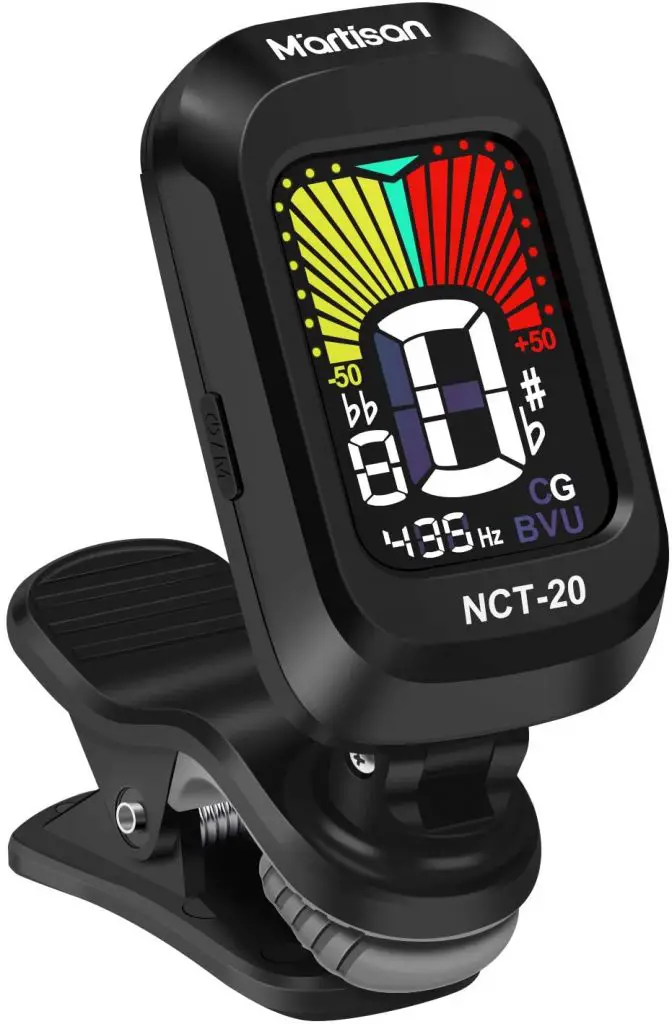 Features
Fully Chromatic helping to achieve the perfect tuning fast and easy
Large & rotational Full color LCD display.
Easy to Read from Any Angle
With Five Tuning Modes: C, G, B, V, U (chromatic, guitar, bass, violin, ukulele) to cover a wide range of instruments.
Perfect Tuning On Nearly Any Acoustic or Electric Stringed Instrument.
Technical Specifications
Type: Chromatic
Format: Clip-on
Display: Full color high resolution LCD display
Measurement Range: A4: 430-450 Hz
Battery: CR2032 lithium
Summary
Martisan Tuner is a chromatic instrument tuner that uses vibration technology. It will handle all string instruments including guitar, violin, banjo, ukulele and many more. Martisan Tuner is very lightweight and small and you can take it anywhere. The tuner has a CR2032 lithium battery included when you order this amazing little device. It has a very high precision with a sensitivity of 0.5 cent to 500Hz and 1 cent to 5000 Hz. It makes any stringed instrument in the whole world sound like a complete orchestra.
---
Conclusion
There are a wide variety of clip on bass tuners available in the market today, and having so many options is certainly a good thing for you aspiring bassists who are looking for a quick, easy, and portable way to tune your bass guitars.
Although we still recommend bass tuner pedals for the most accurate tuning, the portability and convenience of a clip on tuner are hard to match.
So which ones are our favorite? It's a tough call, as so many different ones have so many different strengths. With that being said, here are our picks based on budget:
Budget Clip On Tuner ($) – Snark Super Tight ST-2 Chromatic Tuner. With its incredibly low price point and a few thousand reviews with an average rating of 4.8 out of 5 on Amazon, the Snark ST-2 is our top choice for a budget clip on bass tuner.
Moderately Priced Clip On Tuner ($$) – Fender Bullet Chromatic Tuner. Fender's reputation for quality extends to its guitar accessories, as well. The Fender Bullet Chromatic Tuner has thousands of reviews with an average rating of 4.5 out of 5 on Amazon. And, although it's in our moderately priced category, it's still at quite an affordable price point for a tuner of this quality.
High Priced Clip On Tuner( $$$) – Peterson StroboClip HD Clip-On Tuner. The StroboClip HD has a lot of great features, including a high-definition, real-time tuning display, 1/10th cent (1/1000th of a semitone or fret) tuning accuracy, and a wide variety of preset tunings. With so many features to tinker with, the StroboClip is the way to go if you have a higher budget to begin with.