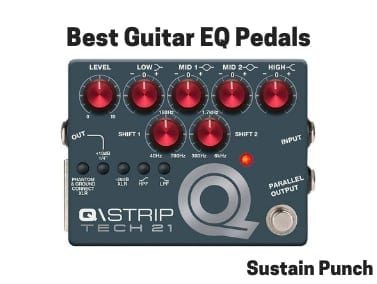 What is a Guitar EQ Pedal?
Guitar EQ Pedals are real-time processors that help adjust the amplitude (volume) of a guitar audio signal at specific frequencies. These specific frequencies are determined by the user, and depending on the settings will help either amplify or suppress a frequency spectrum. Guitar EQ pedals are more often used within a live performance environment, particularly useful for musicians who want to take control of their overall guitar sound, who may not have access to the venue's FOH system or have EQ functionality built-in to their amplifier.
EQ pedals for guitar are generally not used within a recording studio, since equalization will be taken care of by the studio desk and outbound rack-mountable EQ processors, which usually provide very high-quality EQ.
What Does a Guitar Equalizer Pedal Do?
As we've previously discussed, a guitar equalizer pedal will help accentuate or reduce the amplitude of specific frequencies that the user specifies on the interface. Guitar EQ Processors will usually provide the user with the ability to make frequency adjustments from around 50hz/100hz on the low end to 10,000hz (10Khz).
Although some might think that it's only important to have access to low-end frequency adjustment, it's also important to be able to reduce enharmonic frequencies that resonate above the core frequencies that are being played by the guitar, often causing harmonic distortion.
Guitar EQ Pedals are more commonly used alongside other guitar effects pedals, such as a guitar compressor pedal or a guitar tuner pedal. The question of where should a guitar eq processor be placed within the signal path? arises, and we think it should be placed towards the end, helping control the overall post-effect frequency output.
Power Supply
Also, please note that some of the effects pedals do not come with a power supply, so we recommend purchasing the following unit, which is compatible with almost every pedal requiring 9v:
So let's get to it, what are the best guitar EQ pedals of 2019?
Best Guitar EQ Pedals of 2019
MXR M109S 6-Band EQ Pedal – $$ – Moderately Priced – Skip to section
Boss GE-7 7-Band EQ Pedal – $$ – Moderately Price – Skip to section [Industry-Standard, Built to Last, Includes 5-Years Manufacturers Warranty]
MXR M108S Ten Band EQ Guitar Effects Pedal – $$$ – Mid-Range Priced – Skip to section [Ultra-Wide Frequency Spectrum – Versatile for Guitar & Bass]
One aspect that we prefer about the Behringer is that it has a battery-powered capability, as it features an easily accessible battery compartment that a 9v battery can be used in.
However, most guitarists would agree that they would prefer to use a 9v power-supply with their pedal board, so there's no risk in anything accidentally turning off!
As you can hear from the initial introduction of the video demonstration below, the CP-24 provides a real mid-range boost to the guitar's sound, driving those mid-frequencies in the mix and giving the overall tone a breath of new life.
If we hadn't already have known the unit's price and were just going off how it sounds, we would have thought that it was a lot more expensive.
The unit is noted as being solidly built, with no major issues (zero hum or buzz)… We've also seen that bassists are utilizing this unit and really like how it sounds too. For more information visit the Amazon ratings page, which we've linked to above, it has over 22 customer reviews, with an average rating of 4.3/5.
With this being said, how does the pedal sound?
As you can hear from the video demonstration, the unit does well in providing a clean boost for a specific frequency range within a mix. Now, we would have preferred for the video demonstration to directly compare the sound to when the unit is disengaged, but it's still a nice demonstration video.
Empress ParaEq Processor with Boost – 

$

$

$

$

 – Premium-Priced
All-analog EQ unit – Sounds Great, Premium-Priced
Conclusion – Which Guitar EQ Pedal is right for you?
If you're at all familiar with the review recommendations that we like to make, then you'll know that we do our very best to accommodate for each and every reader.
Therefore, we're going to make recommendations based on numerous factors and requirements that we think are important, so that you can be almost certain to find the best guitar equalizer pedal for you to purchase!
So without further ado, here is a summary of the best eq pedals for guitar.
MXR M109S 6-Band EQ Pedal – $$ – Moderately Priced
Boss GE-7 7-Band EQ Pedal – $$ – Moderately Price – [Industry-Standard, Built to Last, Includes 5-Years Manufacturers Warranty]
MXR M108S Ten Band EQ Guitar Effects Pedal – $$$ – Mid-Range Priced –  [Ultra-Wide Frequency Spectrum – Versatile for Guitar & Bass]