Are you looking for the best vocal effects pedals and vocal processors in 2018?
Well, let's get started!
What exactly are vocal effects pedals/processors?
Firstly, for people who are new to using vocal effects processors, let's talk about what exactly they are and how they are used. Vocal effects pedals are electronic devices used in both a live and studio environment to enhance a lead or backing vocal with an underlying vocal effect, this could be Reverb, Delay, Echo Flange, EQ, Low-Pass Filter, Pitch Correction/Autotune, etc.
These effects are often used by artists, live on stage, to emulate the studio-version of a particular song. Although vocal effects processors are used in a studio environment, to add an effect to an existing vocal take, they are more often used in a live performance environment.
Being a singer myself, I realise that other singers will have different vocal requirements for what they want in a vocal processor. So this article will focus on the best vocal processors that offer singers multiple features/effects in a single stompbox. So you can get the most usability for your buck!
These are called multi vocal effects pedals
Therefore, if you are looking for a pedal that only offers a specific feature, please take a look at the following articles featured below, otherwise enjoy! 😀
vocal echo processor
vocal compressor pedals
Vocal effects processors
Vocal effects processors are a great solution for singers looking to have one pedal on stage or in studio. A common mistake that singers make, who might not necessarily know much about vocal effects pedals, is that they don't spend enough money on one…
Remember, this single vocal effects unit will save you the job of having to purchase:
separate pedals,
a pedal-board,
an external power supply and
plenty of 1/4 inch jack leads to inter-link these processors
All of this equipment would cost hundreds and hundreds to purchase… So it's worth making a decent initial investment into a vocal multi-effects pedal, (this is only if you're looking at having multiple vocal effects in one unit). Also, each pedal has it's own unique means of operation, therefore having multiple pedals from different brands would require more effort on the singers part to operate, which isn't great when you're in a live environment, trying to give the audience a vocal performance of a lifetime.
However, we understand everyone has a budget, so we've given out the recommended solution at different price-points.
Best Vocal-effects processor/pedal below $300 for singers without a guitar – TC Helicon Voice Live Play – (4.4 / 5)
Available on Amazon – Check price here [Amazon Choice]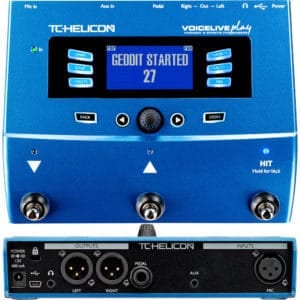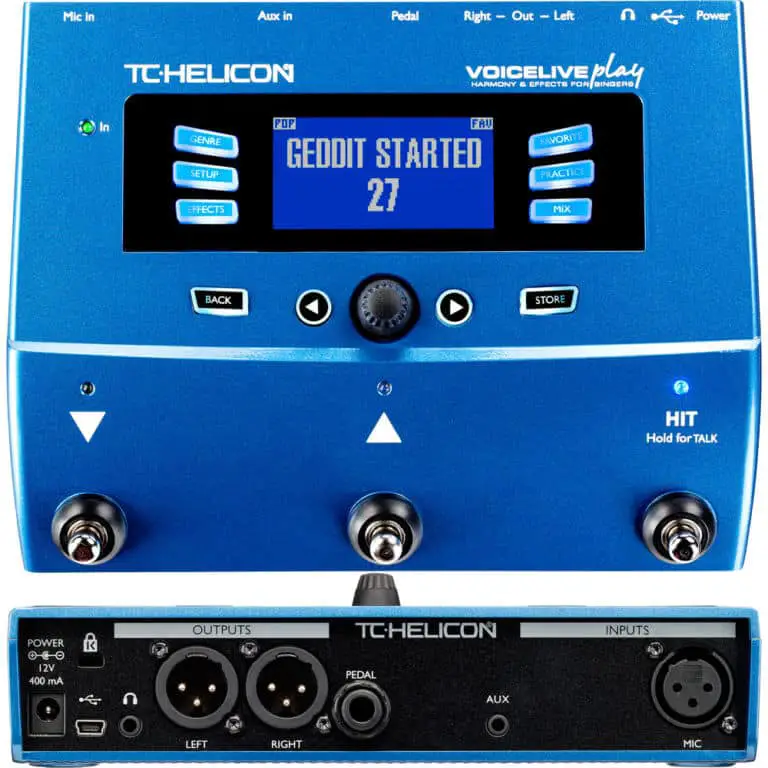 ---
Available on Amazon – Check price here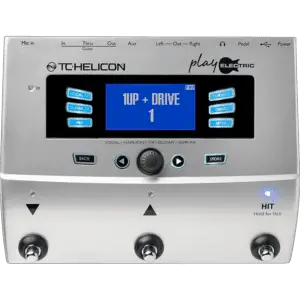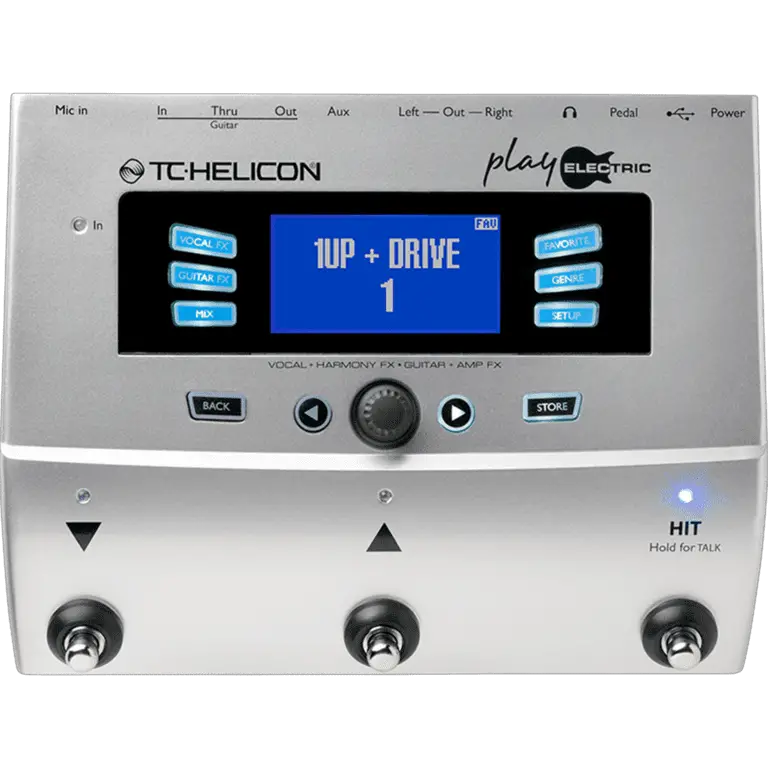 ---
Available on Amazon – Check price here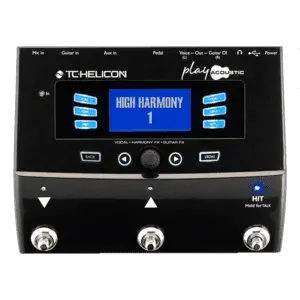 You might be wondering, what exactly is the difference between all of these TC Helicon Play processors.
Well, the core functionality is exactly the same,
Footpedal
Roomsense Functionality
Pitch Correction
Microphone Control Functionality with MP-75/56 and Sennheiser E 835 FX
Tap Tempo
Looping (15/30/60 second intervals)
Vocal effects (Reverb, Delay, Harmony, Doubling, Hardtune)
However, the pedals differ in their guitar effect functionality, as you can see from the chart below.
VoiceLive Play                     VoiceLive Play Electric             VoiceLive Play Acoustic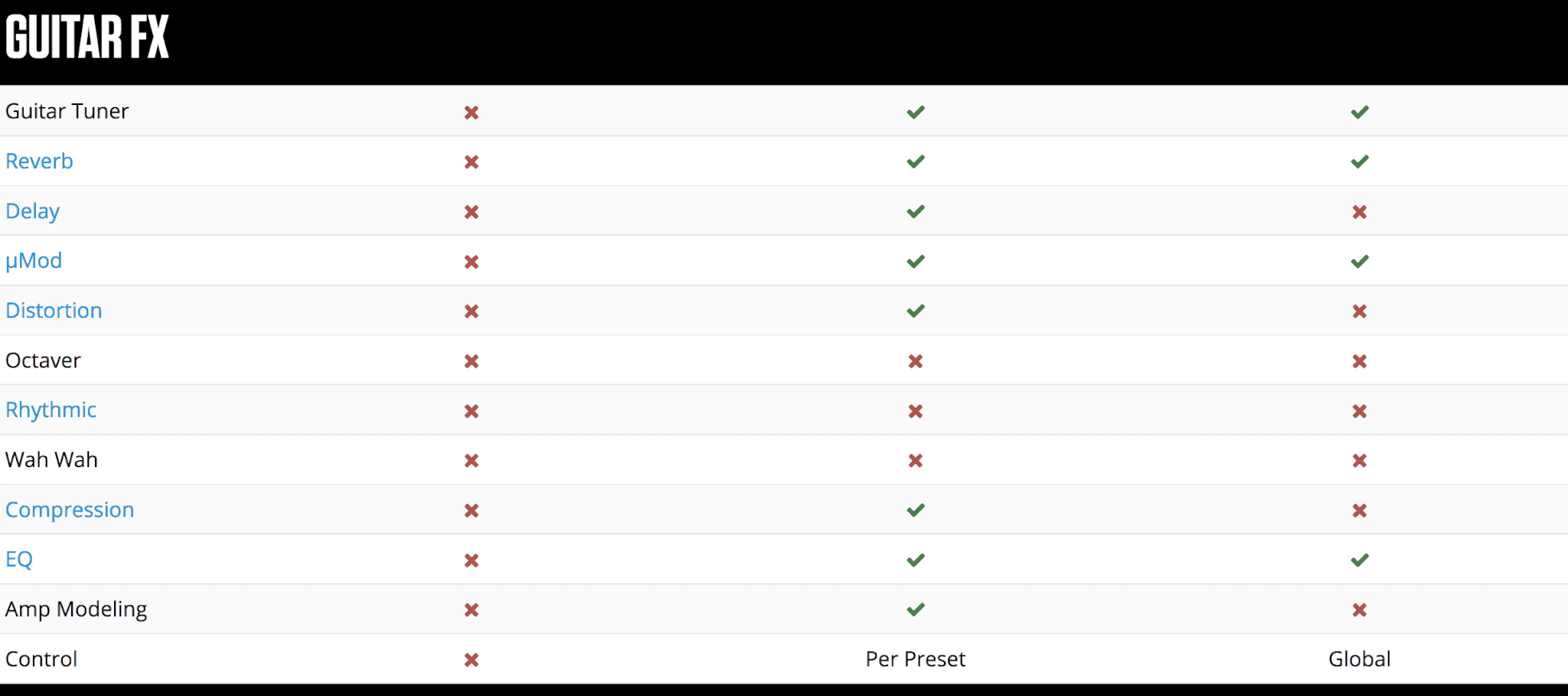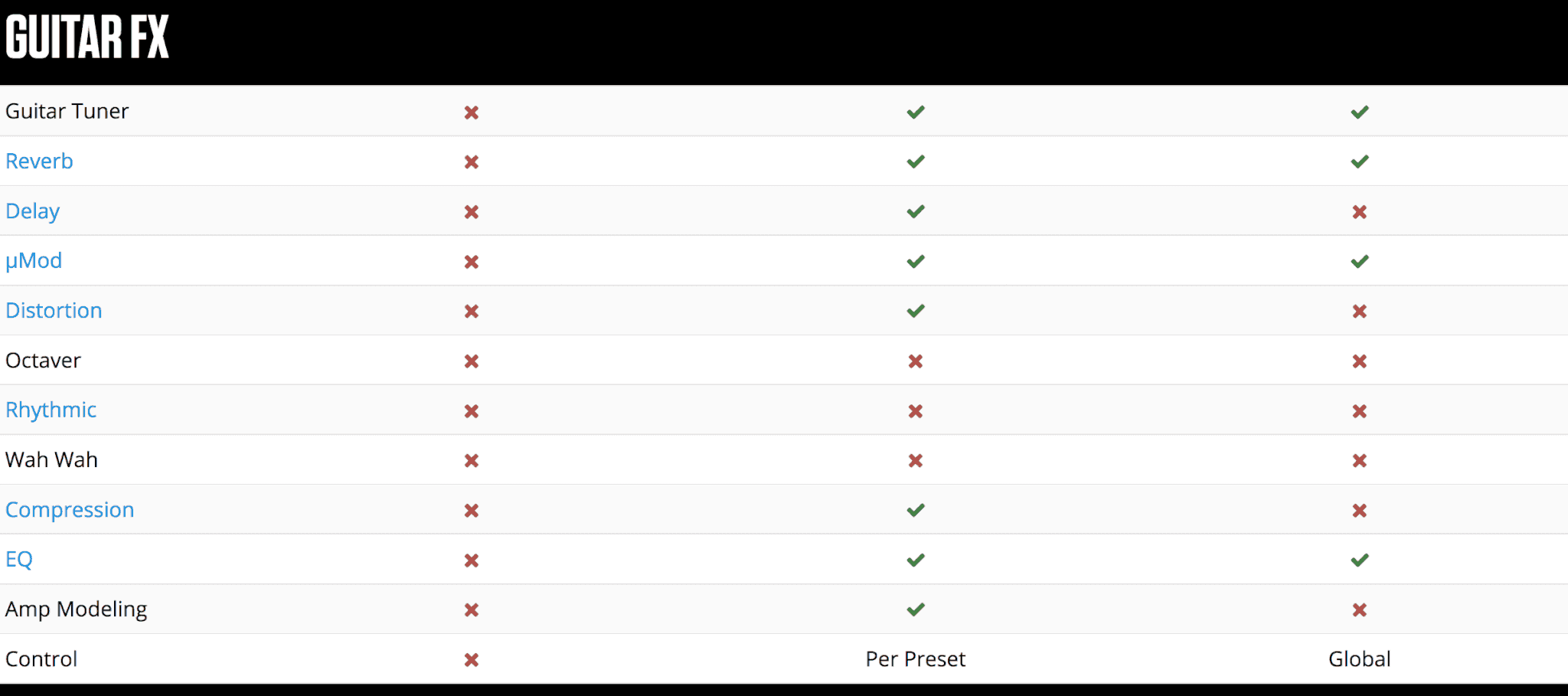 As you can see from the VoiceLive Play, Electric & Acoustic comparison chart. Despite the pedals looking very similar and having an identical core functionality, there is a huge difference in guitar effects functionlity.
Therefore, for singers who play either the electric or acoustic guitar, the VoiceLive Play Electric or VoiceLive Play Acoustic is certainly the most appropriate processor to choose.
For singers who do not need the added functionality of having an integrated guitar effects processor, I would suggest using the original VoiceLive Play.
Best Vocal-effects processor/pedal above $300 for singers – TC-Helicon VoiceLive 3 –  (4.6 / 5)
Available on Amazon – Check price here

The TC Helicon VoiceLive 3 is the ideal multi-effect vocal solution for singers who are really serious about wanting to incorporate that studio refined sound within their live performance. The processor has over 500 loaded presets and many more features shown below
'Roomsense' & 'Natural Play' (For effective real-time harmony/pitch correction analysis)
45 Minutes Looping time (8 Mins per track limit)
Midi Synchronization
Vocal Effects (Reverb, Delay, Harmony, Doubling, Hardtune, Transducer, Umod, Vocoder and Rhythmic)
Guitar Functionality (Tuner, Reverb, Delay, Umod, Distortion, Octaver, Rhythmic, Wah Wah, Compressor, EQ, Amp Modelling, Control per preset)
1 XLR in, 2 XLR out, TRS in (Vocals), Instrument In/Thru, Guitar Direct Out, Aux in, SPDIF, Headphone Out, Exp pedal in.
Now this will be the perfect multi-effects processor for most professional singers.
However, if you're looking for increased looping time (5 Hours in total – 8 Mins per track limit),
with the capability to play backing tracks, then I would suggest looking at the VoiceLive 3 Extreme.
The only downside to this device is that it lacks the Midi Syncronisation that the original version has.
Best Vocal-effects processor/pedal above $300 for singers – TC-Helicon VoiceLive 3 Extreme – (4.8 / 5)
Available on Amazon – Check price here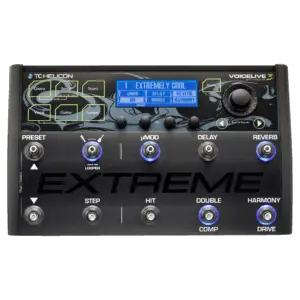 We realise that all of these pedals are created by TC Helicon. That's no surprise since they are one of the companies leading the way in voice/vocal effects for singers.
The multi-effects vocal solutions we offer are certainly a must for singers looking to transform their performance. For under $300 you can have a pedal for both studio/live use that has a surplus of functionality.
It really is a small price to pay for such a large sounding difference, suitable for the professional singer/songwriter.
Save
Save
Save
Save
Save
Save
Save
Save
Save
Save
Save
Save
Save
Save
Save
Save
Save
Save
Save
Save
Save
Save
Save
Save
Save
Save