In this article we're going to be discussing the best vocal distortion pedals in 2021.
However, before we jump into exactly what processors are featured within the list, we want to briefly talk about what exactly a vocal distortion processor does, and when one might be used.
So let's get to it!
What are Vocal Distortion Pedals?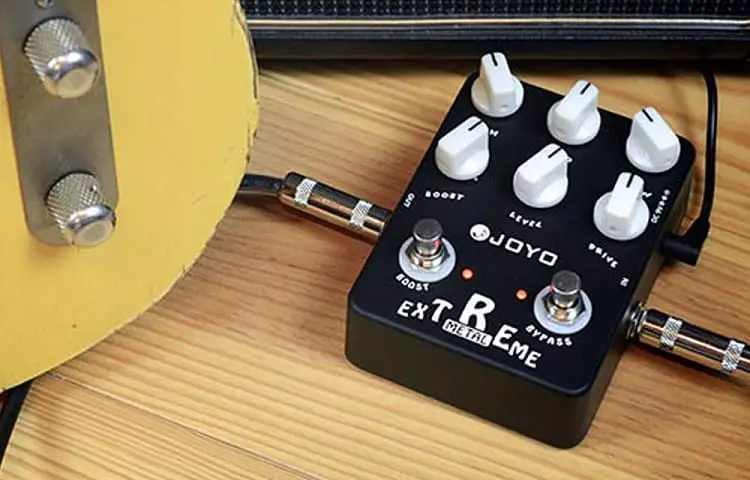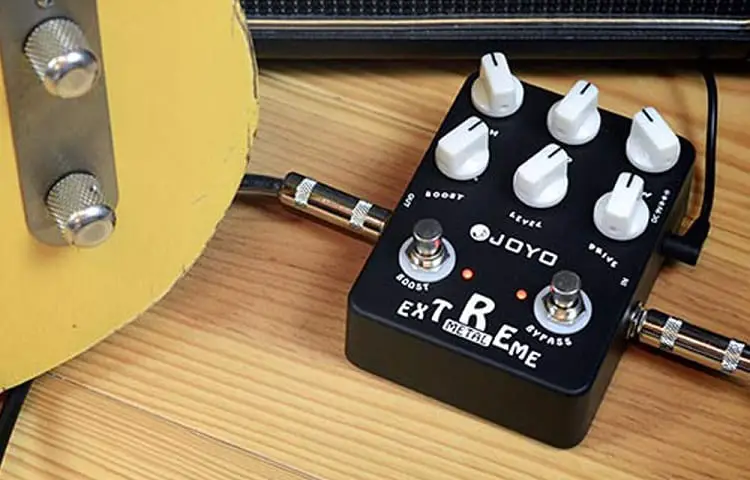 Vocal Distortion is a vocal effect used to muddy the sound of a vocal signal, for both live and studio vocal takes.
However, with that being said, Vocal Distortion Pedals are more commonly used for live vocal performances since they provide immediate vocal effects, with live performances not allowing the singer the luxury of singing multiple vocal takes to get the perfect sound.
Generally, vocal effects such as Vocal Delay, Vocal Compression are supporting vocal effects within multi-effect vocal processors. Therefore, we have provided the best vocal effects pedals that come with Vocal Distortion.
These kinds of processors are generally used within a live performance environment, with it being somewhat difficult to create this effect naturally, unless the actual vocal signal is overdrive, and hence feedback would likely occur.
It's unlikely that this kind of unit would be used within a studio-environment, with it being easier to be achieved by a studio-quality rack-mountable processor or DAW. However, it may be useful for the 'basement studio' user who wants it for both live and studio recording use.
Best Vocal Distortion Pedals For Vocals
TC Helicon Voicetone X1- Vocal Distortion Pedal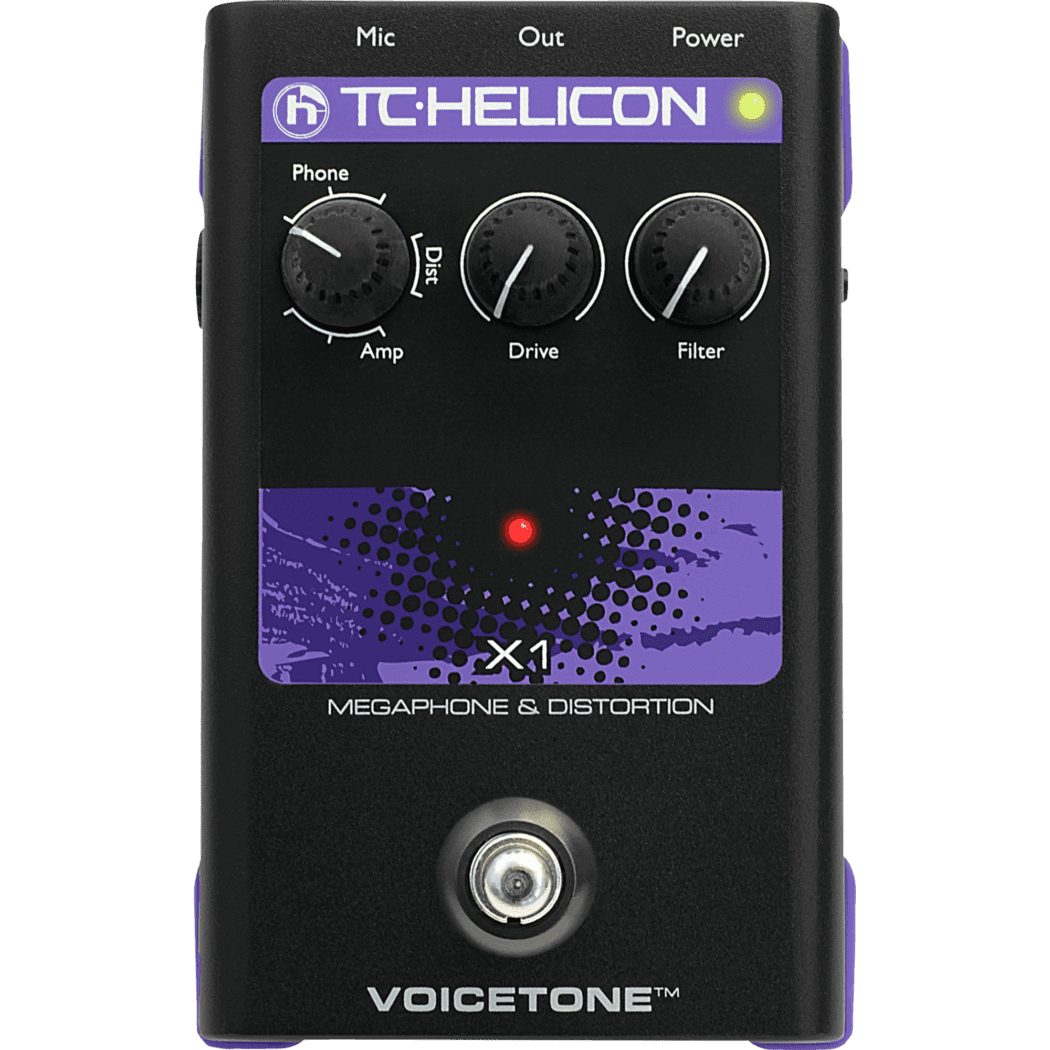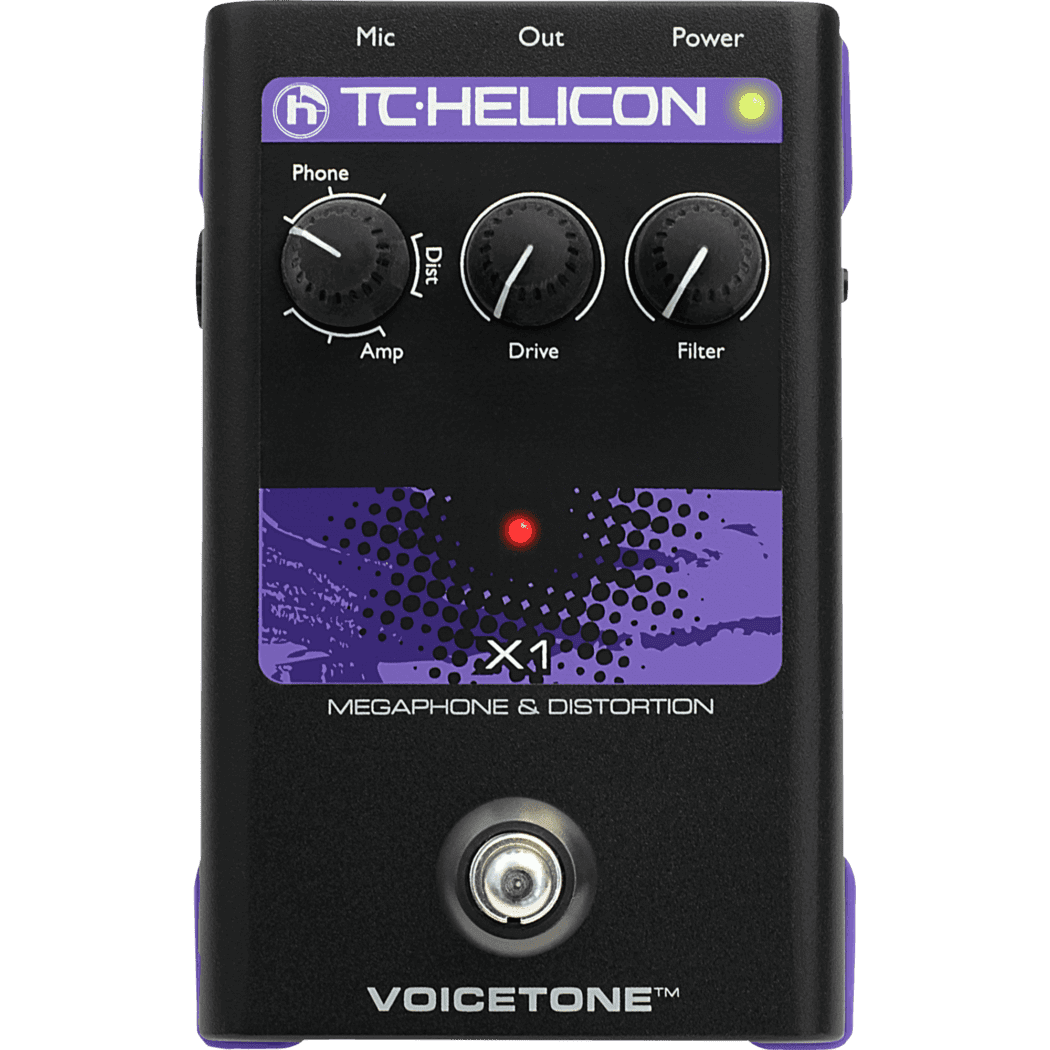 Main Features/Benefits
Simple to use Vocal Distortion Pedal controlled by 'Drive' knob
Ideal for someone who want's to be able to plug 'n' play, with easy footswitch on/off functionality
Includes both vocal distortion and a megaphone effect, for a wider range of sounds
8 different vocal styles, which can be further modified through manipulation of the Drive knob (distortion) and the Filter knob (modifiying the EQ curve)
2 preset vocal distortion settings, which can be further changed with the pedal knobs [Refer to the video below for a demonstration]
Disadvantages
Inability to save presets, therefore any modifications to these presets must be done via the on-pedal filter knobs.
Who is this pedal perfect for
This vocal distortion/megaphone effects unit is perfect for someone looking for a less expensive vocal distortion pedal, with the dual use of only distortion and megaphone effects, as opposed to a multi-effects pedal.
This vocal distortion processor is ideal for use in practices and small live performances. After the feedback we've received about this unit, we would recommend this to a hobbyist singer/songwriter/musician.
---
Boss VE-20 Vocal Performer Vocal Distortion Pedal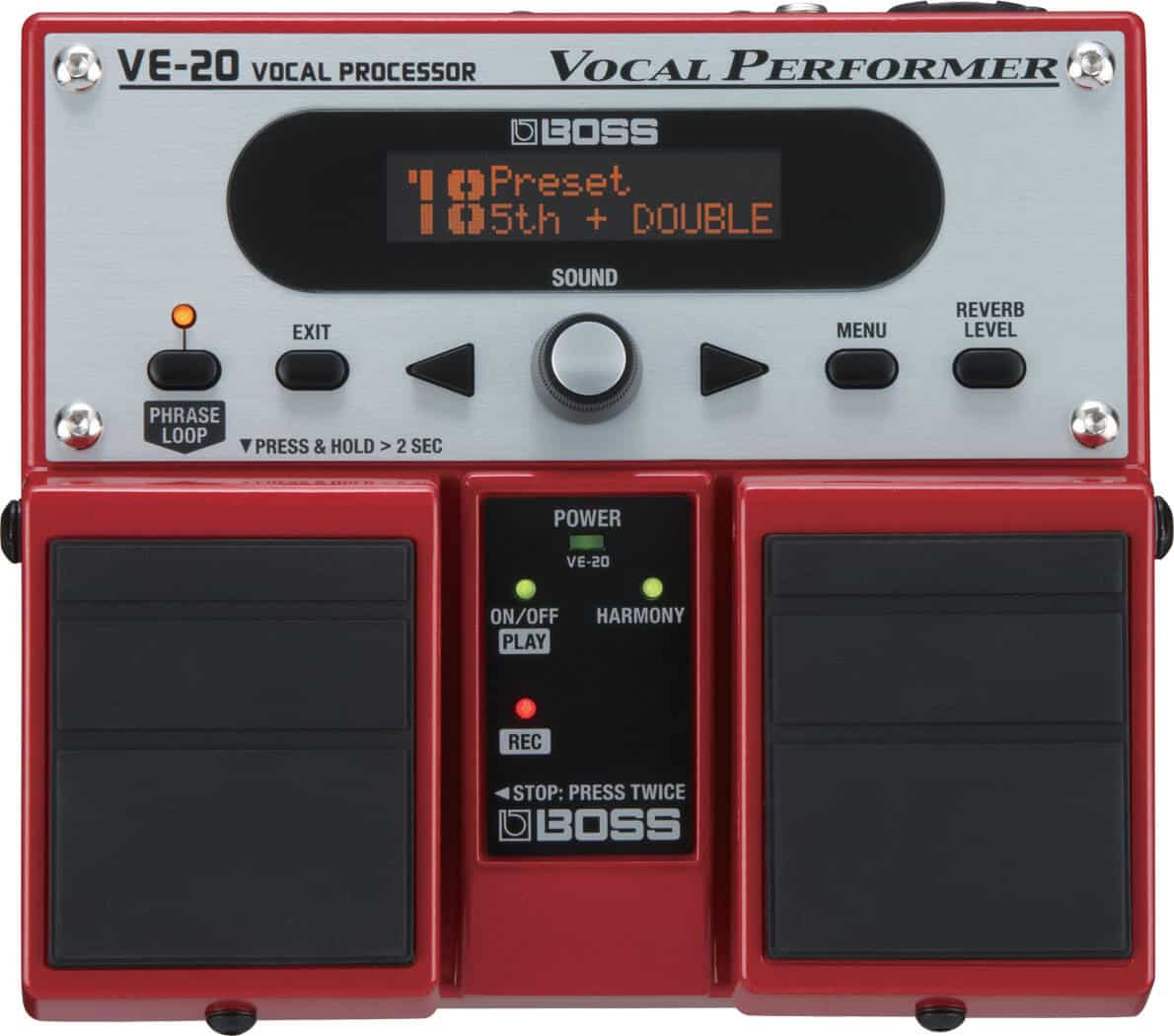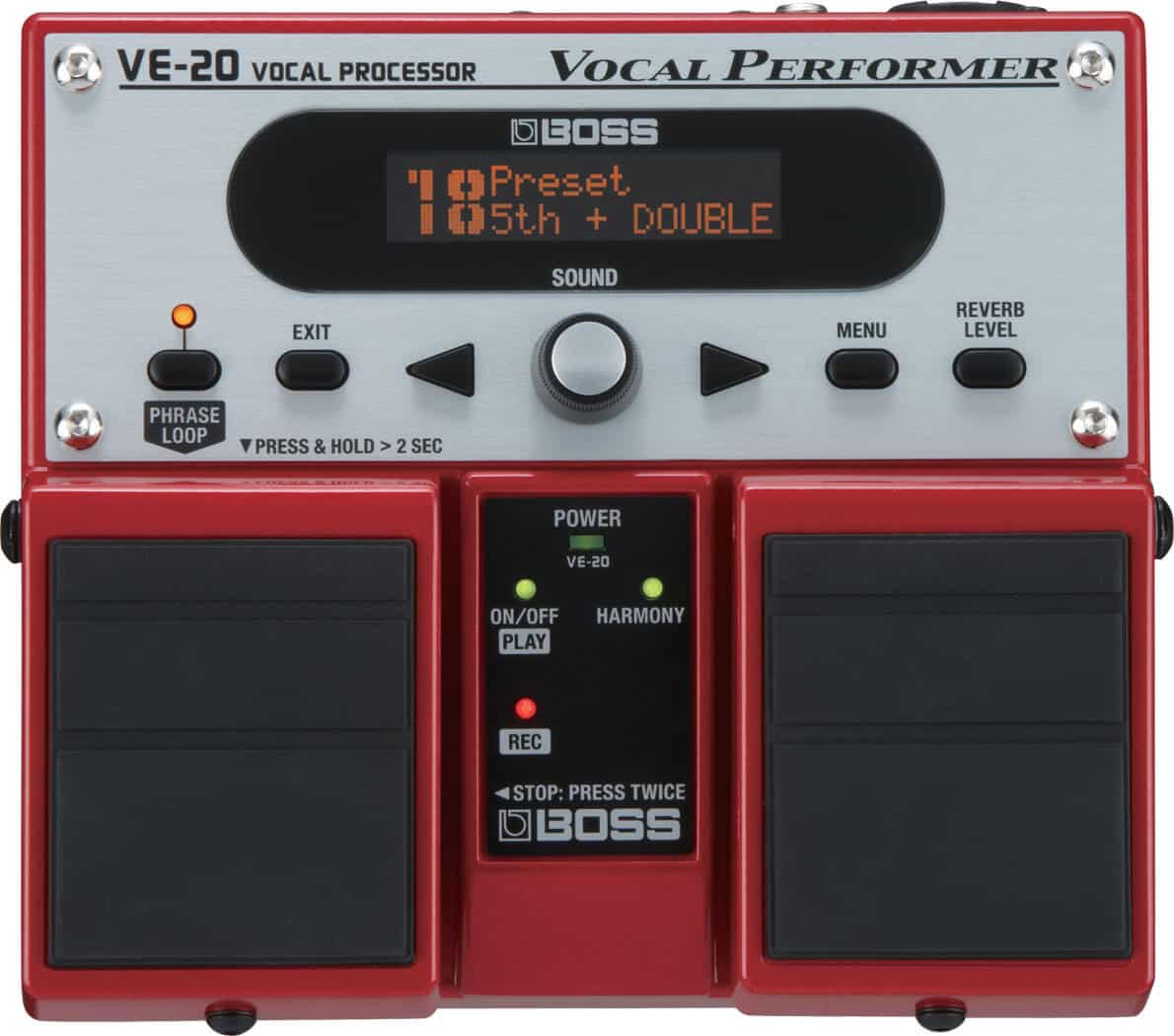 Main Features/Benefits
All-in-one Vocal Solution (Vocal distortion, Looping Harmonies, Vocal Delay, Doubler, Creative Effects, Phantom Power )
Great solution for someone after a single pedal (less gear to carry) for live shows
Can be battery operated
Real time pitch correction pedal
38-second (mono) voice loop recording
Disadvantages
Been around for nearly 10 years, some might say the hardware is outdated.
Doesn't include power adapter (Purchased additionally – View current price)
Doesn't automatically detect musical key changes
Technical Specs of Boss VE-20 Vocal Performer
The BOSS VE 20 Vocal Performer is not primarily a vocal distortion pedal,  it's essentially an All-in-One solution, and is designed and produced by Boss, so you know it's high quality.
The pedal is 1.6kg it's not the lightest in the world, but it more than makes up for it in its ability to add such creative vocal effects such as radio effect, strobe and vocal distortion effects.
Allowing for 38 seconds (mono) of looped recording, which is useful for singer-songwriters looking for an innovative way to build up their song's live instrumentation, layer by later, directly in front of their crowd.
The pedal also includes Phantom Power, so it is able to power condenser microphones, such as the Rode NT2A.
For a real look, please refer to the demonstration video below.
---
TC Helicon Voice Live Play Multi-Effects & Vocal Distortion Pedal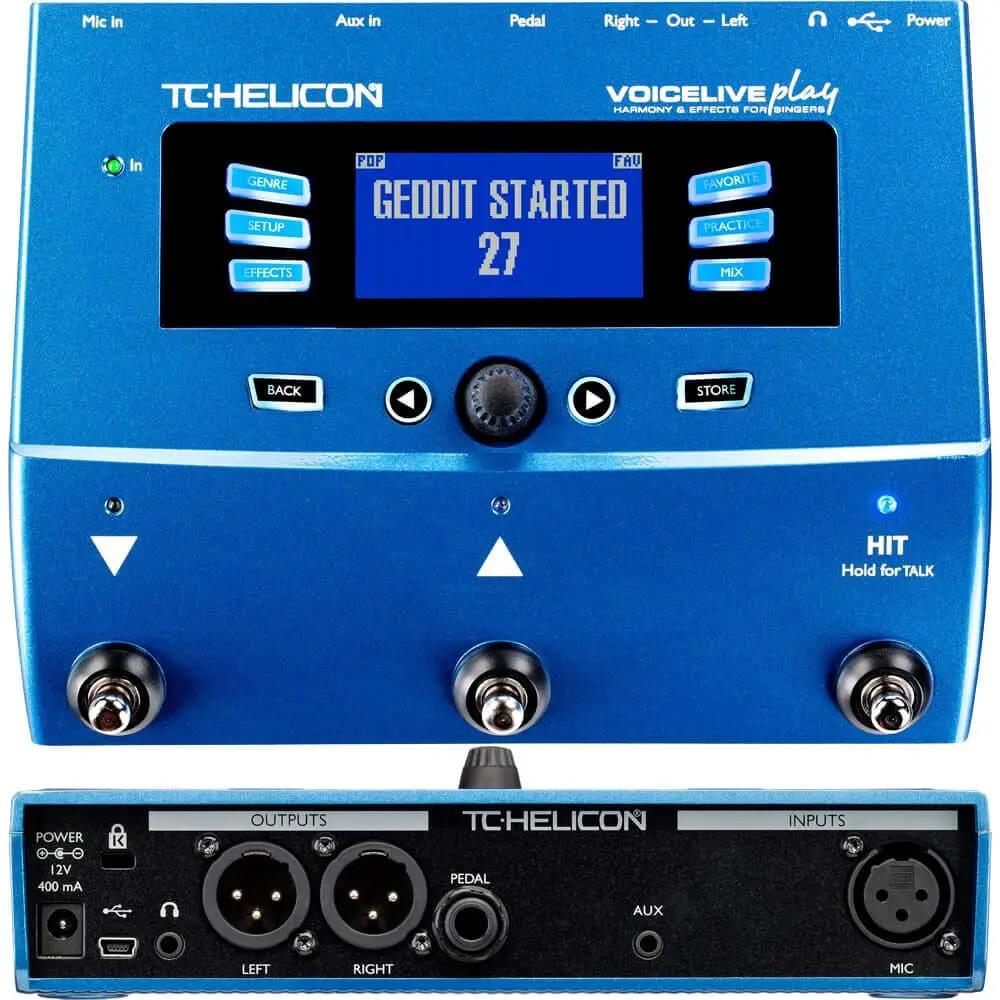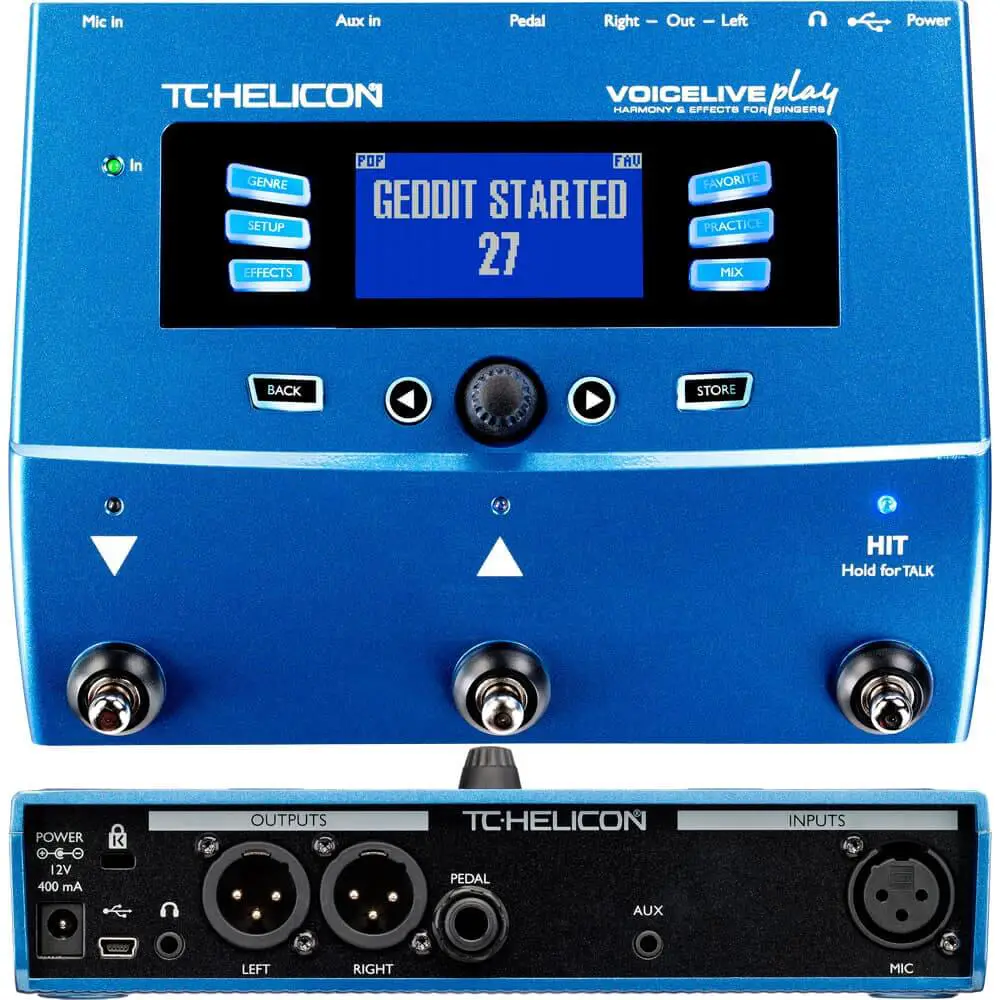 ---
TC Helicon Play Electric – Multi-effects & Vocal Distortion Pedal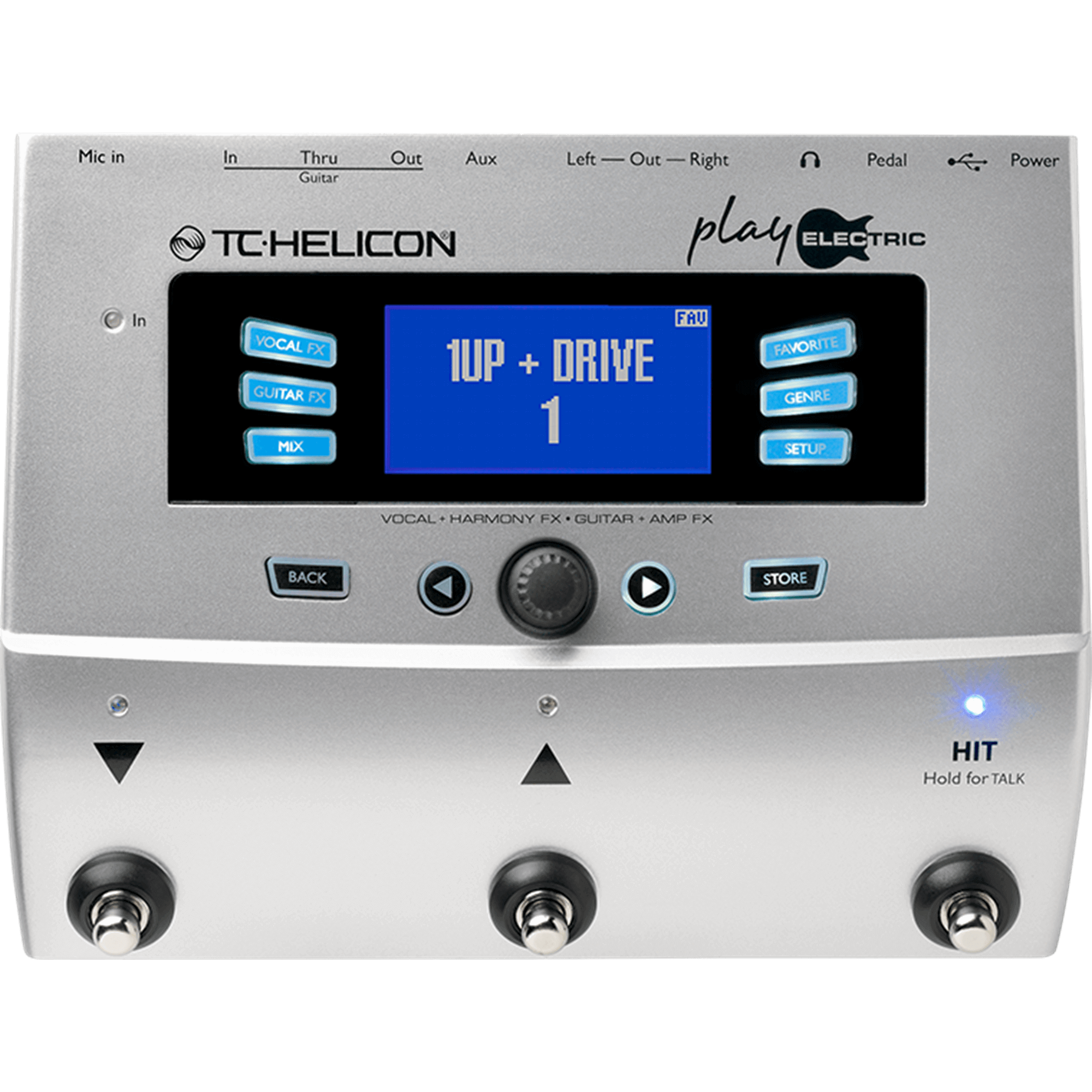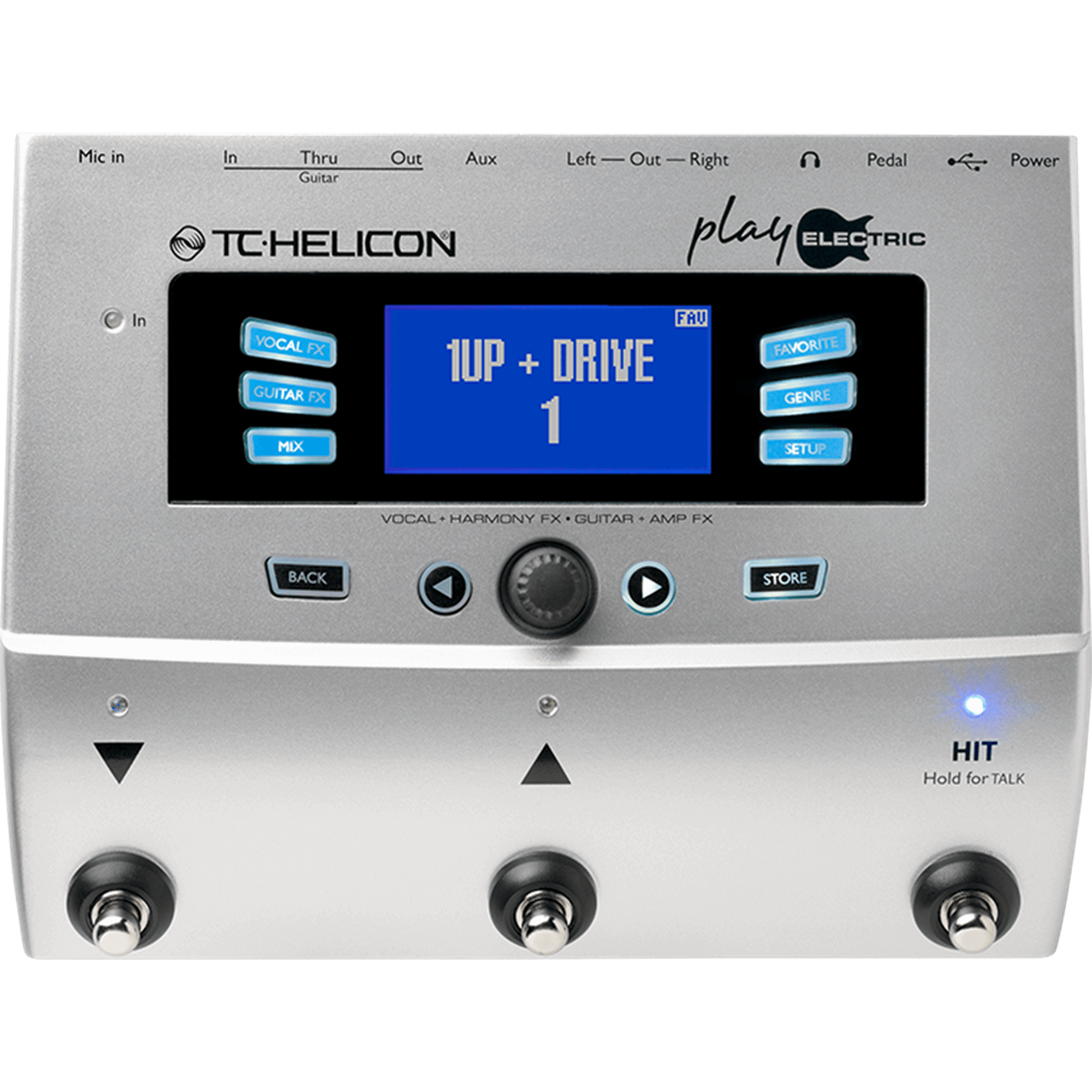 ---
TC Helicon Play Acoustic – Multi-effects & Vocal Distortion Pedal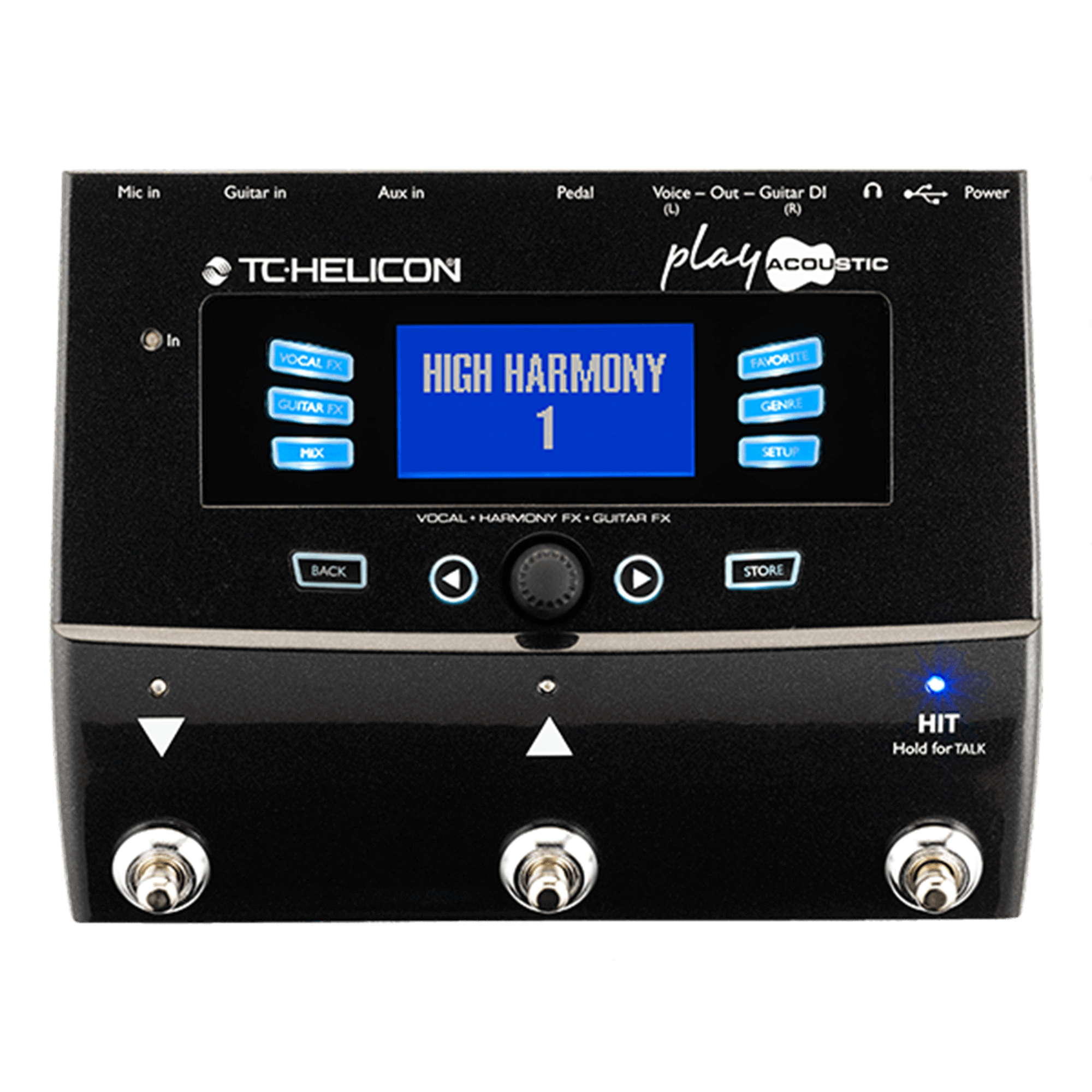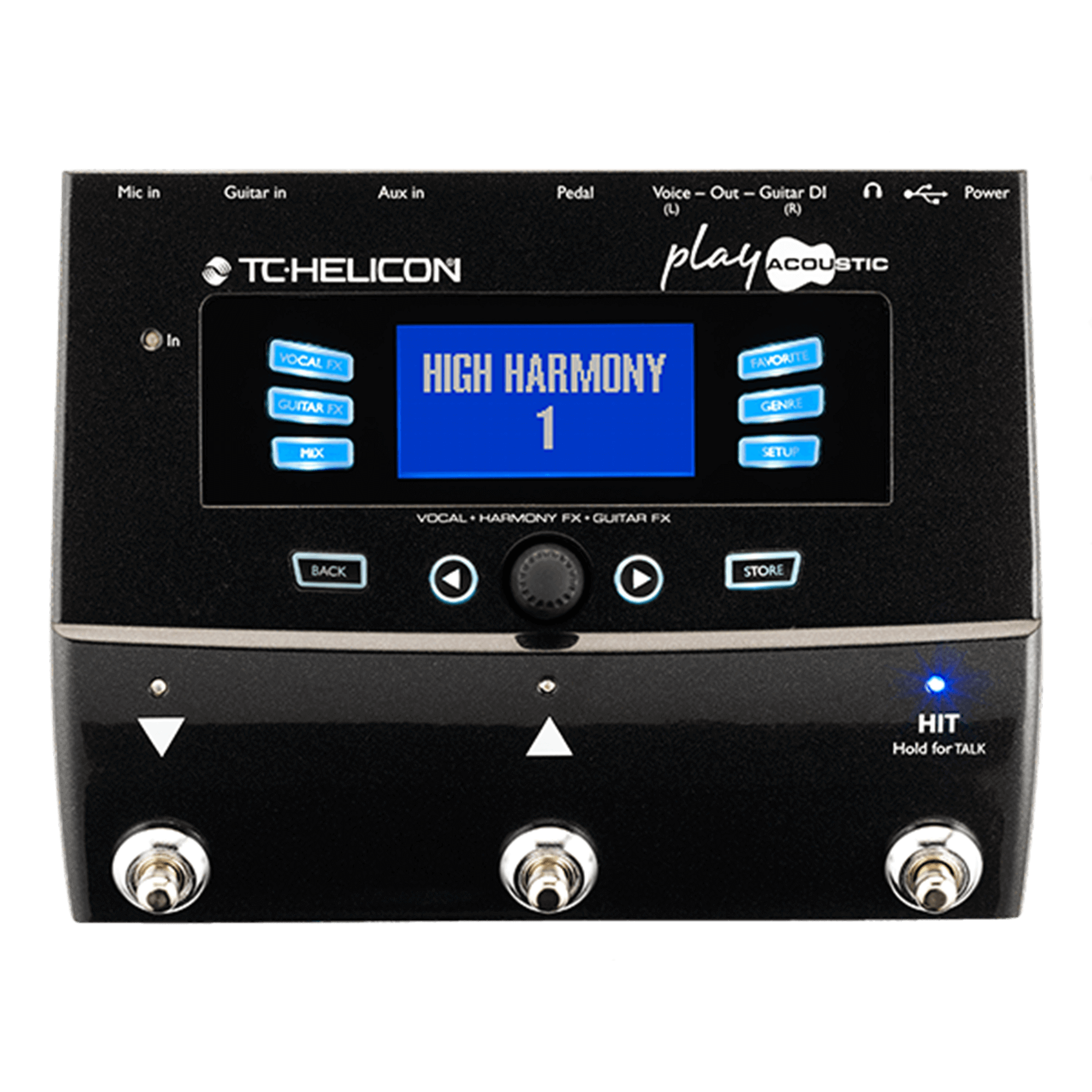 what exactly is the difference between all of these TC Helicon Play processors
Well, the core functionality is exactly the same,
Footpedal
Vocal Distortion Effects: Megaphone, Radio, Amplifier Emulation and more
Roomsense Functionality
Pitch Correction
Microphone Control Functionality with MP-75/56 and Sennheiser E 835 FX
Tap Tempo
Vocal looper pedal functionality (15/30/60 second intervals)
Vocal effects (Vocal Distortion, Reverb, Delay, Harmony, Doubling, Hardtune)
However, the pedals differ in their guitar effect functionality, as you can see from the chart below.
VoiceLive Play                     VoiceLive Play Electric             VoiceLive Play Acoustic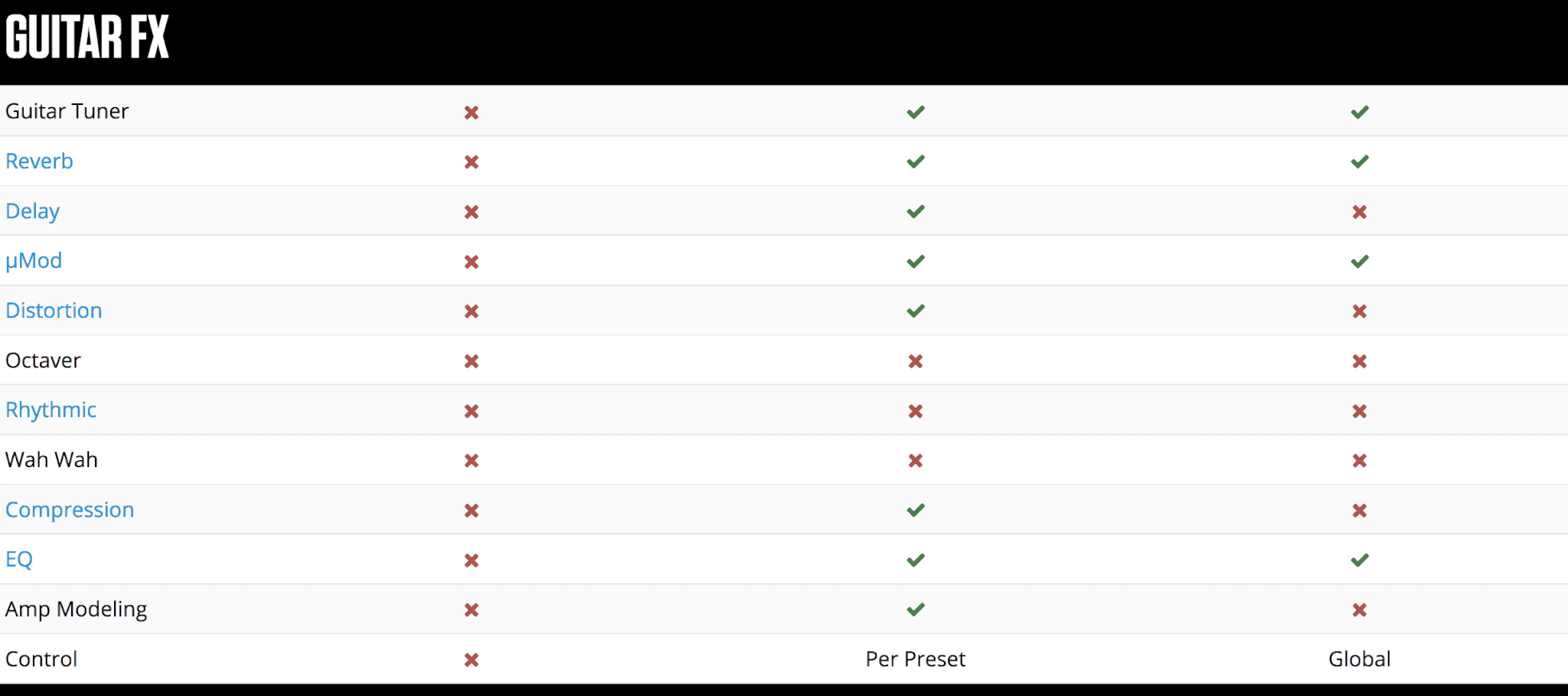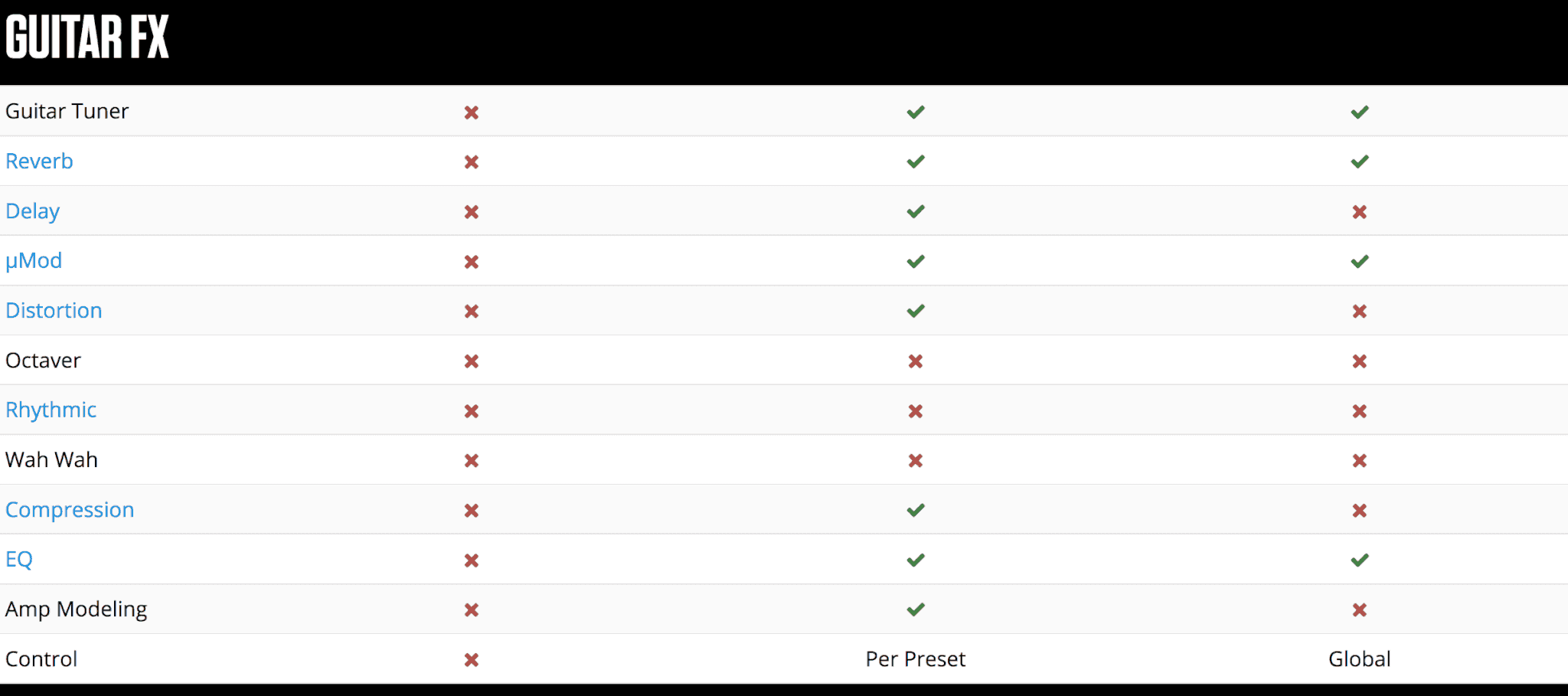 As you can see from the VoiceLive Play, Electric & Acoustic comparison chart. Despite the pedals looking very similar and having an identical core functionality, there is a huge difference in guitar effects functionality.
Therefore, for singers who play either the electric or acoustic guitar, the VoiceLive Play Electric or VoiceLive Play Acoustic is certainly the most appropriate processor to choose from.
For singers who do not need the added functionality of having an integrated guitar effects processor, I would suggest using the original VoiceLive Play.
Behringer UM300 Distortion Instrument Effect Pedal
The Behringer UM300 is the ideal multi-effect vocal solution for singers who are really serious about wanting to incorporate that studio refined sound within their live performance. The processor has over 500 loaded presets, including vocal distortion and many more features shown below
'Roomsense' & 'Natural Play' (For effective real-time harmony/pitch correction analysis)
45 Minutes Looping time (8 Mins per track limit) – That means you can record plenty of vocal loops!
Midi Synchronization
Vocal Effects – Including Vocal Distortion, Vocal Reverb, Delay, Harmony, Doubling, Hardtune, Transducer, Umod, Vocoder and Rhythmic)
Guitar Functionality (Tuner, Reverb, Delay, Umod, Distortion, Octaver, Rhythmic, Wah Wah, Compressor, EQ, Amp Modelling, Control per preset)
1 XLR in, 2 XLR out, TRS in (Vocals), Instrument In/Thru, Guitar Direct Out, Aux in, SPDIF, Headphone Out, Exp pedal in.
Now this will be the perfect multi-effects processor for most professional singers.
However, if you're looking for increased looping time (5 Hours in total – 8 Mins per track limit),
with the capability to play backing tracks, then I would suggest looking at the VoiceLive 3 Extreme.
The only downside to this device is that it lacks the Midi Syncronisation that the original version has.
Ibanez TS9B 9 Series Distortion Pedal
There's no surprise that Ibanez has again made it into our pedal recommendations, they have provided a really solid multi-effects pedal that features a stellar looper processor.
The multi-effects vocal solutions we offer are certainly a must for singers looking to transform their performance. You can have a pedal for both studio/live use that has a surplus of functionality.
It really is a small price to pay for such a large sounding difference, suitable for the professional singer/songwriter.