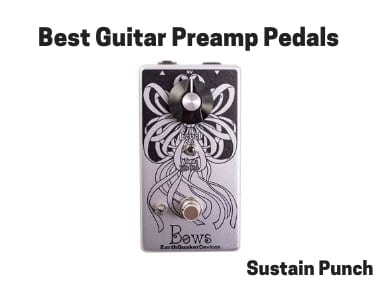 What is a Guitar Preamp?
A preamp or "preamplifier" is a piece of equipment used to help increase the dB volume of an inputted microphone signal, to reach what is known as 'line-level', which is the expected dB level to which all recording equipment, including Studio EQ, Compressors work with.
For more information on Preamps, take a look at Wiki.
Therefore, a guitar preamp simply increases the inputted guitar signal, to reach line level, in preparation for additional processing through the use of other guitar effects such as guitar loop pedals, guitar reverb pedals, etc. Because of the pedal's functionality, it is placed early in the signal chain, before any other guitar processor.
Within the guitar pedal context, both guitar preamp pedals and guitar booster pedals have a similar role, with both units increasing the input signal dB level. However, a preamp pedal will distinctly increase this input signal to what is known as 'line level' which can be described as the nominal signal level to which a device operates at, expressed in decibels, against a standard reference voltage. Without going overtly into depth, the purpose of preamp pedal is to ensure db synchronicity between audio equipment sources.
Guitar preamps are used in both studio recording environments, and in live performance settings.
Before we go into explaining our choices on what are the best preamp pedals, we want to firstly discuss the way in which we've ordered the list, so that you can easily find the most suitable pedal.
We've arranged the list primarily based on 'Preamp Pedals for Electric Guitar' and 'Preamp Pedals for Acoustic Guitar' , and then within each sub-section, the products are arranged based on price, from the least expensive to the most expensive… We hope that's clear!
Additionally, if you're looking for Bass Preamp Pedals, visit our article here.
Before finally going into talking about the pedals, we would really like to recommend that you take a listen to all of the video demonstrations before making your final decision on which guitar preamp is most suited to your needs.
However, if you're in a tush, we've featured the unique aspects of each pedal, which really stood out for us. Alongside this, we've listed our 'Editor's Recommendation'.
Well, let's get to it!

What are the 12 top guitar pre-amp pedals of 2019?
Top Preamp Pedals for Electric Guitar
Donner Incredible V Mini Electric Guitar Preamp Effect Pedal – 

$

 – Budget Priced – Buy on Amazon [

Editor's 'Budget' Recommendation

]
Top Preamp pedals for Acoustic Guitar
As you can hear from the video demonstration, both settings have nice-sounding amp simulators, with the Marshall JTM45 setting being the more overdriven, 'out of control' sounding of the two.
The unit provides True Bypass, meaning that the input/output signal is not interfered with when the processor is disengaged.
Bows Germanium preamp unit by EarthQuaker Devices is an impressive little pedal. We were first drawn to include this within our list due to the amount of incredibly positive reviews that the product has gained over a relatively short period of time, having a 4.9* average rating.
The unit itself is designed around a rare NOS OC139 black glass transistor, which is known to provide a clear fuzz sound, with no noise interference and an accurate overdrive. As we mentioned, these transistors are particularly hard to obtain, so you may even want to track down some spare ones if you decide to purchase this, in case you replace it 20-years from now.
The preamp is particularly easy to use, with the centrepiece of its functionality revolving around the 'gain' control knob, which provides a maximum signal gain boost of 15dB.
Additionally, the unit also features a 'tone knob' which has two set tonal settings, 'full' and 'treble'. 'Full' provides a very warm sounding, thickening of the signal, also boosting the low-end frequencies. Whilst 'Treble' emulates a 'cocked wah' setting with an additional, yes you guessed it, boost in treble frequencies.
By turning up the gain knob in conjunction with both of these settings, you are able to get a touch of grit, overloading the pre-amp for a gentle overdrive.
Top Preamp pedals for Acoustic Guitar
The units featured below are designed to be used with acoustic guitars:
Top Preamp Pedals for Electric Guitar
Donner Incredible V Mini Electric Guitar Preamp Effect Pedal – 

$

 – Budget Priced – Buy on Amazon – 

Fender 65 Twin Reverb Amp and Marshall Super Lead 1959 Emulation 

[

Editor's 'Budget Priced' Recommendation

]
Top Preamp pedals for Acoustic Guitar