Type
Uni-directional condenser
Uni-directional condenser
Uni-Directional Dynamic Instrument Microphone
Sensitivity
-45 dB (5.6 mV) re 1V at 1 Pa
-56.0 dBV/Pa [1] (1.6 mV)
For the serious musician, there comes a time when you've decided that your next step in performance, means recording.
Creating your own studio is a great way to start the process of producing your own music and putting together quality recordings of the work you are proud of.
One of the essential items for any home studio is a collection of microphones.
While microphones may all seem the same, the fact is that there are subtle differences between the varying types of microphones.
Knowing which is best for your specific music type, recording location and instruments, will result in better quality sound, and a recording that you will be proud to share with friends, family and even strangers.
The dynamic microphone has been around for many, many years. These reliable workhorses have been found in recording studios almost from the get-go.
And while the are durable and reliable, they are no longer the only or even best option for all types of recording.
In this buying guide we'll show you our favorite dynamic mics, break down their pros and cons, and help you understand where they provide the best performance.
We'll follow up our reviews with some answers to frequently asked questions about dynamic microphones and microphones in general.
We hope that all of this information will help you make the best microphone purchase for your studio, allowing you to create amazing musical recordings.
Best Dynamic Microphone
---
WINNER: Audio-Technica PRO 35 Cardioid CONDESER Microphone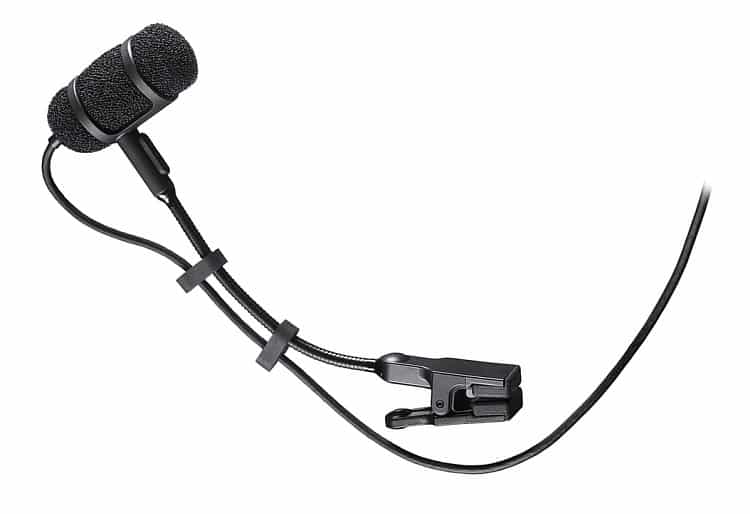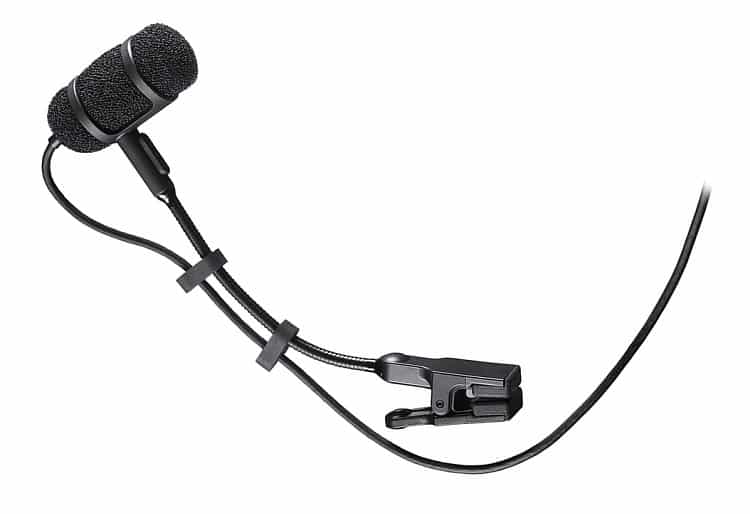 A sweet and versatile addition to your mic locker. Designed for sax, toms, brass and percussion, the PRO 35 excels in high-SPL applications and is ideal for active stage performances.
Its extended frequency response captures subtle nuances of the performance.
The included UniMount clip permits accurate positioning and provides shock resistance while protecting the element.
The microphone's cardioid polar pattern reduces pickup of sounds from the sides and rear, improving isolation of the desired sound source.
Featured specs
Designed for sax, toms, brass and percussion.
Benefits
Ideal for active stage performances, great feedback resistance, light, excellent sound quality.
Drawbacks
The attached 6ft wire breaks easily, requires phantom power.
Extra features
AT8418 UniMount microphone instrument mount; AT8538 power module; soft protective pouch.
Buying advice
Requires phantom power to operate, so if you are touring you may have some issues with soundboards.
---
RUNNER UP: Shure SM57-LC Cardioid Dynamic Microphone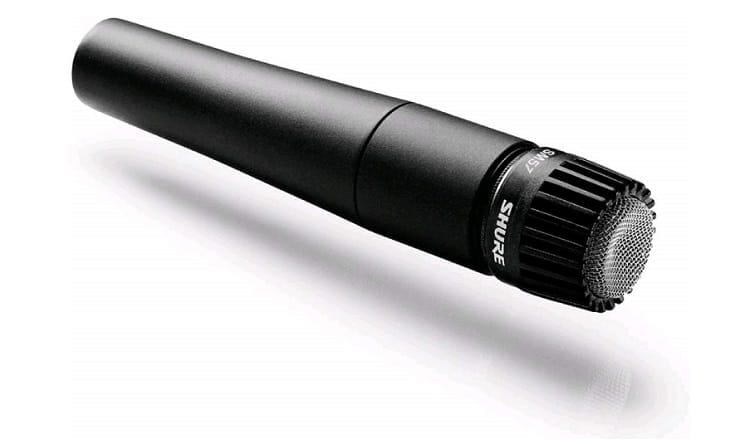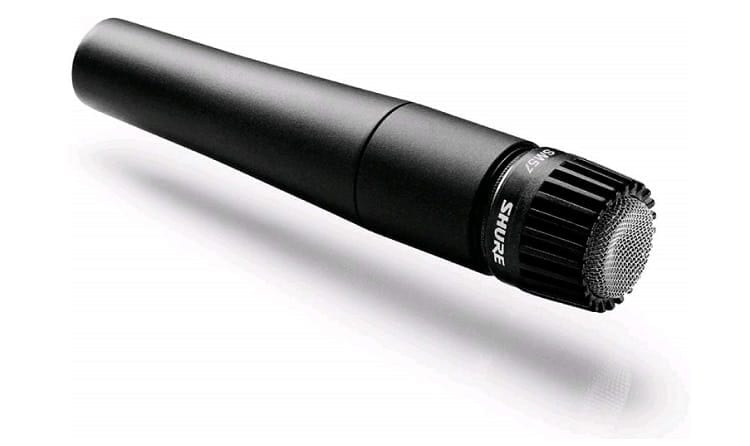 Few microphones have the reputation for quality and durability that the SM57 has built up since it first hit the market in 1965.
Since then, this product has been an industry benchmark to which all other studio microphones have been compared.
The Shure SM57 is a fixture in the music business. You see it everywhere. In small clubs and 100,000 seat stadiums.
This renowned mic is used by legendary performers and the latest up-and-comers.
What you may not have seen are the thousands of SM57s at work behind the scenes in professional recording studios around the world.
In fact, you'll probably find it in more studios than any other mic. Not surprising.
The unidirectional dynamic SM57 has set the industry standard by defining the way instruments should sound. Which is why it's used by any serious musician or recording professional.
Its warm, clean sound along with its carefully contoured presence rise make it ideal for a wide range of instrument miking applications, particularly guitar amplifiers and drums.
The SM57 features a uniform cardioid pick-up pattern that isolates the main sound source and minimizes background noise.
It can be seen anywhere, from small clubs to sports stadiums, and has been used in the studio by many of the world's greatest musicians.
Featured specs
Dark gray, enamel-painted, die-cast steel housing with a polycarbonate grille and a stainless steel screen. Three-pin professional audio (XLR), male.
Benefits
Highly directional mic, great sound quality, value priced.
Drawbacks
Limited functions,be aware of many fakes.
Extra features
The microphone of choice for the White House.
Buying advice
Only buy from an authorized dealer.
---
ALTERNATIVE: Pyle-Pro PMSAX1 XLR Condenser Microphone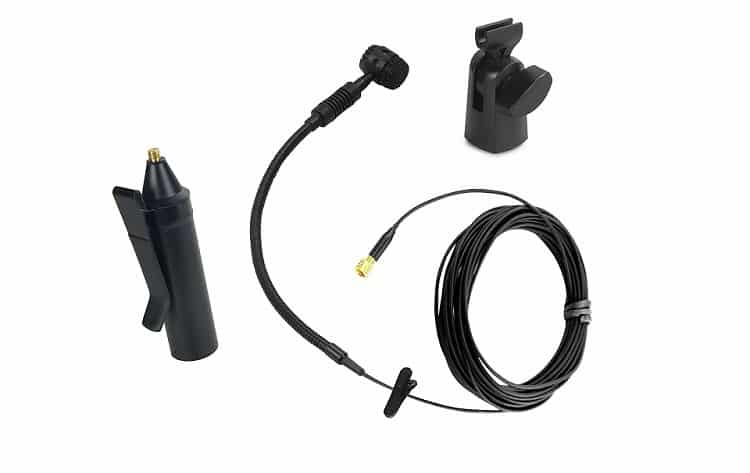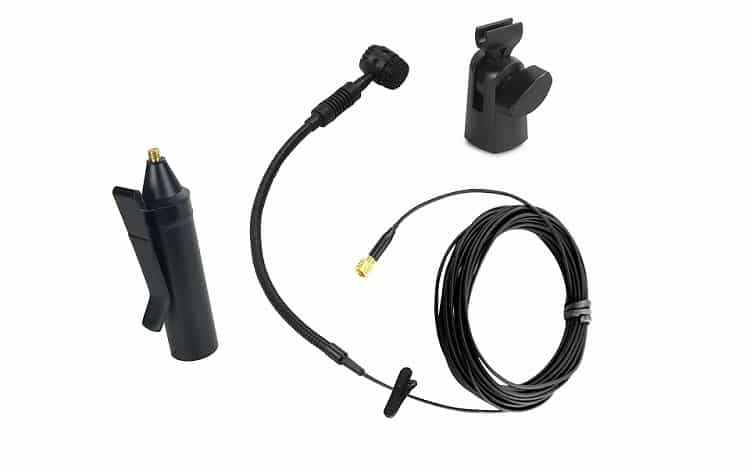 The PylePro PMSAX1 Instrument & Saxophone XLR Condenser Microphone is ideal for recording and sound reinforcement situations.
The PMSAX1 features a miniature, cardioid capsule well suited for capturing saxophone, brass, and woodwind instruments.
The package features a 10′ (3m) long cable, windscreen, instrument clip and phantom power adapter with 3-pin XLR connection.
Featured specs
Ideal for Trumpet, Saxophone, Silent Brass, and most wind instruments.
Benefits
Affordable, lightweight, versatile.
Drawbacks
Short cable, not as durable.
Extra features
Includes windscreen, clip and 48V adapter.
Buying advice
If you're looking for an inexpensive clip-in for a horn player, this mic will fit the bill at an affordable price point.
---
BEST FOR THE MONEY: Pyle PDMIC78 Professional Microphone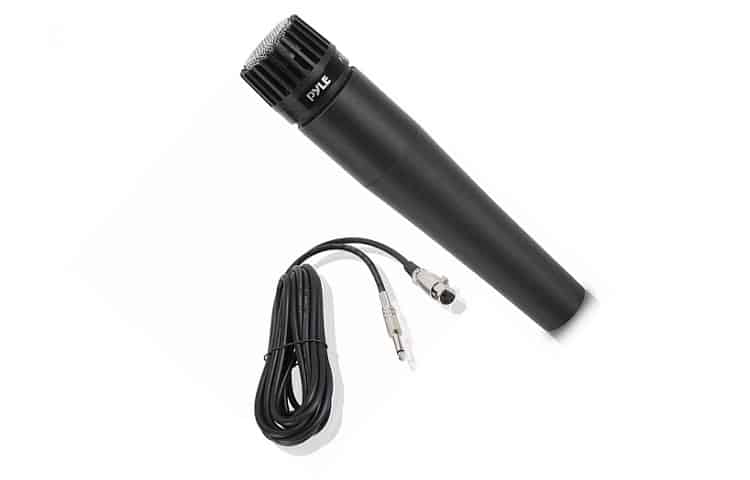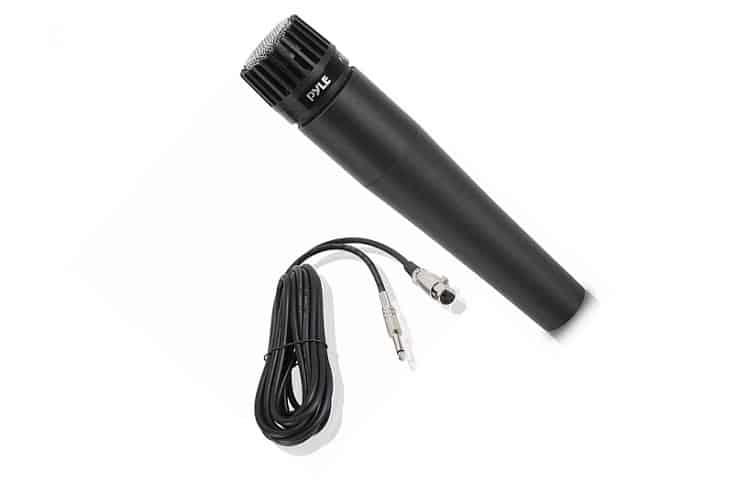 This unidirectional, dynamic handheld microphone is perfect for the serious musician recording in the studio or out on stage.
It's perfect for voice recording due to the high quality moving coil unidirectional dynamic element.
Thanks to the durable zinc alloy metal construction and steel mesh ball shaped grill, you know your equipment is secure.
Featured specs:
Integrated low noise circuitry.
Benefits
Easy to use, rugged, value priced, long cable.
Drawbacks
Sound quality, handheld.
Extra features
Professional grade 15 ft. XLR-to-1/4 cable supplied.
Buying advice
A perfect all-purpose, versatile stage and recording microphone or backup.
---
RUNNER UP: Shure PGA57-LC Cardioid Dynamic Instrument Microphone

The PGA57-LC dynamic instrument microphones aim to provide the high quality sound Shure microphones are known for at a lower price point than the standard in the industry, the Shure SM57. Does not require phantom power or a battery.
This microphone is perfect for instruments including drums, percussion, vocals, and more. If you like the Shure SM-57, but want something at a lower price point, you won't go wrong with getting the Shure PGA57-LC mic.
Featured specs
Does not require phantom power or a battery.
Benefits
Great value, quality sound.
Drawbacks
Not as wide of a frequency range as the SM57, and also has a slow cut to frequencies below 600 Hz.
Extra features
Comes with a mic clip and zippered pouch.
Buying advice
As you can get almost three of these mics for less than the price of one of the higher priced microphones, it's clearly a great deal.
---
Dynamic Studio Microphone FAQs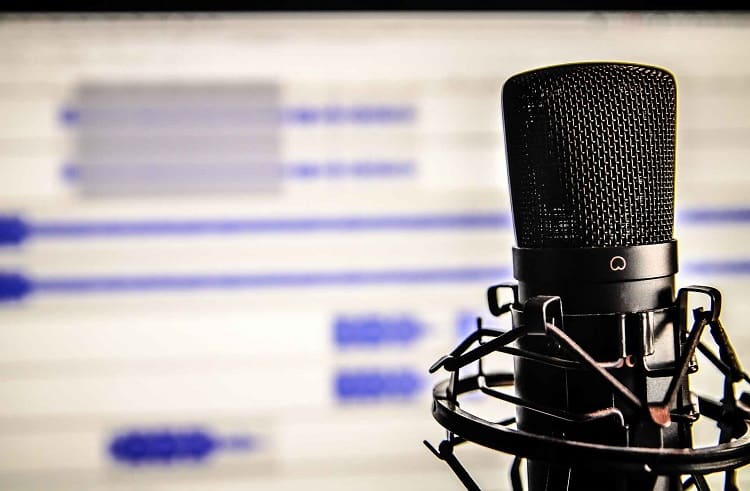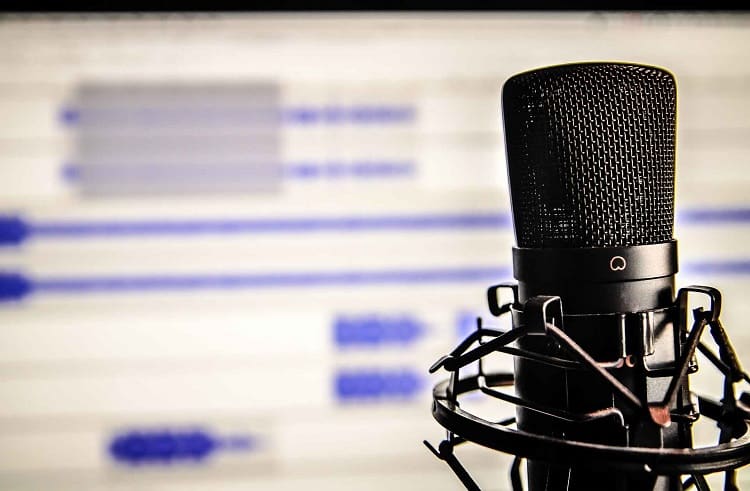 If you are already recording in your own studio, you know just how important it is to have the right microphone for your applications.
If you are new to recording, or if you want to upgrade your equipment, a dynamic mic is a great option for a variety of instruments and vocal situations.
For those of you that are new to recording, and aren't sure is a dynamic mic is right for you, we've compiled some of the most frequently asked questions about dynamic studio microphones.
The questions we've addressed aren't a complete list of information, but they will get you started down the right path, to buying the right sound equipment for your home studio.
What is a dynamic microphone used for?
A dynamic microphone is a great tool if you are planning on setting up a home recording studio, or if you are upgrading your existing recording equipment.
It is important to understand that dynamic microphones are not the right microphone for every situation, and understanding the limitations of a dynamic microphone will ensure that you get the best results in your home studio, each time you record.
A dynamic microphone generally has a limited frequency response. This response allows the microphone to handle loud and aggressive sounds, with less distortion and feedback.
Dynamic microphones are also great for recording outside of the home studio, in live performance settings.
Most users of dynamic microphones will have most success and the best sound quality when they use a dynamic microphone for recording loud guitars, drums, brass and wind instruments, and live vocals that are amplified to high volumes.
For more delicate, or quieter sounds, for example studio vocals or acoustic guitar, a dynamic microphone is not a great option.
You'll get better results in these instances when you use a condenser microphone.
How does a dynamic microphone work?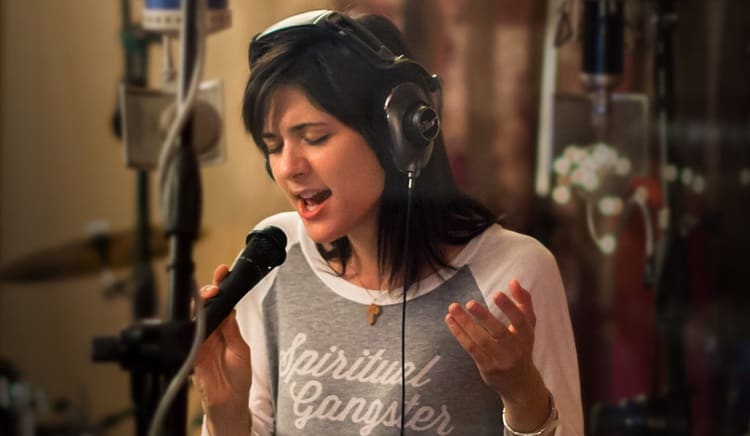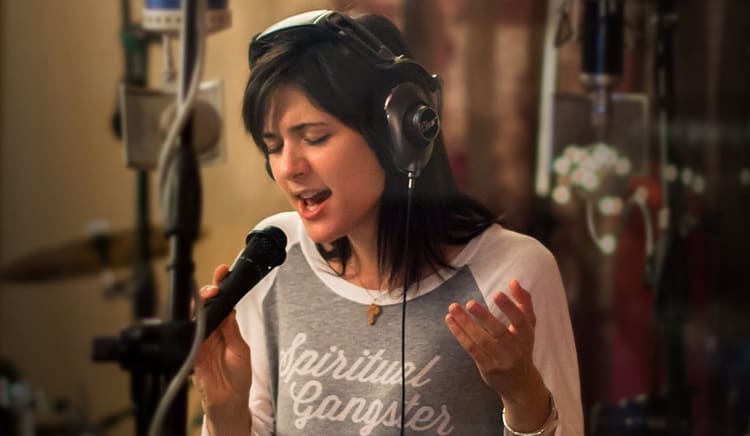 Before we break down how a dynamic microphone works, it's important to understand exactly what a dynamic microphone is.
A dynamic microphone uses electromagnetic currents to turn sound (from an instrument or voice) into an electrical signal. This electrical signal is then carried from the mic, through a cable, to the pre-amp or the audio interface that you're using in your studio.
Dynamic microphones are the most simple of designs, and they don't depend on power to work (we'll talk about this more, shortly).
They have also been around for the longest, and are well understood and simple to manufacture.
These features all make a dynamic microphone a great affordable option for the newbie to in-home recording, or if you're experienced, but on a budget.
There are two types of dynamic microphone, the diaphragm version and the ribbon microphone. Sometimes the ribbon microphone is considered its own thing, but it functions in a manner identical to the diaphragm version.
For the diaphragm dynamic microphone, sound travels into the microphone, and hits a plastic or polyester diaphragm or film.
When the sound hits this film, it moves. This film is attached to a small, metal coil that is strung between two magnets. When the diaphragm moves as sound hits its surface, it also causes the metal coil to move.
The movement of the coil creates a small AC current that matches the sound wave. This small electrical current is transferred to the pre-amp or audio interface, and converted back into sound.
If you were to deconstruct your dynamic microphone, you would see that it is in essence, a loud speaker in reverse. Ribbon microphones work the same way, however the plastic or polyester film is replaced with a thin ribbon of metal, usually aluminum.
While ribbon microphones may create a better sound, they are incredibly delicate and are prone to breaking. They are great in static environments, but don't do well if you are planning on traveling with your mic.
Dynamic microphones have been around for a long time. Their simple structure, and dependence on basic science to function makes them a reliable option for musicians.
Their simplicity also means that they are relatively affordable. Many dynamic microphones, of good quality can be purchased for less than $100.
Does a dynamic microphone require power?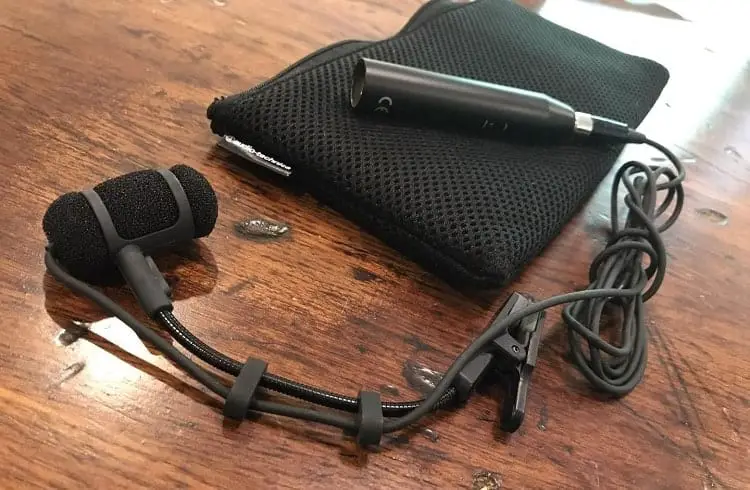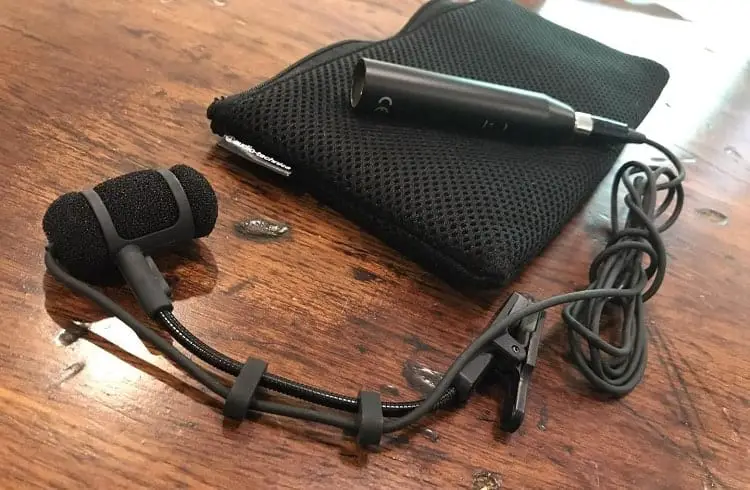 Another one of the great features of dynamic microphones is that they don't require power to function.
On their own, dynamic microphones will function and use the sound from an instrument or a voice to create a small AC current.
This small AC current is converted using an audio interface unit or a pre-amp. These two items do require power, but your microphone does not.
To be clear however, just because you have a dynamic microphone, doesn't mean that you will automatically have sound.
While the microphone will convert the sound from an instrument or voice to an electrical current, there needs to be a way to return that electrical current, back into a sound.
This is where the audio interface or pre-amp comes into play.
These two pieces of equipment use different methods to convert the current created in your dynamic microphone, and return that electrical signal to a sound.
These two pieces of equipment do require power, so if you are a traveling musician, and you want to create a louder sound, you will need to have a power source that can be connected to your audio interface, but more likely your pre-amp.
What is the difference between dynamic and condenser microphones?
The basic functions of dynamic and condenser microphones are relatively similar.
Both use diaphragms connected to metal wire to create an electrical current that can eventually be turned back into sound.
However, the way that this is achieved is slightly different between the two types of microphone. This is the first, and probably most significant way that dynamic and condenser microphones are different.
Let's take a moment to rehash how a dynamic microphone works.
Dynamic microphones have a thin diaphragm made of plastic or polyester, sound waves from an instrument or voice, hit the diaphragm and cause the diaphragm to vibrate.
Touching the back of the diaphragm is a coil of metal. This metal coil is either wrapped around or stretched between two magnets.
When the diaphragm vibrates, it also causes the coil to vibrate. The vibration of the coil creates a small electrical current to be created by the magnets.
The current travels through the coil, out of the microphone and the audio interface or pre-amp, where it is converted from electrical signal, back to a sound.
For a dynamic microphone to really work great, it needs to be subjected to relatively loud sounds. Louder sounds, create stronger vibrations on the microphone diaphragm, and thus a stronger electrical signal.
The strong electrical current creates a vibrant and clear sounds. Dynamic microphones are best for loud instruments like brass, electric guitars and strong singers.
Dynamic microphones are also very sturdy, and don't require power to function, so they are great options for musicians that travel.
Remember however, that just because the mic doesn't require power to work, that doesn't mean you don't need a power source.
The current created by your mic will still need to be converted back to sound, so you'll need power for an audio interface, or a pre-amp and amplifier.
Condenser microphones are a bit different in how they function, and this makes them a better option for different situations. First, let's examine how a condenser microphone works.
The condenser microphone, like the dynamic microphone uses a diaphragm. Instead of being made of a soft material, the diaphragm in a condenser microphone is made of a thin sheet of metal, with a metal plate behind, called a backplate.
Electricity is sent to both the diaphragm and the backplate, which creates a static charge between the diaphragm and backplate.
When sound hits the diaphragm, like with the dynamic microphone, an electrical current is created. This current is then sent to the audio interface to be converted back to a sound.
From a function standpoint, the greatest difference between the condenser and dynamic microphones is power.
While the dynamic microphone doesn't require power to create an electrical current, the condenser microphone does. Your condenser microphones will need a battery or other power source to function.
This differences translates in to a performance difference. Where the dynamic microphone is great for loud sounds, because they are more efficient at creating the vibrations necessary to create an electrical signal from the magnets.
With an electrical current already available, the condenser microphone is better for soft sounds, light vocals and indoor recording. 
The last difference to consider when you are considering dynamic versus condenser microphones is price.
While you can get pricey dynamic microphones, in general, they tend to be more affordable than the condenser microphone.
This doesn't mean they are of lower quality, but if you are just starting out recording and don't want to spend a ton of money for the initial set up of your home studio a dynamic microphone will work fine, and save you some money.
Are dynamic microphones good for recording?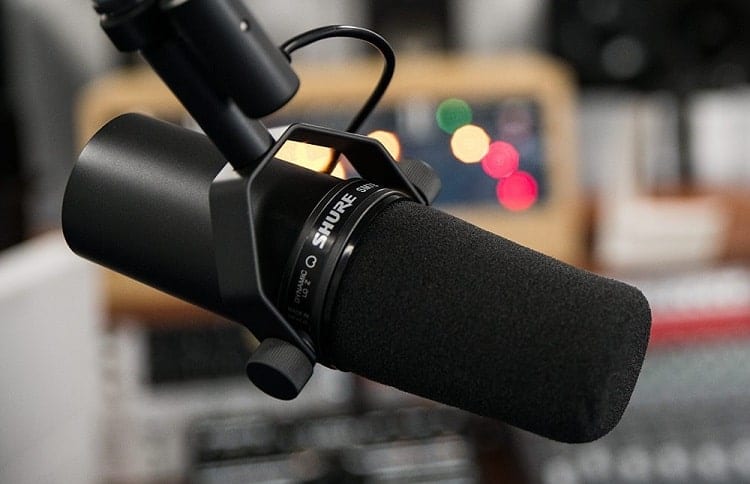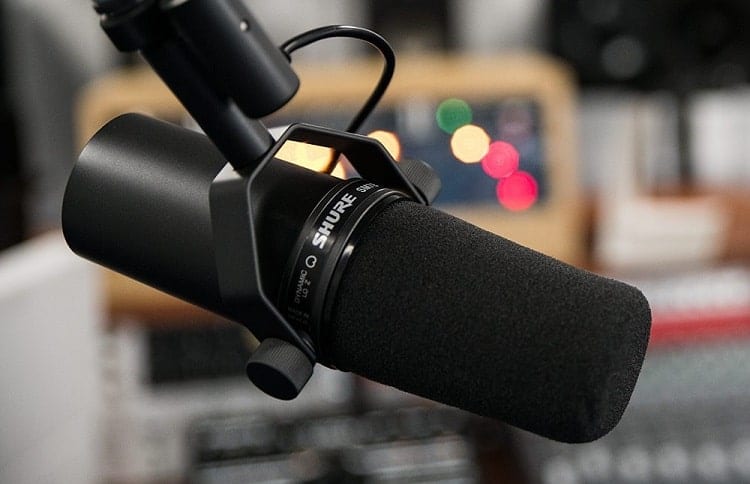 There is no reason that you can't use a dynamic microphone for recording. However, they are most useful if you remember how they work, and what they are best used for.
While dynamic microphones are just fine in a studio setting, you will find that soft sounds don't carry well through a dynamic microphone.
Due to the way that the dynamic microphone works, the studio setting, soft vocals and even acoustic instruments don't create the frequency of sound waves that are best for dynamic microphones.
Remember that dynamic microphones are great for strong sounds, and work best with instruments like electric guitars, drums and brass instruments.
If you're recording these kinds of instruments, a dynamic microphone will work great.
Dynamic microphones are also a great solution if you are recording in a live setting. Because live venues tend to be noisier, both instruments and vocals need to be louder.
The durability of the dynamic microphone make it perfect for live recordings or recording in a noisy environment.
Dynamic microphones are not great for all recording environments, however.
If you are solely working in a studio, and are using acoustic instruments or have a vocalist with a soft, but amazing voice, you should consider using a condenser microphone for your recording.
This option will do better at picking up the softer, more delicate sounds. The ability for the condenser microphone to perform well with quieter sounds is due, in part to the fact that it is powered.
The presence of an existing power source, means that the microphone can pick up a greater range of mid and low volume sounds.
Conclusion
So, there you have it.
Our recommendations for the best dynamic microphones.
We've shown you a range of microphones with different options and in different price ranges, so that even the budget conscious musicians can find a great microphone for their studio.
We've also given you some helpful information to guide you through the process of deciding which microphone type is best for you.
Dynamic microphones are a reliable, timeless option, that have proven tried and true in many recording situations, from the live venue to the professional studio.
Have questions?
Do you have a product that you love?
Did we miss something?
Let us know your thoughts in the comment section.