If you are a guitar player and also a frequent traveler, the chances of you wanting to take along a full-size electric guitar when traveling are highly unlikely.
A full-size guitar is heavy and also quite cumbersome to move around when using transport.
Best Overall
Best Travel Acoustic Electric Guitar
Pickup
L2 Pickup System with FreeBoost Features
If you're traveling by plane, then you have even more problems to face since the regulations regarding your rights to take your guitar on a flight will all come down to the good or bad will of the staff.
The good news is there are quite a few options for travel-size electric guitars. In fact, there are so many options that you may very well find yourself overwhelmed.
In the following guide, we'll give you the tools to make a well-informed decision when it comes to choosing a travel-size guitar.
Best Travel Electric Guitar for 2021 Reviews & Recommendations
Best overall: Traveler Guitar 6-String Acoustic-Electric Guitar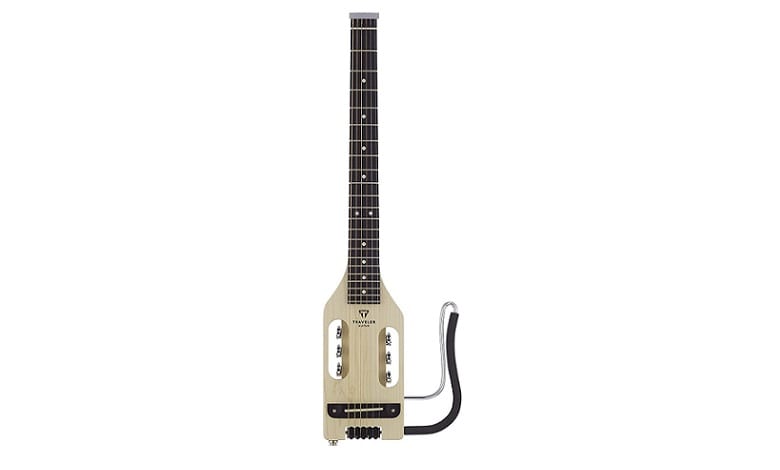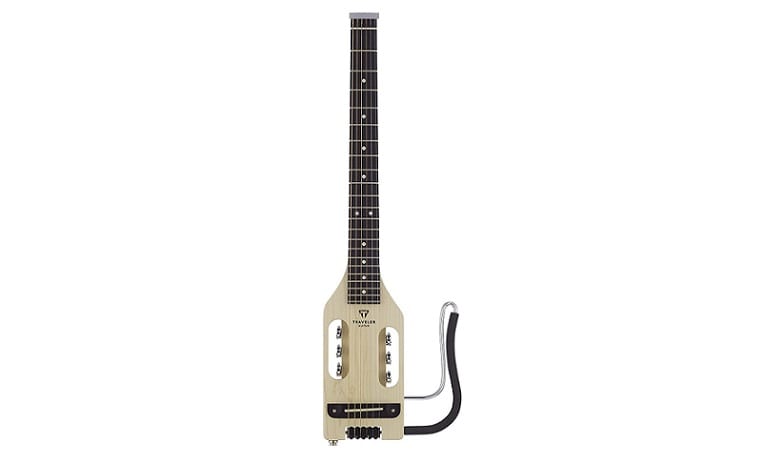 The in-body tuning system makes use of standard tuning machines relocated into the body and therefore eliminating the headstock. However, it offers the same full-scale playing experience that you are used to on a full-size electric guitar. The bonus is that it is 31% shorter and 42% lighter than the typical full-size acoustic guitar.
Thanks to its shadow acoustic piezo pickup and standard quarter-inch output, you are able to plug the ultralight acoustic into your favorite amp or recording device. Detach the lap rest for easy transportation and the guitar, and the bag fits comfortably in an airline overhead compartment.
The guitar weighs less than 3 pounds and is only 28 inches long so that you can take it with you practically anywhere.
This travel-size guitar is light and the perfect solution for guitar players who want all the convenience and functionality of a full-size guitar in a small, light package.
This machine is full-scale, meaning that this ultralight guitar has the same playing area as a standard guitar; however, it presents a full-size playing experience in a much smaller package.
The compact design includes the minimalistic body as well as the detachable lap rest for easy portability.
Pros:
Lightweight and portable
All the functionality of a full-scale electric guitar
Detachable lap rest
Cons:
Not very comfy when on lap
Runner Up: Traveler Guitar Ultra-Light Solid-Body Electric Guitar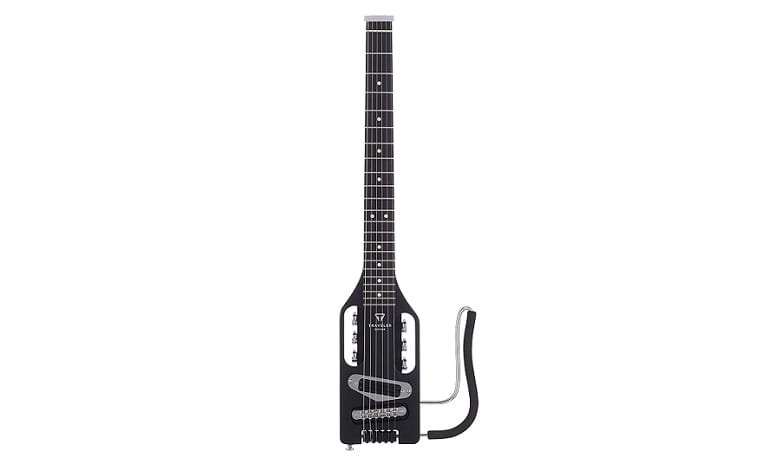 If you are looking for all the functionality of a full-scale guitar in a small and lightweight one, then this is it. It's full-scale, meaning that it has all of the features and functionality of a full-size guitar but simply comes in a small and light package. Compact design means that the in-body tuning system has a minimalistic body as well as a detachable lap rest for ultralight portability.
This guitar is built with a one-piece neck-on-body design and is equipped with an adjustable tune-o-Matic style bridge as well as a dual rail high output humbucker, which gives it immense tone in a compact package.
At just 30 inches long and weighing less than 4 pounds, you can take this ultralight and ultra small travel guitar absolutely anywhere.
Pros:
Compact design
Neck-through-body design
Under 4 pounds making it lightweight
Cons:
Alternative: Traveler Guitar 6 String Pro-Series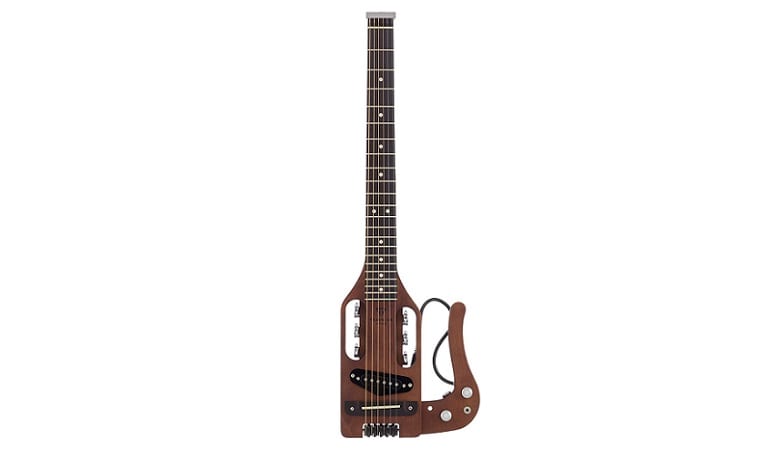 The Pro series is representative of Traveler guitars' initial production model and remains a standard of innovation and design for travel guitars all over the world. The in-body tuning system makes use of standard should machines relocated into the body and thereby eradicating the need for a headstock.
So it offers the same function of a full-size guitar but is 28% shorter and 64% lighter than the typical or normal-sized electric guitar.
If you long to have both an electric and acoustic in one, then the Pro series delivers just that. It has a tailor-made piezo pickup and a single acoustic-electric pickup so you can play a breadth of tones and styles on one convenient instrument.
The 24 three-quarter inch scale neck-through-body sounds amazing through electric and acoustic amplifiers or through its unique internal resonant pickup system. It also includes a stethophone headset allowing private listening without the batteries or amp.
Detach the lap rest for easy transportation so your guitar, as well as the bag, will fit easily into an airline overhead compartment.
Pros:
Acoustic and electric pickups
Small and compact
Full scale functionality
Cons:
 Needs a reliable headphone interface for travel.
Jamstik Studio MIDI Guitar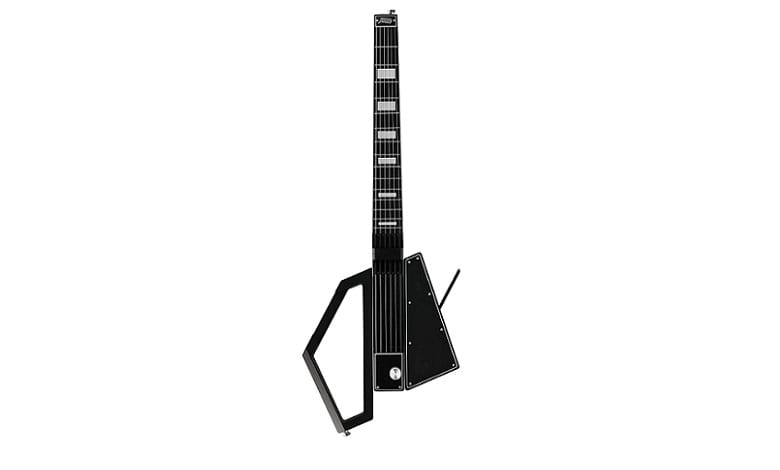 The Jammy works as a MIDI controller and plugs into your PC by USB–C  or hooks up to your phone in a matter of seconds. When in MIDI mode, it has the ability to sound like any instrument you want and allows you to create a multi-instrumental track with only your guitar playing skills.
At only 27 inches, the super portable Jammy will not take up too much space in your home studio and also fits into a backpack quite easily. It has a 4400 mAh battery, which is enough for six hours of active playing. A quick start guide is available with your Jammy, and it has a detachable add-on-frame, bag, strap, custom pick set as well as a USB-C charging cable.
Your Jammy is always tuned and ready to play, and it includes an onboard sound of electric, acoustic and classical guitar allowing you to immediately try out your ideas without the need to connect your phone or computer. Simply plug your headphones in use an amp with 1/8 inch and 1/4 inch jack outputs.
Jammy's built-in programmable accelerometer and push knob allow you to experiment with your sound. Control effects and filters allow you to calibrate your Jammy and update your firmware for the best results and the smartest sound.
Enhance your playability with Jammy mobile app. It contains a multitude of features that you receive via frequent firmware updates. It allows you to switch between various alternate tunings, fine-tune instrument sensitivity settings, and customize MIDI's behavior. The app also lets you change the guitar sound when using the Jami with onboard sound.
Pros:
Plug and play functionality
Additional expressiveness
App enabled
Cons:
Best travel acoustic: LAVA ME 2 Carbon Fiber Guitar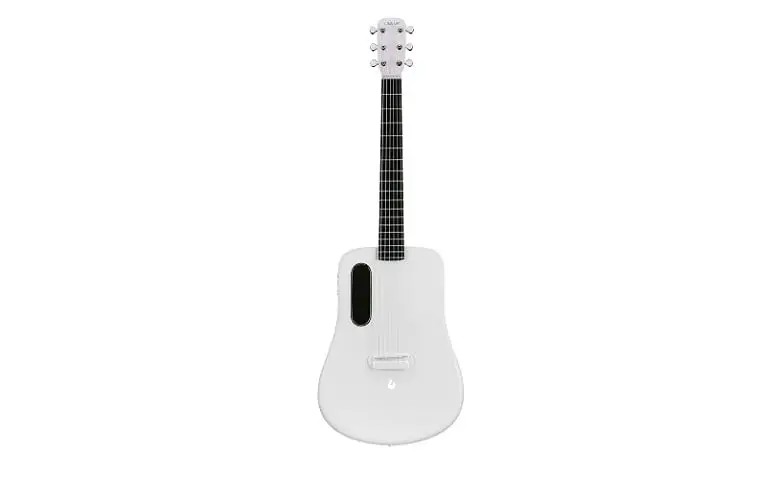 The LAVA ME 2 Carbon Fiber Guitar is the world's leading unibody guitar. The one-piece injection-molded technology makes it more comfortable to hold, giving you excellent acoustic performance forms. It can also offer a full, wide range of tones with its 36 inches body.
Weighing just 3.7 pounds, it's even lighter than most laptops. With this guitar, you can play effects without plugging in. So you can tune the pickups on anything at any time. You may freely play with delay, reverb, and chorus without an app. It also contains a percussion effect since it is enabled with percussion sound receiving mic. It embellishes and enhances the percussion sound irrespective of whether it is used with or without plugging in.
The Super AirSonic carbon-filter material adapts to temperatures between 20 to 90 degrees Celcius adapts and works for you at all times irrespective of whether you are in a desert or in a polar region.
If you would like to experience a new level of playing coming, then this guitar is just for you. The idea of the FlyNeck is to design and build the most convenient and comfortable, intuitive guitar neck possible. The geometric shape of the FlyNeck was designed by tracking the different forces of shifting positions while players are playing.
The Plek pro machine is the most advanced guitar fret machining system on the planet. It scans the fretboard based on the tension of the strings with accuracy up to 0.005 mm and then cuts the frets to the best possible action with an accuracy of up to 0.01 mm.
Pros:
Super AirSonic carbon filter material
Plays effects without plugging in
One-piece injection moulded technology
Cons:
Build quality could be better
Travel Electric Guitar FAQ
How are travel electric guitars different from normal ones?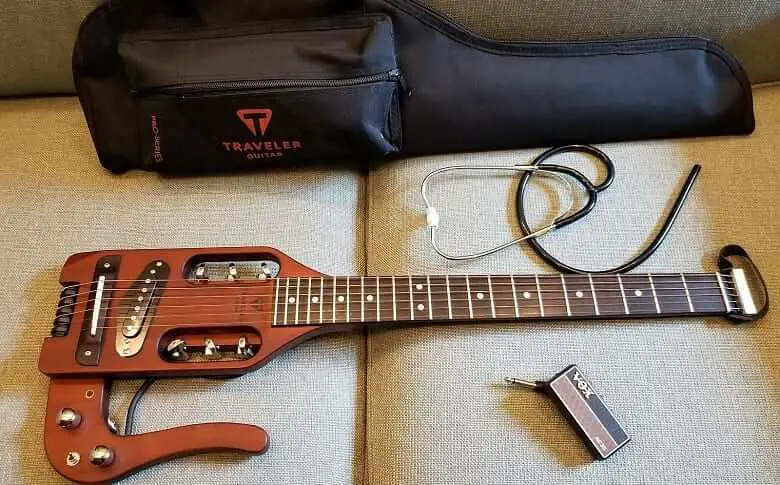 This type of guitar is designed with portability in mind, which means it has one of two designs. It is made smaller and lighter than full-size guitars so it can fit in small carrying cases and not become cumbersome when traveling.
Alternatively, it is a full-size guitar but is designed to be disassembled and easy to store away for travel.
However, it's more than just about size and portability. These guitars are also designed to sound good and offer a superior playing experience in any setting or situation. So their builders ultimately take everything into consideration from the pickups to the headstock to achieve both good sound quality and adaptability for on the go situations.
Do they sound worse than the real deal?
It is highly unlikely that you will see performing musicians on stage with a travel-size guitar as they don't tend to produce the same quality of sound that a full-size guitar does.
This is due to their smaller size. Travel guitars contain scaled-down bodies that don't resonate as well as a full-size acoustic.
However, there are many acoustic travel guitars that produce some pretty good tones; but, you should never expect the same results that you would with a full-size guitar. However, the goal is that a portable guitar allows you to play while you are away. So in that regard, it does serve its purpose.
Are travel guitars easier to play?
Lots of beginner guitarists complain that their fingers are too big, or they can't hold down the chords properly because the neck is too wide. This is where travel guitars come in.
Travel guitars solve this problem, and that makes them great for beginners. It is much easier to hold for someone that is not used to the shape and feel of a full-size guitar.
Can I take an electric travel guitar on a plane?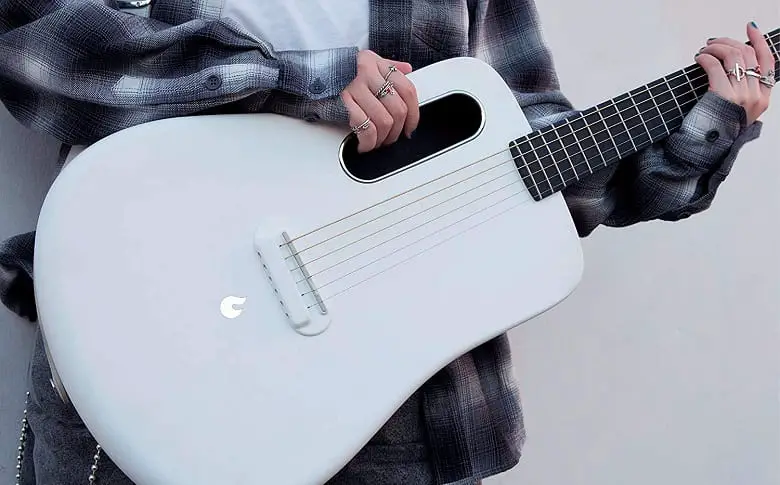 Travel guitars used to be novelties, but not anymore. Travel guitars are now available in smaller, lighter, and more compact sizes yet still offer the functionality of full-size guitars.
Some models can even be dismantled, actually making it easy for you to travel on airlines with them. So if you are wondering if you can take your travel-size guitar on an airplane with you? The answer is yes; you most certainly can.
Conclusion
Investing in a travel size guitar gives you the ability to play anytime and anywhere you need.
It's portable, handy, and you won't even notice it in your luggage since it can be dismantled and stored away. By purchasing a travel-size guitar, you'll never have to miss out on valuable practice time irrespective of where you are in the world.