One of the key ways in which musicians add expression and bring life to their sound is by using vibrato.
Not only does it add personality and character to your playing, but if done the right way, it gives you a real vocal quality that is unmatched. Of course, in order to achieve this, you need a vibrato pedal.
Controls
RATE knob, DEPTH knob, RISE TIME knob, MODE knob
SPEED knob, DEPTH knob, RISE TIME knob, TONE knob
VOLUME knob, TONE knob, COMP/LO-FI knob, DEPTH knob, SPEED knob
A vibrato pedal basically takes the input signal from your guitar and shifts the pitch of the note you are playing at that moment. There are several dimensions to this modulation and not only can you adjust the speed, or the frequency of the wave, you can also just how far the pitch is going to shift.
In the following guide, we'll take a look at some of the best vibrato pedals on the market and why you should be investing in them.
Best Vibrato Pedal Reviews For 2021
Best Overall – BOSS WAZA CRAFT Vibrato Guitar Pedal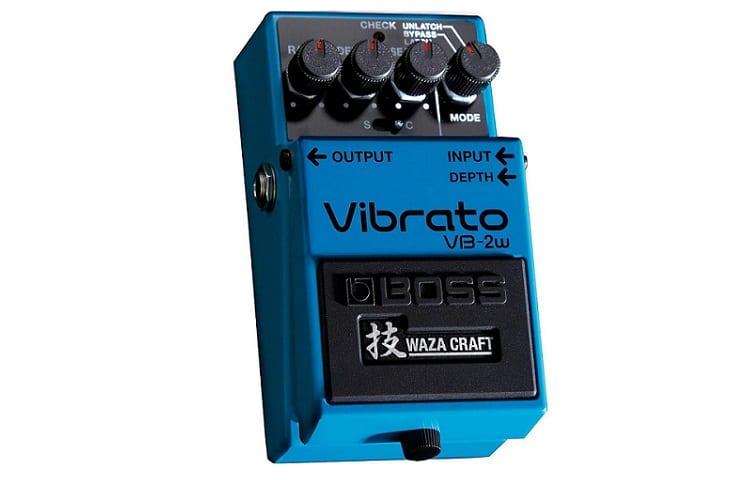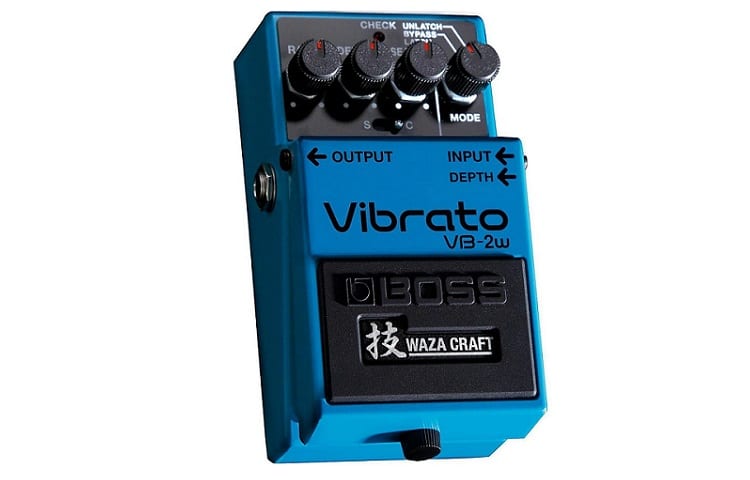 The BOSS WAZA CRAFT Vibrato Guitar Pedal was ahead of its time when it debuted in 1982. However, it has since been rediscovered by modern players who are looking to make unique guitar textures with stompbox effects.
However, this pedal has a unique and one-of-a-kind sound which makes it quite a rare pedal and is one of the reasons why it's become one of the most valuable boss effects in the vintage market.
The vibrato pedal authentically re-creates the true pitch-shifted vibrato of the original pedal by using analog circuitry. It also has an innovative new vibrato mode and real-time control function for increased and enhanced expression.
The custom mode has a totally new vibrato sound with a unique filter wave and the standard mode provides a true reproduction of the vintage vibrato sound.
Pros:
Two different vibrato modes
All analog circuit
Solid and versatile
Cons:
Runner Up – TC Electronic Shaker Vibrato Pedal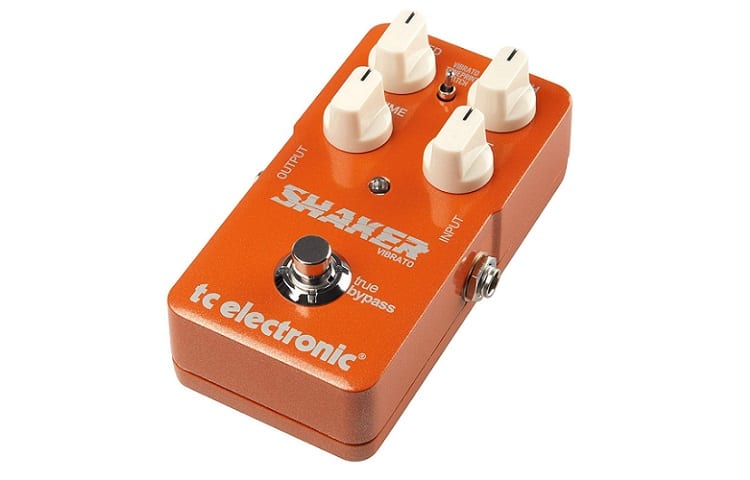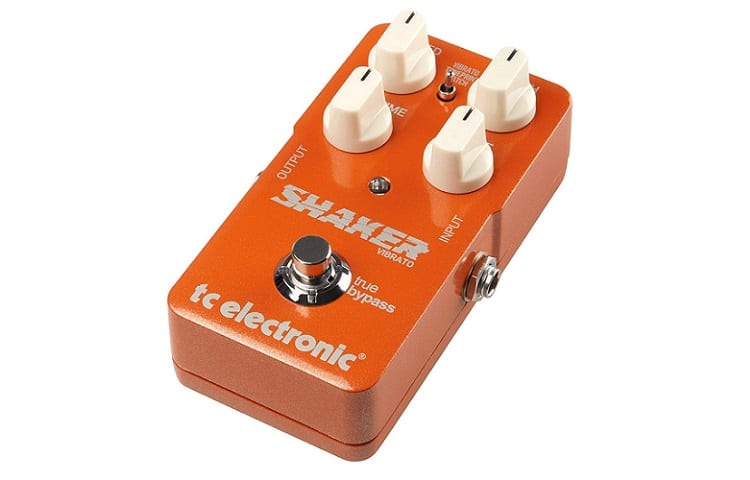 If you're looking to shake things up, then there is no better way to do so than by using this TC Electronic Shaker Vibrato Pedal.
It features the all-new TonePrint technology that allows you instant access to custom pedal tweaks which are made by world-famous guitarists as well as the greatest vibes you could ever need.
It also contains true bypass and zero loss of tone and there are two vibrato types. It also controls rise-time level-control and depth and speed.
Pros:
New TonePrint technology
True bypass
Tonal options that control rise-time, speed and depth
Cons:
Alternative – ZVEX Effects Vibrato Guitar Pedal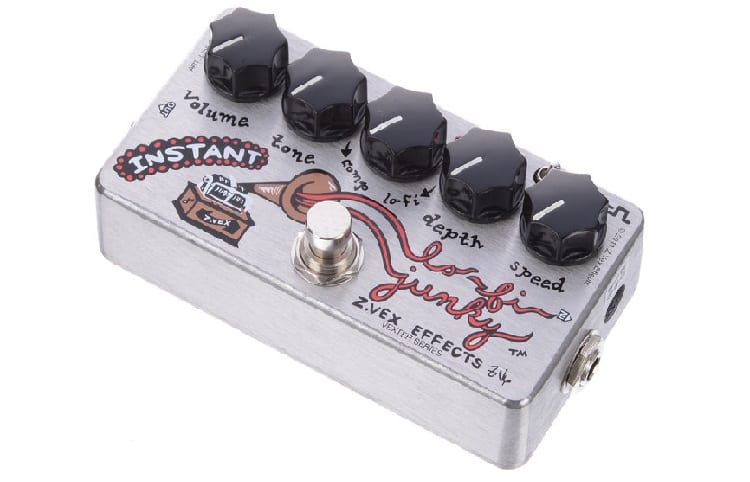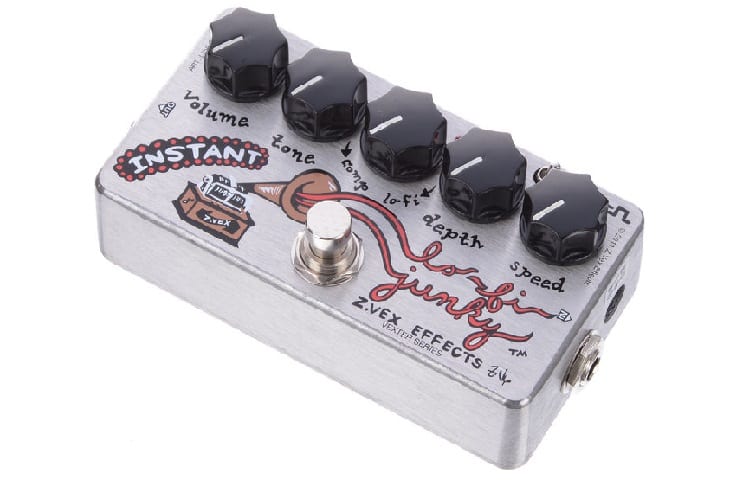 The ZVEX Effects Instant Lo-Fi Junky emulates the texture and sounds of the Lo-fi loop Junky in real-time which is what it was designed to do. However, it does go far beyond that.
When you switch it on, you can mix your clear compressed signal with the smashed low fidelity warbled signal and listen as it becomes beautiful emulsification that can be blended to the most perfect depth.
New haunting chorus sounds and pulsating vibrato is what this pedal allows you to achieve. So it is unusual and fun, to say the least.
The Vibrato is a pedal of sorts and if you have ever heard the sound of the Lo-fi loop Junky then you will understand this pedal immediately. Its purpose is basically to imitate that sound in real-time.
The engineer behind this device is Joel Korte and he was able to create a combination of that chip compression, ultra-low current, and Belling bucket-brigades.
With this pedal, you can lower the brightness of the Lo-fi signal and it doesn't affect the compressed signal. The compression adjusts anywhere between full compression and full vibrato mix.
Depth, speed, and waveform can be toggled between and the traditional Lo-Fi Loop Junky simulation setting is triangle.
Pros:
Great volume and tone
Compression and Lo-FI
DEpth, speed and waveform toggle
Cons:
Alternative – DigiTech ventura vibe Rotary Vibrato Pedal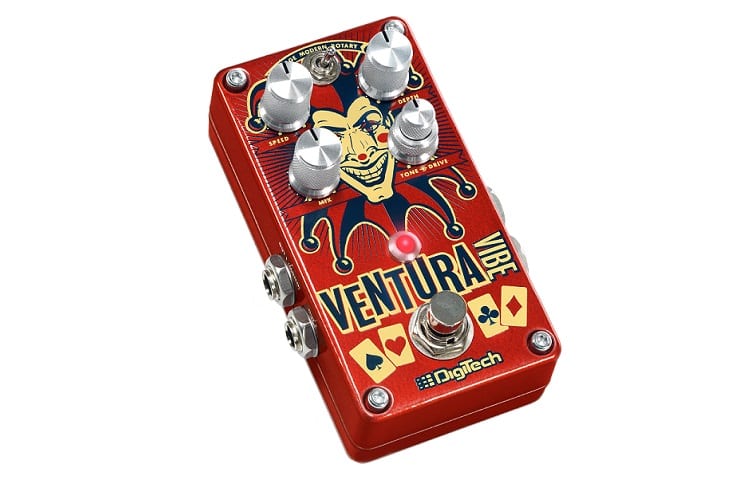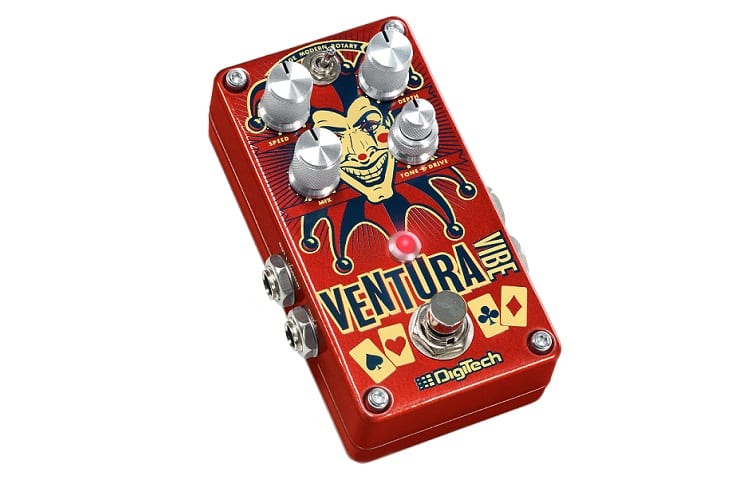 The DigiTech-Ventura-vibe Rotary/Vibrato Pedal Guitar-Multi-Effects as the unique rotary and vibrato types.
Vintage is of course inspired by vintage phaser based univibe effects. Modern is an original pure pitch-based vibrato effect and the rotary is based on a Leslie speaker rotary effect, slow to fast foot-switchable speeds.
This pedal is a compact size with soft click, vacuum style footswitch true, true bypass circuitry preserves your tone in bypass, and high voltage operation for uncompromised signal quality.
The following accessories are included and will come in handy: Stomp lock knob guard locks your tone in place and prevents tampering or accidental knob adjustments onstage, Custom-cut Hook and Loop Pedalboard Pad to attach and lock your pedals to your pedalboard.
Pros:
True bypass
Compact with soft click
Accessories included
Cons:
Alternative – Moen MO-VB2 Shaky Jimi Vibrato Pedal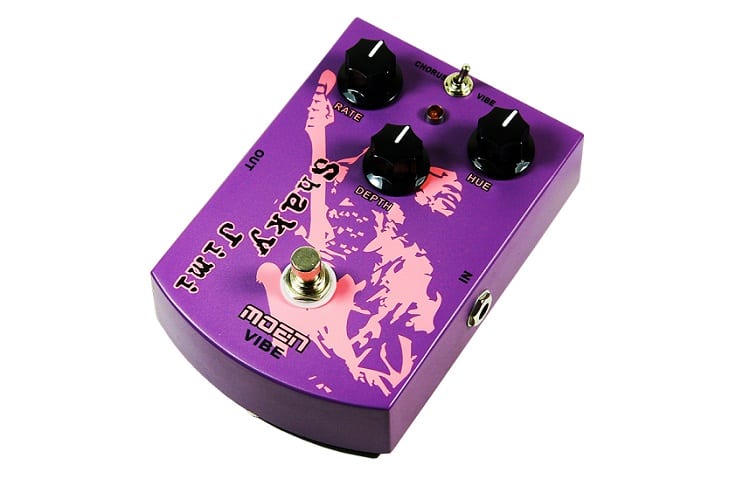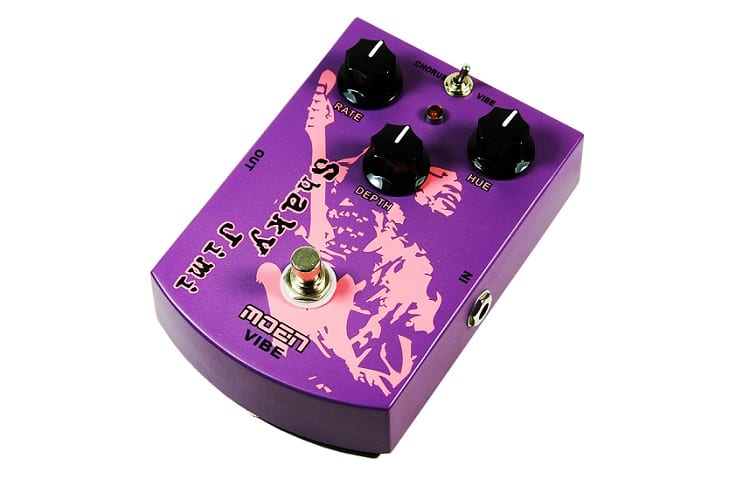 The Shaky Jimi Vibrato Chorus Guitar is deeper and funkier than its predecessors. It has a "Hue" setting that allows you to do more adjustments without the wrapping or isolating of the LEDs.
It also contains swirling vibrato effects which are very Univibe-ish. You can expect this pedal to bring up Hendrix and early Trower tones. Pair this with your favorite amp and throw in the distortion or fuzz and you can start your own band of Gypsies.
For the chorus and vibe, you'll find a separate toggle switch. Finding your sound is made easy thanks to all of the room in the rate, depth, and hue settings.
This pedal has some fantastic reviews on Harmony Central thanks to its liquid vibe tones. The input jack is connected directly to the output when the pedal is switched off and this is basically what the actual true bypass feature makes possible.
So ultimately, the sound that comes in is totally unaffected by any filter or circuitry and this encourages the guitarist to truly differentiate the effect.
Modern effects pedals are built with a metal enclosure and include a metal stomp switch. The metal casing is used so they can withstand heavy floor usage and has heavy-duty rubber on the underside which ensures that it doesn't move or slide while you're using it.
Pros:
Rotary speaker type effect
Depth, rate and Hue knobs
Tough metal enclosure to protect pedal and ensure longevity
Cons:
Vibrato pedals FAQ
What is the vibrato in the world of music?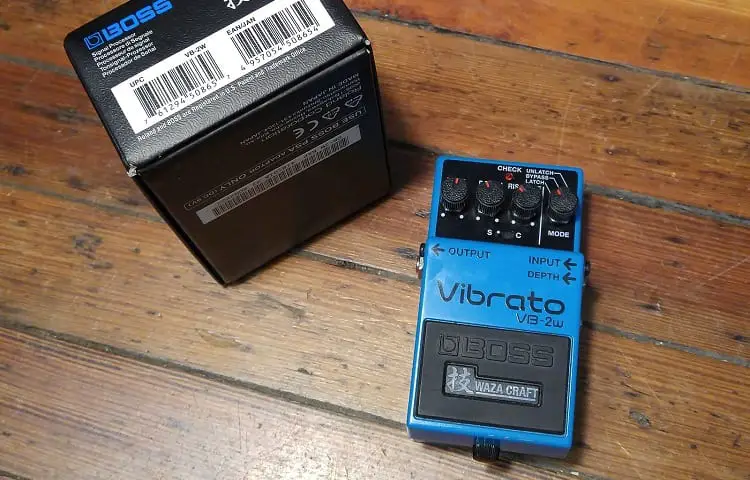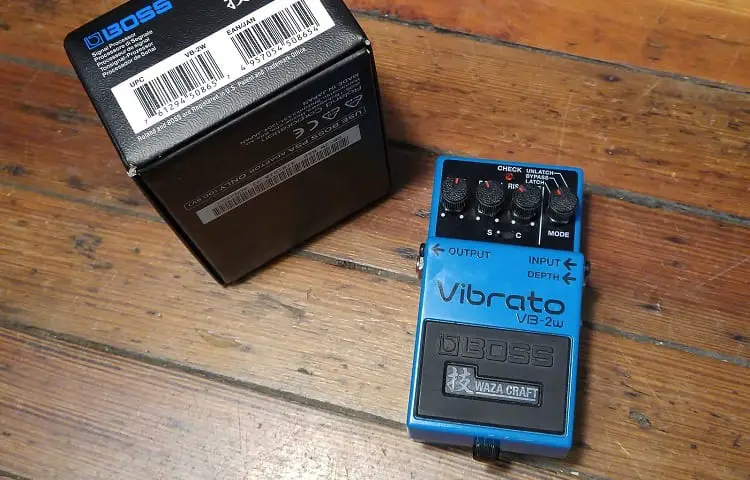 Vibrato adds beauty and depth to a piece of music and it's more or less an irreplaceable tool when it comes to expression.
Vibrato is basically a pulsating or vibrating of the sound which is used to add expression to the music. These sounds are regular in both pitch and oscillation. Instrumentalists learn how to use their fingers, diaphragm, and lips to create vibrato yet for singers it is more of a natural revelation than a practiced technique.
According to singing teacher Jean-Ronald Lafond, Vibrato is not learned and manifests when the voice is functioning in a consistent manner that is relevant to both pressure and flow. Ultimately, when the singer achieves good vocal habits, the vibrato is simply revealed.
However, this has not always been the case. Stepping back to the 21st and 20th centuries vibrato hasn't always been seen as a healthy or natural technique in musical performance.
In the Baroque period, it was actually believed that vibrato obscures the performance of the Orchestra if it is used too widely, slowly, or too often. So vibrato has always been used sparingly.
How do you use a vibrato pedal?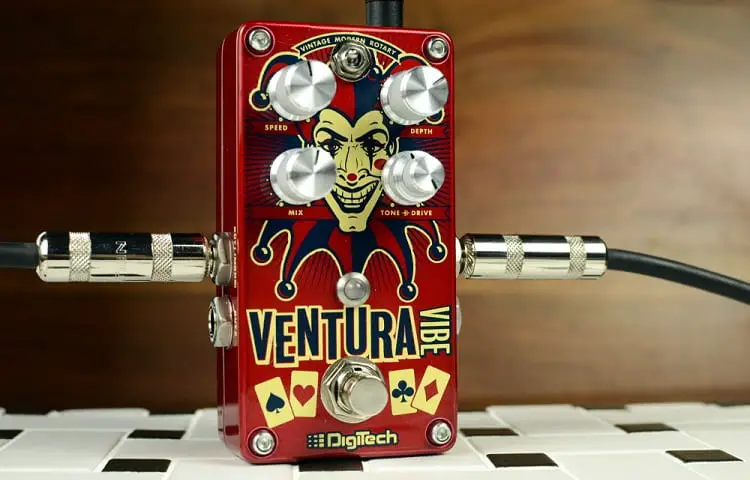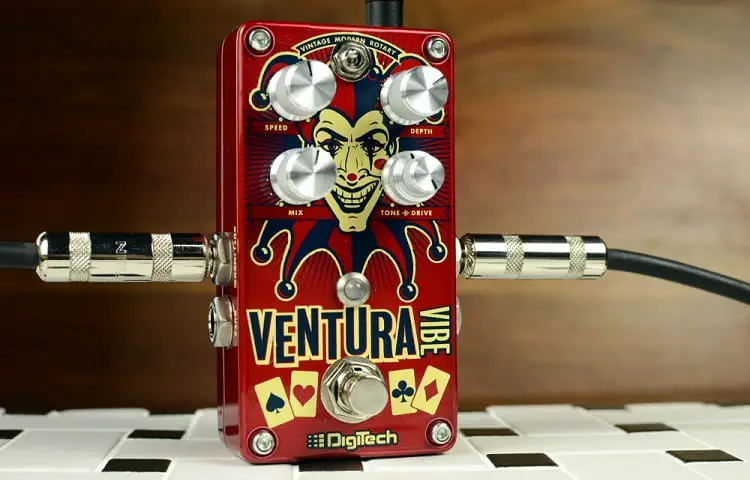 Vibrato belongs to the modulation effect family or to its pitch shifter sub-division. Other pitch-shifter pedals include flanger, chorus and similar.
However, vibrato stands out due to how familiar its effect is to an average guitar player. The basic vibrato pedal takes the input signal from your guitar and then shifts the pitch of the notes you are playing at that point in time.
This modulation has several dimensions and not only can you adjust the frequency of the wave and the speed, but you can also adjust how far the pitch is going to be shifted. So vibrato is basically the simplest form of pitch shifting pedals that are available on the market.
Perhaps the bonus when it comes to vibrato pedals is that you can change the nature of the modulation in ways that can have a profound or subtle impact on your tone. So you can create light whammy effects that just barely change the pitch of your tone or you can go all out and get some pretty interesting results.
Vibrato pedals also allow you to adjust Rise.  Rise basically determines the amount of time it's going to take the vibrato to go from the source pitch of the note you just played to the full detune of that note. And this in itself is a brand-new dimension to work with.
What is the difference between tremolo and vibrato?
Vibrato and Tremolo effects often get confused with one another. However, this confusion stems from the fact that these effects are quite similar.
But, there's still one big difference that separates them. So let's take a closer look.
Vibrato effect
The most basic way to explain the vibrato effect is to imagine a Whammy bar on your guitar but in the form of a pedal. A whammy bar, as you already know works by forcing the bridge to put more or less strain on the strings.
Therefore the pitch of the strings changes in one direction or the other. The operative word here is "pitch". So the vibrato pedal creates that whammy effect by changing the pitch of the signal.
There are several benefits to this and one of them is that you don't have to worry about adjusting the tempo of the effect that much or as much as you would do with a Tremolo pedal.
Secondly, the effect sounds much more natural since pitch shifting is something that is a common practice for a lot of guitar players.
Tremolo effect
So we've mentioned that the vibrato effect works on pitch-shifting the signal. However, Tremolo pedals achieve a very similar effect except that they actually modulate the volume of the signal and not its pitch. So this is the significant difference between vibrato and Tremolo.
When you alter the volume of the signal, the tone of the guitar remains in the same pitch,  but you do get that wavy or choppy effect depending on the type of waveform you have selected.
Tremolo sounds quite artificial. A lot of people are of this opinion and it becomes apparent the moment you put these two effects in the same signal chain and test them both out in succession.
So as you can see, understanding the difference between the vibrato and Tremolo effect is a significant aspect when it comes to the tone you want.
However, both Tremolo and vibrato effects can be used by guitar players even without knowing how they work or what sets them apart.
Where should vibrato pedal go in the chain?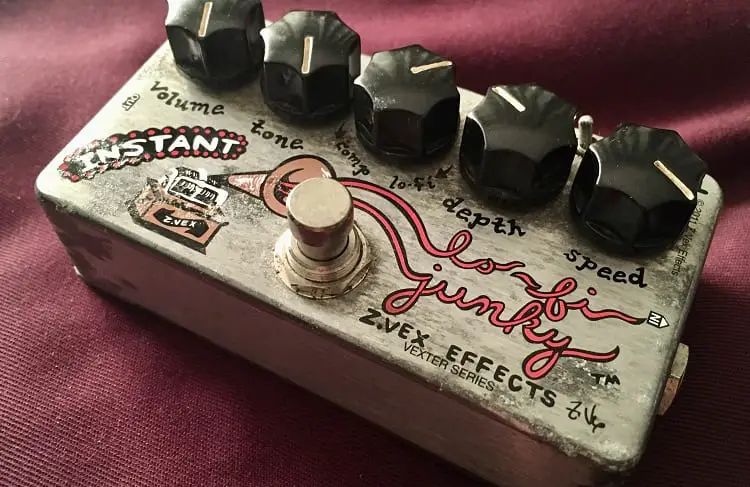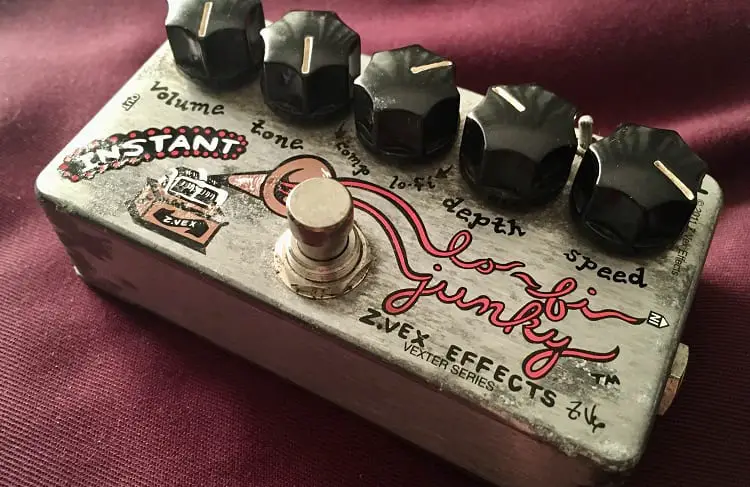 Vibrato pedals belong to the modulation effects family and therefore like compressors, filters, pitch shifters, and volume pedals, they go at the beginning of the signal chain.
Conclusion
Choosing the best vibrato pedal may seem challenging, however, it is not that difficult.
All you have to do is carefully research and then take that information into consideration when you're making your purchase.
Ultimately, you may have to experiment with more than one type of vibrato pedal before you find the one that is right for you.