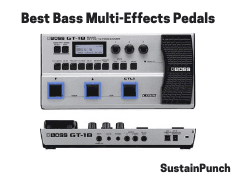 In this article, we're going to be talking about the top 10 Bass Multi-Effects Pedals that you can get for your bass rig.
However, before we do this, we're going to first talk about what exactly a bass effects pedal does, and the main advantages and disadvantages over using singular function pedals such as a bass fuzz pedal or bass chorus pedal.
What is a Bass Multi-Effects Pedal?
Simply put, a Bass Multi-Effects Processor combines a multitude of bass effects within a single physical unit, making it particularly convenient for a bassist as they do not need to purchase an entire pedal board, wiring kits and individual effects pedals.
Usually, these units come with the standard effects which include compression/limiter, EQ, distortion, overdrive, delay, reverb, tuner, chorus and a few more.
What are the main advantages and disadvantages of using a Multi-Effects Pedal for Bass?
As previously mentioned, the main advantage of using a multi-effects pedal is…
The convenience of having all the effects in a single unit;
Additionally, they are generally significantly lower in cost than if you were to purchase all of the equivalent singular pedals that would provide the same functionality.
As for the disadvantages, we're a little hesitant to discuss these, as they're less applicable in this case, as we're only sharing the 10 best bass multi-effects pedals, and hence these disadvantages don't necessarily apply to these.
However, we're here to talk objectively and thus we'll explore the subject, and the main disadvantage is that some multi-effects units lack the superior sound quality of the singular units; Most of the time this is for two main reasons;
The singular effect pedals usually have analogue circuitry, giving it a more natural, warmer sound… Most multi-effects units use digital circuitry, although we have featured a few analog pedals.
There are fewer sounds available in a singular effects pedal, thus the development teams can focus on these select few and effect these much easier than if there were 100s.
Therefore it's simply a choice as to, do the benefits outweigh the drawbacks… If so, then read on where we'll be discussing the 10 top bass multi effects pedals. Otherwise, take a look at our range of singular function effect pedals reviews.
Well, let's get to it!
What are the top Bass Multi Effects Pedals?
Firstly, this unit has an extremely solid construction making it ideal for the gigging bassist bringing this on the road. Alongside this, the processor has 23 user programmable memory banks, with each bank being able to store 3 sounds per stomp pedal; That's sound customization sorted.
Additionally, the 3 stompboxes can be engaged individually or simultaneously to create custom sounds, meaning the possibilities are endless (or near to being).
As for the slight drawbacks surrounding this product; Well it's nearly 14 years old, but we can safely say considering it's still a best seller that the sound quality has stood the test of time.
Other than this, it's still a little pricey, being over $300. However, considering the sheer amount of functionality, this is a small price to pay in the long-run.
This pedal is suited to the casual bass player, someone who does the occasional gig, but is really looking to use this  (with the use of rhythm patterns that can be played to) to facilitate your creativity, helping you write those incredible bass riffs.
Some great selling points of the Vox StompLab 2b would be the strong, rugged metal casing that is beneficial to ensure longevity, alongside the fact that it's built by one of the most renowned music equipment manufacturers in the world, so you should be confident in assuming it's made up of high-quality components and has been tested meticulously.
The MS-60B by Zoom is the second unit by the brand to feature on our list of top bass multi-effects processors.
This unit is highly compact and has a rugged metal casing, making it extremely suitable for the gigging musician. Not only this, but similarly to the Zoom B1on it offers a range of effects (although not as many), programmable patches and amplifier emulations.
The main difference between this pedal and the Zoom B1on, other than the metal casing, is the stereo output. Therefore if having a bass multi-effects pedal with stereo output is important, this may be the one for you.
The MS-60B can be powered from 2 x AA batteries, which is the least number of batteries needed by any unit we've featured on this list.
As for the sound quality, it really does impress; A solid sound quality on most of the effects, and it really does provide some versatile sounds, from arpeggiated synths to swooping synths, to heavy metal distortion (which surprisingly sounds somewhat good).
Who would we recommend this unit for
Someone looking for a highly portable, small, ruggedly built multi-effects processor for bass, with stereo output. This pedal sounds great and has a bunch of functionality to play with.
The Boss GT-1B is marketed as Boss' more premium-priced multi-effects bass unit. Looking closely at the range of functionality, alongside the technology behind the processor itself, it's no wonder why it's priced within this range.
You have access to 90 bass effects, and 99 user programmable presets; Presets can be downloaded and updated via the USB connection, and there is an on-board easy-edit mode for quick changes.
My personal favourite effect was the most unlikely one called 'Atmostphere', which you can hear in the second video demonstration at 2.38.
This unit comes with 111 bass effects, alongside 100 memory locations where you as the user can store your own user-created patches. Additionally, this unit provides a range of amplifer/cabinet emulations which will keep you up until the early hours of the morning.
A unique feature about the Zoom B3 is the three LCD screens on the front of the interface, making it especially useful for someone looking to quickly change between more than 2 patches within a song/performance. These three LCD screens correlate with the 3 footswitches, which have multiple uses when held, providing quick access to the tuner and looper.
This more than makes up for the lack of an expression pedal, although there is a input for an external expression pedal for those who want one.
However, unless you really need the DI output, take a look at the B3n which we review further down in this article; Since the B3n is the newer model.
This is ideal for the bassist who wants a huge array of effects which can be modified through using the DAW interface; The advantage of this processor is simply having three footswitches, which would make quick patch changes very easy.
The Tech 21 Bass Fly Rig is an old school looking processor; With it's metal casing, LED lights and multiple metal stompboxes, it really gives off a vintage vibe.
The processor itself utilizes an all-analog SansAmp which helps capture a rich,  underlying warmth and natural tone that is associated with the most sought-after tube amps.
With this technology being the foundation of how this unit works in creating that warm analog sound, it really does well at providing overdriven & fuzz-like sounds.
The only major negative for us is the price of this unit, being nearly $300 it may be a little steep for some, but considering the sound quality, it's great!
The unit consists of a metal outer casing, with analogue inner circuitry, helping give it a nice warm sounding output signal. The output signal can be routed through a 1/4″ inch jack and/or XLR output, making it great for live stage performances.
As for the sound quality… It sounds very nice, although we would prefer the Tech 21 unit over this processor, as this seemed to squash the overdriven sound a little too much for our liking. This unit is also particularly expensive.
As for where this processor sits in comparison to others around this price-point, it's safe to say that we believe there are newer, more technologically advanced and better-sounding processors on the market; I.E the Zoom MS-60B.
However, please don't take our word for it alone, check out the demonstration videos to get a full audible representation of how it sounds in comparison.
As with all our review recommendations, we like to make sure that we represent all of our readers, which means making appropriate recommendations taking into consideration budget, features and performance. Hence we've provided the following:
If you're looking for a premium quality, analog pedal, we suggest looking at the Tech 21 Bass Fly Rig Bass Multi-effects Pedal ($294.03) – Buy on Amazon
For the professional musician looking for a bass multi-effects unit to play shows & record with, we suggest looking at the BOSS GT-1B Bass Effects Processor ($199.99) – Buy on Amazon
For the bassist who's after a device to jam with, that will provide a quality sound, a large range of effects and plenty of rhythmic tracks to play alongside to, we suggest looking at the  – Zoom B1on Bass Multi-Effects Pedal )$79.99) – Buy on Amazon
For the lower budget, but for the bassist who wants to purchase a compact pedal that will last, we suggest looking at the Zoom MS-60B Multi-Stomp Bass Pedal ($99.99) – Buy on Amazon