XLR cables are a great way to connect all of your audio devices.
They are incredibly versatile, and send a great quality signal from the input device to your output.
Whether you're using the XLR cable to connect your guitar to its preamp or amplifier, using XLR connections for your favorite microphone, or as a way to send great sound from amplifier and mics, to your studio recording equipment, you can expect the best sound.
Male to female/or vice versa
XLR male to XLR female connection
Material
Wired with 24 AWG Mogami Neglex quad high-definition microphone cable
Copper conductor and shielding material
Oxygen-free copper conductors are encased in copper braid shielding
Oxygen-free copper (OFC) conductors AWG: #23 OD 6.0mm
Metal + rubber connector material and insulated dual oxygen free copper shielding & foil shielding
Jacket material
Flexible PVC + PP (braided) jacket
XLR cables were developed in the 1970s by the Cannon Company, to provide a better way to send audio signals to their cameras. The improvement in sound, combined with better reliability, made the XLR cables an immediate success.
Today, many companies manufacture their own versions of the XLR cable. And while there may be some limited differences from brand to brand, the XLR cable and connectors remain relatively unchanged.
The original XLR cable was a three pin, three signal cable. One ground, one positive, one negative. This separation of signals results in a stable, balanced signal, over a greater distance than with other cables.
In this buying guide, we'll offer our suggestions for the best XLR cables on the market. We'll tell you what we like, what could be better, and offer our suggestions for buying and who will benefit the most from the cable.
When we're done with that, we'll answer some of the most frequently asked questions about XLR cables, and put all the best information, all in one place.
So sit down, turn up the volume and get ready to rock with XLR cables.
Best XLR Cable For Your Studio Equipment
WINNER: Mogami Gold STUDIO-10 XLR Microphone Cable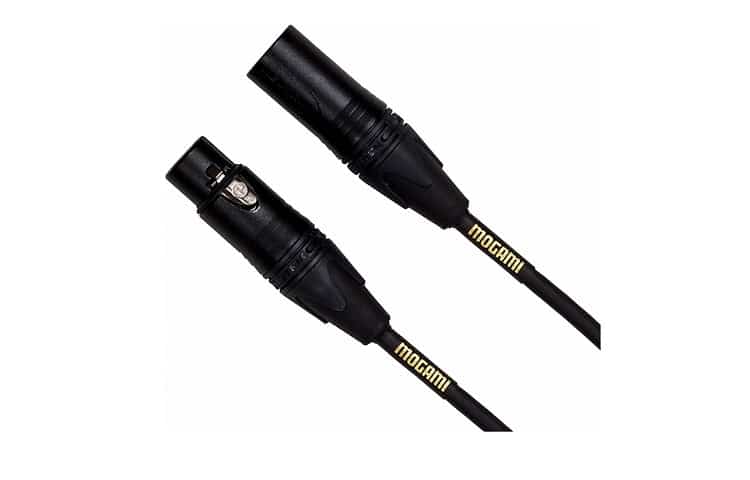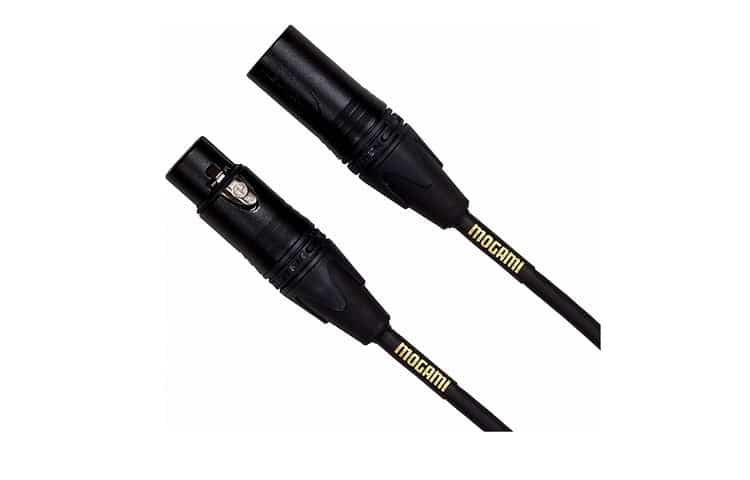 From large recording facilities to small project studios, engineers and artists trust Mogami GOLD STUDIO XLR Microphone Cables for professional results.
Mogami's quad cable design is renowned for vastly improving the rejection of noise resulting in a 95% quieter background as compared to even the best 2-conductor microphone cable. The black, 10′ Mogami Gold Studio XLR Female to XLR Male Microphone Cable is a high-quality, 4-conductor cable.
It's engineered for maximum rejection of RFI and EMI, accurate signal transmission with low noise, and durability. It uses the company's Neglex twisted, double-conductor quad cable with a spiral, bare copper shield.
The Neglex quad cable is effective in maintaining signal integrity, even when used with unbalanced equipment, in professional or home studios suffering from wiring and grounding problems.
The cable is terminated with black-body, gold-plated XLR connectors, and features a 0.236″ diameter jacket, ideal for applications where a small-diameter quad mic cable is required.
Use Mogami GOLD STUDIO XLR Cables for pro audio sound with nearly any device equipped with an industry-standard XLR 3-pin input or output. Common uses include to and from mixers, preamps, amplifiers, audio interfaces, loudspeakers, powered speakers, studio monitors, and more.
Also excellent for use with amplifier, percussion, and vocalist mics as well as vocal effects, processors, and loopers.
Engineered to provide an enhanced dynamic range with a pin-drop quiet recording environment, Mogami GOLD STUDIO XLR Microphone Cables help to cure many of the problems encountered in a typical project or home studio.
Featured specs
Black body 3-pin XLR connectors and gold contacts.
Benefits
Excellent sound quality, multiple lengths, quality built, great warranty.
Drawbacks
Pricey, better for professional applications opposed to home recording studios.
Extra features
The Mogami GOLD STUDIO XLR Microphone Cable series is also available in 2, 3, 6, 15, 25, 50, 75, and 100 foot lengths.
Buying advice
Mogami has a lifetime "No Excuses" warranty so you don't need to worry about returns.
RUNNER UP: AmazonBasics 3 Pin Microphone Cable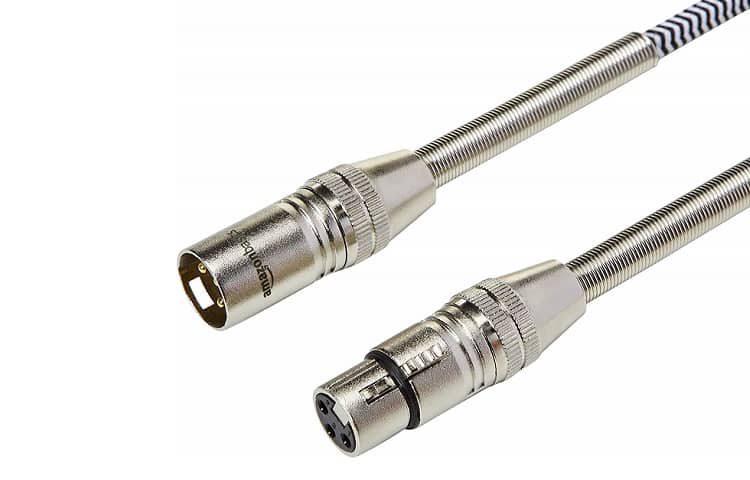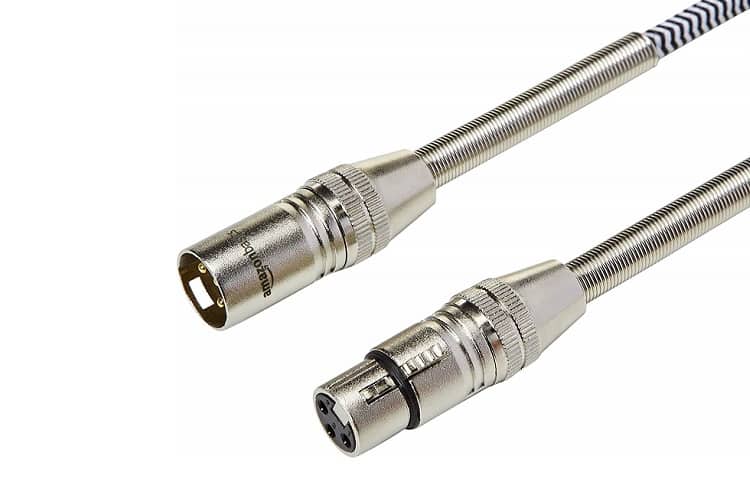 Ideal for studio recording and live sound, the AmazonBasics Braided XLR Microphone Cable creates a reliable, high-quality connection for optimal audio. The microphone cable features premium XLR male and XLR female connectors.
The AmazonBasics microphone cable provides all-copper conductors and inner copper shielding, which reduces electromagnetic interference (EMI) and unwanted excess noise, like an audible buzz, for example. The high-quality cable allows the sound of an instrument or voice to flow through in a clear, natural, true-to-life way.
The microphone cable's durable design ensures long-lasting strength and exceptional performance, from one gig to the next. The cable's 3-pin XLR male to XLR female connection consists of a male connector that measures 18.2 mm in diameter and a female connector that measures 15.5 mm in diameter.
Choose from 6-foot, 10-foot, 25-foot and 50-foot lengths (each sold separately). The shorter cables work well for home studios and smaller stages, while the longer cables make a great option for larger platforms or when needing more leeway.
Featured specs
Copper conductor and shielding material helps capture clear sound while minimizing unwanted noise.
Benefits
Great budget cables, 2 pack, multiple lengths, flexible.
Drawbacks
Not great for recording, some noise.
Extra features
Choose from 6-foot, 10-foot, 25-foot and 50-foot lengths.
Buying advice
Backed by an AmazonBasics 1-year limited warranty.
ALTERNATIVE: Cable Matters Premium Microphone Cable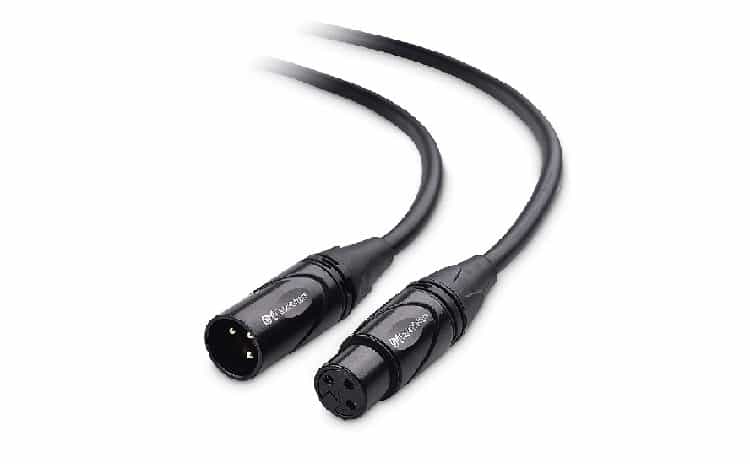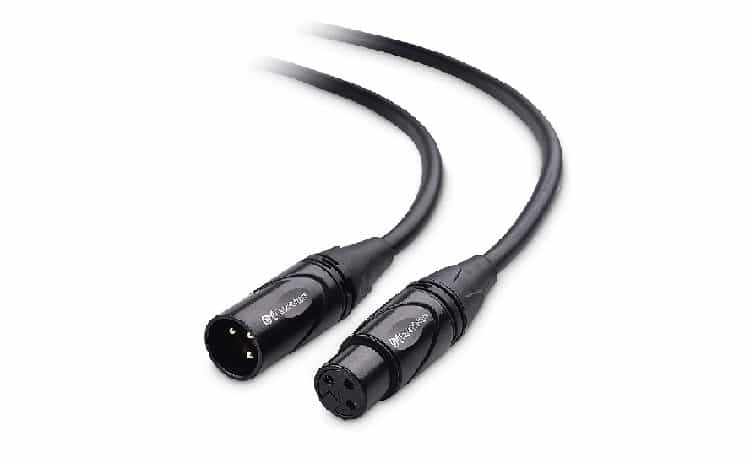 This pro-grade microphone cord is designed for microphones or other professional recording, mixing, and lighting equipment with the 3 pin XLR connectors.
The convenient and cost-effective 2-pack of microphone cables provide spare or replacement XLR cables (XLR male to female cable) to use on a set of microphones or on different systems.
Balanced mic cable with soft PVC jacket is constructed with oxygen-free copper (OFC) conductors for delivering pristine sound. The unique braided copper shielding of these mic cables provides maximum cancellation of hum and noise, while polyethylene insulation improves high frequency response.
Heavy duty metal connectors with molded strain relief and grip treads increase durability and help easy plugging and unplugging.
The mic cord is compatible with equipment with 3-pin XLR connectors such as shotgun microphones, studio harmonizers, mixing boards, patch bays, preamps, speaker systems, and stage lighting with an XLR cable port.
Featured specs
2-Pack provides an XLR cable for two microphones.
Benefits
Cost-effective, thick and sturdy, clean sound.
Drawbacks
Not as durable, picks up a bit of external sound frequency.
Extra features
Available in 3, 6, 10, 15, 20, 25, 35 or 50 feet.
Buying advice
No warranty to speak of but at a value price not needed.
ALTERNATIVE: Gearlux XLR Microphone Cable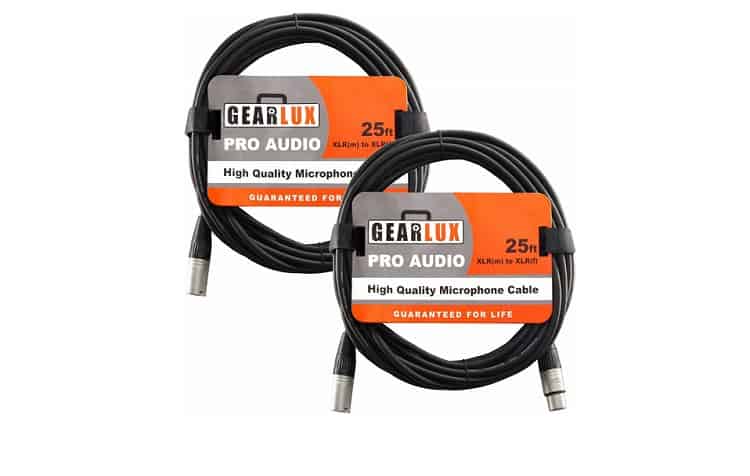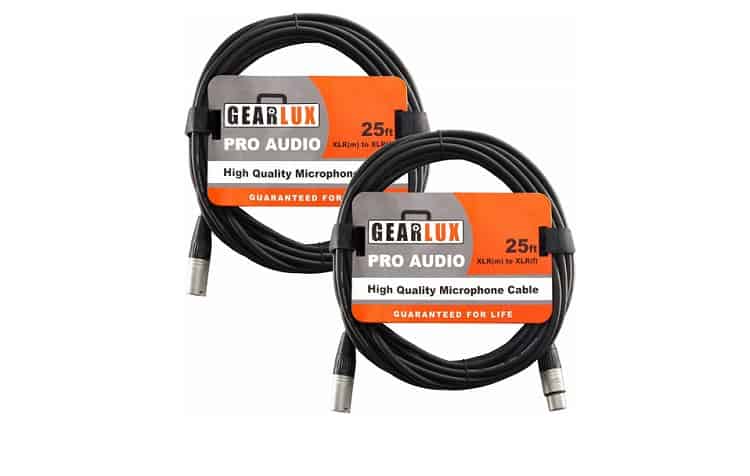 Professional Quality Cables – Without the Professional Price Tag!
Gearlux cables have been designed and tested to provide years of dependable use without compromising on affordability. Use Gearlux XLR male to XLR female cables to connect any microphone with a 3 pin male connector to a PA system, mixer, preamp, or recording interface.
The oxygen-free copper (OFC) conductors in these noiseless cables enhance signal clarity while reducing outside interference – providing you with superb sound for both live and studio applications. Gearlux XLR cables are fully balanced and feature tough metal connectors for easy serviceability.
These XLR cables are a staple in any recording studio, church, theater or music venue, so stock up and save with Gearlux cable packs!
Featured specs
Guaranteed for life which is nice.
Benefits
Value price point, quality sound, multiple packs available.
Drawbacks
Pins are not as tight, some noise.
Extra features
Comes in 1,2,3,6 or 10 cable packs.
Buying advice
Ideal for studio and live applications.
BEST PACKAGE: EBXYA XLR Cable 10 Color Packs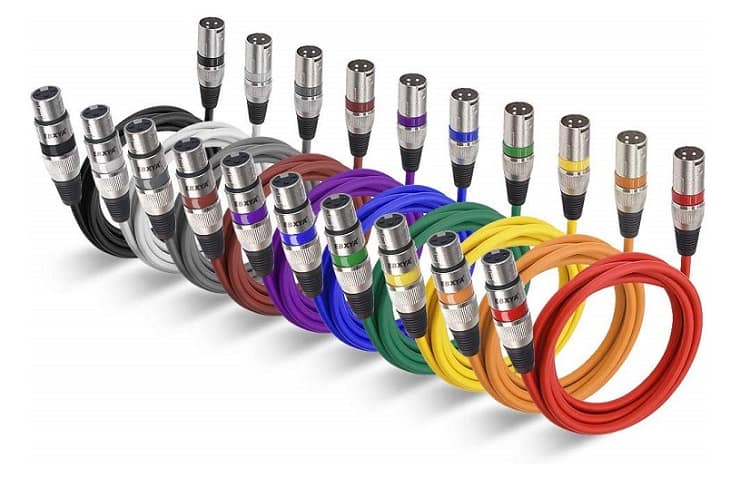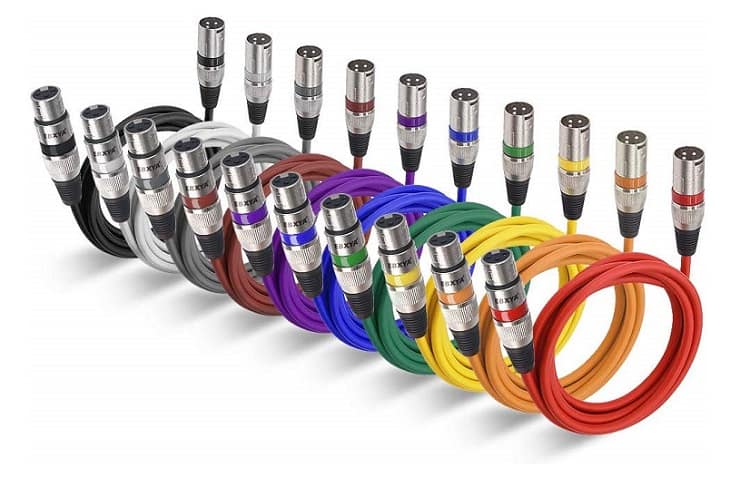 Ebxya True Balanced XLR patch cables with 3 wires and pins, come in 10 colors and are made with premium quality materials. These cables will take your clear, live, natural, sounds and move them by a high quality transmission, especially over a long distance or for a large gig, resulting in a natural, clear output.
You can apply EBXYA XLR Cable to your Microphone, Dmx Led Light, Mixer, Preamplifier, DI Box, Speaker System, Stage Mic, Stereo Level Converter, Voice Effects Box, Equalizer, Frequency Divider, Decoder, Electronic Organ and other stage or recording studio audio equipment.
You can use these XLR patch cable for the stage sound, press conference, KTV, recording studio, gigging band stage lighting, par lamps and your home theater/stereo.
This balanced XLR cable with dual shielded of Oxygen Free Copper (OFC) and Aluminium Foil, assure the XLR patch cable can be used as a DMX cable, microphone cable, or audio mixer cable, or other stage instrument cable for your recording studio or live performance.
Featured specs
10 different colors coding both connectors and cables.
Benefits
Super durable, waterproof, mold-proof, color coded.
Drawbacks
Not great for a DMX controller.
Extra features 
10 color packs come in 2,3,6,10,15 or 25ft lengths.
Buying advice
Be sure to order correct length.
XLR Cable FAQ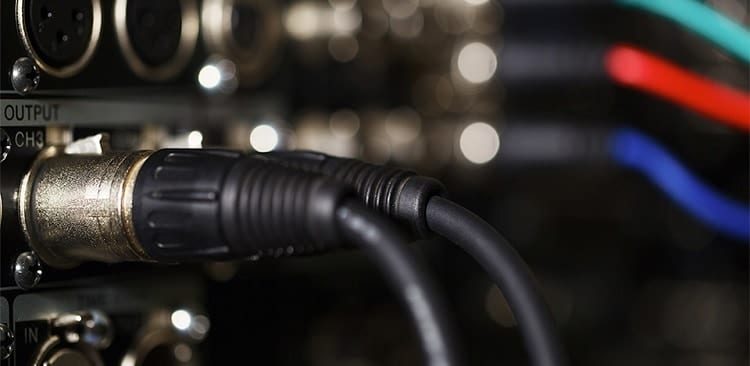 Now that we've given you our picks for the best XLR cables available to you, we'll answer some of the burning questions about XLR cables.
If you are new to playing an electric guitar, or if you are looking to upgrade your existing equipment, you will probably want to know some of the basic, handy information about XLR cables.
We also know that you would rather be playing and jamming out with your crew, than researching the things you want and need to know about XLR cables.
So we've done the hard work of scouring the internet and researching the basics about XLR cables, and we've answered your burning questions, and put all the information here, in one place.
What is an XLR cable used for?
XLR cables are used for a variety of applications, however, in the most basic, XLR cables are used in professional audio and lighting applications, whether they be live or in recording studios.
XLR cables are capable of carrying sound and lighting signals over a long distance, with little to no distortion. This is accomplished because of the configuration of the cable with a separate positive, negative, and ground line.
The three line configuration is the most basic of the XLR type cables, but is still as effective as cables with 4 or more lines. The variation in lines translates into the use of the XLR cable.
For instance, while the basic three line cable is perfect for transmitting simple audio from your guitar or microphone to an amplifier, a five pin XLR cable is good for relaying digital lighting information.
Four pin XLR cables are the standard for audio headsets, but is also commonly used for the DC power plug for video and filming equipment.
The great thing about XLR cables is that so long as you connect the same types of cables to each other, the system remains balanced, and the quality of the sound and video should be the best quality possible.
It is possible to connect different types of XLR cables, but if you do this, you should remember that the system will no longer be balanced and the quality of sound or video will be diminished.
Why is it called an XLR cable?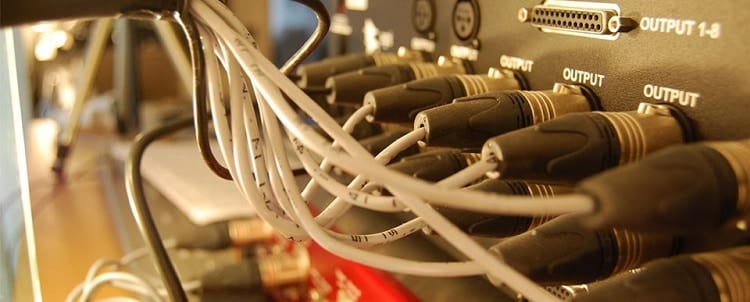 XLR is the shortened version of "External Line Return".
XLR cables were invented to carry large electrical currents from audio and video equipment in a balanced manner.
The XLR cable was originally developed by Cannon as a way to create balanced sound or video from a cable, while also having a standardized plug that could be used in a variety of applications.
The original XLR cable developed by Cannon was filled with rubber, allowing the cable to resilient and flexible, while at the same time highly transmissive. The defining feature of the XLR cable, in its most basic form is the three pin connectors that give each cable a positive, negative and grounding line.
Is an XLR cable stereo?
If you look closely at your XLR cable, you will notice that it has three sockets or pins.
One for the positive, one for the negative and one ground line. These three pins make it seem like running one line as stereo is possible. In the eyes of many musicians and audio specialists, this would be a great idea, since it would reduce the number of cables that are necessary to have stereo sound.
In theory, it is possible to run stereo sound along the XLR cable.
However, this isn't the greatest idea. First, the XLR connector and cable are designed to run a balanced signal. When you connect two cables together or when you plug your connector into a corresponding piece of equipment the system runs balanced.
If you change the flow of the connection, by using a different connector or by running one line as stereo, you unbalance the system.
There are times when it is possible to run stereo through an XLR cable, however, you will need to make sure that you are using a connector with a minimum of five pins (or lines).
Running an XLR system unbalanced will result in a sound that is less than quality, and you may experience noise, static or buzzing. If you really desire to use your XLR cables for stereo sound, you should use them when sound quality doesn't have to be perfect, or if you can get by with a lower quality sound.
Keep in mind that this situation only applies when you are using the standard three pin XLR cable or 4 pin cable. If you upgrade all of your cables and connectors to five pin versions, you may have better luck running your system in stereo sound.
It is also interesting to note that many headphones work in the three pin, stereo format. In fact, in this arrangement, the sound quality in headphones, using the XLR cable, is better than what you would get with the standard headphone jack.
Are all XLR cables the same?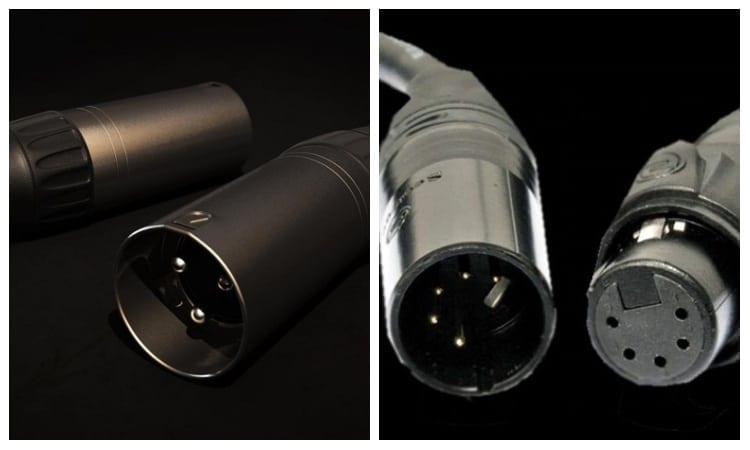 In general, all XLR cables are the same.
However there are some differences that could be mentioned. Keep in mind, that while there may be some minor differences between XLR cable types, or differences added in by manufacturers, in reality, there is little difference between the function and sound quality from cable to cable.
Where the difference in XLR cables lies is in the connector, and the application that the connectors are most useful for. For example, while the three pin connector is the standard, and you will see this configuration the most frequently, there are 4, 5 and 6 pin configurations as well. Each of these connector configurations are useful for particular applications.
Standard 3-pin: This configuration is the most common is used strictly for audio transmission. You'll find 3-pin XLR on microphones, or the connection between preamps and amplifiers for guitars or other instruments.
4-pin: This configuration can be set in a couple of different ways. The first is with two open pins, one pin is the ground and the other pin is 12 volt power. This set up is common for professional video cameras.
The other configuration for four pin is used for intercom headsets. In this application, on pin is the ground, pin 2 is the "hot" input, pin 3 is the headphone ground or return, and pin 4 is the "hot" output.
5-pin: Five pin is the standard XLR connection set-up for professional lighting systems. In this configuration two lines are grounds, and the remaining three pins are for voltage and phantom power. This configuration has not traditionally been popular, however, companies like BAE Audio and JLM Audio have started to use the five pin configuration more frequently.
Does the XLR cable length matter?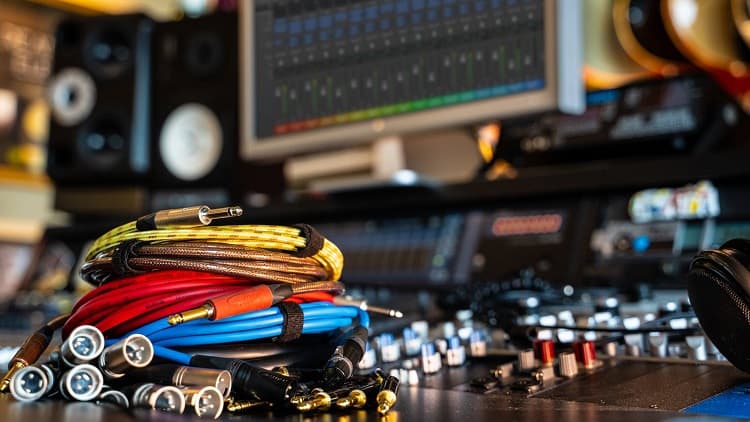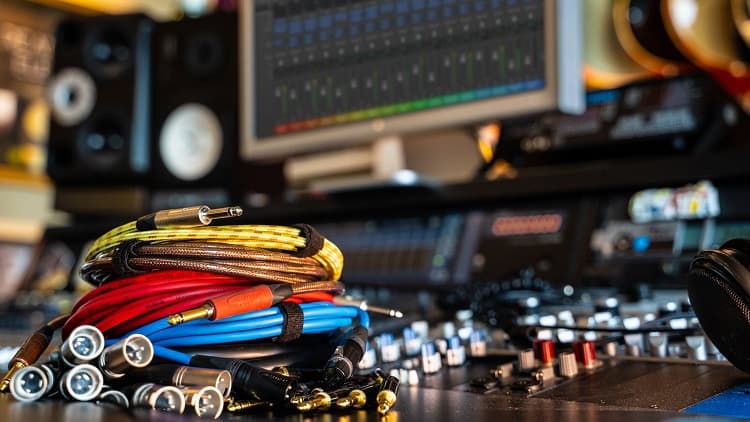 When it comes to cable length, every cable type has limitations.
If you think about this, it is logical. Sound waves, or electrical currents, even with the best conductors and transmission environment will eventually lose strength, or slow down.
Depending on the application, signal being sent, and the type of cable, there are limitations to how far a signal will travel, before it runs out or needs a boost.  Understanding the limitations of the cables that you are using for your audio needs will allow you to make the best choice for your instrument, sound board or microphone.
When it comes to the XLR cable there are two different values that you should be aware of. There is the "official" distance where the output quality is the same as when it started, without significant change. This is the optimal performance length of the cable.
There is also the "theoretical" length. This is the length that independent research or antidotal length that is possible, and still retain a decent output result.
In the case of the XLR cable, the official length that you can use, with minimal sound or power distortion is 100 feet. This is probably more distance than most performers or sound technicians will ever need to use. And as a musician, this might even be too much.
Keep in mind, 100 feet of XLR cable might work just fine, but you still have to drag that stuff around. One hundred feet of cable can be cumbersome and impractical to haul around.
If you use a shielded, high quality XLR cable, you should be able, in theory to maintain a high level signal without boosting. Keep in mind that this is a theoretical value, and the likelihood that this would actually work, without there being some sort of an issue, is slim.
Conclusion
So, there you have it, everything you need to know about using XLR cables for your recording and live sound equipment.
These great cables will provide you quality sound transmission, even over greater distances, without the risk of additional noise or interference. We've provided you with our picks for great XLR cables, so that you don't have to work hard to find what's right for you.
If you have questions or thoughts about XLR cables that we missed, put them in the comment section, below!