Dimensions
6.1" x 5.8" x 1.7" inches
5.9" x 3.7" x 2.6" inches
Power
4 x AA batteries, and USB powered
4 x AA batteries, AC Adapter, USB

In this article we're going to be discussing the best synthesizer pedals for bass, that exist in 2021.
However, before we discuss each of the products featured within the list, we're going to briefly mention what exactly a bass synth processor is, and how it works.
Therefore, let's get started!
What Is A Bass Synth Pedal?
Bass Synth Pedals are effect processors that help emulate the sound of a synthesizer.
Upon the effect pedals activation, the output signal of the bass guitar is manipulated by the synth pedal, changing the overall sound.
Bass synthesizer pedals can be used within a live performance setting, i.e on-stage, as well as additionally in the recording studio.
Unlike other more mandatory pedals, such as bass eq pedals or bass compression pedals, a recording studio may not be able to replicate this synthesized sound using  studio processors, and therefore the bass synth unit must be used.
What Does A Bass Synthesizer Pedal Do?
As previously mentioned, a bass synthesizer processor will help emulate the sound of a synthesizer, this is done through manipulating the input analog bass signal.
Depending on the user's interface settings that are active on the device, the bass signal will be processed and outputted. Bass synth pedals are more commonly placed within the middle of a signal-chain.
So without further ado, what are the best bass synth pedals of 2020?
Zoom B1on  Bass Effects Pedal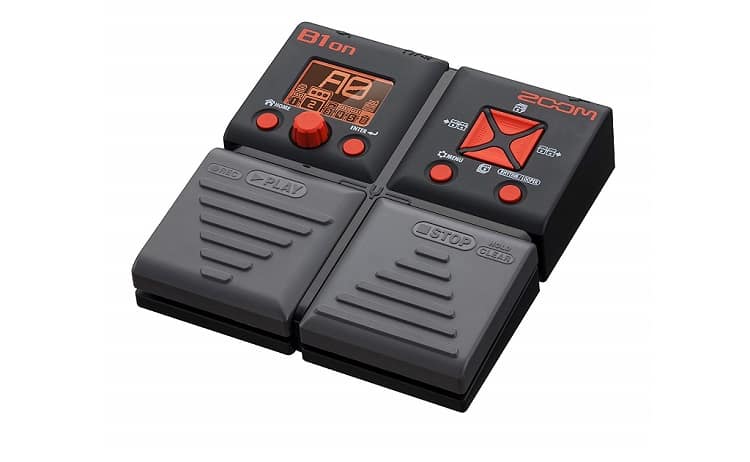 FEATURES
Small bass effects pedal unit by Zoom
100 onboard DSP effects

Phaser, Modulation, Delay Looping, Octaver, Filtering, Pitch Shift, Chorus, Overdrive, Booster, EQ, Compressor, Noise Gate, etc
Up to 5 DSP effects can be used simultaneously

In-built Tuner and 68 Drum samples
Accessible foot-switches for ease of use, especially on stage
Fairly inexpensive
USB connectivity to connect to PC/Mac, for recording in any DAW.
TECHNICAL SPECIFICATIONS
1 x 1/4″ jack input
1/4″ jack output
Runs on 4 x AA batteries, AC adapter included, also USB bus powered
Dimensions : 6.1″ x 5.8″ x 1.7″ inches
Weight : 0.83lbs
SUMMARY
The Zoom B1on is the least expensive multi-effects bass processor featured within this list. Although you can pick this device up for an extremely affordable price, it certainly provides value-for-money, with over 100 on-board DSP effects, which include synthesizer emulations, phasers, modulating and filtering, you can hear some of these synth-like sounds at 0:48 seconds and from 2:10 onwards.
Therefore, if you're on a budget, this may well be the unit that suits you requirements. However, before you decide, take a look at the video demonstration of the unit in action, so that you can hear it first-hand. Do bear in mind that the video demonstration is limited by the video camera/audio recording quality.
---
DigiTech Dirty Robot Stereo Mini-Synth Pedal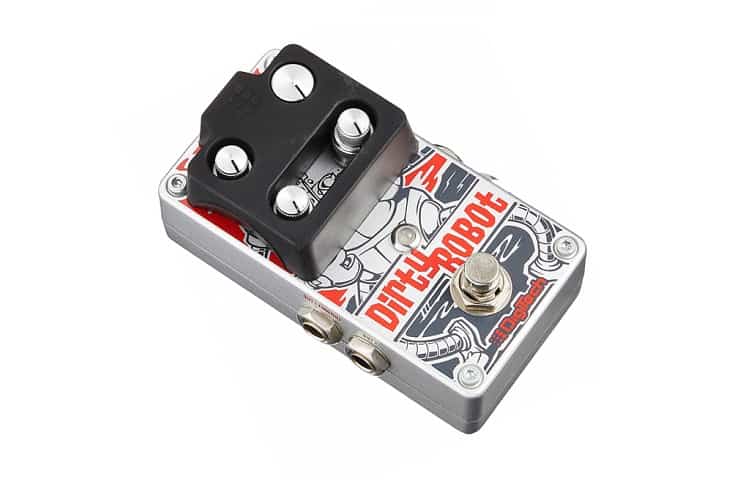 FEATURES
Synthesizer processor for bass and guitar with True Bypass
V1/V2 toggles between 2 unique synth voices
V1 : Warm tone with envelope sweeping for a classic analog synth sound
V2 : Vocal formant effect for talkbox and vocoder-style sounds
360 degree Interface knobs for merging between Sub, Square and Octave soundscapes
Built-in engine modulation for vibrato and chorus effects
TECHNICAL SPECIFICATIONS
2 x 1/4″ jack input
9v Battery; DC Power Supply needed – not included (Buy on Amazon)
Dimensions : 2″ x 2.65″ x 4.4″ inches
Weight : 1.0lb
The Digitech Dirty Robot is suitable for the musician on the slightly lower budget; It's built for both Bass Guitar and Electric Guitar use, making it great if you're looking for a instrument-versatile synth processor. The pedal has two main synth voicing, which can be controlled by the toggle switch at the top of the unit, these can then be further edited through the 4 interface knobs.
Again, the disadvantage of using this unit within a live environment is that its presets cannot be saved. However, for someone on a budget, this is a nice pedal.
---
Boss SYB-5 Bass Synthesizer Pedal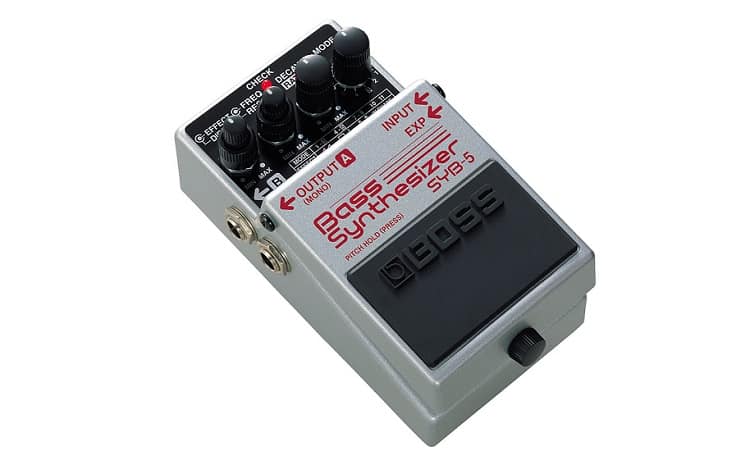 FEATURES
Rugged and compact bass synth unit, in metal casing
Buffered Bypass
World's first highly compact bass synthesizer processor
11 DSP variations of pulse, square and saw synthesizer waves
A number of interface functions including, Mode, Decay Rate, Frequency/Resonance, Effect/Direct.
Control LFO rate and signal filter cutoff via the Roland EV-5 expression pedal (sold separately) – Buy on Amazon
Designed specifically for Bass Guitar
Includes 5 year Manufacturers Warranty
TECHNICAL SPECIFICATIONS
1/4″ jack input
Utilizes latest DSP technology
9v powered, AC adaptor is sold separately (Boss SYB-5 9v power adapter – Buy on Amazon)
Weight : 1.2lbs
Dimensions : 5.9″ x 3.7″ x 2.6″ inches
SUMMARY
The Boss SYB-5 offers an extremely strong and portable solution for the bassist that wants an effects pedal that will last, making it ideal for live-performance environments considering its size and durability.
Boss are renowned for making high-quality effects pedals, and so you can also rest assured that this will satisfy your synthesizer-emulation needs… And the 5-year warranty really hits this point home, highlighting their confidence in all of their products.
---
Electro-Harmonix Bass Micro Synthesizer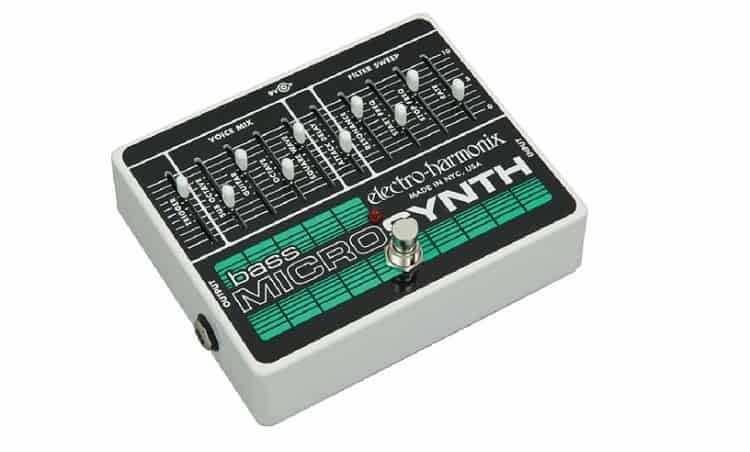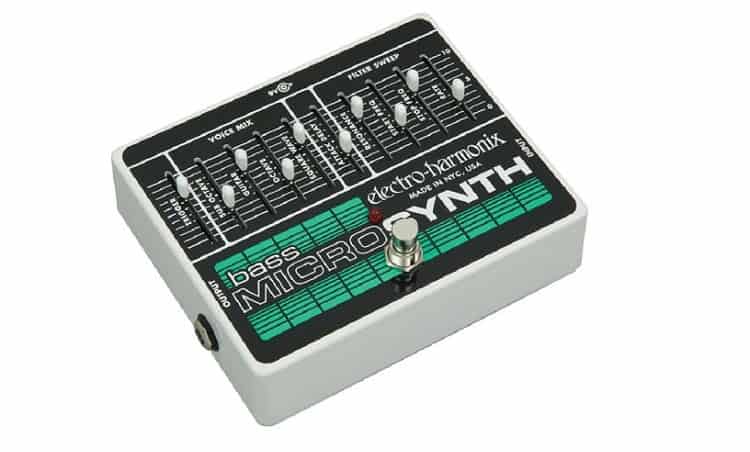 Features
Bass guitar synth stompbox with True Bypass
Tough Die-Cast Metal chassis
10 sliders to control different effect variables including Trigger, Sub-Octave, Guitar, Octave, Square Wave, Attack Delay, Resonance, Start Frequency, Stop Frequency and Rate.
Designed specifically for Bass Guitar
Technical Specifications
1/4″ jack input
96DC-200BI power supply included
Weight : 1.2lbs
Dimensions : 4.75″ x 5.75″ x 2.5″ inches
The Electro-Harmonix is the most expensive synth processor on the list, but it really has the capability to reproduce many of the most popular lead synthesizer sounds; The 4 main synth voices include sub octave, guitar, octave and square wave, which can be further modified with envolope and filter sweep controls, giving you that personalised bass sound.
The only downside to this pedal is simply that you cannot save patches, which means that you will have to manually change settings to get a different sound… making it a little more unsuitable for live performances in comparison to other processors.
---
Electro-Harmonix Synth 9 Synthesizer Machine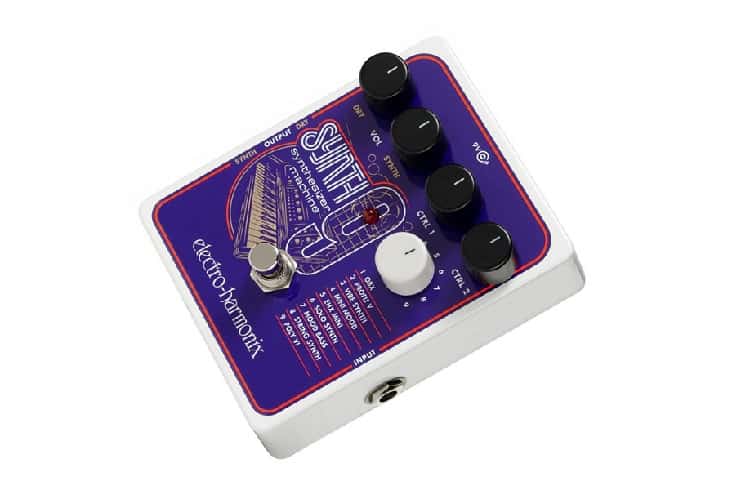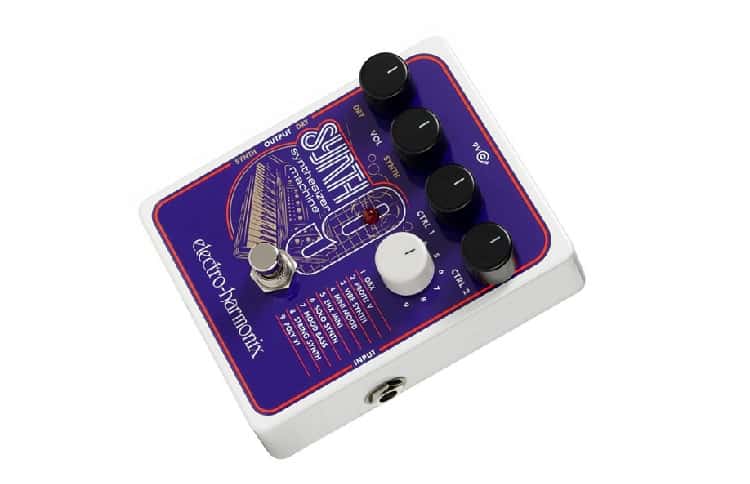 Features
Guitar & Bass Synth Pedal by Electro-Harmonix
9 Synth presets for users to choose from, including Obx, Profit V, Vibe Synth, Mini Mood, Ehx Mini, Solo Synth, Mood Bass, String Synth, Poly VI.
CTRL 1 & CTRL 2 knobs control additional effects, filters (envelope depth), voice intervals and much more
Technical Specifications
1 x 1/4″ jack input
2 x 1/4″ jack outputs (effect out and dry out)
9V battery power supply included
Dimensions :7.2″ x 6.0″ x 3.1″ inches
Weight : 1.1lbs
The Electro-Harmonix Synth 9 Synthesizer Machine is a synth processor for bass and guitar. It has 9 main synth presets to choose from, with 2 control knobs to introduce additional envelope filters and other effects.
---
Electro-Harmonix Blurst Modulated Filter Pedal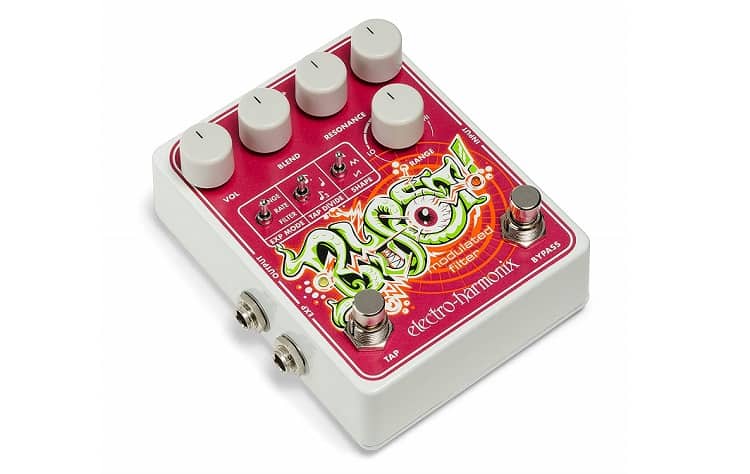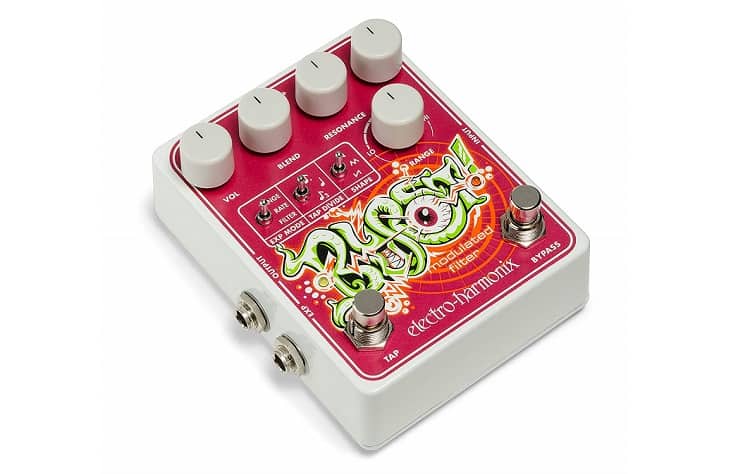 Features
Synth emulation/LFO pedal suitable for Bass, Guitar, Keyboards, etc with True Bypass
Wave shape options for different core sounds, with additional filtering options for ultimate personalization (Blend, Resonate, Rate, Range)
LFO (Low Frequency Oscillation) modulated in a stomp-box
Ability to create dynamic frequency sweeps
Tap tempo button & Rate know to control the speed of the LFO
Technical Specifications
1 x 1/4″ jack input
2 x 1/4″ jack outputs (effect out and expression pedal out)
9V battery power supply included
Dimensions :7.2″ x 6.2″ x 3.2″ inches
Weight : 1.54lbs
---
Moog MF101 Moogerfooger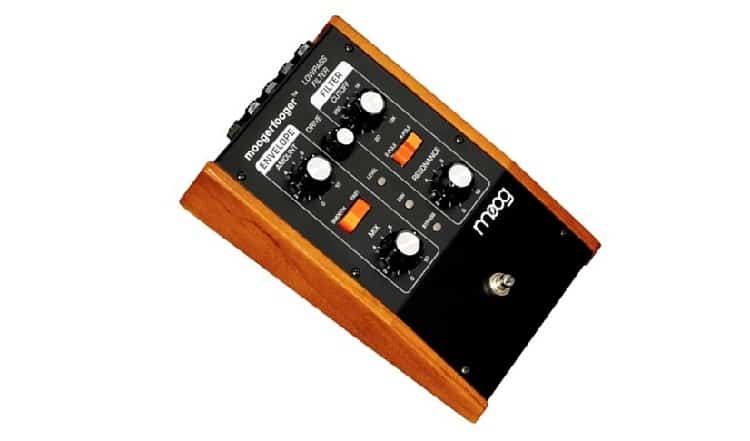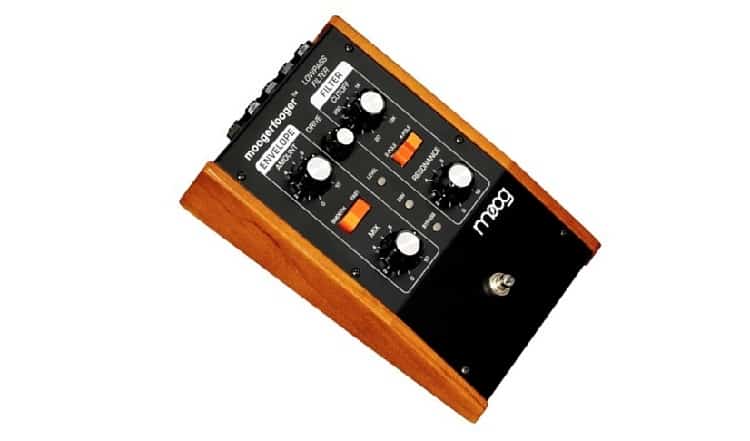 Features
Synth emulation/LFO processing
Three sections (Envelope, Drive and Filter)
Envelope

Amount : Adjustment of the input signal's envelope sweep on the frequency filter cutoff
Smooth/Fast : Switch between envelope response
Mix : Control the amount of crossfade between filtered and unfiltered signal

Drive

Level : 3 colour LED
ENV : LED to display the Envelope Voltage strength
Bypass : LED to show if the filter is on or being bypassed

 Filter

Cutoff : Varies frequency cutoff (spans over an 8-octave range)
2-pole/4-pole : Choose between bright (2-pole) and deep (4-pole) filter frequency response
Resonance : A control that varies the filter response shape, from oscillation to lowpass
Technical Specifications
1 x 1/4″ jack input
1 x 1/4″ jack outputs
9V battery power supply
Dimensions :14.0″ x 6.0″ x 7.0″ inches
Weight : 4.15lbs
Essentially this is a filter processing unit; However, as you can see from the video demonstrations, you can get some great synth-like sounds from this. It's a large unit, and heavier than other processors that we've featured… But it's all worth it when you hear the unit in action.  
---
Boss ME-50B Bass Multi Effects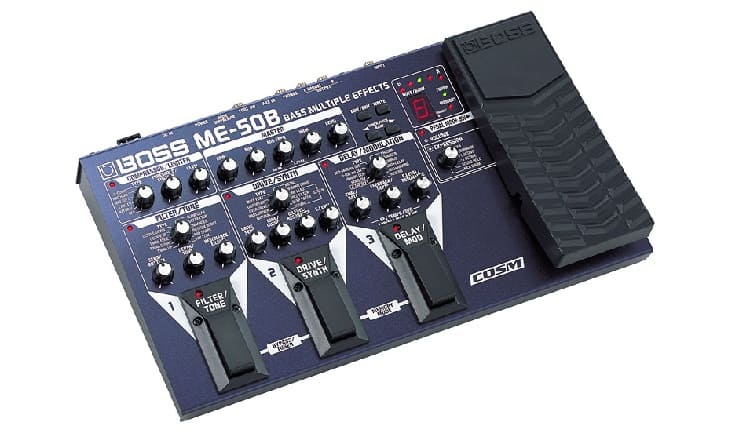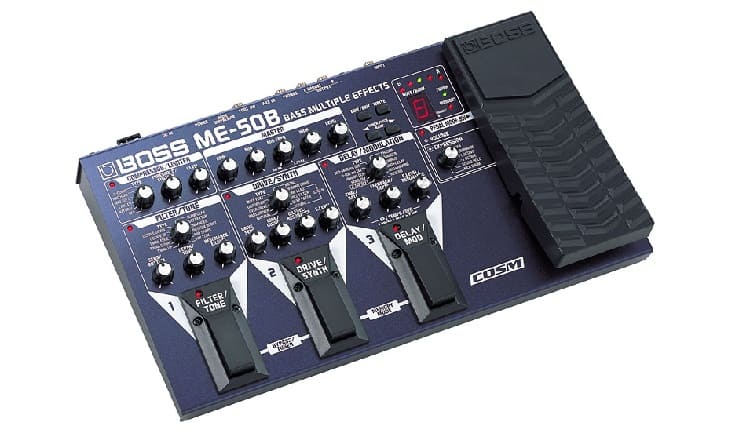 Features
Reliable multi-effects pedal unit from Boss
23 knob controls for ultimate personalization
Easily accessible and redily assignable foot switches (3) and expression pedal (1)
Plenty of on-board effects including

Drive/Synth, Filter/Tone, Compressor/Limiter, Wah, EQ, Octave, Overdrive, Loops/Drum patterns and much more.
Technical Specifications
1 x 1/4″ jack input
1 x 1/8″ stereo input
2 x 1/4″ jack outputs
1 x headphone output
6 AA batteries – Does not include power adaptor but you can get that here (Buy on Amazon)
Dimensions : 8.0″ x 14.0″ x 18.0″ inches
Weight : 10.5lbs
---
Zoom B3 Bass Guitar Effects and Amp Simulator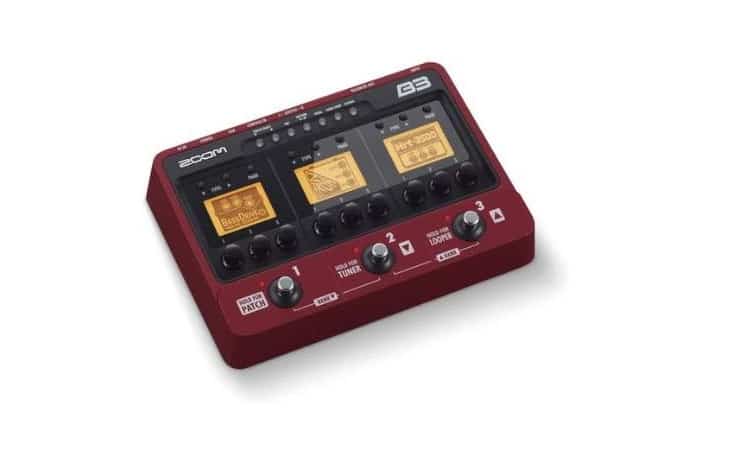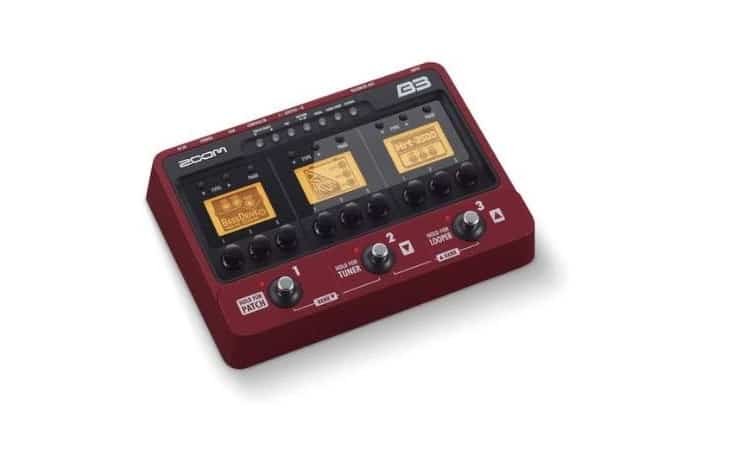 Features
Multi-effect bass effects pedal/audio interface
Great layout, with accessible stomp-box footswitches, knobs and LCD screens
Easy to create presets, organise and assign them to banks
Updated DSP effects processing unit (ZFX-IV)
99 effect types and 100 user preset banks
Includes amp emulation with 12 amp models to choose from
40 drum patterns to play to
USB connectivity to connect to PC/Mac, for recording in any DAW.
Technical Specifications
1 x 1/4″ jack input
L & R 1/4″ jack outputs
Balanced XLR output for DI
Runs on 4 x AA batteries, AC adapter included, also USB bus powered
Dimensions :7.8″ x 13.0″ x 3.5″ inches
Weight : 3.75lbs