In this article we're going to be talking about the best Autotune Microphones/Microphone Controllers that are available to purchase in 2021.
However, let's briefly touch on what autotune is, and what exactly "Autotune Microphones" are.
What is Autotune
Autotune is a vocal effect that is widely used in modern pop music. It has been so widely used, other genres have also adopted the functionality to help create new vocal sounds.
The original use for autotune was in studio, to slightly nudge a singer's vocal take into perfect pitch, after-all not every singer can stay in pitch 100% of the time, they can often be slightly flat or sharp, but to save the vocal take, autotune was able to help.
Autotune then became available for live use, with singers being able to use live Autotune Pedals/Processors to correct their vocal performance in real-time.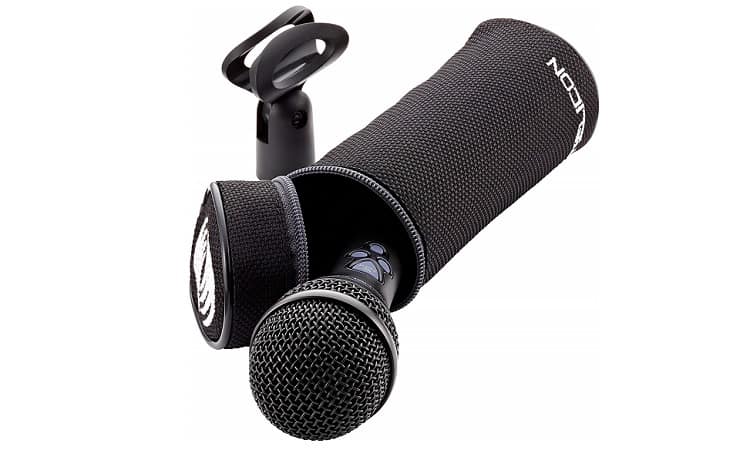 But, what exactly are Autotune Microphones?
Well, Autotune Microphones technically do not exist, however, what does exist is an Autotune Microphone Controller.
These a microphones that have the functionality to integrate directly with your vocal effects pedal, which in this case is your autotune effects unit, so that you can turn the autotune effect on/off by clicking a button on the microphone itself… sounds great right!
We've featured a list of the autotune pedals that are able to integrate with these microphones towards the bottom of the article.
Well, we've featured the top two autotune microphone controllers below…
---
TC Helicon MP-85 Microphone

This dynamic microphone is the newer of the TC Helicon microphone controller range and provides a high-quality vocal tone, whilst handling feedback rejection.
Here is short video providing an overview of the TC Helicon MP-85 microphone:
The major advantage of this microphone is the ability to turn the effects you have set up on your vocal autotune pedal on or off on demand. This means you will be able to move around the stage or other singing area without having to be right by the vocal effects pedal every time you need to turn the effects on.
Since this microphone and effects pedal controller has been designed by TC Helicon, one can only expect that it integrates with all of their autotune devices, which would be correct. They are as follows: Compatible with VoiceLive 3, VoiceLive Touch 2, VoiceLive Play, Voicelive Play Acoustic, Voicelive Play Electric, and VoiceSolo FX150.
---
TC Helicon MP-60 Microphone

Although the brand is Behringer, this microphone is compatible with several TC Helicon Vocal Effects pedals, and is the only other option with any availability for now.
It is compatible with these TC Helicon Vocal Processors: VOICELIVE 3, VOICELIVE 2, VOICELIVE TOUCH 2, VOICELIVE TOUCH, VOICELIVE PLAY, VOICELIVE PLAY GTX, PLAY ELECTRIC, PLAY ACOUSTICE, HARMONY SINGER, MIC MECHANIC, VOICESOLO FX150, THE VOICETONE SINGLES and our VOICETONE 2-SWITCH products.
Recommended Pedals To Use With Both Microphones