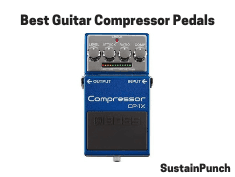 What is a Guitar Compressor Pedal?
Guitar compressor pedals are effects processors that reduce the dynamic range of the input signal, meaning that the natural dynamic inconsistencies that are apparent in any Guitarist's playing are reduced. A bass compression pedal is useful for both live performances and within a recording studio environment.
Analogue vs Digital Guitar Compression Pedals
Guitar compressor pedals have traditionally used analog circuitry, and whilst most still do, as it provides a very natural sounding compression, the advancements in digital audio emulation have been exemplary, and therefore some pedals such as the Boss BC-1X actually uses digital circuitry as it's known to reduce static noise that is caused by the analog circuitry.
However, for some, this noise creates a depth to the sound and adds character. I advise that you take a look and listen to all of the video demonstrations that we've supplied following each processor review.
What Does a Guitar Compressor Pedal Do?
As we've previously discussed, a compressor pedal for guitar guitars will help limit the dynamic range of the input signal, outputting a more limited signal.
The outputted signal is determined by a number of settings on the interface itself, which the user can adjust accordingly; The inputted settings usually specify the upper and lower dB range of inputted signal to which if this is surpassed, the signal will either be boosted (if it's lower than a certain dB level) or limited (if it's louder than a certain dB level).
The style of music played will also play an important factor into determining the level of compression applied, with styles such as Pop/Rock being renowned for over-compressing.
These guitar compression processors are usually used alongside other guitar effects pedals, i.e guitar loop pedals, but are placed further along in the signal path, to compress the overall signal after all other effects have been introduced.
When to use a Guitar Compressor Pedal
These pedals are typically used within a live performance setting, allowing a band to gain a balanced sound, with all instruments using compressors. Although these processors can be used within a recording studio, they are usually not, since every studio will have rack-mountable compression units which provide ultra high-quality signal compression, suitable for most instruments.
So let's get to it, what are the best guitar compressor pedals of 2018?
Best Guitar Compression Pedals of 2018

Therefore, even before looking at the video demonstration of this compressor unit in action, you know that it provides a high-quality compression… And the hugely positive Amazon rating ratio shown above also demonstrates this.

The unit has three compression settings, which can be switched between via the control switch on the front of the interface, allowing you to achieve a subtle compression to a heavily compressed 'squashed' sound.

Before we go into depth about the pedal's key features, let's first talk a little bit more about MXR. The brand itself has been around since 1972 and have led the way with competitors such as Boss in being pioneering the modern guitar effects pedal as we now know it.

Ok, so let's talk more about their 'M102 Dyna Comp' pedal… Well, let's just say that this is one of the most popular guitar compressors of all time… And as you can see from the Amazon ratings, it certainly is

The processor is very small in size, making it ideal for a guitarist who's struggling for space on their pedal-board.
More importantly, as you can hear from the video demonstration below, it's clear that this pedal delivers a high-quality compression effect!