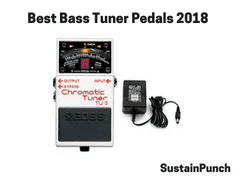 What is a Bass Tuner Pedal?
Bass Tuner Pedals are hardware units which provide real-time instructional direction for the tuning of your bass guitar. These pedals are integrated within a bassists effects pedal setup, and more often provide 'True Bypass' so as to not interfere with the bass signal which passes through the setup, to be processed by other effects pedals such as bass synth pedals or bass EQ pedals, and eventually output. Bass Tuner pedals are used both in a studio environment and a live environment, with it being highly important to maintain accurate tuning within both scenarios.
How does a bass tuner pedal actually work?
A bass tuner processor pedal will analyse the inputted signals frequency (hz), which is then directly compared to the pre-programmed frequency ranges and co-relating frequency note name i.e A4, C5, ect. However, a bass guitar which is tuned to 'standard tuning' will be tuned to the following frequency of notes:
5 String Bass: B0 – 30.87hz , E1 – 41.20hz, A1 – 55hz, D2 – 73.42hz , G2 – 98hz
4 String Bass: E1 – 41.20hz, A1 – 55hz, D2 – 73.42hz , G2 – 98hz
Once the bassist plucks each string, the bass tuner will detect the input signal and work out the nearest note to which the frequency of the string is oscillating to; Any deviation from the nearest semi-tone will be indicated on the pedal's interface, which will instruct the user to either tighten or loosen the tuning pegs until the specific target frequency is detected. It's important to note, bass tuners provide instructions to get to the nearest semi-tone frequency based on the input, which may not be the desired frequency, although this should be easy to work out if you know your ABCs and have rough pitch awareness.
Ok, so that's enough about the basics of these processors, let's get to sharing the good stuff!
What are the best bass tuner pedals of 2018?
For a demonstration of the processor, take a look at the video demonstration below:
The KLIQ TinyTune tuner processor is very similar to the xGuitarx x9 pedal in all of the technical and physical specifications. For us, the KLIQ pedal looks a little better, but the xGuitarx x9 comes with a 5 year warranty that is simply not mentioned or insinuated by KLIQ.
This little stomp-box has to be used with 9v power supply as it does not have an internal battery.

The Boss TU-3 is truly the gold standard tuning pedal within the industry. This thing was built to last, and last it will… Suitable for musicians who're looking for a tuner that they can potentially take on the road, which can take a beating night after night, whilst still delivering that accurate tuning functionality without fail.
This pedal can run on battery power alone (having a 9v battery) or via the 9v power supply (which is included). With a 5 year manufacturers warranty, you simply cannot go wrong with picking the Boss TU-3 as your trusty go-to bass tuner.
Behringer TU300 Tuner – $24.99 –

"Best pedal for Gigging; Inexpensive, versatile and very strong"
For a demonstration of the processor, take a look at the video demonstration below:
The Snark SN-10S is a mid-range contender, it's not particularly inexpensive, and has a range of functions. The main advantage of this unit over others is that it has a HUGE LED display.
However, all of the other functions can equally be found in a less expensive option, i.e the Behringer TU-300.
None-the-less, the SN-10S is a fantastic option, and if you decide to get it, remember that you'll need to purchase the 9V power supply separately.
For a demonstration of the processor, take a look at the video demonstration below:
Conclusion – The Winner is?
Best Low Cost tuner pedal – Behringer TU-300 (Buy on Amazon)
Best Premium Quality tuner pedal – Boss TU-3 (Buy on Amazon)
Best Compact tuner pedal – KLIQ Tinytune (Buy on Amazon)
Best Pedal for gigging – Behringer TU-300 (Buy on Amazon)
Therefore, in conclusion, our overall pedal recommendation would be the Behringer TU-300. Considering the build quality, sound quality, price and company reputation, it's the best bass tuner around!