What are Vocal Octave Pedals
A Vocal Octave Pedal is a vocal effects processor with the specific individual use to take the main inputted signal and replicate the signal one octave (in frequency) above or below. This additional frequency is outputted simultaneously to the main frequency, letting them be heard in unison.
Who would use a vocal octave pedal
A vocal octave processor would be suited towards an individual singer who requires the vocal octave effect to be heard within a live performance; The particular advantage of this pedal is that a singer will not require any backing singer and will be able to operate the footswitch of the pedal whenever he/she pleases… leaving the effect in 100% control of the singer.
This pedal would, therefore, be ideal for an individual singer/songwriter, or a vocalist in a band who doesn't want to have to rely on backing singers.
What are the best vocal octave pedals?
Ok, let's get to is, what are the top 3 vocal octave pedals of 2018?
| Product | Manufacturer | Model | Price | Our Recommendation |
| --- | --- | --- | --- | --- |
| TC Helicon Critical Mass Pedal | TC-Helicon | Critical Mass | Check on Amazon | Editor's Recommendation |
| TC Helicon VoiceTone D1 | TC-Helicon | Voicetone D1 | Check on Amazon | |
| TC Helicon Duplicator | TC-Helicon | Duplicator | Check on Amazon | |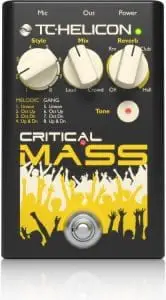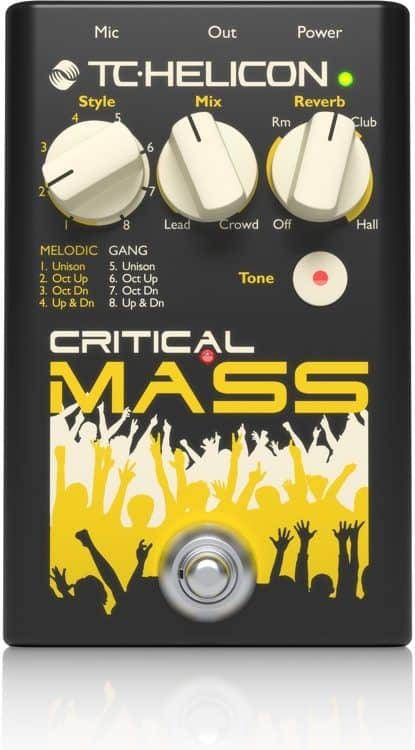 Features
Rugged metal chassis for device protection
Simple to use vocal stompbox pedal, allows you to create great sounding ground-sound vocals.
Three Knob controls for easy functionality
8 doubling effect styles

(Melodic) Unison, Octave-up, Octave-down, Octave up & down
(Gang/Choir) Unison, Octave-up, Octave-down, Octave up & down

'Adaptive Tone' which is a personalised EQ, adapting to your vocal tone, making your tone clean, crisp and full sounding
Integration with few microphones for external control – TC Helicon MP-75 (former) and TC Helicon MP-76 (newer)
Technical Specs
Can run off phantom power, or 2 AA batteries
Inbuilt microphone preamp built for low noise functioning
3-Year Purchase Warrenty
Designed and Built in Canada
This is definitely the pedal for someone looking for a pedal which can provide single line and group-vocal (choir) accompaniment; The demonstration below really gives a great impression to what this processor can do, and to be perfectly honest, it sounds incredible.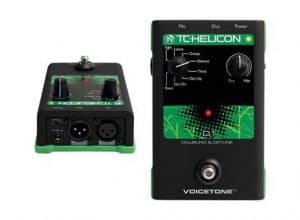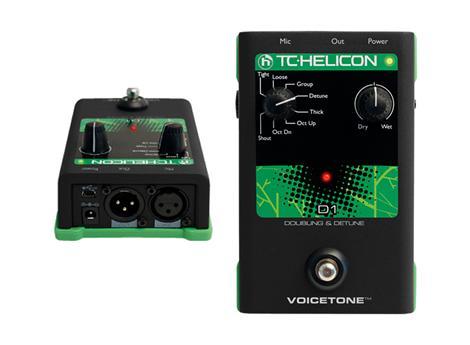 Features
Strong, durable metal chassis for ultimate protection
Single-button stomp-box pedal is ideal for thickening up your vocal line, with a variety of doubling and octave effects
8 doubling effect styles

 Tight, Loose, Group, Detune, Thick, Octave Up, Octave Down and Shout.

Simple to use – 2 knob controls makes for quick use
High Quality – uses low-noise mic preamp for excellent sound quality
On/Off footswitch – Especially useful for live performances
Compatible with remote microphone control, using the TC Helicon MP-75 (Former Model) and MP-76 (Newer Model)
Ability to chain the VoiceTone D1 to other VoiceTone pedals in the series
Technical Specs
Power supply is included
3-Year Purchase Warranty
Designed and Built in Canada
The TC Helicon D1 has a range of doubling and octave effects for the user to be able to add to their vocal line, not only this, but they are able to choose an effect and control the amount of this effect that can be heard in the outputted signal; For example you may want a octave down effect to be heard at 20% in the mix, alongside the dry vocal signal at 80%. The choices are endless… well, almost!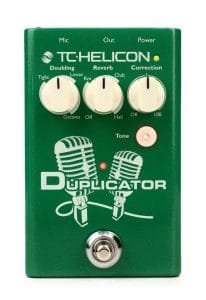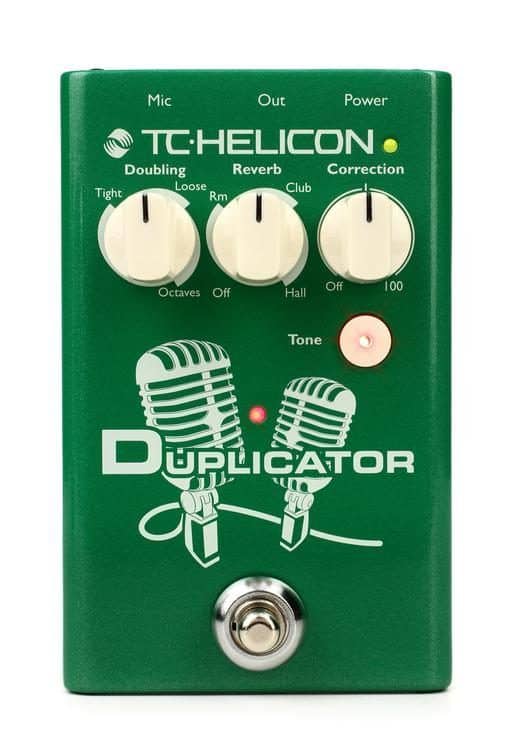 Features
Simple to use, TC Helicon stompbox for doubling & octave, vocal reverb and pitch correction
Three knobs to control effect parameters
Adaptive Tone button to automatically adapt EQ, Compression, De-essing, Gating and Limiting to vocal line
Three doubling effects

Tight, Loose and Octave Up/Down

Auto Chromatic pitch correction
Integration for remote microphone control with TC Helicon MP-75 (Original Model) and MP-75 (Newer Model)
Technical Specs
3-Year Purchase Warrenty
Designed and Built in Canada
Summary
Article Name
3 Best Vocal Octave Pedals (2018 Reviews)
Author