In this product review, we're going to be discussing the Boss VE-2 Vocal Harmonist, which is a vocal harmonizer pedal.
Now, Boss is a company that needs no introductions when it comes to vocal effects pedals or general music equipment. They're famous for creating high-quality music equipment and effects pedals, which are built to last a lifetime (or near that).
The company itself has been around since the early 1970's, so it's safe to say that they have a wealth of experience and this shows in their effects units.
With that being said, we've laid out this review article, so that you'll not only see all of the features of the Boss VE-2, but you'll also see images and video demonstrations of the processor, so you'll know everything about the unit by the time you've read all of this review.
Ok, so let's get started!
Boss VE-2 Vocal Harmonist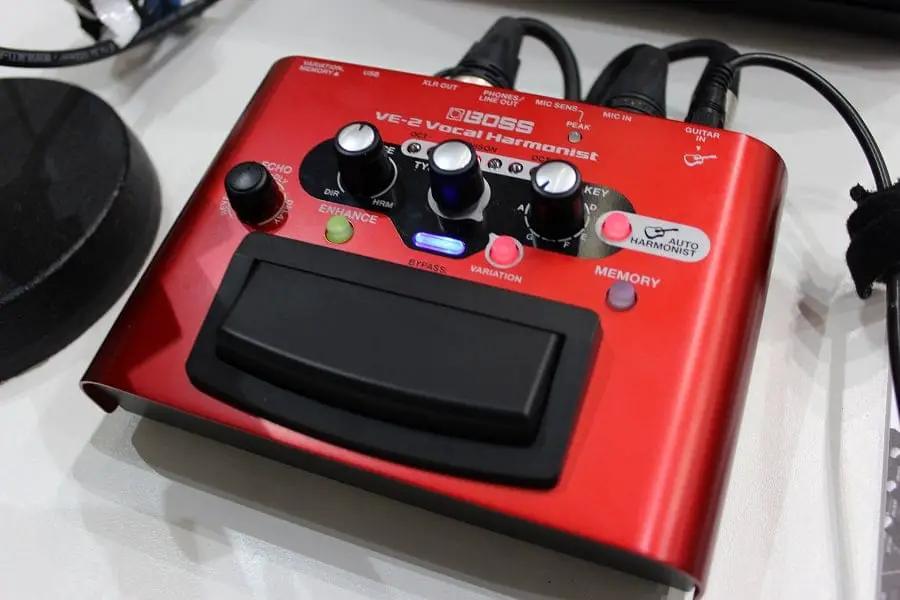 Main Features/Benefits
Great sounding (See Demonstration)
Easy to use with intuitive controls
Integration with Instrument (XLR, 1/4 Jack)
Auto 'Harmony' Key tracking ability
Auto Dynamic/Tone control
Memory banks for saving presets
Adapter or Battery-Powered
Can be used without an instrument (Harmony function enabled)
USB connectivity for recording vocals
Setbacks
Not the lightest unit in the world
Only 3 memory banks
Controls
The Boss VE-2 has been designed in a way which makes it incredibly easy and intuitive for the user to operate. This means that once plugged in, all you'll need to do is make a few tweaks to the physical interface knobs and settings, and you're on your way.
Let's delve deeper into the specific interface controls, shall we!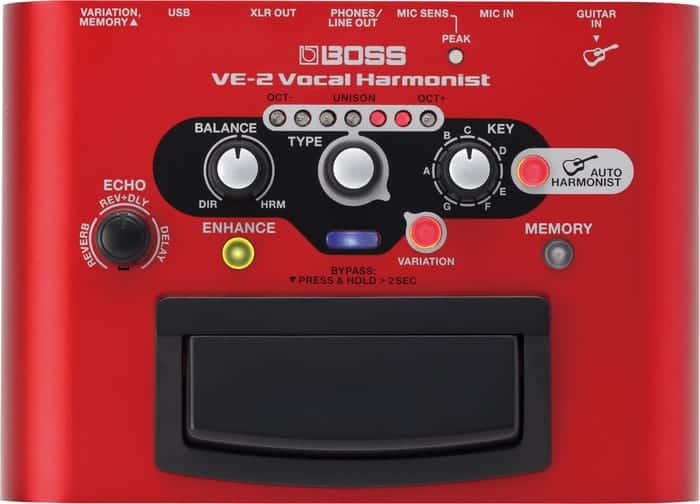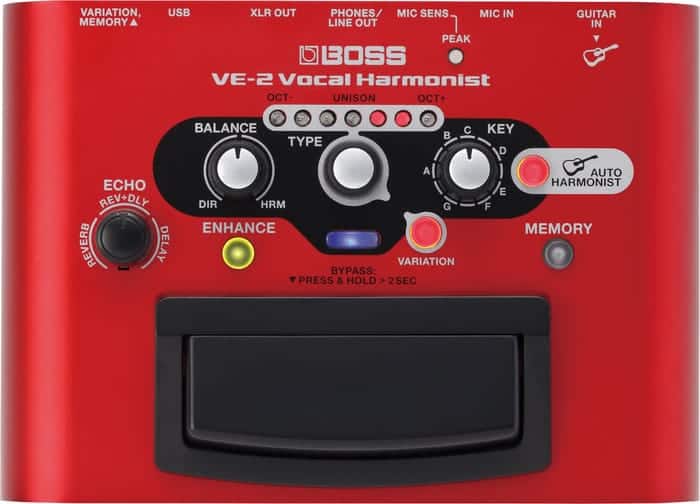 As you can see, the unit has a large footswitch, which controls whether or not the pedal is engaged or bypassed.
The unit has an Echo knob, which can be used to select either "Reverb", "Reverb + Delay" or "Delay"… So you can select your foundational effects setting here.
Next, we have the Balance, Type, and Key controls, which of course relate to the type of harmony which is added to the mix.
'Balance' controls the overall level of harmony volume, in comparison to the main vocal, 'Type' controls the specific frequency harmony interval that the singer wants to enable… And 'Key' refers to the musical key of the song to which the singer is singing to (or the key of which the singer want's the harmonies to follow).
The unit has 12 different harmony types, which means that you'll have more than enough to play around with. Not only this, but the unit also has a 'variation' button, which when engaged, incorporates more voices into the mix, for harmonies that add a fuller sound.
The Boss VE-2 also has an interesting function, called 'Auto Harmonist'… This is fantastic for singers who want to connect an instrument to the VE-2 such as a guitar, as the unit senses and detects the chord progressions used, to work out the musical key that the vocals should follow… Absolutely fantastic if you have key changes in the song, as this unit is able to listen to the change in chords (mid-song) and then adapt the harmonies accordingly.
The unit's 'Enhance' feature provides singers with immediate access to dynamic and subtle pitch correction with the touch of a button. The button specifically adds compression and analyses the vocal tone to automatically filter certain frequencies and boost others, helping to give a more refined, studio-quality sound.
Another nice feature of the unit is it's 'Memory' function, which in turn allows for vocalists to save up to three different memory presets, ideal if you have a few favorite settings that you use.
Now, that's the front of the unit talked about, let's move onto the back!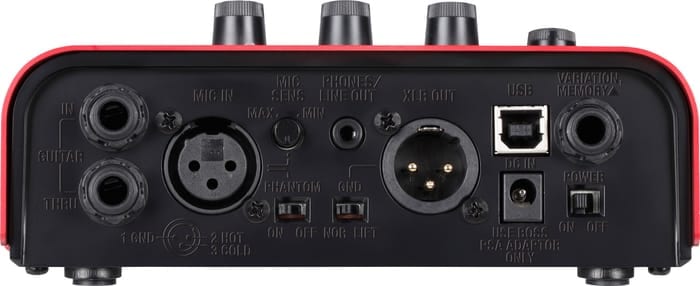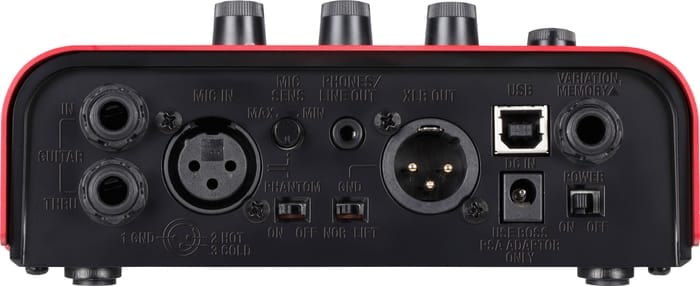 As you can see, the unit has a range of input/output and connectivity options, all of which make the Boss VE2 a very versatile and useful harmonist processor for singers.
It includes a Mic in (XLR input) and XLR Output as the main input/output connections. Additionally, it has a Guitar in (TRS input) and Thru (output)… The Thru output is ideal if you're looking at relaying the guitar signal to another destination such as an amplifier, once the VE-2 has analysed the key of the guitar signal.
The unit also includes 48v phantom power, which is used to power condenser microphones, 'mic sens' which refers to microphone sensitivity, a headphones line out, ground lift, variation memory, and a 9V power supply input…
Not only this, but the unit has two nice functions, well-thought out by the engineers at Boss, who know their target market perfectly. Firstly, the unit has a USB output, which allows for singers to use the unit as an audio interface and record their vocals into their laptop/computers DAW.
And secondly, the Boss VE-2 can optionally run on 4 AA-size batteries or a PAS-series AC adapter, which gives you the versatility to decide which option is best, dependent on the environment, with some practice environments not having many plug sockets available… However, when it comes to playing live, we highly recommend using the AC adapter, as that's one less worry you have whilst on-stage.
Performance
For this section, we like to feature some video demonstrations of the product in action, as this is the best way for you to get a clear indication of how the unit sounds.
We personally think that the Boss ve-2 sounds fantastic, particularly if you use it subtly, lowering the balance knob settings, so that it accompanies the main vocal, but doesn't drown it out.
Therefore, without further ado, take a listen to some of the video demonstrations below:
Conclusion
Overall, we really like the Boss VE-2 unit. As we mentioned, not only does it provide a highly intuitive interface with easy-to-use controls, but its harmony, reverb and delay effects actually sound particularly good!
Not only does the unit sound good, but it provides a good amount of variety for singers to play around with and find their favourite sounding tones and setting combinations, which can then be saved and referred to instantly with the addition of the unit's 3 preset memory banks.
As far as who the VE-2 is ideal for, Boss have made a great decision in not only providing interface controls to control the musical key settings, but also in providing the auto harmony function for singer/songwriters who want to plug in their instruments instead.
Therefore, it's a unit which is not only suitable for singers, but also for those who want a harmonizer/reverb & delay which allows for real-time key detection through an instrument input/thru.
Overall, we have to give this unit a thumbs up! Well done Boss!