An expression pedal is basically a device that can adjust the aspects of sound from an instrument using a continuous action or foot-operated movement.
It uses tone and volume, and this process has been around for quite some time.  
Size
4.75 x 1.75 x 2.88 inches
By adding an expression pedal, you get an effect in real-time, and dynamic control over something that would normally be static. Ultimately an expression pedal is a new addition to your musical vocabulary.
It can help you achieve things such as fading in a long-delayed tail on the final note of a solo as well as slowing down the speed of a chorus effect to highlight notes or phrases and filter sweeps as well as engage in pitch shifting.
There are various expression pedals on the market, and in the following guide, we'll take a look at some of the best expression pedals available online and why you should be investing in them.
Best Expression Pedal: Reviews & Recommendations for 2021
In a Hurry? Here's the Overall Test Winner: Roland EV-5 Expression Pedal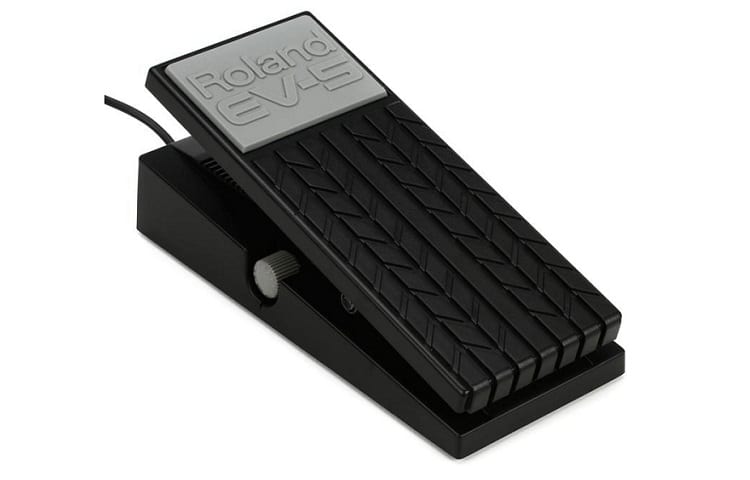 The Roland EV-5 Expression Pedal is created for use with keyboards and other expression-compatible devices and instruments.
Ultimately, it provides a more dynamic musical performance. The minimum volume can be set to the level of your choice, and that determines the maximum effect of the pedal.
Some of the bonus features include a single output expression pedal, continuous controller for out for synths and keyboards, as well as durable and rugged construction.
Pros:
Durable and rugged construction
Continuous controller
Single-output
Cons:
Gradation is not consistent
RUNNER UP: Moog EP-3 Expression Pedal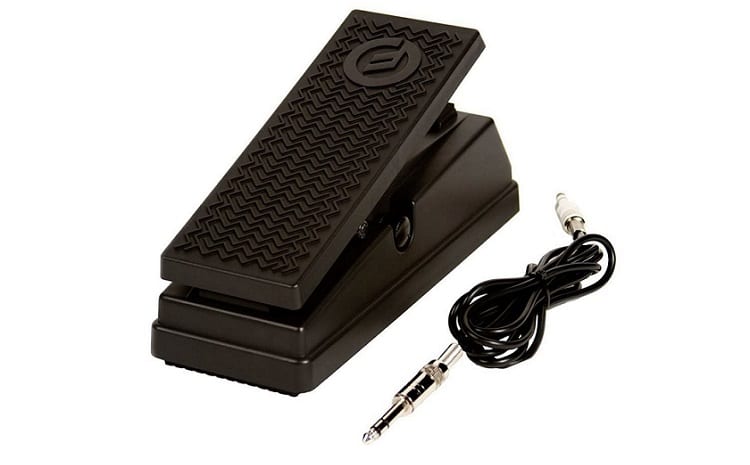 The Moog EP-3 Expression Pedal contains the perfect weight and balance as well as superior craftsmanship. It's also a reliable universal expression pedal that is designed to work with any keyboard, pedal with an expression, cv output, or synthesizer. It's also just as reliable as it is high-quality.
The pedal features a newly designed cam system that has a very smooth performance as well as extra durability and a polarity switch that ensures compatibility with non-Moog products.
It also contains a scalable output knob for specifying musical range and a 1/4 inch output jack on the front of the panel, which you can make use of with the supplied 6.5-inch cable. Alternatively, feel free to select a different length of cable to suit your specific needs.
Pros:
Robust and reliable
Polarity switch for Non-Moog product compatibility
Perfect weight and balance
Cons:
Best for the Money: M-Audio EX-P Expression Pedal for Keyboards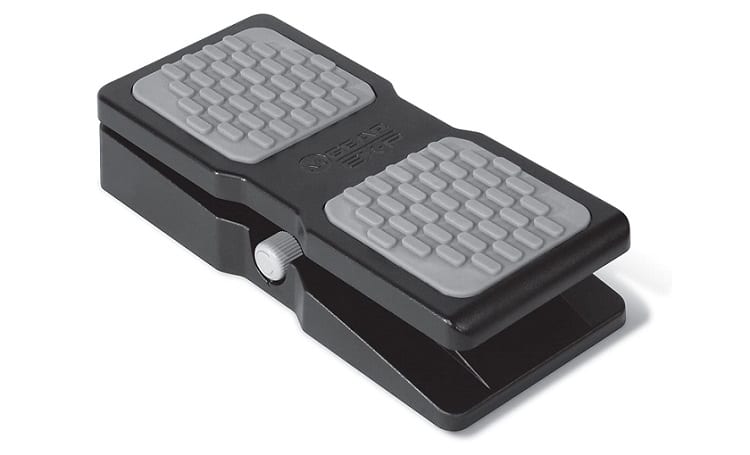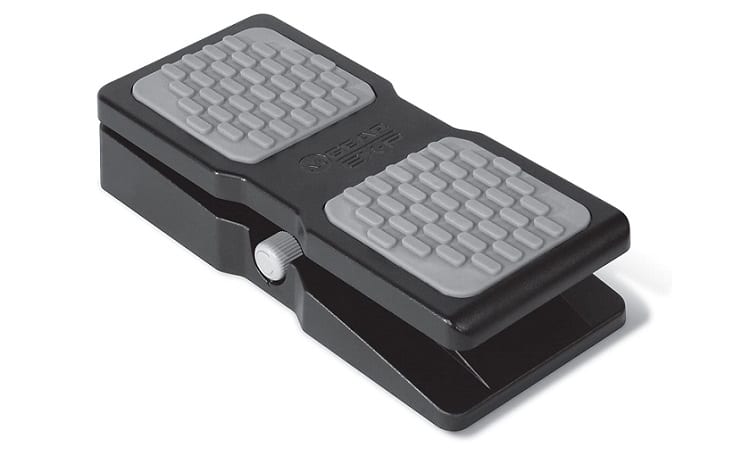 The M-Audio EX-P | Universal Expression Pedal for Keyboards allows you to express yourself. Feel free to expand and unlock the full creative scope of your controllable keyboard with this versatile expression pedal.
You can control everything and manipulate any MIDI-assignable control or parameter in real-time. This includes panning, modulation, volume, as well as filter sweep and much more.
It has universal compatibility, and the built-in discretely located polarity switch enhances compatibility with many keyboards, synthesizers, controllers, and other effect devices with an expression pedal input.
If you're looking for a reliable and robust pedal, then this is the one. It has a secure and hardwired 1/4 inch 18m TRS cable, which fits industry-standard expression pedal inputs.
Not only is it durable and robust but compatible and lightweight as well. Thanks to the molded construction, it's extremely rugged, and due to its compact design, it's portable and enhances performance. It also has a textured footrest for nonslip use as well as wide-angled smooth action for precise, expressive capability.
Pros:
Universal compatibility
Robust and reliable
Non-slip footrest
Cons:
Runner Up: VALETON EP-2 Passive Expression Guitar Bass PedaL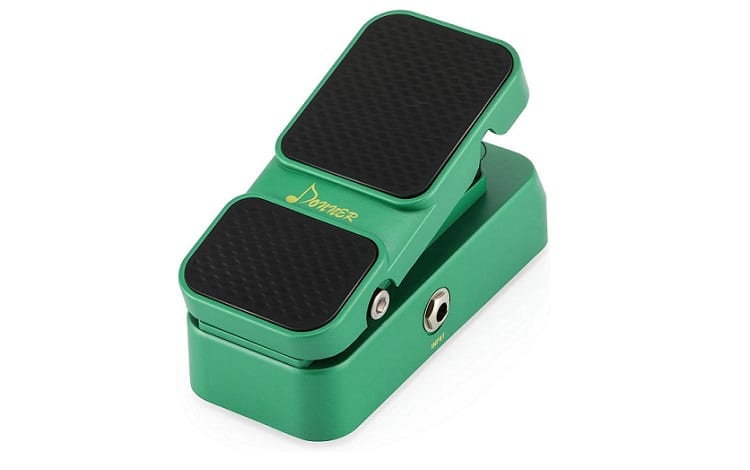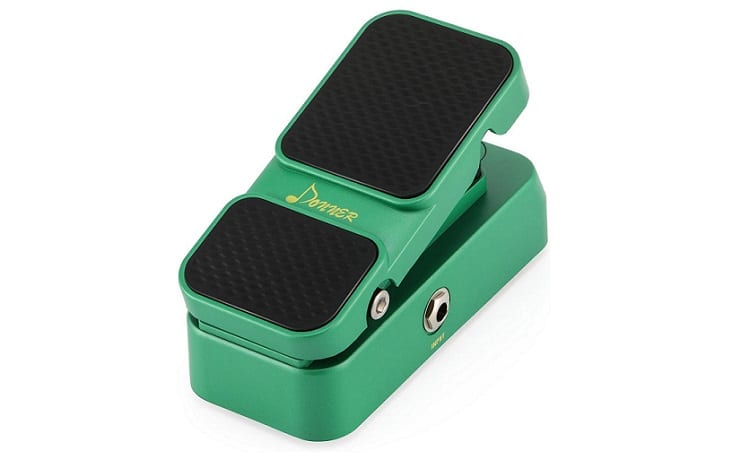 The VALETON EP-2 Passive Volume Expression Guitar Effect Pedal is a two in one pedal from the Valeton company. It's an analog circuit design pedal and has a two-mode volume/expression effects.
It's not only durable but extremely lightweight as well, which offers convenience for guitarists. Now you don't have to worry about carrying around heavy pedals with just volume mode or just expression mode. You now have a lightweight pedal that offers both these features.
This Viper has an excellent expression response as well as volume function, all packed into a small footprint design. It automatically detects and catches output source objectives.
Either way, it works well without a battery or pedal power supply, extensive range with guitar bass, and other musical instruments. This smooth taper responds to different parameters with precision, so all you really need to do is just plug and play.
This type of pedal has a wonderful and unique design. It's got a clean body with a wonderful logo design and a very small footprint. It's also much shorter and lighter than the standard expression pedals on the market.
The pedal is made from hard plastic, which is durable, lightweight, and intended for long-term use. It also features passive volume and expression modes, and both of these functions work without a battery or power adapter.
Pros:
Analogue circuit design
Smooth taper for various parameters
Works without battery or power supply
Cons:
Doesn't work for gradual volume changes
Expression pedals FAQ
What does an expression pedal do?
Expression pedals are devices that are used to control different parameters of multi-effect units, keyboards, MIDI controllers, and stompboxes.
Ultimately multi-effects units, stompboxes, MIDI controllers, and keyboards require a control port into which the expression pedal can be connected. The expression jack is then connected to the control port of any effects unit by a cable. The cable can be hardwired to the expression pedal, or you may just plug it in.
Ultimately, an expression pedal is used to control the volume on the effect parameters, such as Wah-Wah or pitch.
There are different methods that expression pedal manufacturers make use of. However, one of the most common ways is to use an electrical resistance device known as a potentiometer to make it work.
So, in a nutshell, the circuit within a pedals expression jack reads a voltage anywhere from 0 to 5 volts and then accordingly adjusts one of its sonic parameters. The most basic expression pedals
do not acquire power because the voltage comes from the fixed devices they are plugged into. So an expression pedals foot control subdivides that voltage to result in less or more voltage.
A volume pedal can also be hacked and converted to an expression pedal.
Is a volume pedal the same as an expression pedal?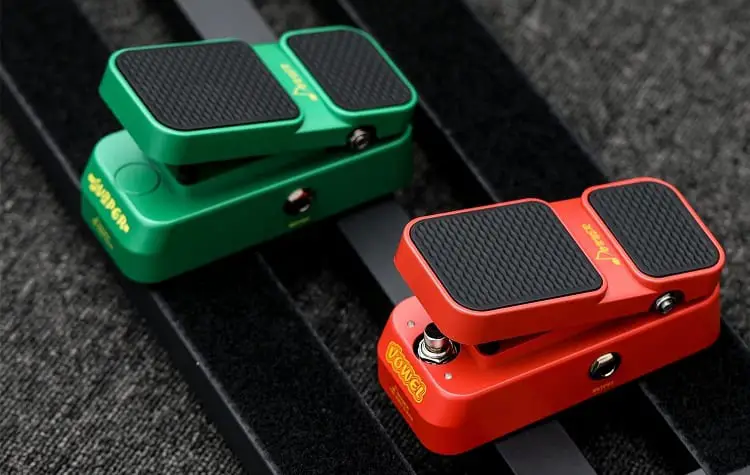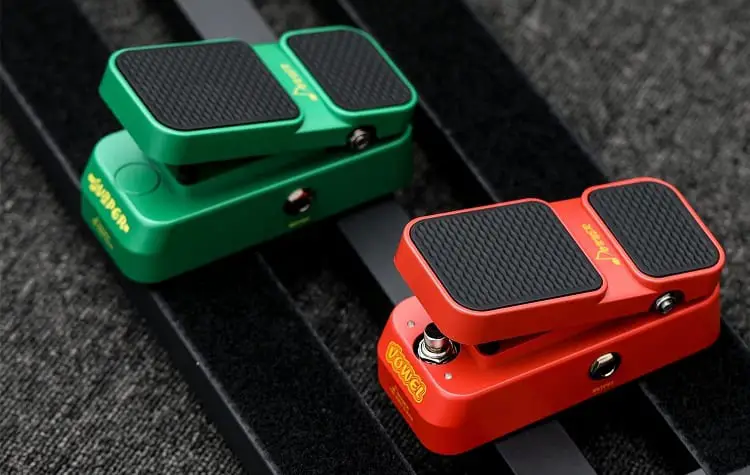 A volume pedal and an expression pedal are two different devices with different functions. They may look the same and this is why most people can't understand why they're so different.
You can use an expression pedal with your space Echo. Some are wired slightly differently like the Moog expression pedal or the Ada expression pedal so it's safe to stick to brands like Roland.
Lots of volume pedals may be used as expression pedals; however, this is not the norm. A volume pedal is different because you plug your guitar signal into the pedal and it has a potentiometer inside.  This is also known as volume control.
Ultimately this feature sets the level of your guitar signal with your foot and sends the signal out. With expression pedals, the guitar signal only goes in and out of the space echo.
A small control voltage also comes out of the Echo and in and out of this expression pedal through a single cable. The potentiometer inside the expression pedal sets the level of control voltage which ultimately controls some feature in the space echo.
Basically expression pedals can be used to control many different parameters depending on the units they are connected to. Some delay pedals have especially control over the length of delay, and a volume pedal is simple to use.
Can you use a wah pedal as an expression pedal?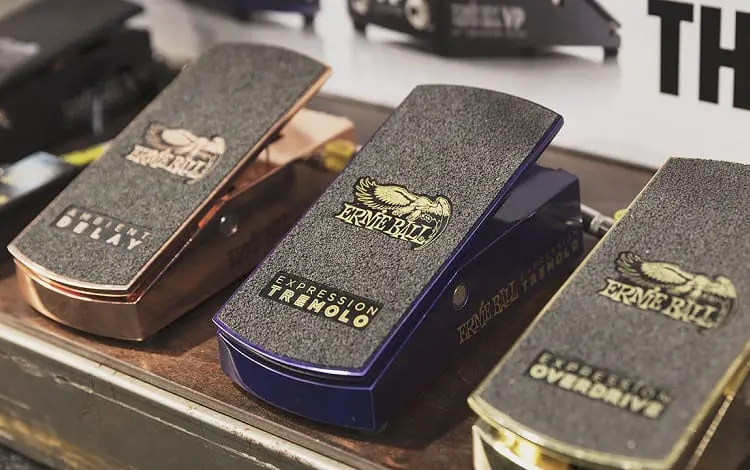 If you have a volume pedal just laying around and it doesn't get much use, then you can use it as an expression pedal by making use of a special cable.
It's called a TRS cable, and it's designed to break out a TRS insert jack to the separate send and return signals. The good news is that this wiring can turn your volume pedal into an expression pedal.
There is a simple process to converting your volume pedal into an expression pedal, and this is a process to follow:
Once you have a TRS insert cable, simply plug the TRS plug into the exp input which is basically the ring plug into the volume pedal inputs and the top plug into the volume pedal output
This is basically the "tip" plug. You can now use the volume pedal like an expression pedal, and it's also compatible with most other devices featuring expression pedal control.
So basically what has just happened is that you've taken advantage of the design of a passive volume pedal and rewired it as an expression pedal using the TRS cable. Volume pedals, however, need to be passive, not active and the impedance or the value of the resistance in the volume pedals potentiometer is not significant.
One thing you may notice that's a little bit different about using a volume pedal as an expression pedal is that if the volume pedals use an audio taper potentiometer you won't get a linear sweep of expression pedal values from toe to heal.
So to put it simply, much of the action will happen at one extreme of the pedal.
How do you make an expression pedal?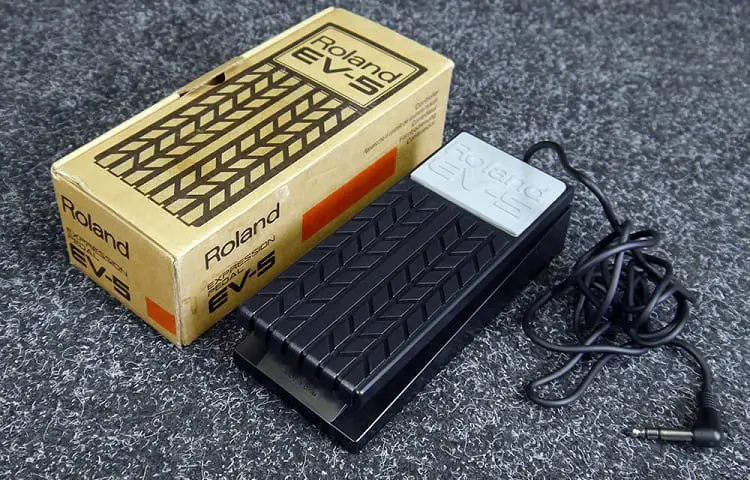 Using an expression pedal with any of the fixed pedals simply opens up you up to a whole new world of possibilities especially for on the fly parameter adjustments.
However, most available expression pedals are not very durable and rugged and tend to break easily during road use. So if you're looking for an extension pedal that's roadworthy without spending more than $100, then you might as well both make it yourself. Crybaby wah pedals are one of the highest-selling fixed pedals of all time.
So basically what you can do is take a crybaby pedal that is broken and not being used for obvious reasons, and basically repurpose it as an expression pedal. If you don't have one, you can probably pick one up online for between $20-$30.
So to begin, you'll need to remove the four screws on the underside of the pedal closure and remove the backplate as well. Next, you'll want to unscrew the nuts from the input and output jacks, remove the wire harness from the pin header, remove the screw from the PCB and take the PCB out of the enclosure.
You also want to de-solder the wires in photo  Sunday logs especially if you want to be able to turn your PO to so they return to their stock condition, but also to use the wiring harness without worrying about the wires being too short. Alternatively, you can just cut the wires as close to the connector as possible and use them for the expression pedal.
Now that you've removed everything that you're not going to need, you can start to reconfigure the pedal. The only additional parts that you may require is a 1/4 inch stereo or TRS jack and a 1k-ohm resistor.
Conclusion
An expression pedal is an important control found in many instruments such as electronic keyboards, pedal steel guitars as well as organs.
The pedal is used to control different aspects of sound and more commonly the volume. Separate expression pedals can be added to effects units or guitar amplifier and used to control other aspects of the tone.
Ultimately, there are different types of pedals on the market, and they all help to enhance and amplify your musical experience.