Type
Performance pad controller
Features
Full control, plug and play, seamless integration and clip launching
High performance, Portable, compatible with most devices
Bright and colorful, lightweight and portable, made with attention to detail
64 RGB pads, bright and colorful, control volumes, start and stop loops
Monophonic channel pressure, RGB LED pads, Integrates with Ableton live
If you are a digital music composer, perhaps one of the most valuable investments you could ever make yourself is an Ableton Controller.
You may be good at playing different instruments, recording, DJing, and collating different types of sounds, however, this all proves to be a hassle.
The best Ableton controller will help you to record, compose, and sample your creative musical compositions while sitting in front of the computer.
You will have to combine the controller with the right software; however, the addition of a personal computer helps you start your music journey. 
Ableton controllers may look different; however, they all have the same basic design. They are all rectangular matrix filled with buttons. So they are fairly easy to spot.
There are quite a few different types on the market, and in the following guide, we'll take a look at some of the best Ableton controllers and why you should be investing in them.
Best Overall: Akai Professional USB-Powered Full-Featured Ableton Live Performance MIDI Controller
The Akai Professional Ableton Live Performance MIDI Controller is engineered meticulously for a dexterous explanation.
It includes landscapes, samples, and one-shots that ultimately creates and performs a song from the ground up using 40 responsive triggers.
It also includes RGB lighting that is radiant and provides visual feedback and displays three clip statuses, which are recording, playing, and loaded. So you can perform without looking at the computer.
If you are after a customized experience, you can color-code your clips with selectable RGB lighting for advanced visual organization.
You can also make use of this feature to give you expanded control and use the shift button and arrows to navigate the scope of the 5 x 8 grid. Ultimately with this controller, there are endless possibilities.
Ableton live lite has much of the functionality as Ableton Live, and it's used to compose spontaneously, improvise, record, remix and edit musical ideas in a seamless environment.
There are also nine channel faders, eight device controls, eight control knobs that seamlessly maps with Ableton live. It also has a used part plug-and-play connectivity for both PCs and Macs.
Pros
Seamless integration
Plug and play
Clip launching
Cons
Runner-Up: Novation Launch XL Ableton Live Controller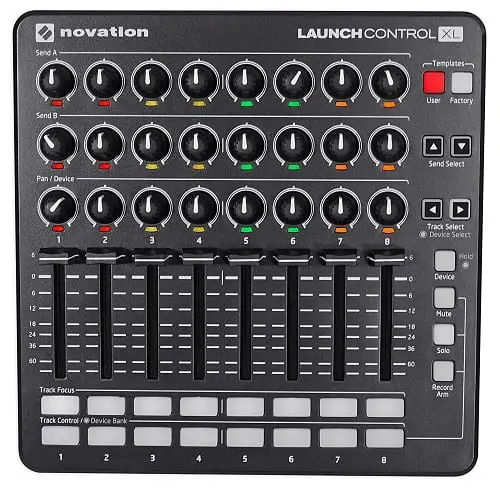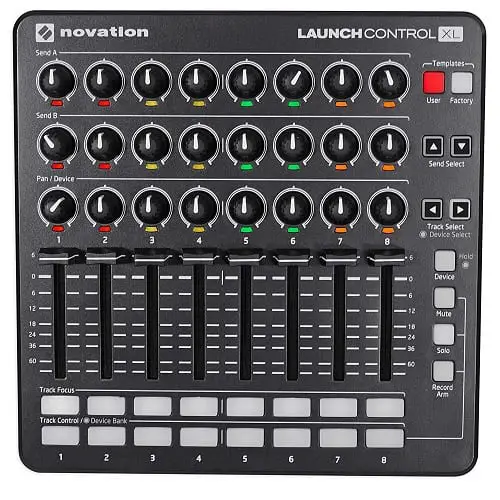 The Novation Launch XL Ableton Live Controller contains 24 rotary pots with 300-degree motion. It also has 24 multi-color indicator LEDs, one for each pot. Feel free to create your layouts, thanks to the fully customizable software editor.
All you do is plug straight into bus power, and no drivers are needed. You also find assigned buttons, faders to any parameters, and knobs inside the Ableton live to make your own layouts, customize knobs with your very own colors, and switch between your own mappings.
Ultimately it helps you focus more on your music and much less on your laptop by providing 16 buttons, eight faders, and 24 knobs that integrate seamlessly with live to provide you with total hands-on control.
So you can spend less time staring at your screen by using hands-on controls that connect seamlessly with Ableton.
Thanks to its tough, yet slim design, it is easy to carry around absolutely anywhere. It fits into most backpacks, and this allows you to take it along in even the most demanding life situations. It's also fully USB powered so you can plug it in and play without needing a power supply.
You can plug it into your Windows, IOS, and Mac computer, and simply start performing.
Pros
Portable and easy to store
Create your own control layouts
Connect to most devices
Cons
Alternatives: Ableton Push 2 Controller Instrument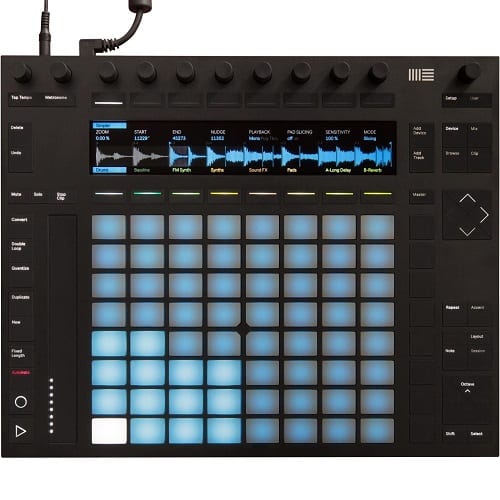 The Ableton Push 2 Controller Instrument has a bright display. The multicolor display is always adapting to show you exactly what is required. There is enough information provided to keep you in the creative flow without causing any distraction.
The buttons and pads are improved, and the push pads are carefully made to feel just right irrespective of what type of music you are into. It also consists of seamless control buttons, nearly flush with the surface, and you'll hear a subtle click when you press it.
If you heard the saying, less is more; then this is definitely the case with this instrument. It's lighter and thinner than its predecessor, and this makes it easy to move from stage to studio and vice versa.
The silicon pads are soft and carefully calibrated to react perfectly at any velocity. The high-velocity encoders respond to touch.
Pros
Colorful and bright display
Improved buttons and pads
Lighter and thinner than previous model
Cons
Novation Launchpad MK2 Ableton Live Controller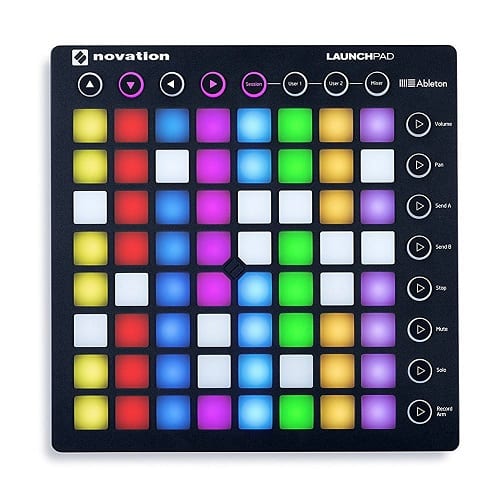 The Novation Launchpad MK2 Ableton Live Controller integrates seamlessly and immediately without any setup at all.
Thanks to the 64 RGB pads that light up, it matches the color of your clips in live. So you'll be able to see what's playing, loaded, and recording quickly.
Colorful and bright pads stand out just from the USB power, so you will definitely be able to keep your eye on it irrespective of whether you are on stage or making an exciting Launchpad light show video to post online.
You can use the grid to play samples, and drums with pads pre-mapped to Ableton's live drum rack. Feel free to start and stop loops, control volumes, pans, and sends.
Pros
Portable and lightweight
Comes with 1 year extended warranty
Integrate with Ableton live
Cons
PreSonus ATOM Production and Performance Pad Controller with Studio One Artist Software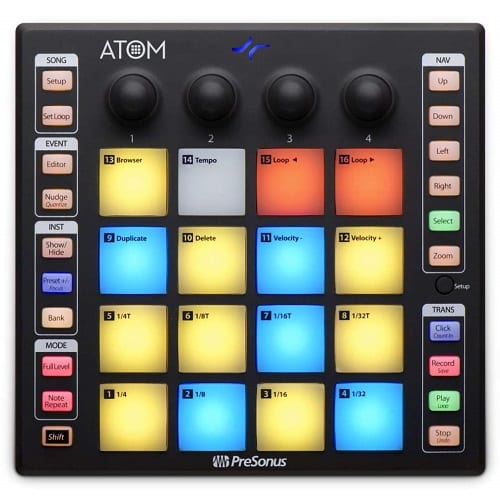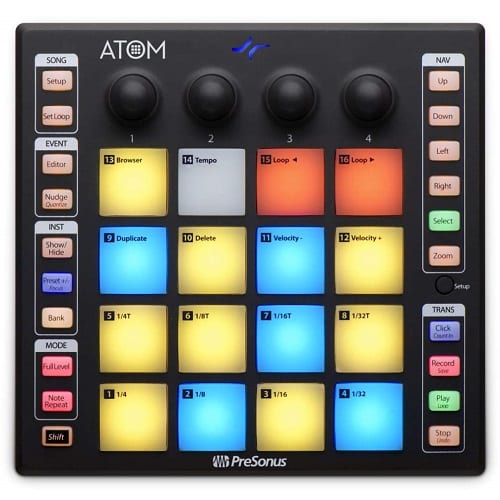 The PreSonus ATOM Production and Performance Pad Controller with Studio One Artist Software have selectable pad velocity curves, and pad pressure thresholds. 
There are various modes such as midi keyboard mode, full velocity mode, as well as note repeat mode. If you are looking for an instrument that allows you to take your mind off the heat and place it back on the beat, this is the one for you.
This instrument is intuitive and easy to use with studio one artist and Ableton live, it's able to allow you to focus the way you should be. Feel free to capture the beat wherever inspiration strikes.
The system is not only intuitive but fairly easy to use. It's more than just an impressive MIDI pad controller, but a tool that allows for easy transportation so you can focus on the music.
Pros
Intuitive and user friendly
Fully bus powered USB
Easily make music and record
Cons
Contain some inconsistencies
Ableton Controllers For Beginners FAQ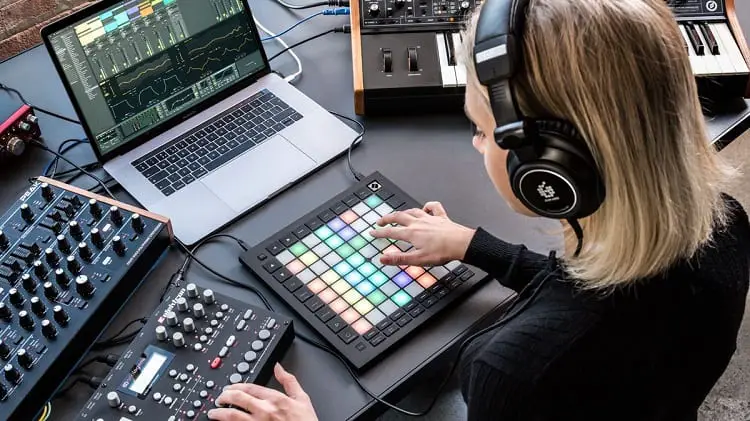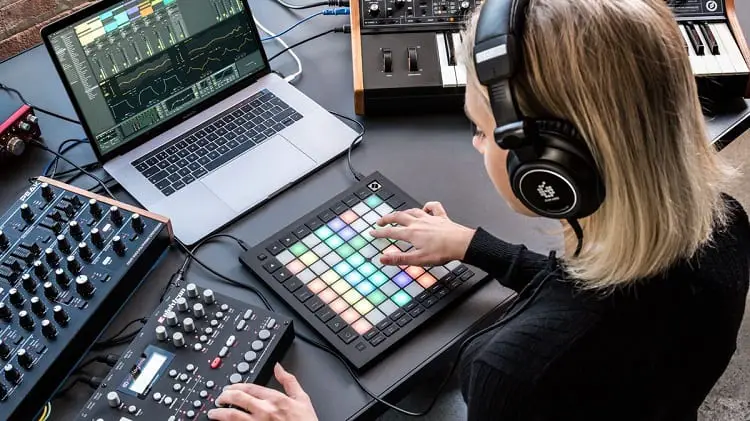 What is an Ableton controller?
An Ableton controller is basically used by music composers and is probably one of the best purchases you can make if you're serious about the music.
Some people are good at several instruments, recording, DJ, and collating different types of sounds; however, this may at some point in time prove to be a hassle.
Ableton controllers help you record, compose, and sample your musical composition, all while being seated in front of your computer.
However, you will need to combine the control with the right software, and with the addition of a personal computer, you'll be able to start your music exploration.
These controllers look different; however, they all have the same basic design. The design is ultimately a rectangular matrix filled with buttons, so they are fairly easy to spot.
What is the difference between Ableton and DJ controller?
With the rise of techno music genres, lots of musicians have found themselves searching for better instruments to help themselves have the best concerts, parties, and entertainment than ever before.
Technology is moving at the speed of light, and gadgets and musical instruments have also drastically improved over the years.
In days gone by, traditional DJ mixers and turntables took up a whole lot of space to set up. However, modern DJ controllers have helped DJs and musicians in their quest for better music for their fans.
By using DJ controllers, musicians can perform absolutely anywhere in the world at any time. All you need is a reliable computer, and a DJ controller.
Perhaps one of the only differences between Ableton live and DJ controllers is that Ableton is not a DJ software. It's not primarily intended for use only by DJs.
This should be a good feeling, obviously Serato, and live entertainment action. Both Traktor and Serato are used today to announce that shows the wavelength of the tracks alongside a bank of DJ specific controls.
Ableton's interface is, however, somewhat different. Ultimately, check handset options, and both attempt to re-create HD shall DJ booth in different ways.
Ultimately this includes two decks and a mixer in the middle. Ableton's interface alternatively makes use of a spartan comparison.
So ultimately, Ableton live is a digital audio workstation that is created and designed purely for live performance.
Do you need a MIDI controller for Ableton?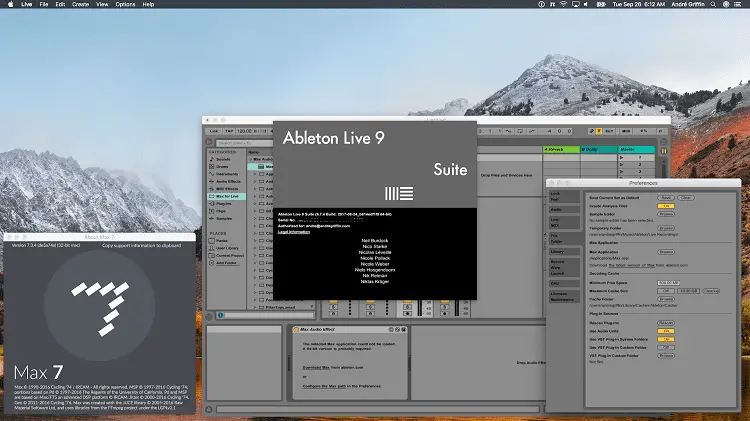 Here is something all musicians talk about. All types of musicians from beatmakers to guitar players buy gear, and it's considered somewhat of a lifestyle.
However, it is another expensive hobby that tends to clutter your workstation answer.
This habit, however, is born of necessity. Digital audio workstations are challenging to make use of unless you have at least one or two pieces of external equipment to help you control it.
However, this is not the case with Ableton. Understanding all that the interface has to offer, can, for the most part, help you produce without any controls.
In fact, you don't need a mouse just a laptop and Ableton installed.
If you've ever wondered how to get MIDI notes without a keyboard, then you'll be pleased to know that there is a way.
While the MIDI keypad might be nice, it's not necessary with Ableton. However, you'll need to understand the key mapping set up.
So all you need to do is insert the instrument, create a new Midiclip, and press the headphone icon.
As soon as you press, hold onto and click the key, you should see notes be entered.
So as long as you press and hold the key and the length of the note keys, you'll see the notes increasing.
If by mistake, you make the notes too long, simply click and hold on the note and press the left arrow to shorten the note.
Another way that you can edit is to drag your mouse up to the right or left upper corner until the icon that looks like this [ ] appears. Then you can drag it to the desired note length.
Can you use an Ableton launchpad without a computer?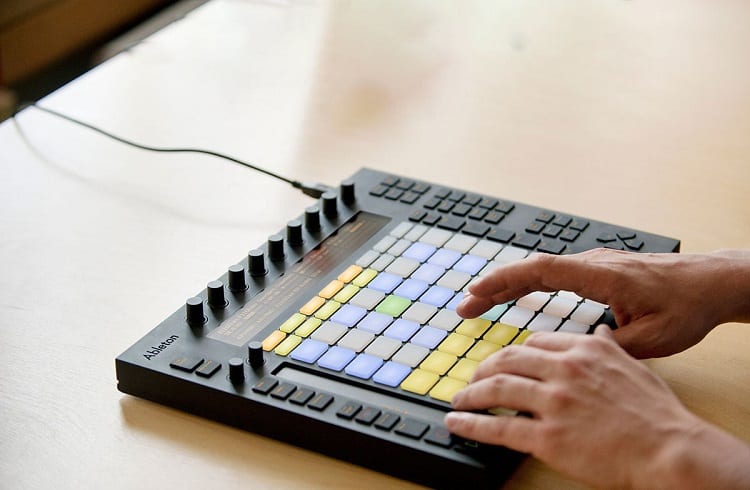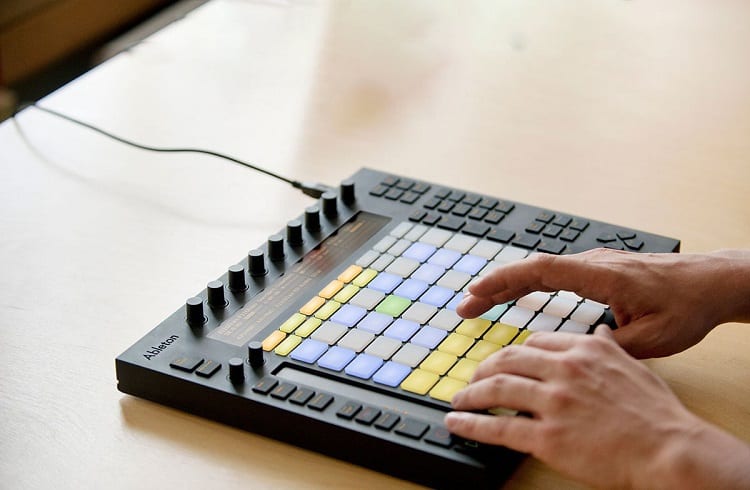 If you are wondering whether you can use Ableton push without a computer, then the answer is yes.
The trick is to use Audio 4 or iConnectivity MIDI  instead of the computer.
Then when it comes to the MIDI processing part, you can use an Android or iOS device or even an Arduina.
There are some launchpads that will only work without a computer if you use the standalone mode and it is only available on your recent models.
You can load your samples onto some hardware, or trigger a drum machine, or any other non-computer application that comes to mind.
Conclusion
Ableton is a unique piece of software.
Not only can you DJ and make music with it, but you can also perform the song's simply by using a laptop.
In days gone by, you would need to purchase Ableton live first, then map your controller or download mapping for it.
However, nowadays, there are lots of budget controllers with great performance on the market that comes pre-mapped and good to go with Live.
Ableton controllers offer fantastic features, and you need to take some time to learn about all the features and benefits it provides.
Ultimately, though once you familiarize yourself with all of the fun and creativity that Ableton controllers have to offer, you won't be able to get enough of it.