Even though there's lovely proximity about playing an acoustic guitar that is absurd to beat, if you want to perform with other musicians, you're going to have to either position a microphone in front of your soundhole or invest in one of the best acoustic guitar pickups.
Mounting Requirements
Loosen the strings and mount in sound hole
Instantly mounts and unmounts
The best acoustic guitars are famous for their deep, rich, and distinct tones. This is why numerous manufacturers hype their choice of tonewoods over other brands.
When it comes to playing in the studio, a quality microphone is your best bet at projecting that classic pure acoustic sound. It is possible to use that same microphone set up to teach the far corners of a decent-sized venue.
However, fitting a pick up to your acoustic guitar lets you amplify your playing without being stuck in front of a microphone.
Ultimately, the best acoustic guitar pickup will depend on your playing style and, of course, the budget. However, there are lots of options at all price points available. So let's take a closer look at them.
Best Acoustic Guitar Pickups Reviews For 2021
Best overall: Fishman Infinity Matrix VT Pickup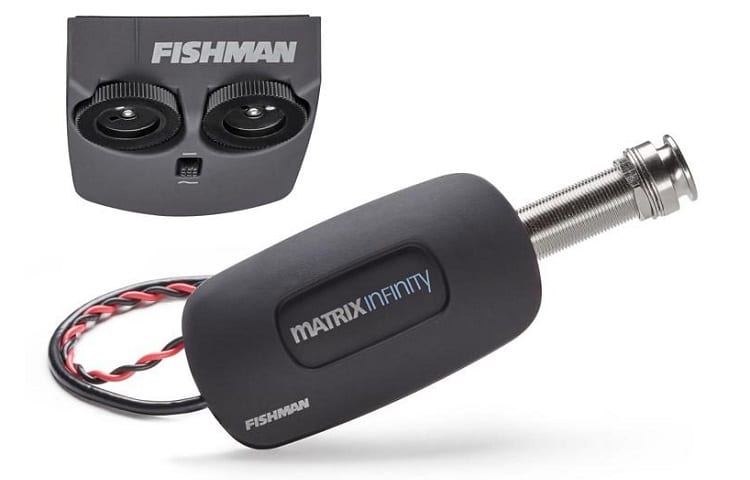 The Fishman PRO-MAT-NFV is modified to perform even better with modern acoustic guitar amplifiers. This pick up, and preamp system is the most recent evolution of the company's flagship matrix. The clear and transparent tone and dynamic string response have been paired with a variety of new design features and performance enhancements.
Some of those features include an endpin jack mounted preamp in a brand new design featuring a soft-touch housing as well as a redesigned enclosure of the soundhole mounted tones and volume controls. In addition to these features, you'll find that the unique scoop tone control cuts mids while boosting bass and treble. 
These features are further enhanced by the integrated LED low battery indicator located on internal preamp. This system is suitable for nylon, 12 string, and bass. Ultimately, professional installation is recommended.
Pros:
Clear and transparent tone
Dynamic string response
Ease of installation and use
Cons:
Does not come with instructions
Runner Up: Seymour Duncan Acoustic Soundhole Pickup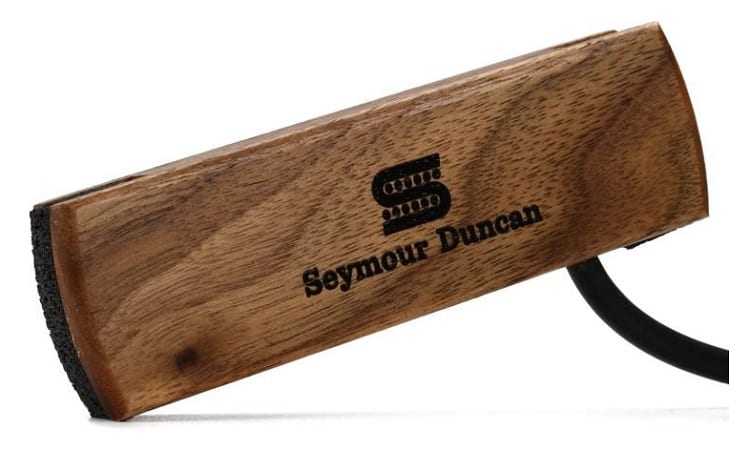 The Woody HC Hum-Canceling Soundhole Pickup contains instant mounting and unmounting. It also has an attractive maple cover that looks great on your guitar. Aside from that, if you already love the sound of your acoustic, this will simply amplify the sound passively without allowing anything to detract from it. 
It's especially useful for singers,songwriters, as well as folk strummers. The series offers a modest response that gives you more than enough application while allowing your guitar to blend nicely with vocals and other instruments.
The Woody HC Hum-Canceling Soundhole Pickup fits almost any acoustic guitar sound hole and has the latest range from 3.85 inches to 4.10 inches. It's also budget-friendly for most musicians and is a much more economical option than buying a mic for your acoustic application.
Pros:
Quick mount
Plugs directly into PA systems
Passive
Cons:
Easily slips out of sound hole
Alternative: Seymour Duncan Single Coil Acoustic Guitar Pickup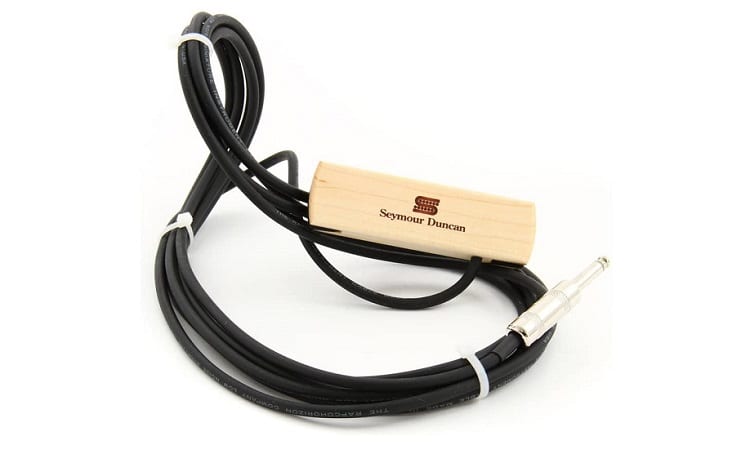 The Woody series offers a modest response that gives you lots of amplification while letting your guitar blend nicely with vocals and other instruments.
The pickup fits easily on any acoustic guitar sound hole with a radius range of 3.85 inches to 4.10 inches. They are priced for the budget of most musicians and are a much more affordable option compared to buying a mic for acoustic amplification. 
Some of its most attractive features include a quick-mount option, passive, magnetic sound hole pick up, single-coil moderate output, instant mount housed in maple cover, and double potted warm and rich tone with no 60 cycle hum. 
It's great for strumming and delicate fingerstyle playing, which includes studio-quality 14-inch cable. The pick up works with any type of guitar, although an acoustic guitar is preferred. It can also be plugged directly into a PA system or mixing console players.
Pros:
Single coil
Quick mount
Moderate output
Cons:
Alternative: K&K Pure Mini Acoustic Guitar Pickup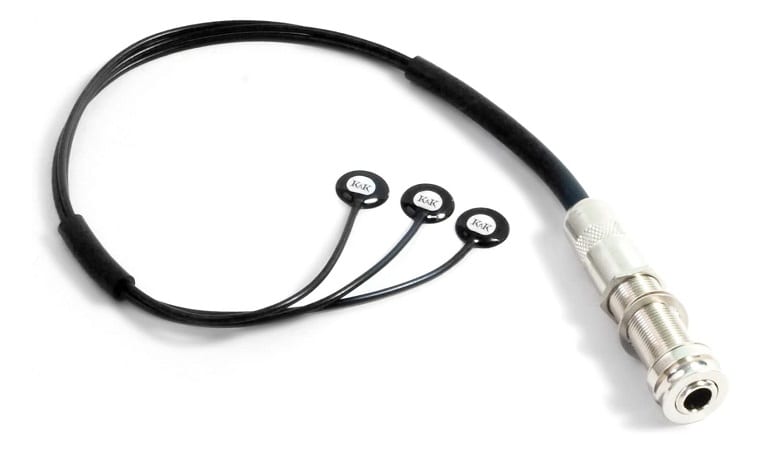 The K&K Pure Mini Acoustic Guitar Pickup is a transducer only system. It does not include a bench or onboard electronics and you can expect just pure pickups. It is easy to be fooled by the sound of some competitors "thin sounding" passive systems, but this pure system is definitely different. 
The system sounds rich and full and has more than enough output to drive most PA systems and amps directly, even without a preamp. The advantages of this pure guitar system are that it transmits a significant portion of the sound-board since they are not as close to the strings as under the saddle pickups. The 3 transducers are designed to pick up a specific string pair. And also "listens" to the adjacent area on the bridge. 
These pure pickups do not sound harsh or percussive since they are not under pressure. The pure system ensures that strings are nicely balanced, which is a known problem with under-saddle pickups. This is a great passive mode, and unlike under saddle pickups which passively can sound thin and trebly, the system puts out a nicely balanced, full, warm range signal. 
Due to the pure systems location on the bridge plate under the bridge, feedback resistance is comparable to under saddle transducers. The pickup installed on the bridge is less likely to produce feedback compared to one's attached to the open sound-board. Therefore the 1/8 inch thin sound-board acts like a diaphragm and vibrates along with loud sound signals from speaker cabinets. 
So this can be compared to the kind of feedback experienced on an acoustic guitar. The thicker bridge area is also a lot harder and less resistant to vibration from an outside source because of its mass. In both our tests, the steel-string and classic guitars equipped with an under-saddle pickup plus the pure sound achieve the same gain before feedback with both systems.
Pros:
Pre-wired no soldering required
Includes 1/4 inch endpin jack
High output – no battery required
Cons:
Acoustic Guitar Pickup FAQ
How to install an acoustic guitar pickup?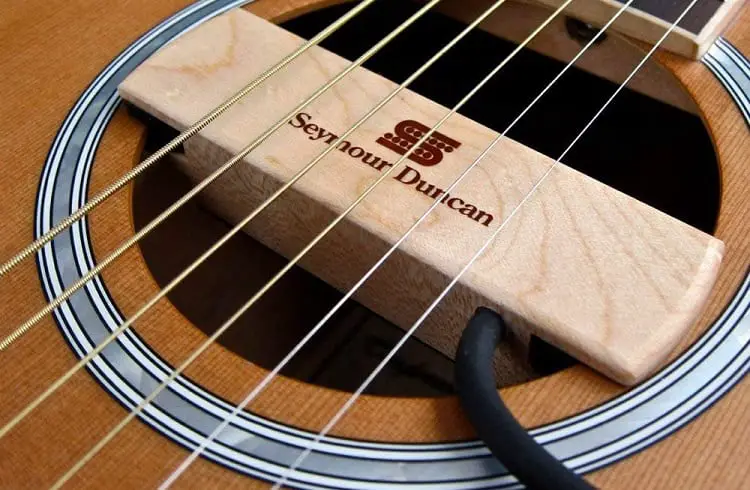 Competing with a band armed with an acoustic guitar presents some obvious challenges. However, it is possible to boost your acoustic for stage performances. So let's take a look at how it's done.
Acoustic guitars don't stand much of a chance when it comes to drum kits; however, that's no reason to abandon it side stage. There are lots of acoustic pickup systems available on the market today featuring different strengths and technologies. 
One of the most popular and commonly installed pickups is the under-saddle pickup. This is great for stage performances since it is nice and isolated and also gives a good selection of the natural sound of the guitar, only louder.
Some pickups contain additional features such as being able to run without a battery, EQ units or multiple input sources for a microphone. The under-saddle pickup, however, is the best all rounder.
What you'll need:
New pickup system 
Pack of strings 
9v battery 
Cordless drill 
String cutters 
String winder 
Round needle file 
Quality 12mm spade bit 
2.5mm twist bit (depends on your pickup) 
Steel ruler 
Adjustable spanner 
Mechanical pencil 
Sanding board with 80 grit and 240 grit sanding paper
Step 1
This is where you need to remove the strings from your acoustic and keep the parts side. Thereafter remove the saddle carefully using soft pliers and take a look at the saddle slot. Ideally, there shouldn't be any plastic or paper shims inside, and the surface of the bottom should be smooth.
Step 2
In this step will be adding a new gizmo in between the bottom of the saddle and the bottom of the saddle slot so ensure that the height of the strings is not raised.
Thereafter measure how thick your under-saddle pickup is and reduce that from the bottom of the saddle. If there were shims present, you should subtract that from the thickness so that you can chuck them away.
 Step 3
If you can get away with not using the shims, it will lead to better sound. Use a sanding board with 80 grit paper stuck on to reduce the bottom profile of the saddle and reach the ideal height.
The saddle should always be kept at 90°, so be aware of this and then follow with a finer sanding board to finish. 
Step 4
It's crucial that the bottom of the saddle slot is completely flat. The sanding board should take care of this for you; however, it is still worth checking. Hold the saddle up to the light against a short metal ruler and check for gaps and light shining through.
Step 5
For the under-saddle pickup to pass through, you'll need to drill a hole. Drill a hole in the bottom of the saddle slot noting the location of the wire on the pickup until you break through inside the guitar.
Step 6
The pickup wire should not be trapped or snagged, and it should go through the hole that was just drilled. It may be necessary to file away the edges of the new hole to suit.
Step 7
In this step, you need to check that there's no sawdust in the slot and thereafter fit the under-saddle pickup into the saddle slot. It's pretty common for this to be on the top or like this, where we have to install it from below. The pickup is very delicate, so don't force or bend it as it is also costly to replace.
Step 8
The B band uses a "strap jack" which combines a jack socket with an endpin so you don't need the old endpin and you can simply unscrew it. For drilling out the 12 mm hole, a decent quality spade bit is very useful. Masking tape will help protect the finish as you drill it but work as slowly and accurately as you can.
Step 9
Now that the hole is drilled it's time to plug in the battery, pickup and control connections into the main preamp. Since each make and model is different, it's best to check the manual to see if there's a specific way around that's required. Install the endpin and tighten up the nuts on the outside of the guitar.
Step 10
Check that the screw-on strap jack is not stopping a jack lead from plugging in. If you do experience this issue, you have to set the endpin slightly more proud and try and see.
Thereafter attach the battery bag to the inside of the neck heel, and the volume wheel attaches with self-adhesive, which is relatively easy to do.
Step 11
In this step you'll be installing the battery, replacing the saddle into the slot and plugging into an amp. When you plug into this new strap jack, it should power the system on at the same time.
Thereafter, just press the saddle down and tap test the output through the amp. What you should experience is level output from each string and can also test the volume and tone controls.
Step 12
In this step, it's time to restring. The goal you are aiming for is level output from each string went plugged in. If it's any different, that means there is different pressure on different spots.
The usual culprit is dust or non-flat surfaces on the saddle or under the pickup. Check that when you tuned up, the saddle is not now leaning forward.
Do wireless acoustic pickups exist?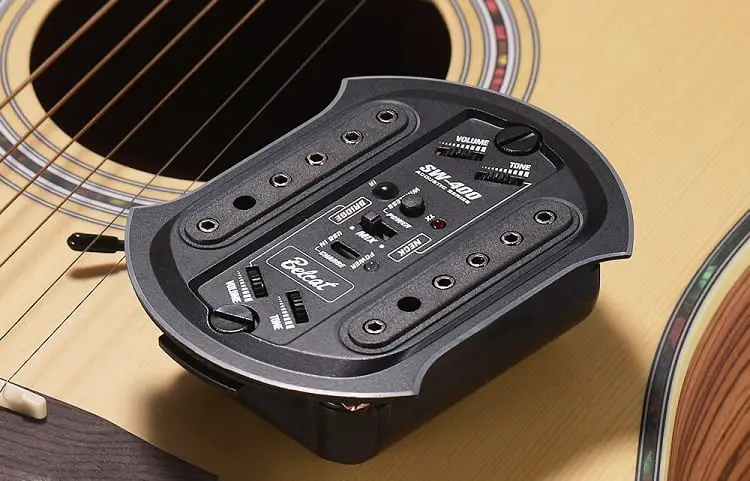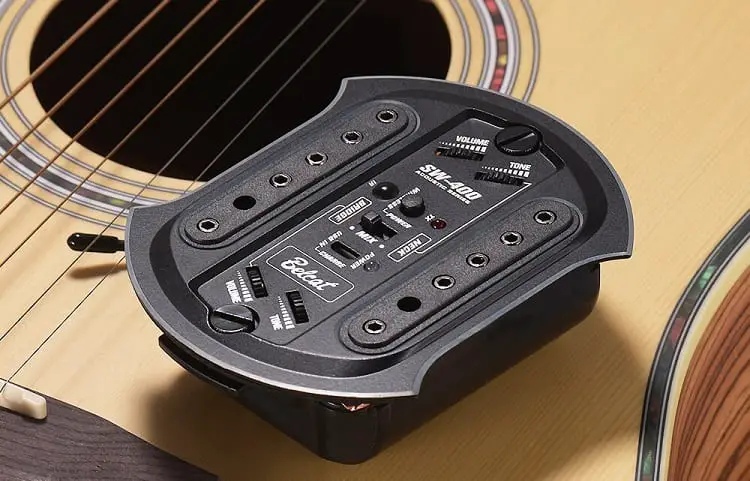 Wireless acoustic pickup systems do exist. Although there are variations when it comes to makes and models, the wireless microphone system is a conventional solution for acoustic pickup.
It is designed for recording and music sharing. Most of these wireless systems have a USB interface receiver that sends your signal straight to the computer for capture. Effectively a wireless USB microphone is also at your disposal.
What is the difference between an active and passive pickup?
There are several differences between the two types of pickups.
Passive pickups have two basic components, the magnetic and copper wire which picks up the vibrations of the string. The vibrations then read as a current and then travel through your cable and out of the amplifier.
Passive pickups create a weaker electric signal than active pickups, and this makes the amplifier more important. The amp is where the sound is boosted, giving it a better projection.
Pickups have a higher output than passive ones since they rely on a power source, like a battery. Basically, active pickups will give your sound more power and give you a more consistent tone than a passive pick. 
Why use a preamp on an acoustic guitar?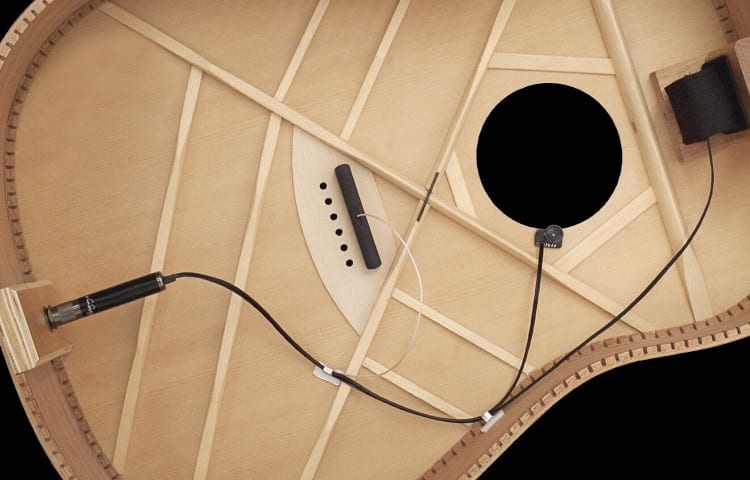 An acoustic guitar preamp is a device that allows you to shape the tone of your sound and will add volume to it. These black control panels are something you often see on acoustic guitars and are known as preamps.
Most of them are marketed as DI boxes, combination DI and preamp units. A lot of the time, these preamps are built-in; however, some manufacturers will ship passive pickups. 
Passive pickups don't feature preamps, and the signal they output is lower. Ultimately, this often results in a weaker tone which, while functional in some instances, are not ideal.
Ultimately, you want to use preamps because they give you more control over your tone than the preamps that are included with most acoustic guitars. So if you're not satisfied with the active acoustic pickup system installed in your guitar, you can look at getting a preamp.
Preamps are also similar to acoustic amps since they guarantee you a consistent tone and sound. You can fine-tune your tone to a high degree and also enhance it when you plug it into a PA system. If you like doing gigs and performing on open mics, then you will get a lot of value out of an acoustic guitar preamp.
Conclusion
Having access to a consistent tone is an advantage that should never be understated.
Part of what makes gigging so hard is the fact that there are factors which can push even the most seasoned musicians out of their comfort zone.
Knowing that your guitar is going to sound how you want it to will help to increase your confidence and having the ability to eliminate feedback, goes a long way in helping your next performance go smoothly.