P bass, which is also known as a precision bass was Leo Fender's first electric bass design.
It was introduced in 1951, and while it wasn't the first electric bass, undoubtedly it changed the way musicians thought about the instrument. It has since become one of the most popular base models of all time.
However, unlike the pickups on a jazz bass, P base only features one split single coil pickup. But considering this minimalist design, the P bass is one of the most versatile instruments ever created.
Nowadays, there are several precision bass pickups available, and in the following article, we'll take a look at some of the best of them and which ones you should invest in.
Best P Bass Pickups Reviews For 2021
Best Overall: EMG Geezer Butler Signature PJ Bass Guitar Pickup Set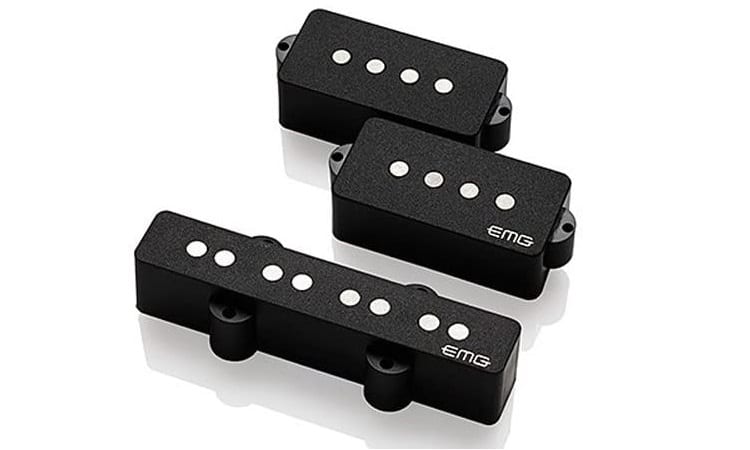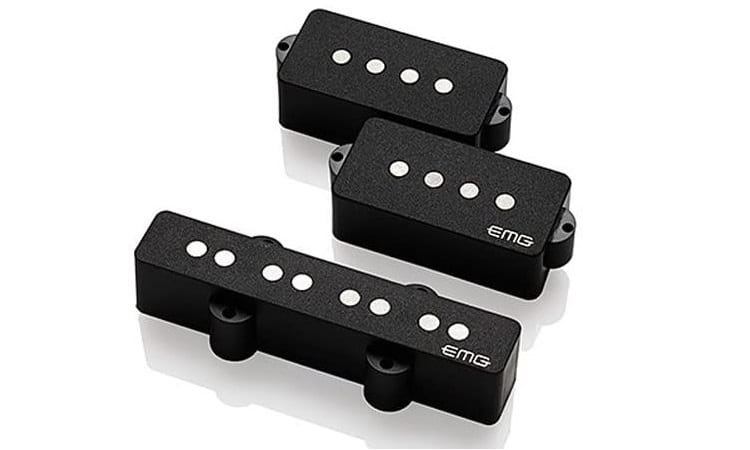 The EMG Geezer Butler Signature PJ Bass Guitar Pickup Set is a passive pickup with vintage tone. If you want to eliminate noise, then this pickup gets rid of the noise and hum that is often associated with early 70's bass pickup. It also contains a convenient solderless install system.
Pros:
Two custom wound split coils
Passive pickup
Solderless install system
Cons:
Sound is often weak and synthetic
Runner Up: Seymour Duncan Quarter Pound P-Bass Pickup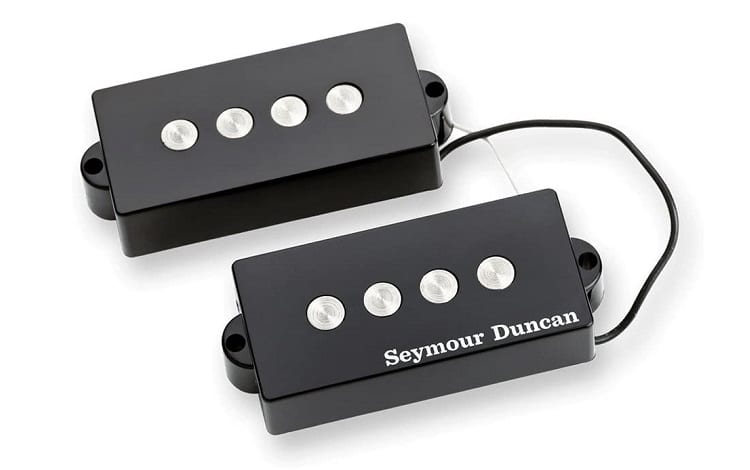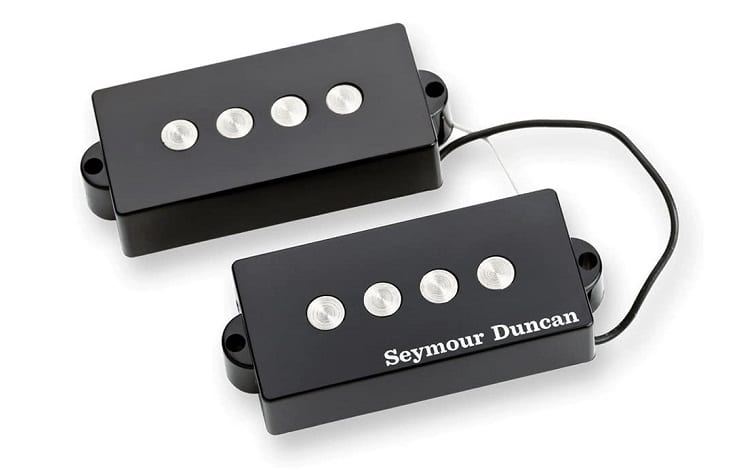 If you are a musician looking for maximum output and extended frequency range, then this Seymour Duncan Quarter Pound P-Bass Pickup is just for you. It contains large quarter inch-wide pole pieces which expand the magnetic field and extend the frequency range from low to high end for a full, fat and punchy sound with midrange presence. 
This Seymourized design balances the coils with the magnets for great harmonics and sustain. If you're looking for high output with lots of clarity and high-end punch, choose this system. 
Pros:
Hum canceling
D.C. resistance
Warranty
Cons:
Alternative: Fender Precision Bass Pickups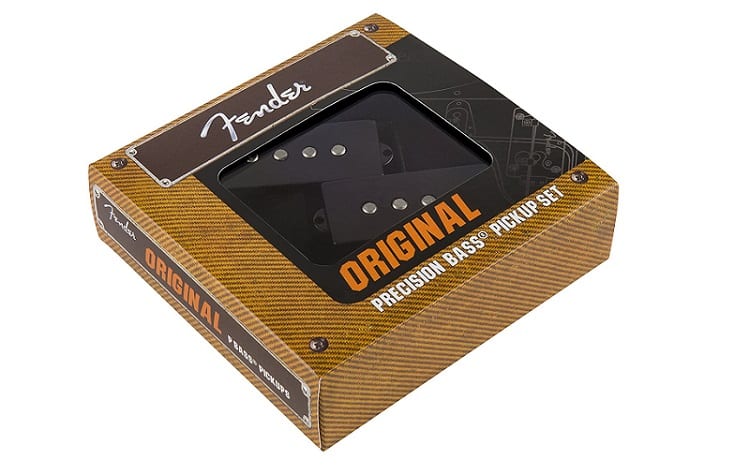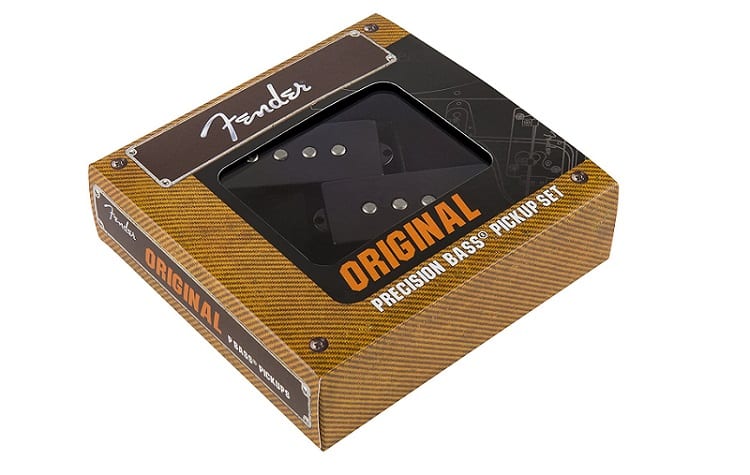 The Fender Precision Bass Pickups contains an enamel coated magnet wire for a warm vintage tone. It also has Alnico five magnets for more enhanced dynamics and focus. Thanks to the flush mount pole pieces, you'll experience even string response each and every time. 
It also has a period-correct cloth output wire and fiber bobbin and also comes complete with the installation hardware. You'll be, please note that there is also a one-year warranty for additional peace of mind.
Pros:
Enamel coated magnet wire
Flush mount pole pieces
Included hardware for installation
Cons:
If you play bright strings, you may need to fit a capacitor
P Bass Pickup FAQ 
How to install an p bass pickup?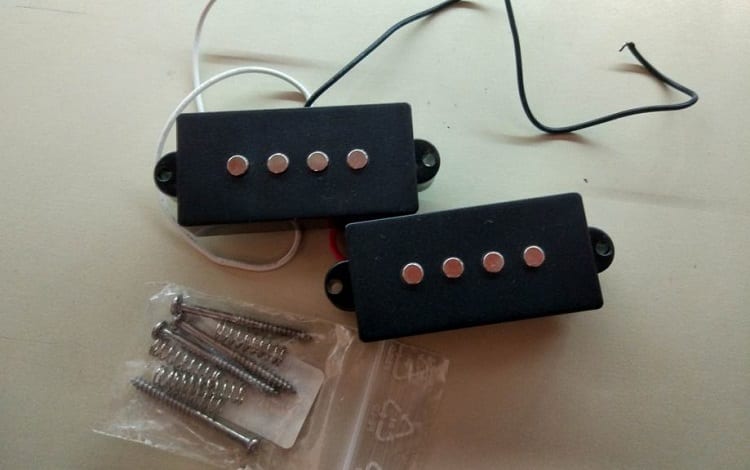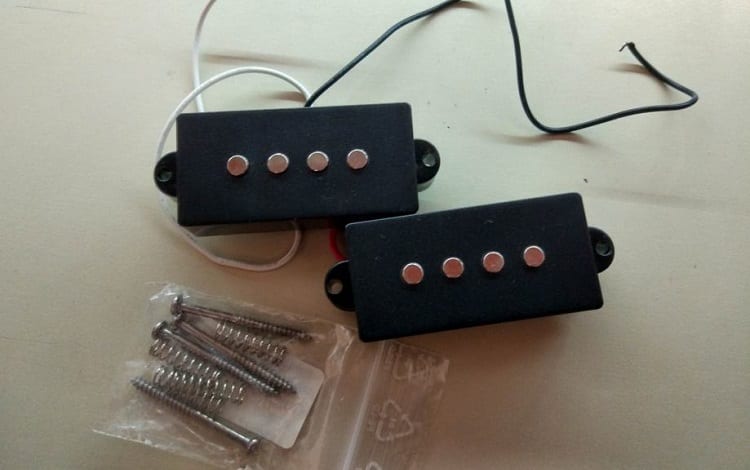 Step 1
In this step, you'll need to remove the screws from the perimeter of the pickguard. Place those screws aside in a safe place, so you have them to put the pickguard back on after the installation. 
One of the worst things aside from having screws left-over after installation is not having enough screws. So ensure that they are in a safe place. Then carefully lift the pickguard over the pickups and slide it out from under the strings.
Step 2
In this step, you'll be removing the old set of pickups. Start by taking a good look at your setup. What you want to do is cut the pickup leads about half an inch away from their connections just so they're free. 
Remove the pickup screws and slide the pickups out. If you have the space to get the job done with the strings at full tension, then go ahead. However, if they too tight, then you may need to include an extra step to loosen the strings and give yourself a little bit of slack or room to work.
Step 3
In this step you need to place the pickup foam. In the past, the basses used springs to maintain string height. For this installation, you can use pickup foam.
Cut the pieces to size, remove the backing to expose the adhesive and place them into the pickup cavity.
Step 4 
You have two leads on a P bass pickups set. Typically one is black, and the other is white. You need to place them into the bass with the wires running nicely into the preamp cavity. Thereafter put the pickup screws in using your hand. 
Yes, you may have that powerful electric screwdriver that saves you a lot of money and is a pleasure to use; however, it is not the right tool for this job.
Use your good old screwdriver and work slowly to make sure you get the screws back in the holes and get the pickup at the desired height.
Step 5
In the following step, you'll need to solder your new pickups. Get just your iron warmed up and good to go.
Remember that it's crucial to have a good tin on the tip of your soldering iron. And you have old cut wires to show you exactly where you should be soldering your new ones. 
The black wire from the pickups goes to ground, which is on the back of the potentiometer.  You'll need to have more than enough heat because it tends to take a little more heat from your iron when connecting wires to potentiometers.
At the same time, remove the old cut wire from the previous pickup and repeat the same steps for the white wire.
Step 6 
Put the plug in and see how it works. If everything is good, then you can replace the pickup guard, find the screws that you set aside and install the pickup back to the bass. 
What's the difference between p bass and a jazz bass?
Four and five string players instantly recognize jazz and precision basses. However, what separates the two and which is the best one for you?
Precision bass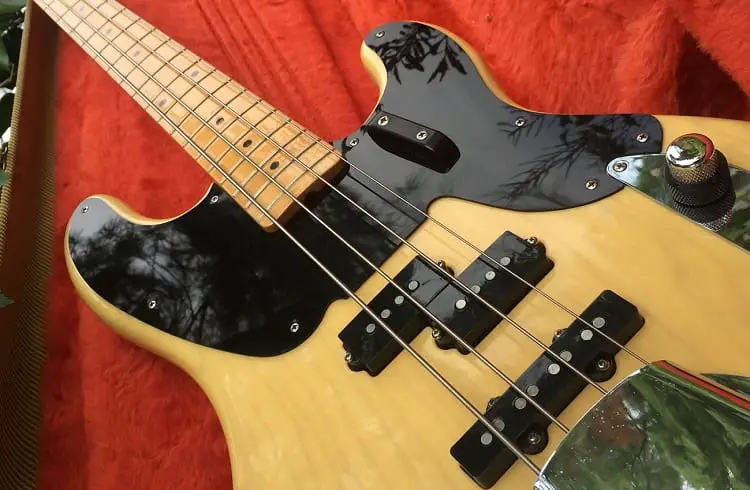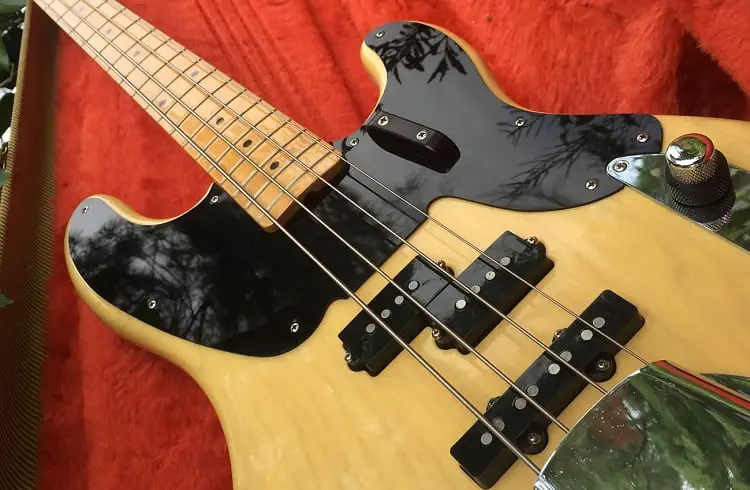 A precision bass or more commonly referred to as the P bass was first introduced by Fender in 1951 to replace the classical style base as the need for volume arose.
While modern variations have changed considerably since then, the P bass still has a chunky neck and thick body profile. 
New models also date back to the mid-20th century designs because they tick all the boxes for retro style. If you're looking for full-on power, then this is the bass that you want. 
It contains a hum-canceling split coil pickup which provides a huge full-range tone that sits in a mix incredibly well for lots of styles of music. For an old-school type of base, it does a pretty good job.
Jazz bass
The jazz bass was introduced in 1960 as an ergonomic, streamlined construction more akin to a jazz master guitar. Like the precision bass, the jazz bass nailed it so well the first time around that they didn't change much for decades. 
The back contours, as well as the offset shape body, are designed with comfort in mind. Hardware wise, it's fairly similar to the precision, but that depends on the company as well. The two biggest defining factors are the pickups and the neck. 
Lots of companies that make jazz shapes equip it with single coil pickups making it extremely versatile. You get more treble and middle out of the sound than the Ps lower register. If you are a slap or fingerstyle player, the jazz bass will surely suit you. 
Can you put a jazz bass neck on a P-bass?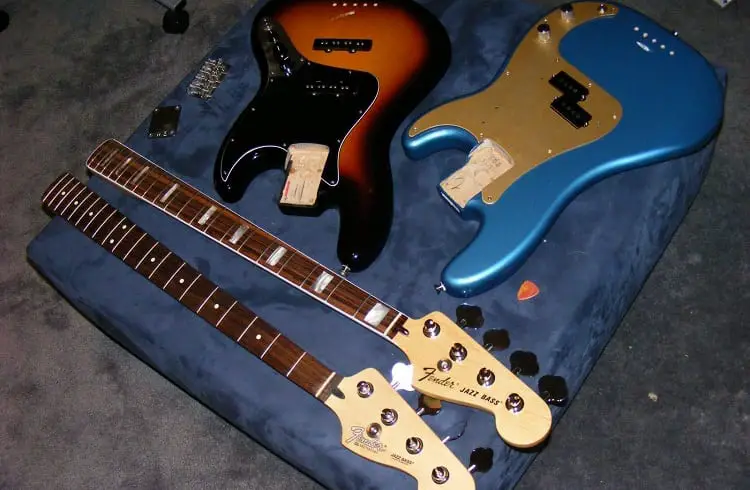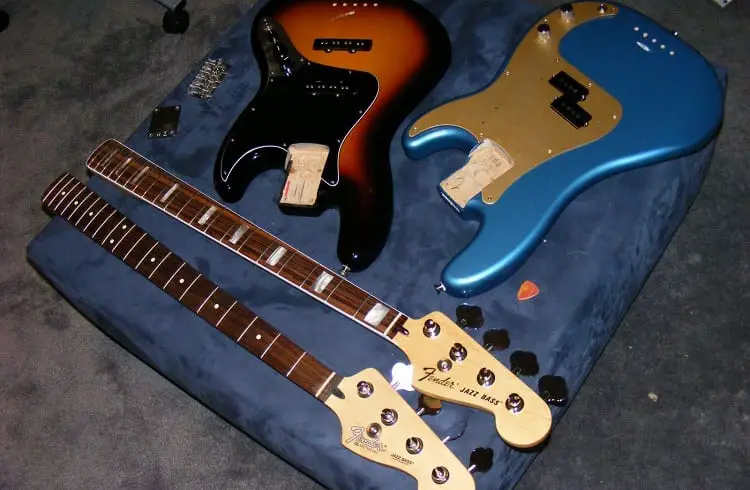 If you're wondering whether you can put a jazz bass neck on a P bass, then the answer is yes, you definitely can.
P/J bass pickups hybrids?
P/J bass is a hybrid of precision and jazz bass. Now bassists have always modified the instruments by changing and tweaking the pickup. However, in the 1970s the company Ibanez started producing the first true hybrid precision and jazz bass.
However, it was not until the 80s that Fender started making its own models and it took them several times before adopting the definitive PJ pick up setup.
This hybrid bass offers the body of a P bass, the neck of a J bass and the pickups of both p and J basses. So you can switch between both sounds and even blend it.
On top of that, these basses are also both active and passive. So it's safe to say that when you combine precision and jazz basses, you get the best of both worlds.
Conclusion 
Both precision and jazz bass pickups come with a wealth of benefits.
While some are passive others may be active; however, they all offer great benefits such as a multitude of highs, hum cancelling abilities as well as split single coils. So go ahead and invest in the bass of your choice.