In this article, we're going to be discussing the Boss VE-500 Vocal Performer processing unit, which is a compact, highly versatile vocal effects pedal, primarily used for vocal harmony, autotune and its vocoder effects.
However, this unit truly is a versatile effects processor, being able to provide vocalists, singer/songwriters & guitarists with effects that span a variety of uses.
For those who aren't too familiar with Boss, they're one of the leading effects pedal manufacturers in the world, and are a division of the Roland Corporation. Being founded in 1973, the company have over 46 years of experience in creating effects pedals for vox, guitar & bass.
Because of this, the quality of their products is notoriously high-quality.
With that being said, they have a range of other successful vocal effects processors, including the Boss VE-1, Boss VE-2, etc.
However, getting back to talking about the Boss VE-500!
We've structured this article review, in a format which not only gives us the opportunity to clearly display its features, but the article also includes high-quality images (for a clear view of the controls, inputs & outputs) and video demonstrations of the Boss VE-500 in action, so that you can hear first-hand, how the unit sounds and what it's really capable of.
Ok, so let's get to talking about the Boss VE-500.
Boss VE-500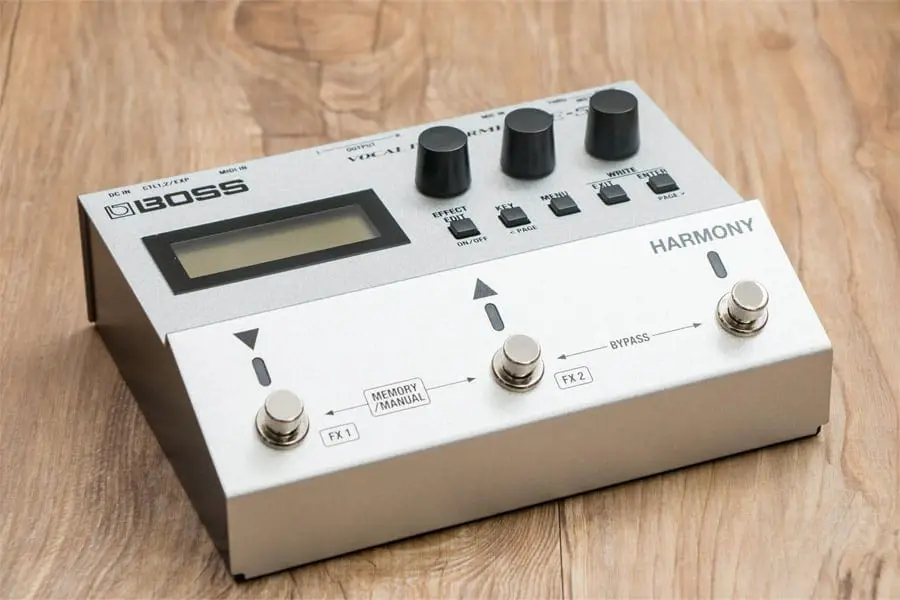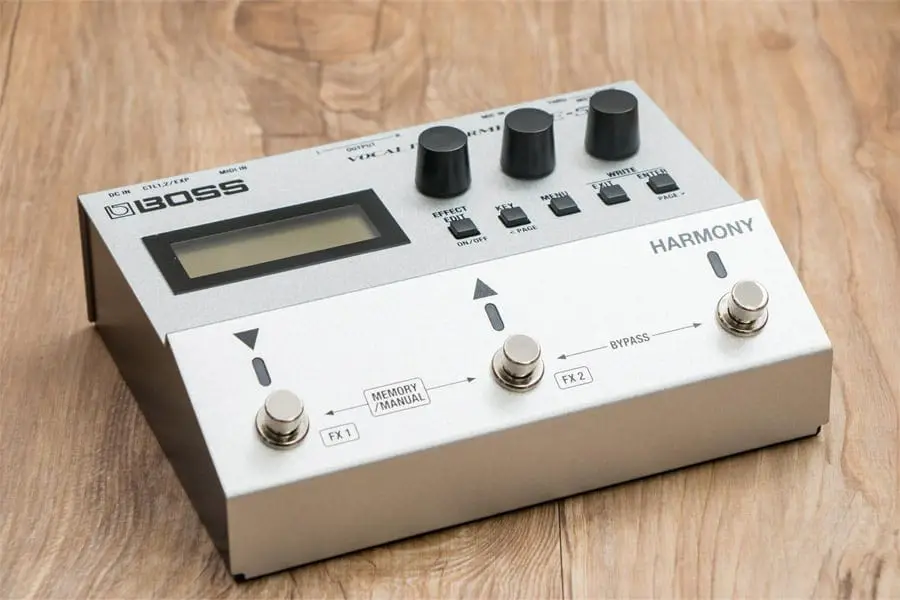 Main Features/Benefits
All-in-one Vocal Effects Unit, with multiple vocal effects to choose from

Vocal Harmony, Pitch Correction, Vocoder, Looper, Compressor, De-Esser, EQ, Reverb, Delay, Filtering, etc

Guitar Input for optional harmony, pitch and vocoder control

Also includes Thru output for sending unprocessed guitar signal to guitar pedal/amps

MIDI input and USB-Midi for optionally guiding harmony, pitch correction from MIDI keyboard or DAW backing tracks
XLR Microphone input with phantom power & adjustable sensitivity
Boss DSP Engine for processing up to 9 effects simultaneously
99 user programmable preset patches
Built to last with durable, strong die-cast metal casing
Stereo XLR Outputs
USB connection for editor/pedal programming and firmware updates
Three assignable footswitches for real-time performance control

Supports 2 external footswitches or an expression pedal

Three assignable knobs for quick access to essential parameters (great whilst performing)
Editor software (suitable for Mac/PC) for sound editing and patch management via USB
5-Year Warranty on Boss Pedals*
Setbacks
Customer reviews state that the pedal interface will take some getting used to. However, the editor (via Mac/PC) is easy to use, so programming the pedal is straightforward… The editor controls the pedal in real-time, so they serve a similar purpose.
Controls
As we mentioned, the controls on the VE-500 will take some getting used to, and this is because the screen on the physical unit is rather small.
However, the unit can be programmed in two ways, through the unit's physical interface, and the downloadable editor, which can then be operated through your PC/Mac.
The editor itself makes the programming of the Boss VE-500 a lot easier, as you have a much larger screen to operate the array of menu options, we've included a screenshot of the interface below: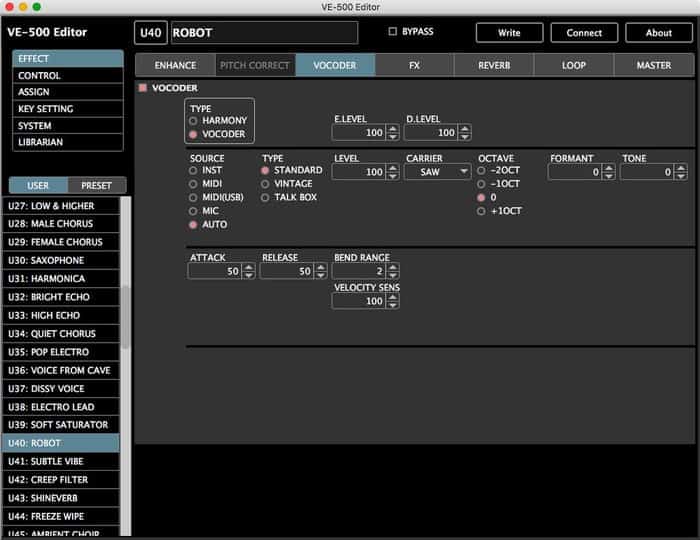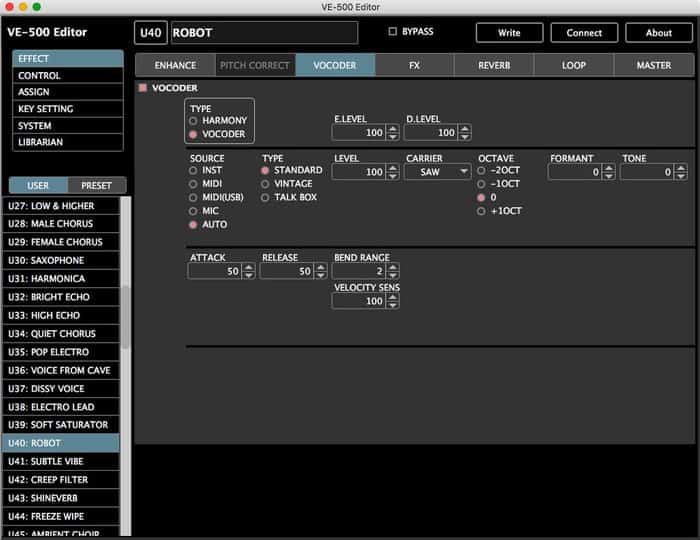 The interface has a range of menus, but we're going to be talking about the main one, which is the 'EFFECT' menu, where there are 7 tabs/sub-menus available, to control different on-board effects.
Some of these sub-menus include:
Enhance – Control compression, de-essing, filtering, etc
Pitch Correct – Controls the type and level of pitch correction and additional parameters
Harmony/Vocoder – Controls the type and level of harmony/vocoder and additional parameters
FX – Controls other effects including delay, distortion, radio, chorus, flanger, phaser, slicer, vibrato, etc
Reverb – Controls the type of reverb and additional parameters
Loop – Controls the loop feature
Each of the menus has micro-controls, where you can adjust every aspect of an effect, for example in the screenshot, you can see there are multiple types of Vocoder effects that can be chosen, including Standard, Vintage & Talk Box, and then levels, octaves, tones, attack, release, sensitivity settings can then be further modified to help define your sound.
Not only do you have this functionality, but you also have the ability to add up to 99 user programmable patches.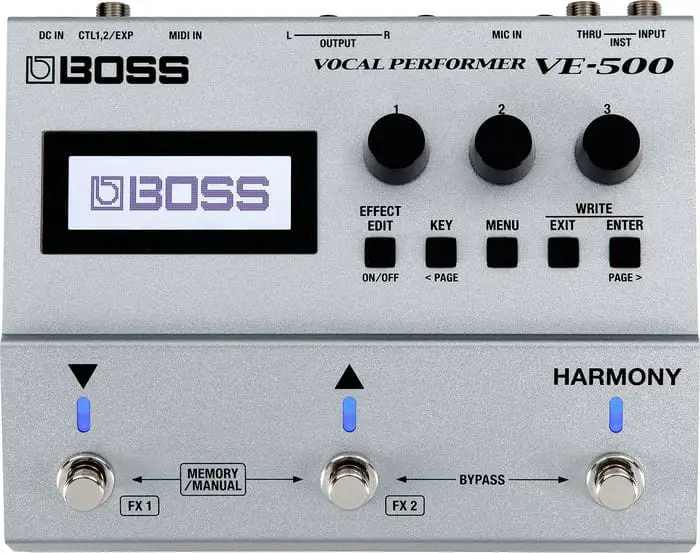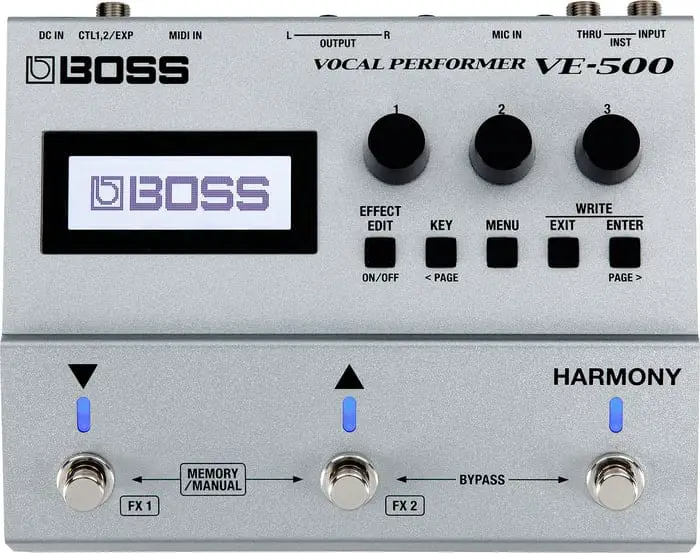 As for the physical unit, there are three assignable footswitches, for real-time performance control, including patch selection, individual effects enabling/disabling, harmony & looper functions and more
Additionally, the unit can support up to two external footswitches or an expression pedal, so it's very versatile.
With that being said, let's take a look at the back of the unit:


As you can see, the VE-500 has a clear, yet multifunctional rear input & output section.
From left to right, it has an Instrument Input & Thru, for those who want to plug their guitar in and control harmony and vocoder effects with their guitar (similar to a MIDI controller), with the Thru output allowing the unaffected guitar signal to be passed to your other effects pedals or amp.
It also includes a Microphone input, which has optional phantom power and sensitivity controls, great for condenser microphones which are more demanding.
Additionally, the VE-500 has stereo (L & R) output, a MIDI input, USB input (For editor programming and firmware updates) and a DC power input.
Performance
We've included a video demonstration of the Boss VE-500 in action:
Conclusion
In our opinion, the Boss VE-500 provides singers/singer-songwriters with a unit which is simply an all-in-one vocal effects unit.
With the fact that it provides, harmony, reverb, pitch correction, delay, compression, EQ and even more, all in a unit which is physically well-built… It's definitely one to consider.
One of the aspects that we particularly like about the unit, is the editor, where you can go about making drastic or subtle changes to your VE-500's presets, and with 99 custom presets, you'll have more than enough to use.
Combining this with the 3 user-assignable footswitches, and 3 assignable toggle knobs, it's certainly versatile.
However, the one downside to this unit is the small screen size, which makes onboard sound editing, a rather challenging process… But this can all be done through the PC/Mac editor.
Overall, it provides incredible value for money, and as with all of Boss's Pedals, the VE-500 comes with a 5-year warranty.
We have to give this unit a thumbs up, and we highly recommend this to any singers looking for an all-in-one solution for getting a better overall vocal sound, whilst allowing full control on all parameters.