In this article we're going to be talking about and reviewing the Neumann TLM 102 condenser microphone.
The TLM 102 is a large diaphragm, cardioid polar patterned microphone manufactured by none other than the prestigious company Neumann.
For those who are potentially not that familiar with Neumann, they're a German company which have been established since 1928.
Due to their long-standing existence and experience within the sound engineering/sound product manufacturing industry, it has allowed them to truly separate themselves from all of their competitors.
This has led to the Neumann brand becoming what it is today, the creme-de-la-creme of the sound and recording equipment industry.
And because of this, they are the go-to equipment providers for large, established recording studios with lavish budgets, because their equipment provides reliability combined with superior sound quality.
However, that's enough about the brand, let's talk more in detail about the Neumann TLM 102 mic.
We've done our very best to structure this review article in a way that makes it read well, and be easy to follow.
Therefore, we've not only included all of the technical specifications and information about the TLM 102, but also our own verdict,
Not only this, but we've included high-quality images to highlight the physical appearance of this studio microphone in detail, as well as including video demonstrations of the Neumann TLM102 in action, so that you can hear first-hand, how the mic sounds and what exactly it is capable of recording.
Neumann TLM 102 Studio Condensor Microphone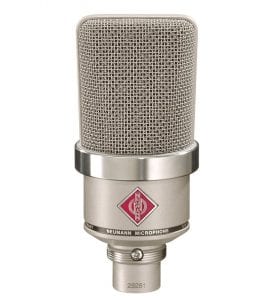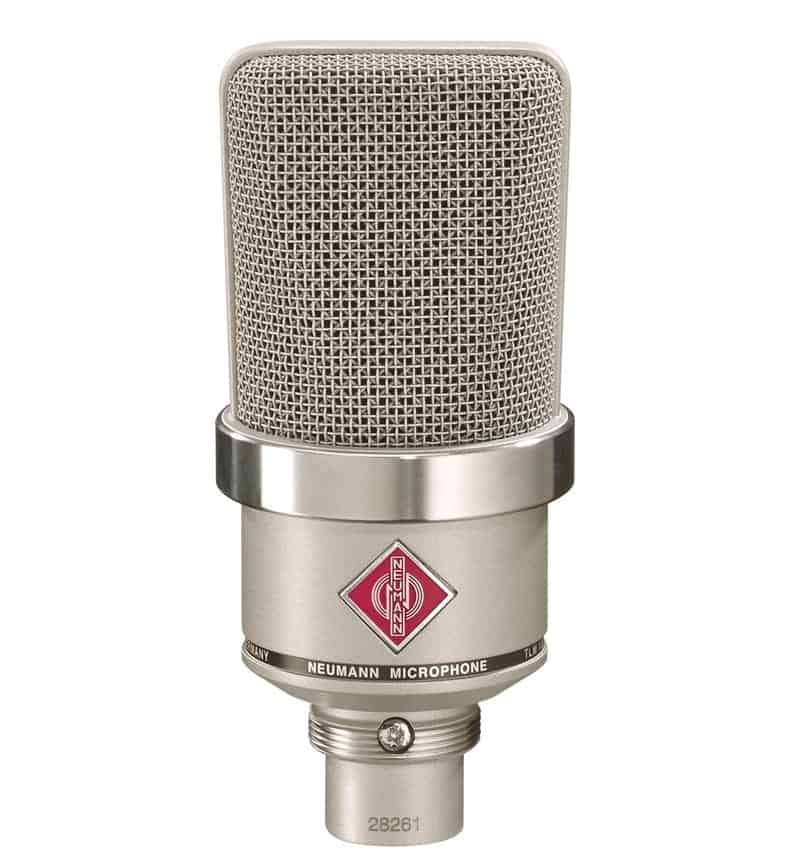 Ok, so let's talk more about the Neumann TLM 102 Microphone.
Main Features/Benefits
Neumann's most affordable, legendary sounding microphones
Ideal for vocal and instrumental recording
Frequency range: 20Hz – 20kHz
Large diaphragm capsule to pick up subtle nuances and tonal qualities
Built-in pop shield
Ability to handle large dynamic changes without distortion (up to 144dB)
Low noise output – Just 12 dB(A)
Subtle sound boost around 8 to 12 KHz to help highlight vocals in mix
Transformerless output stage – helps provide clean and direct sound
Very similar to the older brother – Neumann TLM 103
Setbacks
Despite the microphone being more affordable than others that Neumann provide, it still will be a little expensive for some! However, as we see from specific customer reviews, generally this is a microphone for life, so extra money works out being worth spending.
Description
The Neumann TLM 102 is a studio-grade cardioid patterned condenser microphone, operating with a pressure gradient transducer, which means that it has an inner membrane which is responsive to the pressure differential (gradient) from both sides of the microphone (front and back).
However, make no mistake, this is a cardioid patterned mic, and therefore provides off-axis rejection from the back, as we'll go further in detail about explaining.
The microphone naturally provides a finely tuned signature accent for input signals, around the area from 8 to 12 kHz, which according to Neumann is one of the main reasons why the TLM 102 provides a natural differentiation between vocals and other instruments, with this presence boost allowing vocals to sit out in the mix.
Not only this, but singers will be happy that the TLM 102 has been tried and tested to help prevent sibilants and plosives from distorting the signal, all thanks to its integrated pop shield.
With that being said, let's look more at the microphone's technical information, polar pattern and it's frequency response: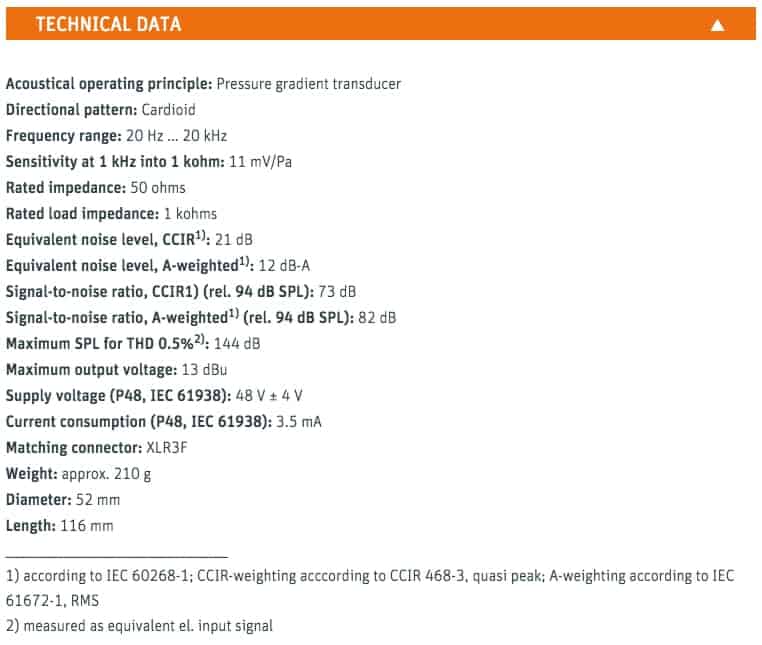 As you can see from the diagram above, the unit has a relatively low noise level, with it being around 12 dB(A).
Similarly to other microphones within the TLM series, the TLM102 benefits from the transformerless output stage, which helps to prevent additional output noise being created, providing a clean, direct sound.
Additionally, the microphone's cardioid polar pattern also helps it provide off-axis rejection to sounds from the back and sides, meaning that reflections and ambient sounds will not get overly picked up by the TLM 102.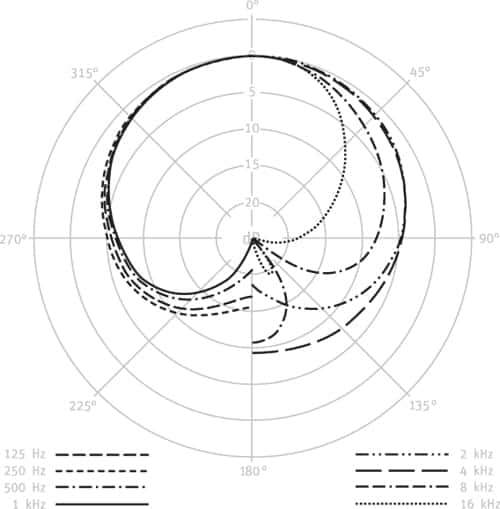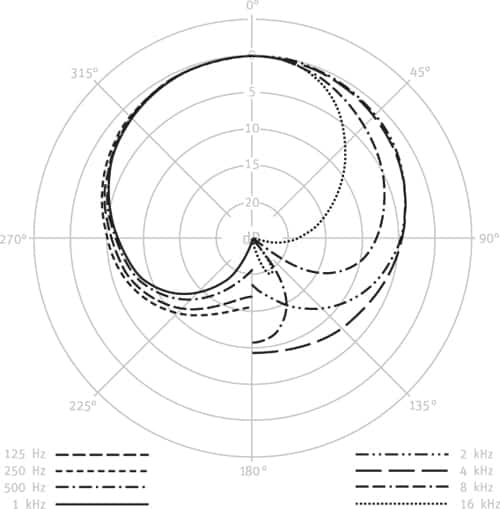 The specific frequency response of the Neumann TLM 102 is from 20 Hz to 20 kHz, so you'll be able to record a wide variety of instruments with the microphone and have it record an accurate signal, to which sounds like the natural instrument.


When it comes to the physical aspects of the TLM 102 mic, it weighs in at approximately 210g and is 12.6 cm in length and 5.2 cm in width. When comparing this to other microphones such as the TLM 103 (450g) and the Rode NT2A (860g), it just highlights that the TLM 102 is extremely light. However, don't let that taint your view of the build-quality, as it's definitely solidly built.
The microphone itself comes in two different colors, Nickel and Black.
Both of which are priced the same, which means that you can pick the one that best suits your studio setup.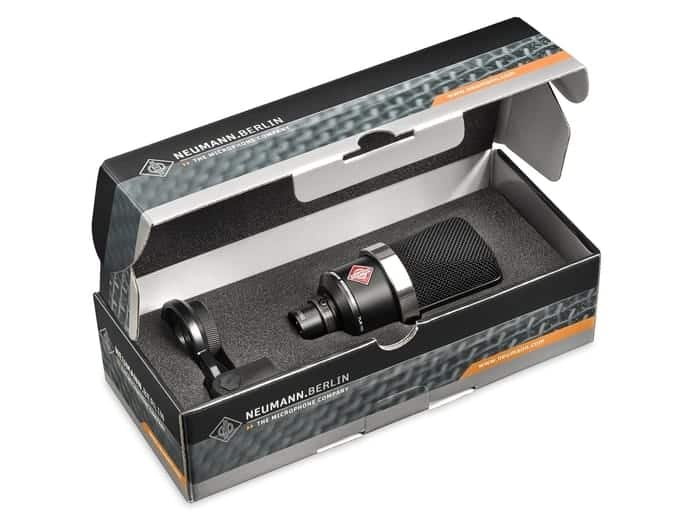 Sound & Performance
The microphone really does sound incredibly smooth and rich, especially when used on vocals.
It also sounds great when used to mic up an amplifier, or even when being used to mic up an acoustic instrument such as an acoustic guitar.
We've included demonstration videos of both a male and female singer using the microphone, so that you can get a good indication as to how it sounds on both voices.
[Check 2:30 of the video below for the demonstration of the microphone in action]
[Check 1:12 – 1:32  of the video below for a female vocal demonstration of the microphone in action]
Conclusion
In our opinion, the Neumann TLM 102 is a microphone best suited for musicians/recording engineers who are looking for an ultra-high quality microphone, that you really won't need to replace!
Now, of course, with the mic being priced at $699, it's definitely a microphone that won't be suitable for everyone's budget.
However, with that being said, there is a reason this microphone is extremely popular, and ultimately has 5* ratings on Amazon (as we've linked to below).
Overall, we think that it would be best suited for studios and serious home recording enthusiasts.
We have to give the Neumann TLM 102 a large thumbs up, and we highly recommend giving the microphone a look at.