In this article, we're going to be discussing and reviewing the Neumann TLM 103 Large Diaphragm, Condensor Microphone.
Neumann is a company which pride themselves on providing only the best quality sound and audio equipment.  With the company's German engineering combined with its long-standing expertise in creating these kinds of products (being established since 1928), it's safe to say that they have more experience than most of their competitors, combined.
Over the decades, Neumann microphones and equipment have been the go-to for large recording studios, for studio owners who want a reliable piece of recording equipment, which has superior sound quality.
And because of this, the Neumann brand has become what it is today, the creme-de-la-creme of the sound recording equipment industry.
However, that's enough about the brand, let's talk more specifically about the Neumann TLM 103.
We've structured this article review in a way that makes it easy to follow, and for you to be able to find the information that you're looking to find, whether that is more technical information about the microphone, or our own verdict.
None-the-less, we've also included high-quality images and video demonstrations of the Neumann TLM103 in action, so you can hear first-hand, how the microphone sounds and what it's capable of!
Ok, so let's talk more about the Neumann TLM 103 Condenser Microphone.
Neumann TLM 103 Condenser Microphone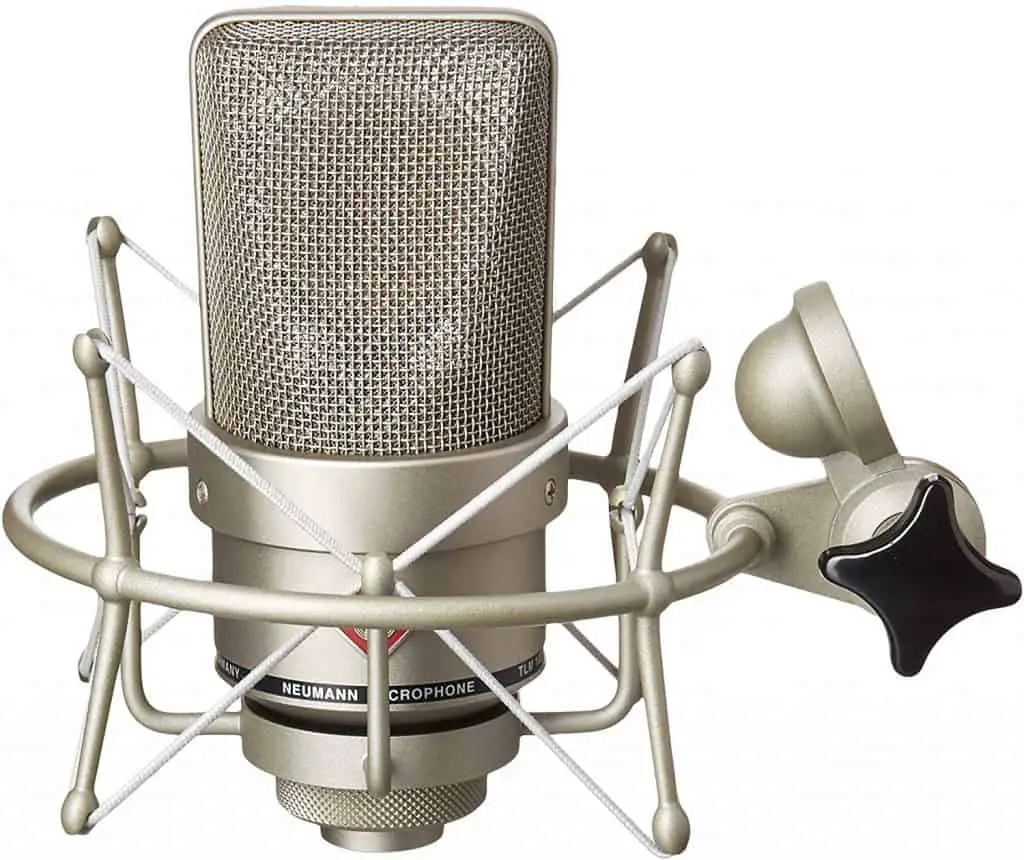 Main Features/Benefits
Neumann's best selling cardioid microphone
Ideal for vocal and instrumental recording
Frequency range: 20Hz – 20kHz
Capsule design is based on the legendary U 87 microphone
Ultra-low noise – Just 7 dB(A)
Large diaphragm capsule to pick up subtle nuances and tonal qualities
Presence-boost around 6 to 15 KHz to help vocals cut through the mix
Transformerless output stage – helps provide clean and direct sound
Won several awards
Setbacks
It may be a little expensive for some, although you'll never need to upgrade… So it's a microphone for life!
Description
The Neumann TLM 103 is a cardioid microphone, operating with a pressure gradient transducer, meaning that its inner membrane is responsive to the pressure differential (gradient) from both sides of the microphone (front and back).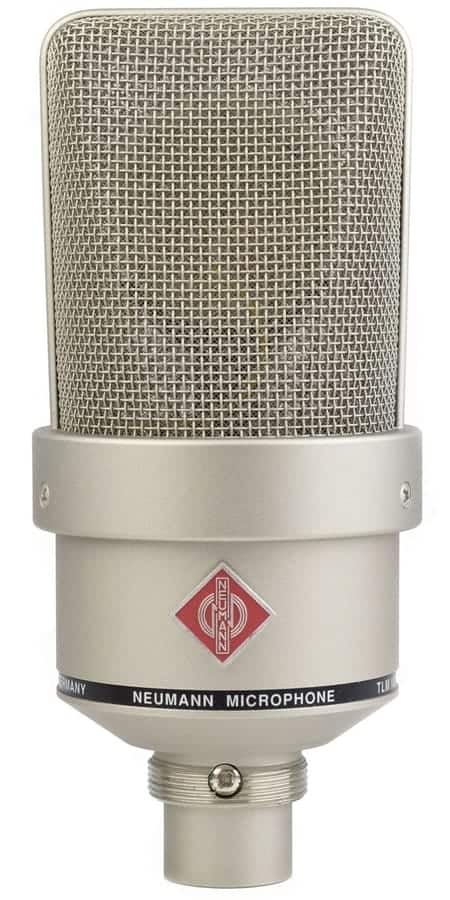 The TLM 103 mic was built by Neumann, with their intention to bridge the gap between their U 87 (which is $3000+) and a more affordable microphone, whilst still providing a fantastic sound.
Neumann has done this successfully, by creating a microphone that is not only more affordable, being around the $1000 mark, but still holds their brand values true, offering superior sound quality.
With that being said, the TLM 103's capsule design is directly based on the U 87's, and even when looking at reviews and video demonstrations, it's sound quality is virtually indistinguishable from the former U 87.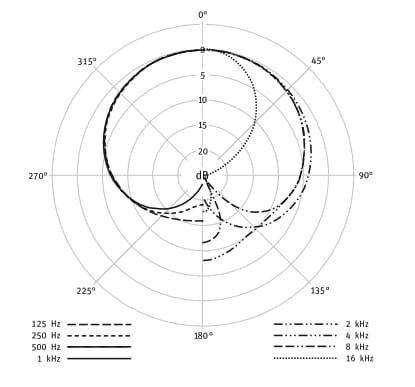 The microphone has a cardioid polar pattern, which means that it only picks up sounds from the front, and rejects sounds from the back (off-axis sound rejection)…
However, this doesn't mean that it won't entirely pick up the sounds that are produced behind the microphone, as sound reflections and reverberations will cause the microphone to ultimately pick up reflected sounds [A demonstration of this is provided in the video further below], but it does a good job of minimizing these sounds bleeding into your recordings.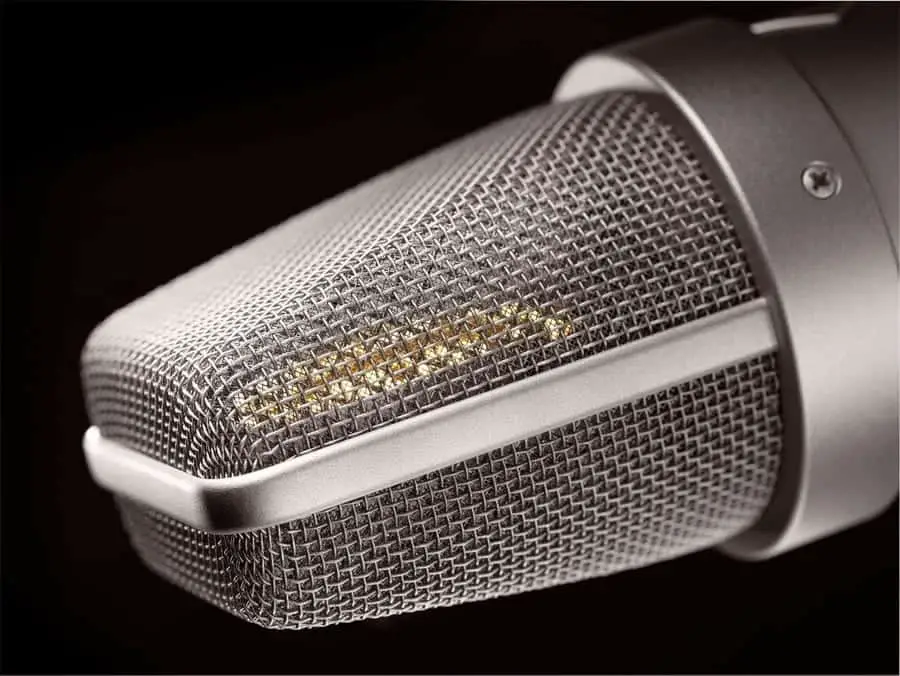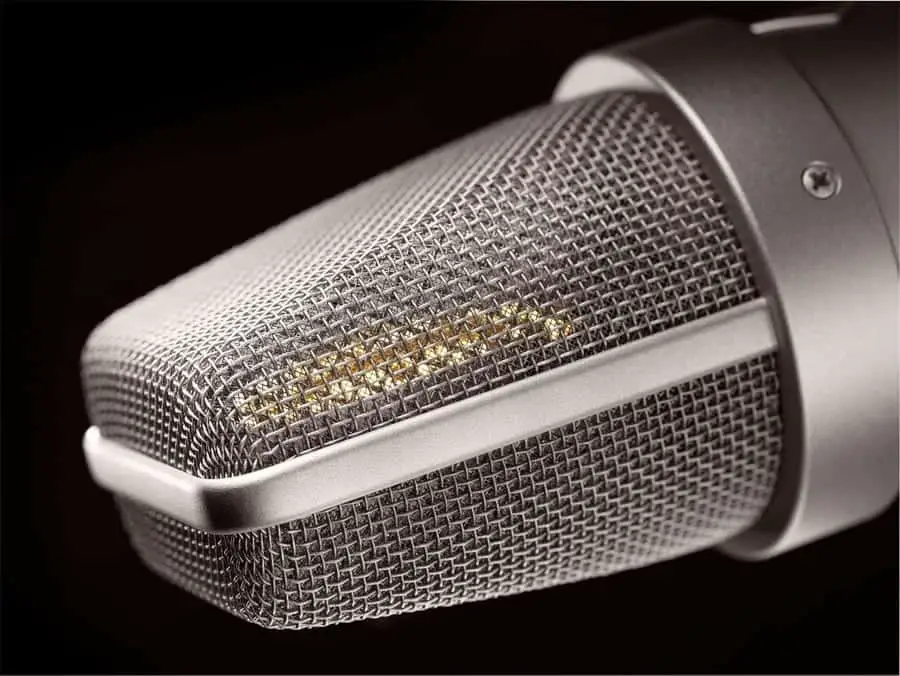 Not only this, but the TLM 103 benefits from advancements in technology, with it being created almost 20 years after the U 87. Because of this, it has a presence-boost around the frequencies from 6000 – 15,000 Hz, which in turn helps any vocalist cut through the mix when it comes to recording a full band.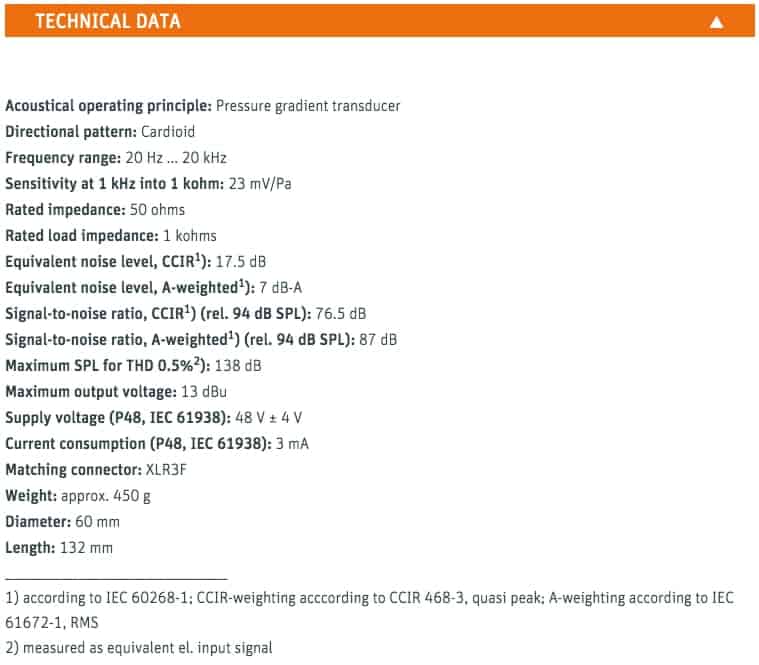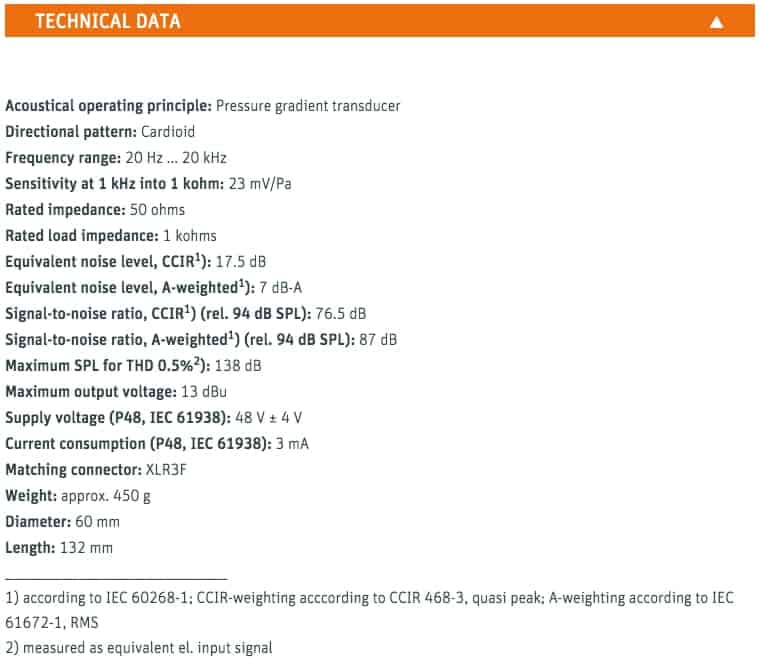 Additionally, it also provides ultra-low noise, with a noise level of just 7 dB(A).
One of the reasons for this is due to the transformerless output stage, which in turn helps provide a very clean, direct sound, which is able to accurately detail a full frequency range down to even the lowest frequencies. The specific frequency range of this cardioid mic is 20Hz – 20kHz.
Additionally, when it comes to the physical aspects of the microphone, it weighs approximately 450g, and is 13.2 cm in length, and 6cm in diameter. So it's not too heavy, when comparing it with other microphones such as the Rode NT2 A (860g)
The microphone comes into two colors, Nickel and Black…  Both are priced the same, which means that you can pick the one that best suits your studio setup.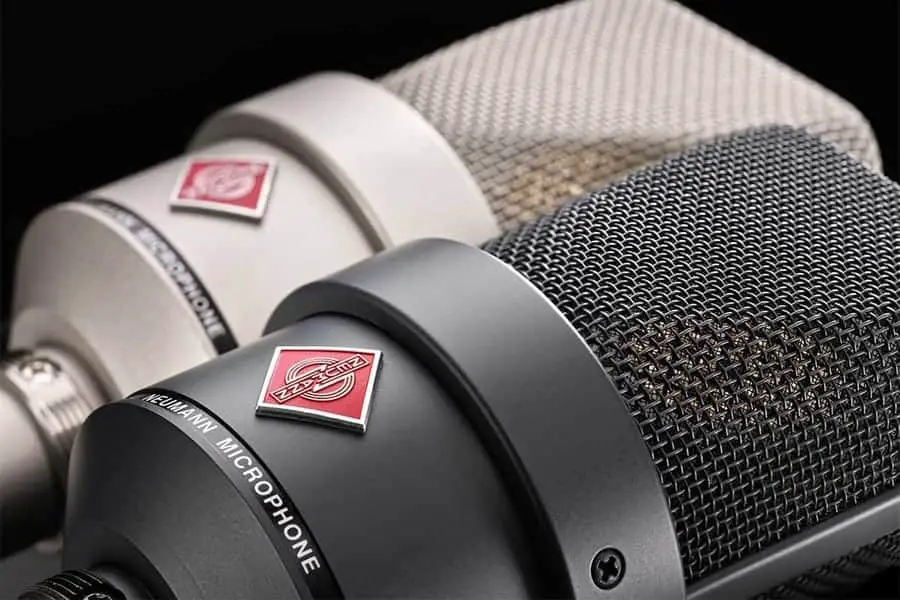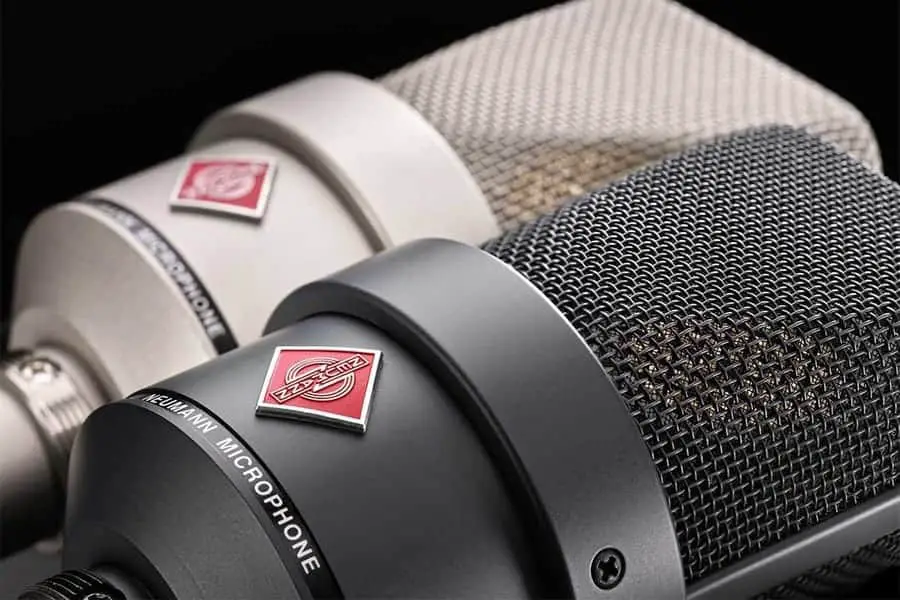 Sound & Performance
The microphone has a nice and bright sound to it, and you can hear the added presence that's given around the mid-range frequencies, allowing the voice to cut through the mix a little more.
For those who want to potentially offset some of the additional brightness, moving closer to the microphone, around 2-3 inches away from the diaphragm will help enhance the proximity effect, meaning that it'll provide a larger boost to the bass frequencies, the closer you get.
The opposite is true for positioning yourself further away from this microphone, it'll provide a more airy, treble-heavy sounding vocal take.
Conclusion
In our opinion, the Neumann TLM 103 is a microphone best suited for musicians/recording engineers who are looking for an ultra-high quality microphone, that you really won't need to replace!
Now, of course, with the mic being priced at $1100, it's definitely a microphone that won't be suitable for everyone's budget.
However, with that being said, there is a reason this microphone is both a best seller, and has 5* ratings.
Overall, we think that it would be best suited for studios and serious home recording enthusiasts.
We have to give the Neumann TLM 103 a large thumbs up, and we highly recommend giving the microphone a look at.