In this article, we're going to be discussing and reviewing the Shure SM7B Vocal Dynamic Microphone.
The SM7B is a cardioid studio microphone, and of course, is manufactured by the famous music equipment manufacturer Shure.
Shure is a company renowned for producing high-quality, yet incredibly affordable audio/recording equipment. With them being most known for producing microphones, in-ear monitors, monitoring systems, headphones and much more.
With rather humble beginnings, the company started out as a radio parts wholesaler in 1925, but by the early 1930s, they had already began creating their own microphones, such as the Model 55, and the rest is history.
Nowadays, Shure is seen as being an industry leader, with their microphones being used in all kinds of recording & live performances… The Shure SM-57, SM58 and SM7B are but a few of their astonishing successes.
However, going back to discussing the SM7B!
We've structured this SM7B Review in a way that not only makes it easy to follow, but we've included everything from technical specifications, high-quality images and video demonstrations of the microphone in action.
Ok, so let's talk more about the Shure SM7B Cardioid Dynamic Microphone.
Shure SM7B Vocal Dynamic Microphone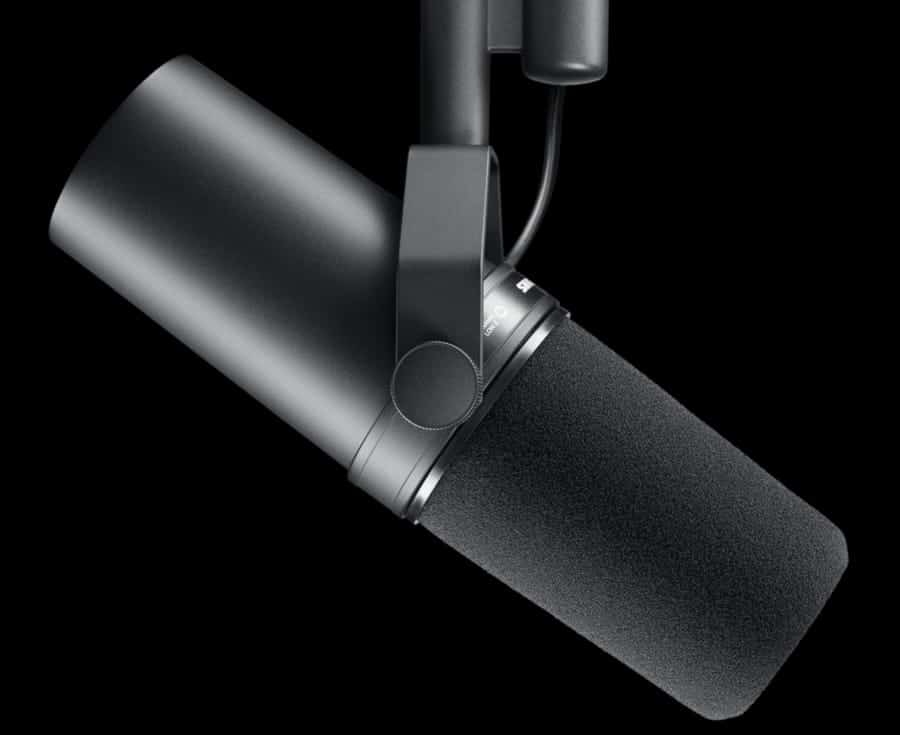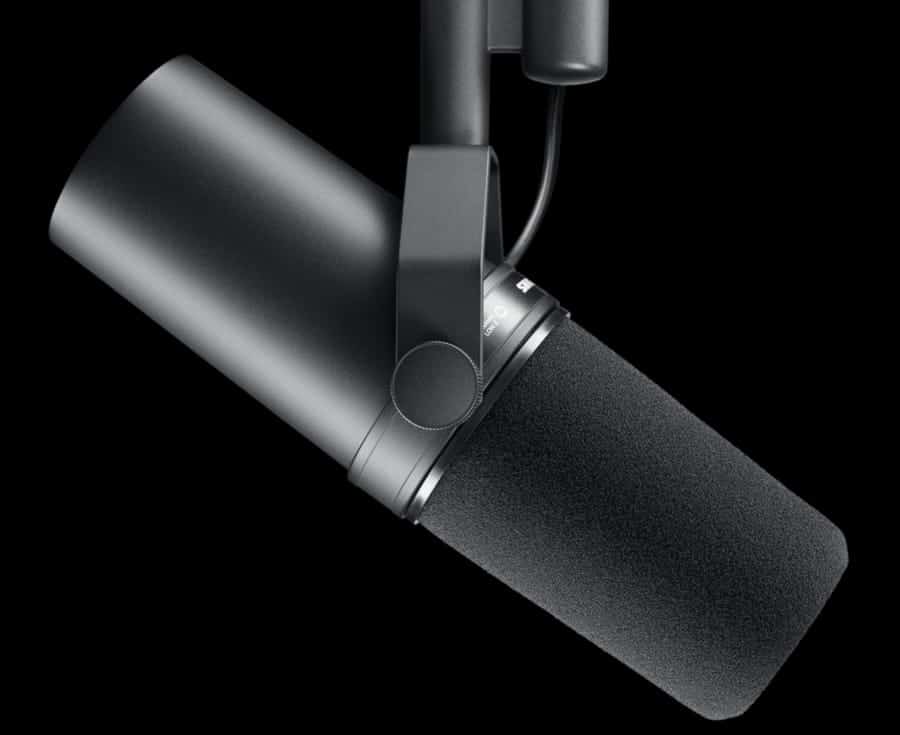 Main Features/Benefits
One of Shure's best selling cardioid microphones
Cardioid polar pattern to provide off-axis rejection
Flat frequency response for accurate and clean signal reproduction

Bass roll-off and mid-range emphasis (presence boost) controls

Versatile usage – Perfect for vocals, instruments and amplifier mic setup
Frequency range: 50Hz – 20kHz
Internal 'air suspension' shock isolation to eliminate mechanical noise
Built to last with rugged construction, a reason for its incredible reliability
Effective pop filter & windscreen to reduce plosives
Yoke mounting with captive stand nut for easy mounting/dismounting
Used by famous artists – Michael Jackson (most of the Thriller album)
Setbacks
Low signal levels, which means that you often have to turn up the gain on your audio interface/preamp to compensate

Using a Fethead or Cloudlifter will resolve this gain issue, meaning that you don't have to push your audio interface preamp as much.

Reviews suggest that it's not fantastic at rejecting large amounts of ambient audio – However, we've not had any issues with the SM7B in relation to this, as we think it does a decent job.
Description
The Shure SM7B is an upgraded variation of the former SM7 (introduced in 1976), SM7A (introduced in 1999). The SM7B was introduced in 2001, and since then it has been one of the most used microphones around the globe!
One of the main reasons for its adoption is the fact that it's incredibly versatile, with it's wide, flat frequency response, and cardioid polar pattern, it's perfect to be used in recording setups for recording vocals, instruments and even micing up amplifiers, where off-axis sound rejection is required to gain clarity in a recording take.
Also, with the addition of it's bass roll-off and mid-range emphasis (presence boost) controls, it's also been widely used in broadcasting, podcasting and video commentary, as it really provides a lovely rich, clean tone.
The microphone itself has a cardioid polar pattern, but with the assistance of the bass roll off and mid-range boost controls, the polar pattern changes accordingly (refer to screenshot below) and as you can see, it has good frequency responsiveness.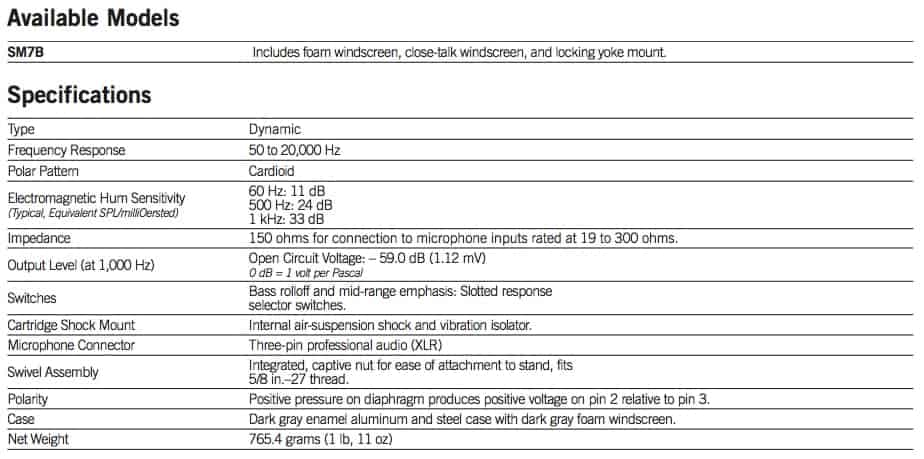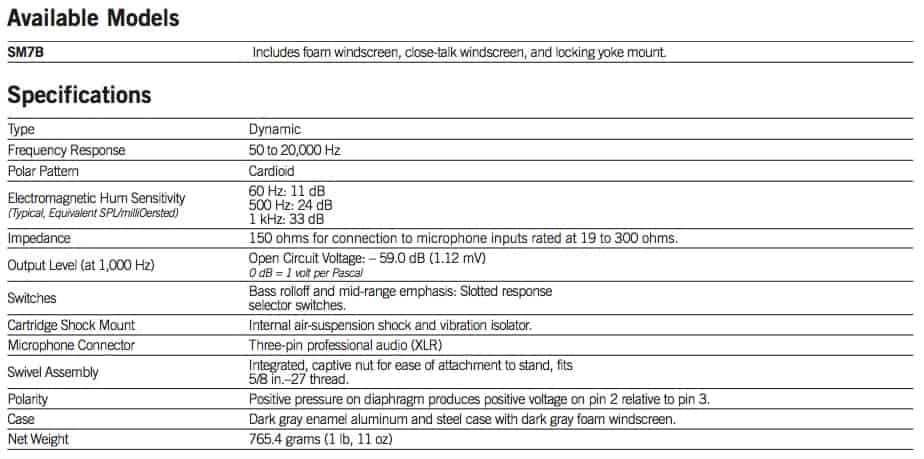 The SM7B, or SM7 to be accurate, also has its claims to fame… when Michael Jackson released the Thriller album.
Quincy Jones and Recording Engineer Bruce Swedien decided to use the SM7 for most of Michael's vocals. Here's an extract of what Bruce had to say about his experience with the microphone in that particular setting:
"One of my absolute favorite microphones is the Shure SM7.  I recorded most of the big hit records of Michael's career with him in front of one of my SM7s. I've been pretty vocal about how much I love that microphone, it's a great mic."
"I was allowed the freedom to make microphone choices, and nobody ever said a word. I just did it. For example, I used a Shure SM7 on most of Michael's lead vocals — 'Billie Jean', 'The Way You Make Me Feel' — and boy, did that raise some eyebrows!
But I love that mic, and I have six of them. The first one that I bought was in 1977 … one of the first SM7s to be used on a major music project. It's dynamic of course and it worked just flawlessly with Michael – if you notice you can hear all the lyrics very clearly." (Shure)
The microphone also comes with a pop shield and an added A7WS detachable windscreen to best reduce plosive sounds, meaning that you can use the proximity effect to get the most out of the microphone, as far as getting a rich, clean sound.
As far as the physical aspects of the microphone are, it certainly feels well-constructed, and I personally have owned one for over 5 years and have never had any issues with it.
It weighs approximately 765 g, and has a sleek dark gray enamel aluminum and steel casing, which is extremely nice to look at and sets it apart from other microphones.
Sound & Performance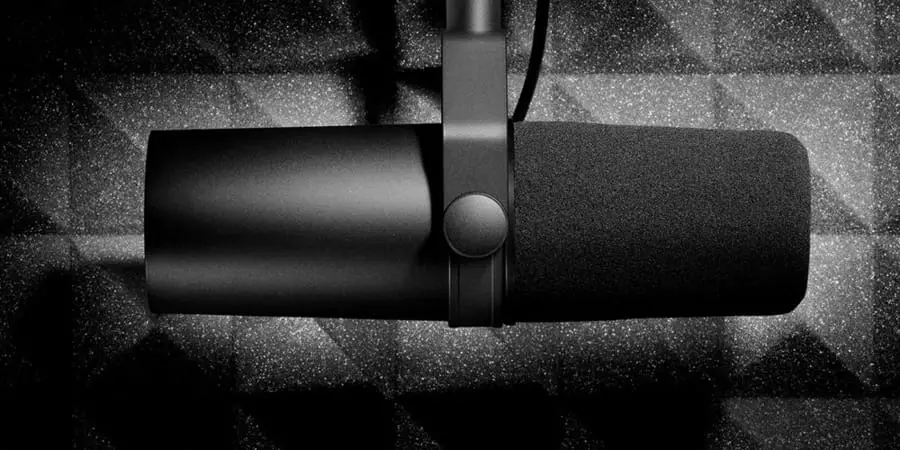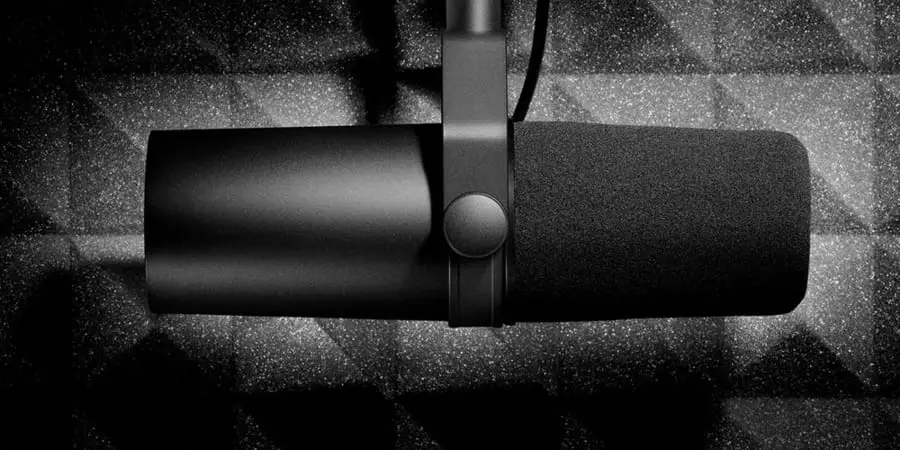 As far as the microphone's sound, it really does provide a clean overall sound. It must be noted that the microphone has a pronounced proximity effect, meaning that the low frequencies are not picked up as readily as soon as you've positioned yourself either off-axis or more than 2-3 inches away, on-axis.
None-the-less, like any microphone, positioning is key! And when you're singing, speaking or using the microphone to mic up an instrument, when you hit that sweet spot, it really provides a lovely rich tone.
However, as with a lot of Dynamic Microphones, the Shure does require a lot of gain to get the signal to a near nominal level, which is why I recommend using a Fethead of CloudLifter to act as an inline microphone preamp.
I'm a large fan of this microphone, and hearing that the Thiller album was recorded with the SM7, was just the push I needed to get one.
You can also take a look at the video demonstration of me using the microphone.
Additionally, take a look at this other video, for more isolated demonstrations of the Shure SM7B.
Conclusion
In our opinion, the Shure SM7B is such a fantastic microphone! As we've said, it's extremely versatile and we use it for recording vocals mainly, and we're looking to even do some video commentary with it soon.
The only downside is the gain that it requires… Yes an audio interface preamp will be able to handle it, but as we suggested, getting an inline preamp would be a better long-term solution.
None-the-less, there's a reason why the Shure SM7B Cardioid Microphone is a best-seller for Shure, and why it's accumulated so many fantastic customer reviews.
Overall, we think that the SM7B is suitable for nearly everyone, given that it's pricing is very affordable (when looking at the general price of high-quality microphones)
We have to give the Shure SM7B a large thumbs up, and we highly recommend giving the microphone a look at!