In this product review, we're going to be talking about TC Helicon's Mic Mechanic 2, which is a compact multi-purpose vocal effects pedal which primarily is known for its high-quality reverb and echo features.
TC Helicon is a company that generally needs no introduction when discussing vocal effects technology, being one of the companies who has pioneered advancement in the industry since the early 2000s, when the company was initially founded.
The company was recently acquired in 2015, by Music Tribe, the parent company of Behringer, Bugera, Midas, Turbosound & Klark Teknik.
In the 19 years that TC Helicon have existed, they have managed to create several well-known effects units, including the VoiceLive and VoiceTone Series.
We've written this product review article in a format where we're not only talking about the unique features of the Mic Mechanic 2, but we're also showing high-quality images, informational videos, and demonstrations of the unit in action.
This way you'll have a well-rounded insight to decide whether the Mic Mechanic 2 is for you.
Ok, so let's get into talking about the TC Helicon Mic Mechanic 2:
TC Helicon Mic Mechanic 2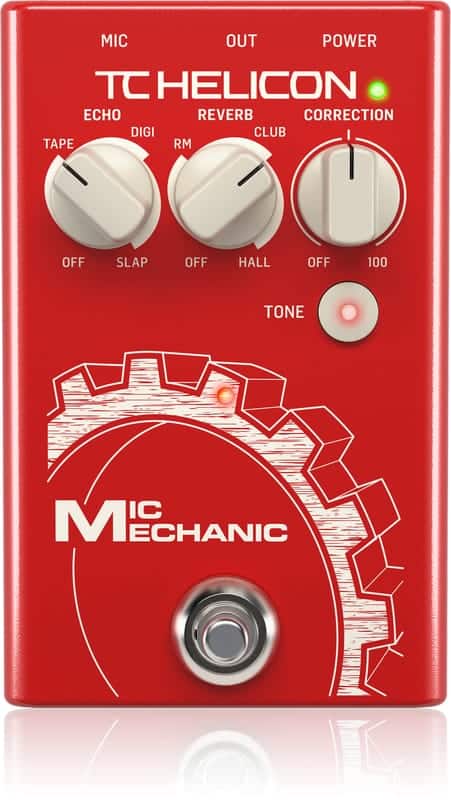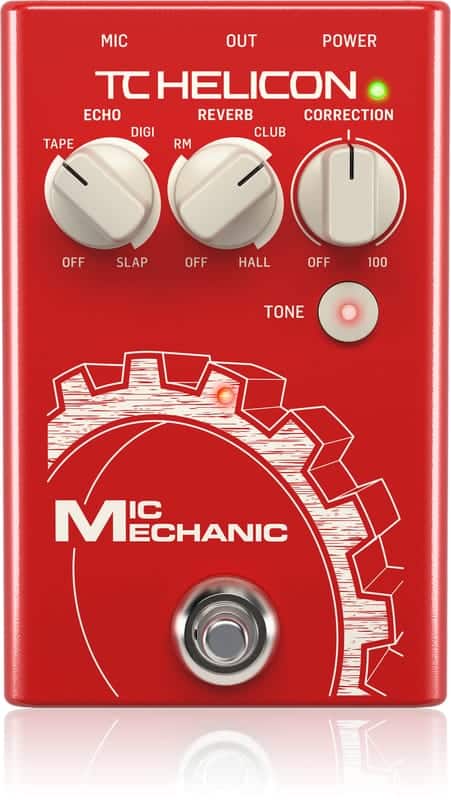 Main Features/Benefits
Simple to use stompbox
Reverb, Echo/Delay, Adaptive Tone & Pitch Correction
High-quality & low-noise mic preamp
Built to last with durable die-cast metal casing
Portable stompbox-style with a single footswitch
Optional battery-powered operation (4 x AA batteries – 4/5 hours)
Auto-chromatic pitch correction
Intelligent mic input gain adjustment
Tap tempo control to adjust delay/echo pace
Compatible with TC Helicon's 'Remote Mic Control' when using the TC Helicon MP-75 or MP-76 or by using the TC Helicon MCA100 with any dynamic microphone
USB connection for firmware updates
A power supply is included
Designed & engineered in Canada
3-Year Warranty Program*
Setbacks
Have to manually change the delay style with the control knob, as it does not have a footswitch for this… meaning you'll have to stick with one delay/echo style per song. But you can easily engage and disengage the pedal with the main footswitch.
Access to the 'Remote Mic Control' functionality means that you have to purchase and use the TC Helicon microphones (MP-75/MP-76) or TC Helicon MCA100 (cheaper option)
Controls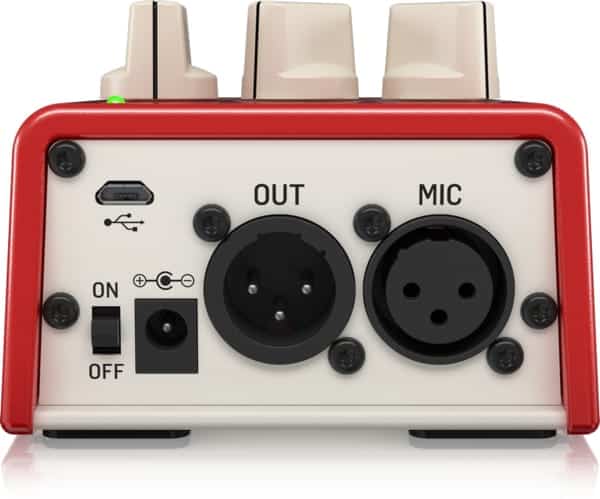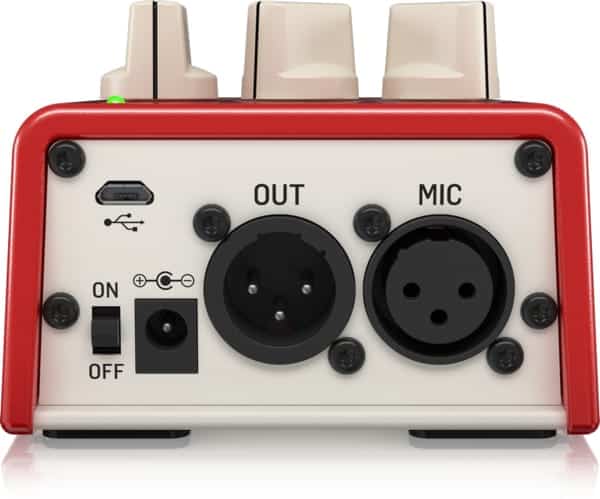 As with a lot of TC Helicon's products, the Mic Mechanic 2 has been designed with ease of use and usability being at the forefront of their agenda.
With that being said, let's discuss the specifics about the unit's controls:
The unit has three main control knobs, a button and its main footswitch, all of which control 100% of the output sound.
The left control knob is used to adjust between the different styles of echo, which are 'tape', 'digital' and 'slapback', and this control knob also determines the level of echo applied to the output signal… So it has multiple uses.
The middle control knob is used to adjust between the different styles of reverb, which are 'room', 'club' and 'hall', and yet again, this knob also determines the level of reverb applied to the output signal.
The right control knob engages/disengages and adjusts the balance of auto-chromatic pitch correction which is applied to the output signal, especially useful for a subtle frequency nudge if your pitch is slightly flat or sharp during a performance.
Located directly under this control knob is a 'Tone' button, which controls what TC Helicon like to describe as Adaptive Tone, where the unit's circuitry analyses the input vocal and adjusts EQ, compression, gating and de-essing automatically; Helping improve the output signal and give it more clarity to cut through the mix (refer to the demonstration video featured below).
The unit has a large footswitch which is used to engage and disengage the processor at any time.
Finally, the Mic Mechanic 2 has an extremely useful feature where users can control the unit directly from their microphone, which is called Mic Control™.
Now, there are only two microphones which are compatible with the Mic Mechanic 2 and can be used to control its engage/disengage it without being near the footswitch, which are the MP-75 and the MP-76…
However, TC Helicon has just released an adapter (TC Helicon MCA100) which can turn any dynamic microphone into a Mic Control™ compatible unit, all by just plugging in the MCA100 to the bottom of your favorite mic.
With that being said, let's take a look at the back of the unit:
The Mic Mechanic 2 has an intuitive, straightforward input and output section on the rear of the unit.
It features 1 XLR mic input and 1 XLR mic output.
Additionally, the Mic Mechanic 2 has an on/off switch and a USB port, which can be used to update the unit's firmware.
Regarding the unit's power source, it can be powered both via the unit's 9v (included) power supply, or via battery power (4 x AA batteries) which will provide around 4-5 hours of operation.
As far as we're concerned, TC Helicon have designed the Mic Mechanic 2 with simplicity of the end-user in mind, and the back of the unit doesn't disappoint in this regard.
Performance
We've included a video demonstration of the TC Helicon Mic Mechanic 2 in action, which also includes commentary from one of the lead designers of the unit:
Conclusion
In our opinion, the Mic Mechanic 2 is a fantastic option of singers who are looking for a reverb/echo unit that also provides pitch correction and EQ/compression and gating… All in a unit which is incredibly easy to operate.
With that being said, due to the simplicity of its operation, it's ideal for use in both a rehearsal and live performance environment,
The main advantage of this unit being that you can set effect parameters (reverb, delay, echo) whilst ensuring that any slightly flat/sharp notes are being pushed up or down to the nearest semi-tone, and whilst also making sure that your vocals are cutting through the mix with its adaptive tone EQ, compression and gating.
Not only this, but with the unit having adaptive input gain, you don't need to worry about microphone clipping, so that's another relief.
Overall, it provides incredible value for money, and as with all of TC Helicon's products, the Mic Mechanic comes with a 3-year warranty.
We have to give this unit a thumbs up, and we highly recommend this to any singers looking for a simple solution for getting a better overall vocal sound.