In this product review article, we're going to be talking about the TC Helicon E1, which is an echo and vocal delay pedal.
The company which is TC Helicon generally need no introduction when it comes to discussing vocal effects technology, as they've been pioneering the industry since the early 2000's when the company was initially founded.
TC Helicon was recently acquired in 2015 by Music Tribe, who is the parent company of Behringer, Bugera, Midas, Turbosound & Klark Teknik.
None the less, in the 19 years that the business has been in operation, they've managed to produce several well-known effects units, including the VoiceTone series (which the E1 unit is part of), alongside other series such as the VoiceLive series.
As always, we've constructed our product review of the VoiceTone E1 in a way which not only talks about its unique features, but also includes high-quality images, demonstration videos and informational videos.
This way you'll have a well-rounded insight to decide whether the E1 pedal is ideal for you.
Ok, so let's get into talking about the TC Helicon VoiceTone E1:
TC Helicon VoiceTone E1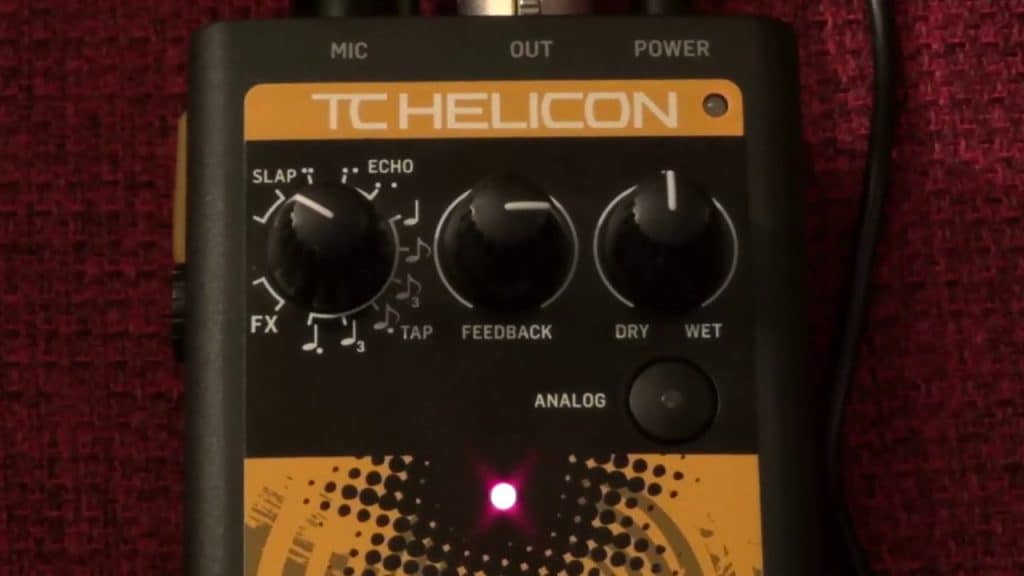 Main Features/Benefits
Echo & Delay unit by TC Helicon
Simple 3-knob control interface for operation
High-quality & low-noise mic preamp
Built to last with durable die-cast metal casing
Portable stompbox-style with a single footswitch
Ability to chain to other VoiceTone Single pedals & the TC Helicon Ditto Mic Looper
13 delay styles
Analog button for softer sounding echos
Tap tempo control to adjust delay/echo pace
Compatible with TC Helicon's 'Remote Mic Control' when using the TC Helicon MP-75 or MP-76 or by using the TC Helicon MCA100 with any dynamic microphone
USB connection for firmware updates
A power supply is included
Designed & engineered in Canada
3-Year Warranty Program*
Setbacks
Have to manually change the delay style with the control knob, as it does not have a footswitch for this… meaning you'll have to stick with one delay/echo style per song. But you can easily engage and disengage the pedal with the main footswitch.
Access to the 'Remote Mic Control' functionality means that you have to purchase and use the TC Helicon microphones (MP-75/MP-76) or TC Helicon MCA100 (cheaper option)
Controls
The TC Helicon VoiceTone E1's control interface has been designed to be incredibly simple and intuitive to use.
It has three main knob sections which are used to control the overall echo & delay sound.
Let's delve deeper into what exactly these three sections actually do: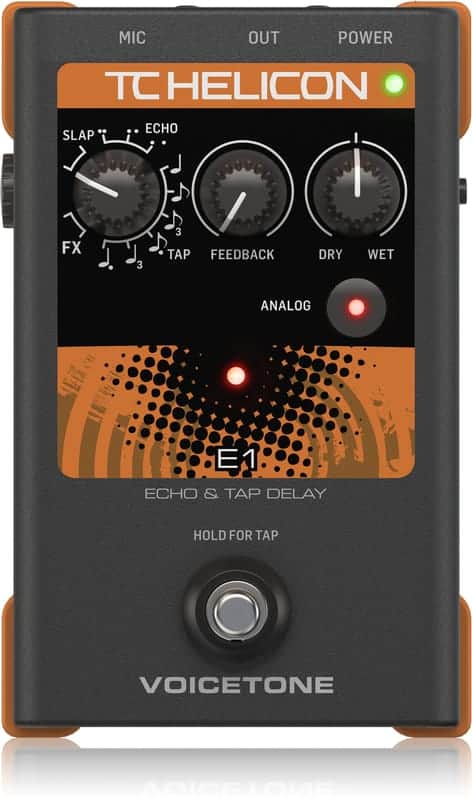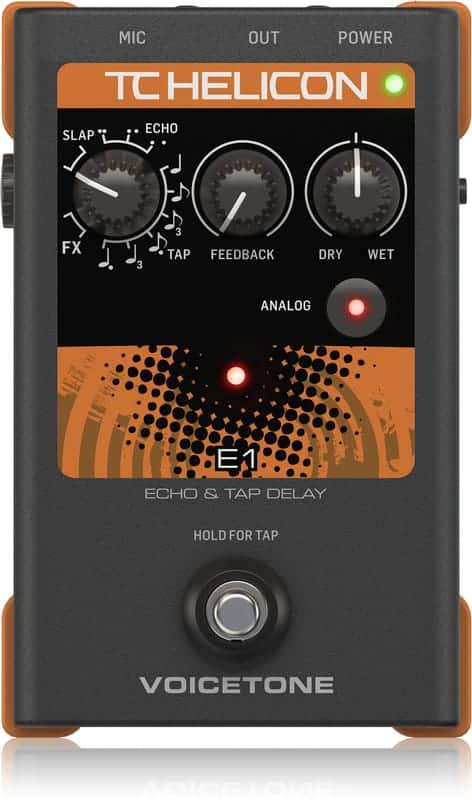 The left control knob is used to select 1 of the 13 different delay styles, which include slapback/flutter echos, non-tempo matched echos, timed echos, special effects echos and much more.
The middle control knob 'Feedback', controls the length of the echo repeats
The right control knob is used to adjust the level of dry (raw input) and wet (echo) signal; Hence, turning this over to the left will provide less echo in the final mix, and turning it over to the right will provide more echo in the output mix.
The E1 unit also has an 'Analog' button, which is used to provide a softer sounding echo. It does this by rolling off the high frequencies, similar to how a tape machine echo sounded in the 60's/70's.
It has a large footswitch which is used to engage and disengage the unit's effects, especially useful during a live performance, where you can engage and disengage the effects easily, without having to bend down.
Finally, the Voicetone E1 has an extremely useful feature where users can control the E1 directly from their microphone, which is called Mic Control™.
Now, there are only two microphones which are compatible with the Mic Mechanic 2 and can be used to control its engage/disengage it without being near the footswitch, which are the MP-75 and the MP-76…
However, TC Helicon has just released an adapter (TC Helicon MCA100) which can turn any dynamic microphone into a Mic Control™ compatible unit, all by just plugging in the MCA100 to the bottom of your favorite mic.
With that being said, let's take a look at the back of the unit: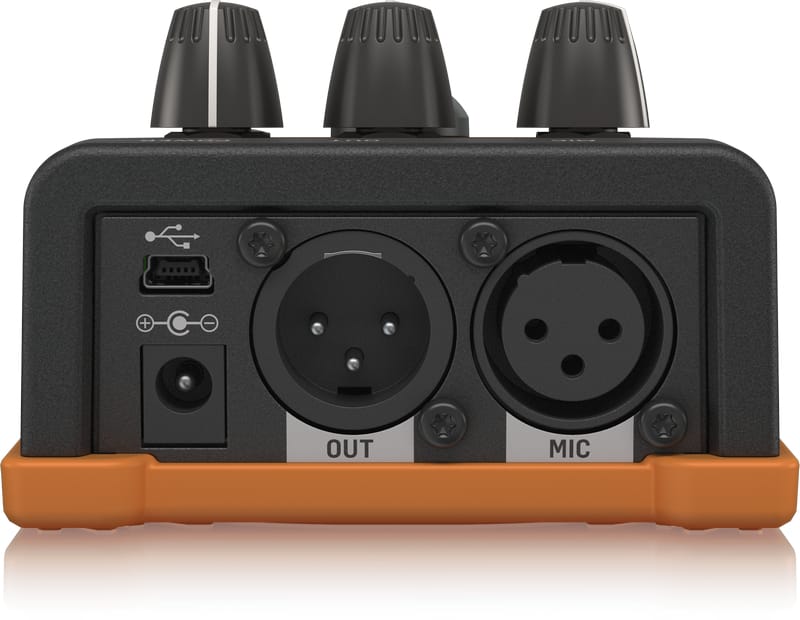 As you can see, the E1 has a relatively straight-forward input/output section, featuring 1 XLR microphone input and 1 XLR output.
Additionally, the unit has a USB input, which can be used to plug it into your computer/laptop and update the E1's software.
Regarding the unit's power supply, it takes a standard 9v power supply, and is not capable of being operated by any other means (that's a no to battery power).
None-the-less, this unit has been designed with simplicity in mind, and the back of the unit doesn't disappoint on that front.
Performance
We've included a video demonstration of the TC Helicon E1 in action, shown below.
Conclusion
In our opinion, this unit has a good level of versatility when it comes to providing echo sounds, and the tap tempo button really differentiates it from other units which provide echo/delay.
Therefore, if you're looking for a unit which offers a lot of delay/echo styles and settings, the VoiceTone E1 is a fantastic solution for you!
However, if you're looking for a pedal which provides a lot more functionality (pitch correction, auto-EQ, reverb, optional battery powered), and also provides a more limited range of echo/delay settings, then we suggest taking a look at the following TC Helicon Mic Mechanic 2 Review, since the unit is priced very similarly to the E1.
None-the-less, as with all of TC Helicon's products, the VoiceTone E1 comes with a 3-year warranty.
Overall, we have to give this unit a thumbs up, but as we mentioned, in our opinion, the Mic Mechanic 2 has more functionality for your money.