Unusual guitar designs never get old, they do, however, get more creative and a lot stranger.
From the bigfoot guitar to guitars built from Legos, and steampunk to Star Wars guitars, maybe not all of them sound great but they are definitely fun to look at.
What do you think of weird, crazy designs when it comes to your axe? Would you play a guitar that doubles as a sword?
There are hundreds of unusual designs for guitars throughout history, some play nicely, some never intended to actually been strummed yet all were a vision of an artist and we can appreciate that.
These are just a few of our favorites in no particular order that we think you will Enjoy!
Real Lego Guitar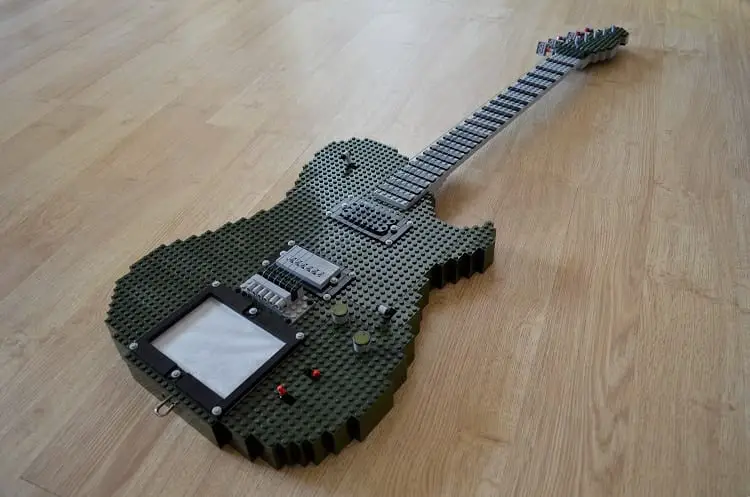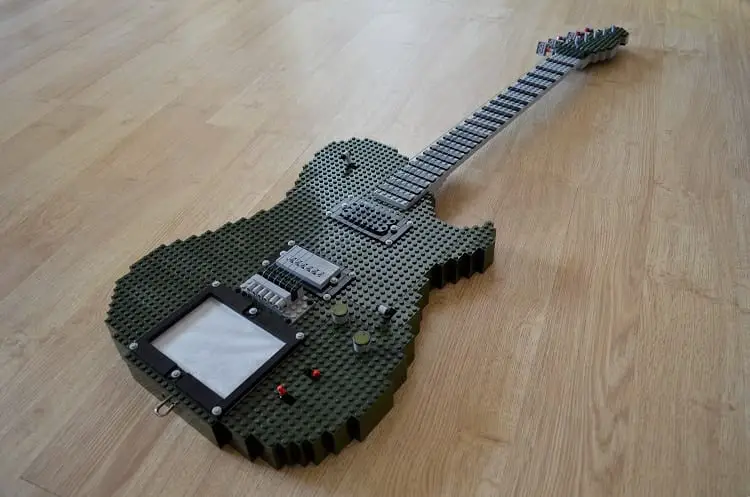 The black Lego guitar is actually a fully functioning instrument with the complete case made out of the favorite childhood building blocks.
You can jam out with your friends, and if a block of the guitar falls off, just snap it back together.
The Lego guitar comes complete including pick-ups, bridge, and all of the functioning parts, all this beauty needs are some strings.
Seeing how Legos have been around for many decades I'm sure you have some in the attic so why not build your own?
Star Wars Guitars
While we're on the subject of toys from childhood, how about some Star Wars guitars?
Designers and fans of the epic saga have found a way to incorporate Star Wars into just about anything, so guitars should come as no surprise. And we have to admit, they are kind of awesome.
Depending if you choose to play your (han) solo, or just rip off some C (3PO) cords there is no doubt you'll be a force to be reckoned with.
Ultimate Steampunk Guitar
Steampunk is still as popular these days as the 1960s and 1970s, so it's not surprising to find a few guitars out there made in this style.
These can get pretty elaborate, and they look great. Thunder Eagle guitars made a fun looking guitar from copper pipes and gears.
Complete with pipes and gauges and beautiful gears – the Thunder Eagle amazingly it sounds as good as it looks.
The creator modified a Rhodes Jackson V, using copper plating, some pickups, re-facing the gauge, and adding some wonderful paint effects.
Bigfoot Guitar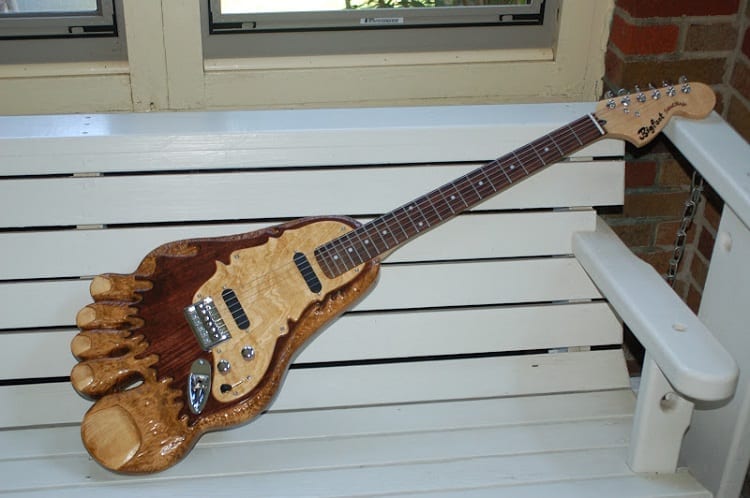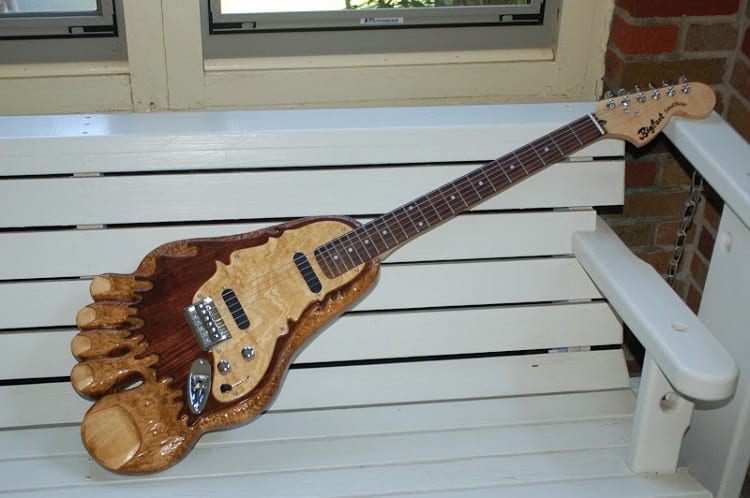 From the famous guitar maker George Marlin comes the magnificent BigFoot guitar, which he displayed at the Miami Beach Guitar Festival.
This original Sasquatch sound box is actually just the foot of Bigfoot.
An earlier attempt by Marlin at a full size Bigfoot guitar, was found to be too difficult to hold (at 10 feet long) and it was apparently scaring off the neighborhood kids as well.
Not sure how it sounds, but in rock n' roll, image is most of the show and this guitar looks pretty freakin' gnarly.
Swiss Guitar
Ron Thal, aka Bumblefoot, is famous for his stint with Guns N' Roses. His custom Vigier double-neck better known as Double Foot and of course the Vigier Flying Foot guitar.
But it was his Ibanez Roadster Swiss Cheese Guitar that first gained him fame as an iconic designer.
Vigier even did a limited edition of replica "Swiss Cheese Guitars" which sold out quickly, even if it was a bit "cheesy"
Sword Guitar
Many guitars have taken a 'stab' at being designed around the concept of a sword. One of our favorites is the VLINE.
The unique VLINE 'SWORD' was made by Vincent Berton, a French Avant garde luthier in the early 1980s, who worked on the famous Paris guitar road – the Rue De Douai.
It looks like something from out of the Excalibur days. Can you imagine if King Arthur pulled this bad boy out of the stone and ripped off some riffs? 
Mermaid Guitar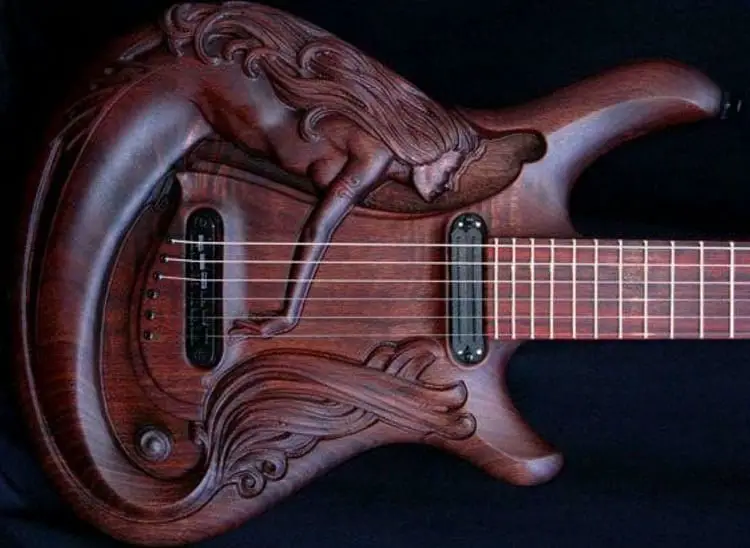 This one also happens to be a beautifully crafted guitar.
Andy Mason, the artist and musician responsible for this gorgeous yet completely bizarre, fully-functional guitar in the shape of a mermaid, built his first guitar in 1967 using whatever materials he was able to find in his father's garage.
Ever since, the incredibly talented craftsman has made everything from lutes to mandolins—as well as a series of guitars for John Paul Jones and Jimmy Page.
A few of which, were of the elegantly double-necked variety that Page was especially well-known for playing.
Not exactly for Ariel fans, Mason's life-sized "Mermaid" guitar took three years to build and is comprised of nineteen different types of wood.
And, according to Mason requires a guitarist with "sensuous posture" to be successfully played.
Prince Guitars
If you stop and think about musicians with the weirdest guitars, it probably won't take too long until you get to this famous guy.
Not only was Prince a truly talented musician, he also happened to like playing weird, cool guitars.
Prince played a variety of unique guitars from his custom-built purple guitar, shaped like the symbol he once replaced his name with, to the Cloud Guitar and what is known as Purple Special, his final guitar.
Map Guitar
Now, this is where Gibson got really, really weird. Gibson's Map guitar is shaped like the map of the United States of America.
Yes, somebody actually had that idea in mind. Although it was produced by Gibson, the original builder of this guitar was James Hutchins, and it was first sold under the Epiphone brand.
Surprisingly enough, it actually sold well. And after witnessing its success, Gibson decided to put their name on the headstock.
Aside from its non-ergonomic shape, the guitar has classic features, like two volume and two tone knobs, and two humbuckers.
There were, however, certain versions with three knobs. These were produced back in 1983 and 1984 and featured mahogany bodies and maple necks.
I guess if you're touring the country and get lost you can just check your instrument for directions to your next gig.
Reverse Flying V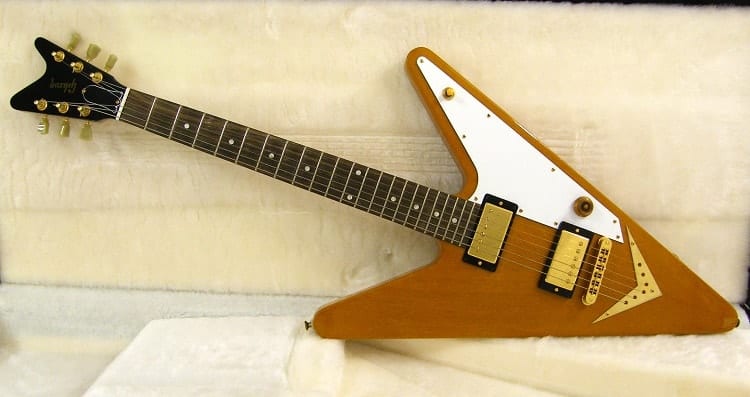 A Gibson classic, made in 2007 and 2008, the Reverse Flying V was manufactured in honor of the Flying V's 50th anniversary.
Despite the odd shape, the guitar was a rather successful seller. After the initial series of 400 guitars, Gibson made an additional 900 pieces in 2008, 300 each in: Classic White, Natural, and Ebony Black.
The guitar's headstock was "borrowed" from the old Futura/Explorer design conceived back in the late 1950s; it somehow went well with the reverse V shape.
The rest of the features are the same as the classic V, although there were some minor differences between the 2007 and 2008 series.
The Pikasso Guitar
Talk about a piece of art! Four necks. Two sound holes. 42 strings. Two access doors; one on the upper player's side and one at the tail block.
Created by luthier Linda Manzer for guitarist Pat Metheny, the instrument took 2 years to build (approximately 1000 hours).
When the 42 strings are strung up to high tension, the Pikasso is under approximately 1000 lbs of pressure. It weighs 6.7 kg or 14 3/4 lbs.
The Pikasso Guitar was specially built for jazz fusion virtuoso Pat Metheny, who can play that stringed Escher painting better than the rest of us can do most things.
The body is tapered so that the side closest to the player is thinner than the side that rests on the player's knee, thus leaning the top, back towards the player for a more aerial view. This is also more comfortable under the player's arm.
The instrument is outfitted with a complete state of the art piezo pickup system. This included a hexaphonic pickup on the 6 string section.
This feature allowed Metheny to access his Syclavier computer system thus triggering any sound in the system, including sampled sounds.
Two mounting holes are placed on the treble side (knee side) so that the guitar can be mounted on internal brass insets and attached to a stand, leaving hands free for playing or viewing.
The Multi-Neck Guitar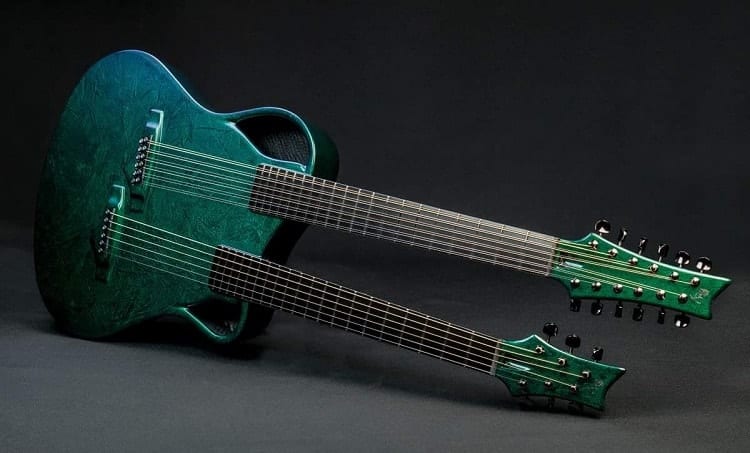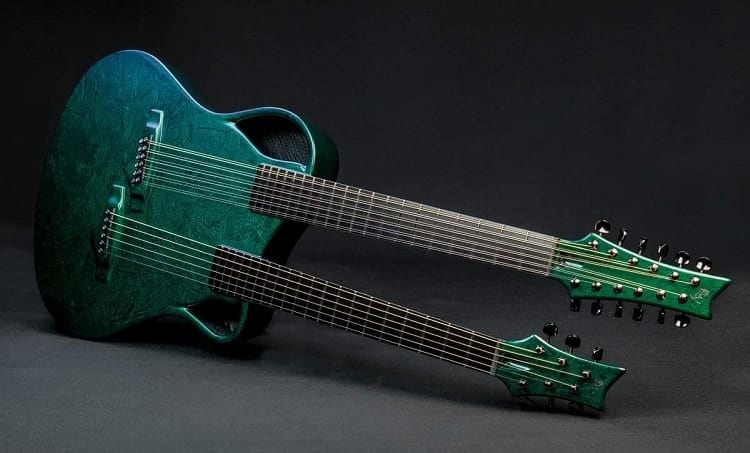 Cheap Trick's lead guitarist Rick Nielsen looks at your feeble double-neck guitar with its puny, two little necks, and just shakes his head.
Now we've seen multi-neck guitars before, but this one takes the cake.
Not sure any of us mortals could actually jam on this guy but we know Rick could play it or maybe it's made for an octopus.
Conclusion
We realize that thousands of unusual guitars have been created and this is a small sample of what is out there and who is known for the weird guitars they played but our goal was to entice you to dig deeper into the realm of oddities out there and what is possible to turn into a jamming axe that is uniquely your own.
What is your favorite weird guitar out there and who plays it? Let us know in the comments below.