If you're looking for a way to freshen up your strat sound, you'll need to get your hands on a set of strat pickups.
There are many types to choose from.
How does a strat pickup work?
Basically all pickups will work in a similar way: they convert a guitar string's vibration into an electric signal to create a sound. They use magnets to channel these vibrations.
With that in mind, we feature popular strat pickups for your guitar in this review. From Fender to Seymour Duncan and more pickups, you're sure to find your best pickups for strat right here.
Now that we've looked at some general specs of the best strat replacement pickups for your guitar, let's look at their features in greater detail to help you choose which one is worth your hard-earned money!
Our Recommendations For The Best Strat Pickups For 2021
Overall Winner: Fender Tex-Mex Strat Pickups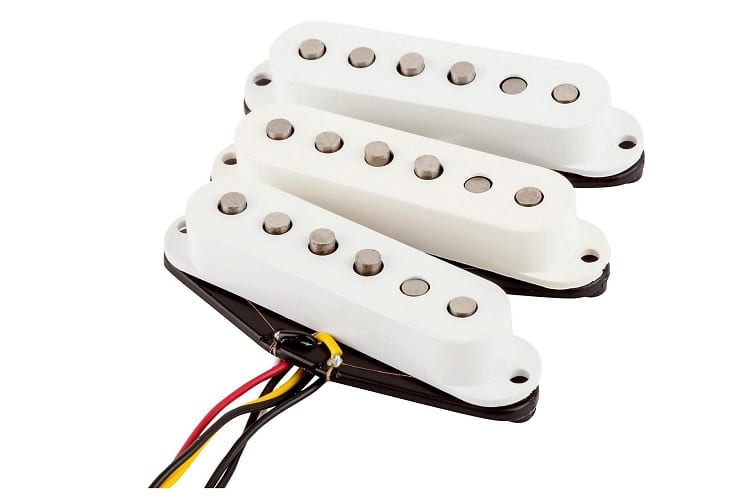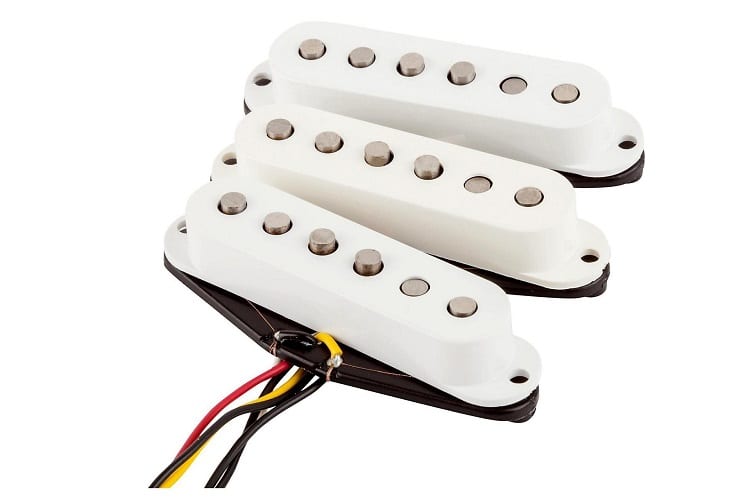 When you use your stratocaster, you want to be able to achieve crystal-clear sounds, but other times you want to be able to rock out with a warmer tone, right?
If you own a vintage-style stratocaster, you'll want this Fender pickup. Here's why.
Benefits
It comes with staggered pole pieces. This is what gives the pickup such a balanced output.
It's made with Alnico 5 magnets that create a dynamic sound.
You'll get maximum output with this pickup, thanks to its vinyl-coated output wire.
Your goal is to create clear music that doesn't have that annoying hum, right? This pickup meets your needs because it has a reverse-wound/reverse-polarity middle pickup.
Extra Features
It comes with all the hardware you need included in the pack for the ultimate convenience.
Drawbacks
The bobbin is made of plastic, but that's not necessarily a downside of the product. It really depends on your preference as some people prefer fiber bobbins.
People who have purchased these pickups have reported that they're not that great to accommodate metal sounds, however they're excellent for hard rock thanks to how the bridge pickup remains tight. That's something to bear in mind if you're looking for a pickup for metal.
Buying Advice
This Tex Mex pickup is one of the best single coil pickups for strat and it costs around $130. It's got everything you need for quick and easy installation, which is one of the reasons why it's worth it.
Runner-Up: Wilkinson Lic Cream ST Strat Vintage Voice Single Coil Pickups Fits Stratocaster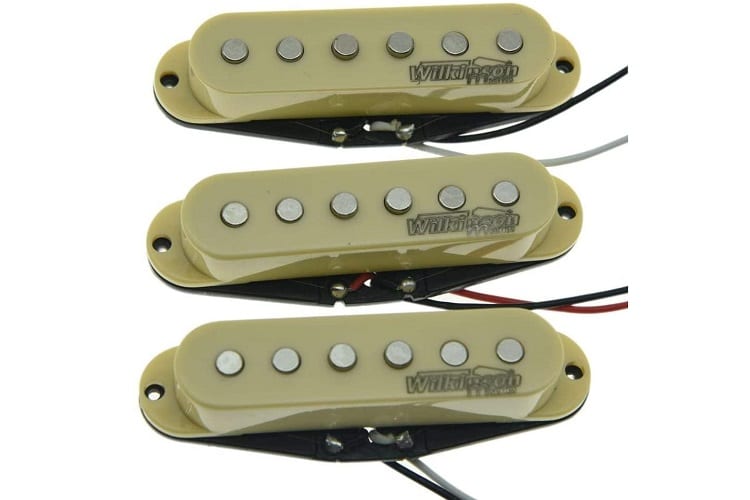 These are factory parts, but they have many benefits. Let's check them out!
Benefits
These pickups have ceramic magnets.
They offer a classic staggered pole piece design.
This is a pickup that's meant to deliver vintage tones, but you'll be able to make use of a variety of tones. Even though they're made of ceramic, they are surprisingly good!
Features
This pickup set comes with items to help you during installation –  you'll receive six chrome mounting screws and springs in the box. 
When you roll off the tone pots, these pickups can create a sultry sound.
Drawbacks
One of the drawbacks is that this pickup doesn't come with any instructions included or even packaging. That's because they're factory parts.
Other people who have purchased this product have stated that they don't like the cream-colored covers but that comes down to personal preference.
Buying advice
The fact that these pickups are factory parts means that you can get them for a decent price – they're going for around $30 on Amazon.
They're one of the best stratocaster pickups because they've got excellent reviews thanks to how they go the extra mile with their surprising quality.
Alternative 1: Seymour Duncan California '50s Strat Pickup Set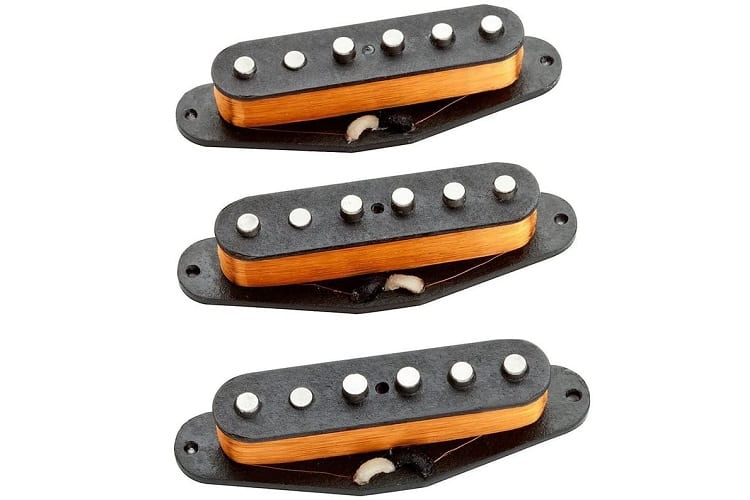 These stratocaster replacement pickups are used by many famous artists, such as Doug Pettitbone, Scott Henderson, as well as the guitarists who play for artists such as Alanis Morissette! Here's why they're so good.
Benefits
These are vintage-style strat pickups that will help you recreate sounds from the '50s and '60s.
With the Seymour Duncan California '50s Strat Pickup Set, you will be able to enjoy classic, rich, and warm tunes. This ensures they will enhance a variety of music styles, such as country, rock, and pop.
These pickups come with reverse-wound/reverse polarity middle. What that means is that they'll give you an improved range of classic single-coil strat tones.
Extra Features
The forbon bobbins are hand-made and lacquered. FYI, forbon is a type of fiber.
The addition of the Formvar magnet wire creates that vintage vibrancy in your music that you'll love. 
They come in a stylish black color.
Drawbacks
Some people who have purchased these strat pickups have reported that they felt they could've been more powerful at the bridge.
Buying advice
These are some of the best Seymour Duncan pickups for strat because they're a game-changer, offering quality vintage sounds that are versatile enough to be used in a variety of music styles. They cost around $160.
Alternative 2: Set of Alnico V Single Coil Pickup Set SSS for Strat Style Guitar Black Color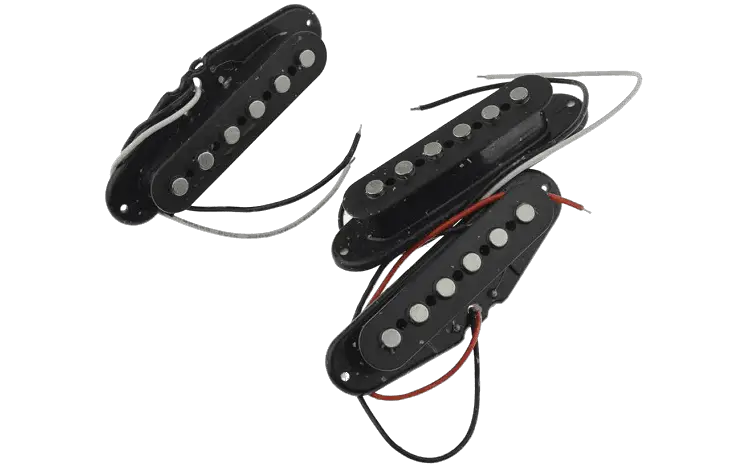 If you're looking for a more budget-friendly option to give your strat a makeover, this one is worth checking out. Here's why.
Benefits
These pickups make use of Alnico 5 magnets, so they're built with quality in mind. You can achieve rich, vibrant sounds with them that maintain their clarity.
These pickups are wax potted.
The central pickup is reverse wound, which helps to reduce noise.
Extra Features
They come with all the screws and springs you need to install them successfully. 
Drawbacks
One of the problems you might encounter with this set is that the wires are a little short. This could require you to make adjustments, such as by soldering extensions for them.
Another problem is that some people have reported that these pickups aren't as well made when it comes to their finishing, especially when compared to other, more expensive brands.
Buying Advice
This strat pickup set is really value for money, coming in around $15. While it's said to be best for when you want to achieve a crystal-clear sound, for the price they're definitely worth it.
Alternative 3: Seymour Duncan SSL1 Vintage Staggered Single Coil Pickup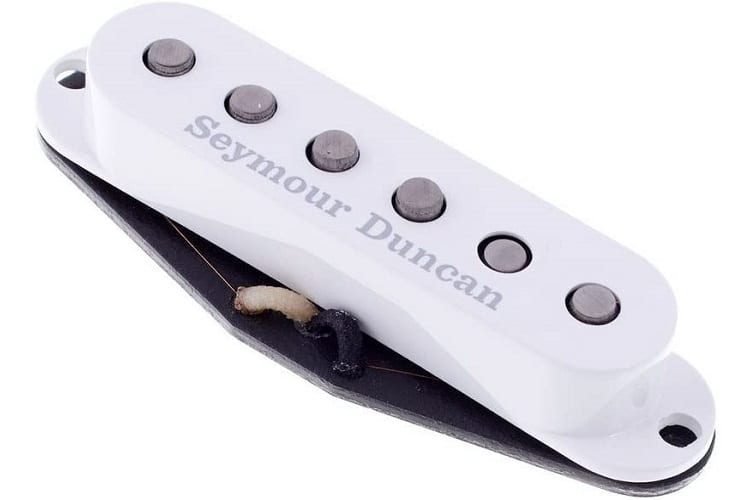 If you love the vintage strat sound and want to replicate it, then you'll love this Seymour Duncan pickup, with its bell tones and bites!
Benefits
This pickup makes use of Alnico 5 magnets as well as Formvar mag wire. The combination creates that sparkly bell tone of bygone eras.
It contains tinned cloth and waxed pushback hookup wires. The waxing helps to reduce squealing.
It comes with a reverse-wind/reverse polarity feature that you can choose to ensure hum-canceling is achieved in your music.
Extra Features
This strat pickup is hand-crafted in California.
You can purchase one that's suitable for left-handed guitar players, which is a bonus.
Drawbacks
Some people who've purchased this pickup have reported that it's a bit mellow and flat when playing certain music styles. This might be problematic for you, but it really shines when it comes to vintage sounds.
Buying advice
These Seymour Duncan pickups cost around $60. They're still value for money as compared to splurging on a $100+ pickup set, but they offer as many great qualities.
Strat Pickups FAQ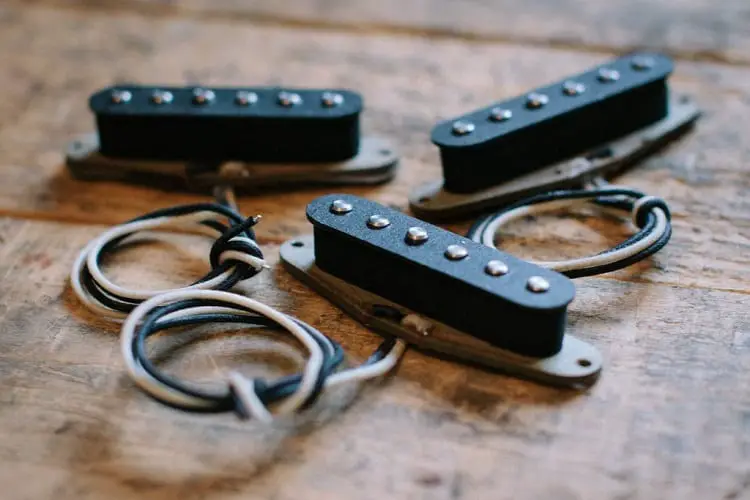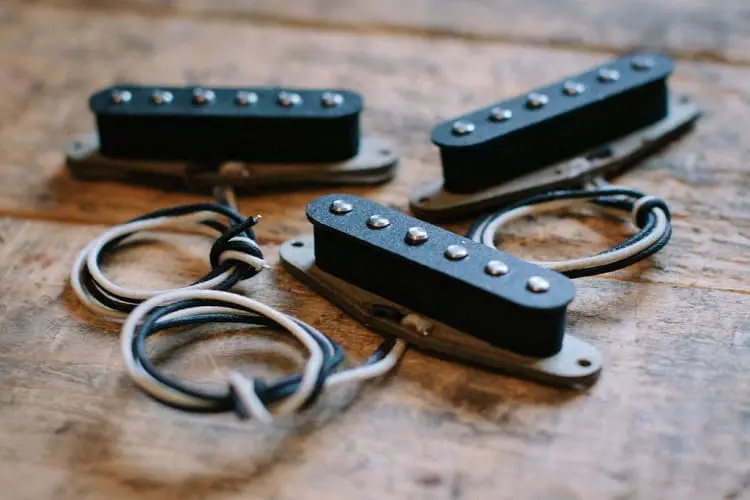 Now that we've looked at five of the best strat pickups for your guitar, you might still have some questions, especially if you're new to the strat world.
Here are some commonly-asked questions about strat pickups and what you should know about them.
How to get a cleaner tone with your guitar?
If you're battling to achieve cleaner, clearer tones with your guitar, there are some important things you should do. These include:
Avoiding Super Distortion pickups as these will prevent you from achieving those sparkly tones that you desire.
Being wise about the type of pickup you choose for your guitar. You should choose pickups according to your playing preference. So, if you play really loudly, avoid overwound pickups as they can create noise. Opt for low-output pickups instead to maintain clarity.
Choosing the right strings. You should choose strings that match your style. So, if you want to achieve a more classic sound, you should opt for half-rounds or flatwound strings.
What is the difference between telecaster and strat pickups?
The strat and telecaster tend to have similar electronics, such as when it comes to master volume control.
However, the telecaster has one tone control while the strat has tone knobs for middle and bridge pickups. That said, both possess single-coil pickups.
A telecaster tends to have two single-coil pickups. Its bridge pickup is usually wider and longer than what you'd find on a strat. In addition, it will be mounted on the metal bridge plate. This is why it creates such a strong tone.
Since the telecaster's bridge pickup is longer and wider, this also means that you can't use the same pickup on the strat and tele because it just won't fit.

What about the sound?
A tele will sound like a full-bodied jazz guitar, while a strat will offer more glassy tones. That means that these pickups should be woody with "plink."
This is the term to describe the sound when you flick the rim of a wine glass.
Are Mexican strat pickups any good?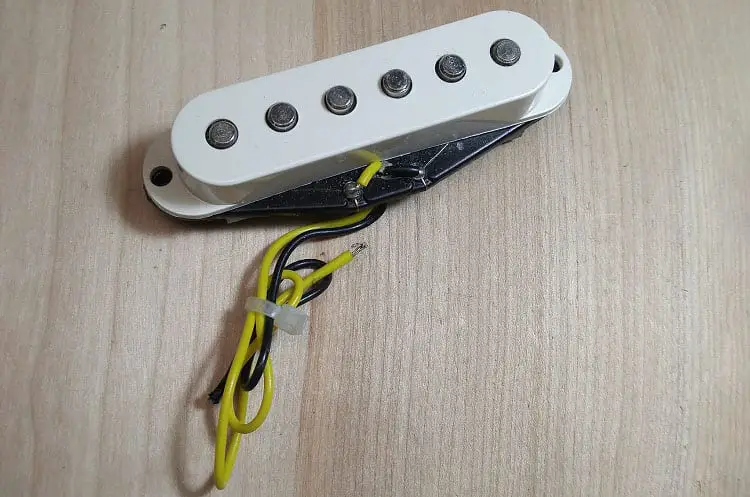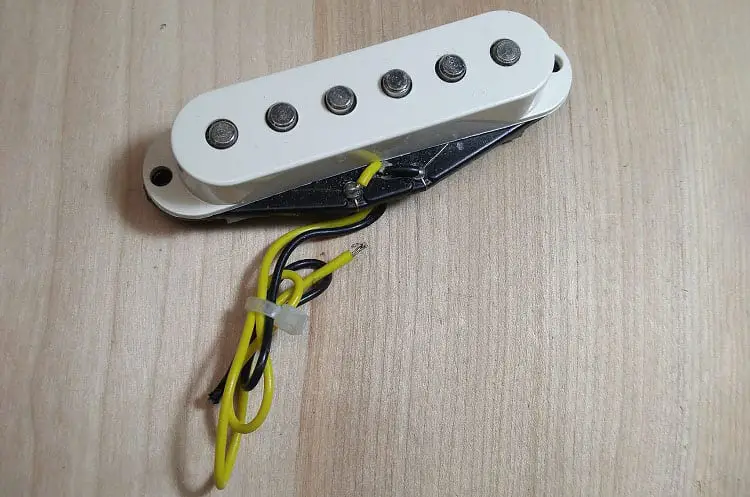 The Mexican strat is basically the Standard strat. It's sometimes called MIM, for Made In Mexico.
It's been said that the Mexican strat isn't as great as the American one and this is because it falls short when it comes to sound and how it feels to play.
That said, Mexican strats have decent prices and are considered to be better than other guitars within their price range.

Some things to note about the Mexican strat is that it has cheaper pickups and bridges.
In addition, the manufacturing process of these guitars has less strict standards when it comes to the guitar's body wood as compared to the strats that are MIA (Made In America).
For some guitar players, they start out with the MIM and then move on to the MIA at a later stage which can prove beneficial, especially if they're just starting out and don't want to spend a lot of money on their strat.
After all, the price difference between an MIA and MIM can be hundreds of dollars!
But, even if you intend on using it for a long time, there are MIM benefits, and these include how it's a solid guitar that won't let you down.
How to replace strat pickup?
You'll need the following tools to replace a strat pickup:
Soldering iron (25-40w)
Phillips screwdriver
Safety goggles
Wire cutters
String winder
Here's what you need to do:
Remove the strings with a string winder.
Remove all the screws around the pickguard, but don't remove the pickup at this point. 
Turn the pickguard over, being careful with it because it will still be connected to the ground wire and jack wires. Make a note of where the wires go as this will help you to install the new pickup later.
Use your soldering iron on the metal part of the switch. When the solder becomes hot it will enable you to remove the wires from the old pickup. It could be a good idea to use tweezers to hold the wires in place when removing them from the switch.
Unsolder the black ground wires from behind the volume pot.
Once your wires have been removed, you can unscrew the pickups.
You should now install the new pickup according to the way in which the old one had been connected.
Cut the wires of the pickup to the right length.
Solder the black wires to the back of the volume pot. You will have to push the outer cloth to reveal the wire so that you can solder it. If you have a pickup wire that's sheathed in plastic you'll need to use a wire stripper.
After you've cut and soldered the black wire, you'll have to repeat the process with the white wires. They should be soldered to the lugs of the five-way switch.
Once you're done, use a screwdriver to tap the pickup magnets to ensure they make a sound at the right spots. 
When you're sure that everything sounds good, you can screw in all the screws and restring your guitar.
Conclusion
If you're interested in purchasing a pickup for your strat, you should go ahead because it's a fantastic move to enhance your sound.
In this article, we've featured some of the best strat pickups on the market.
We've also included some important information on strat pickups so that you can make them work for you and your music style.