In this product review, we're going to be discussing the TC Helicon VoiceLive 3, which is a multi-functional vocal effects processor.
The company that is TC Helicon generally need no introduction in the realm of vocal effects technology. In recent years, they have been pioneering the creation of different kinds of vocal processors, changing the way in which singers have been utilizing effects in both a live rehearsal and performance environment.
TC Helicon was originally founded in the year 2000, but was recently acquired in 2015 by Music Tribe, who is the parent company of Behringer, Bugera, Midas, Turbosound & Klark Teknik.
None the less, in the 19 years that the business has been in operation, they've managed to produce several well-known effects units, including the VoiceTone series, alongside what we're talking about today which is the VoiceLive 3.
We've constructed this article review of the VoiceLive 3 in a way where it not only talks about the features of the unit, but also includes high-quality images, informational videos and video demonstrations of the processor in action.
This way you'll have a well-rounded insight to decide whether this unit is ideal for you.
Ok, so let's get into talking about the TC Helicon VoiceLive 3
TC Helicon VoiceLive 3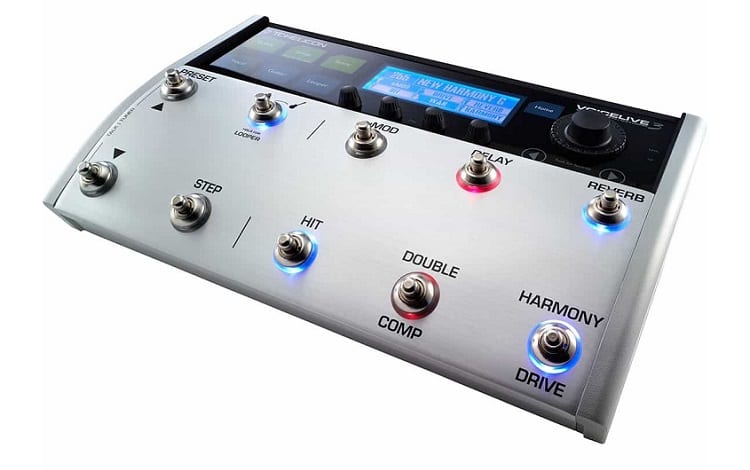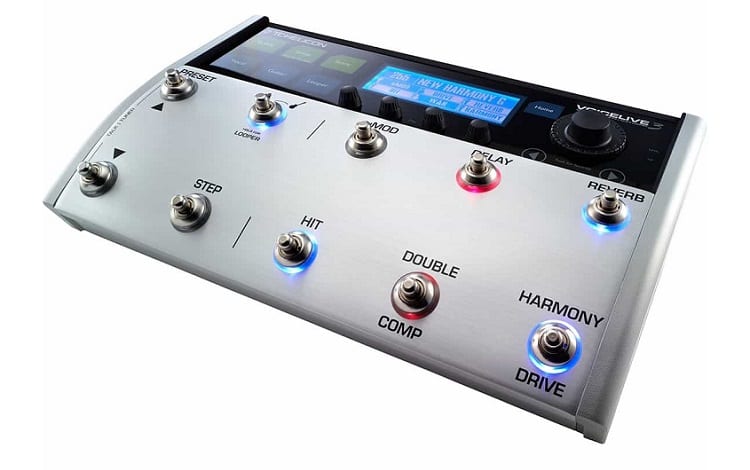 Main Features/Benefits
High-quality audio processing
Automated & reactive gain control, means no clipping
Roomsense™ technology – Listens to music to guide harmonies and other effects in real-time
Integration with guitar and other instruments

Includes guitar-specific effects – (Tuner, Reverb, Delay, Umod, Distortion, Octaver, Rhythmic, Wah Wah, Compressor, EQ, Amp Modelling, Control per preset)

Hundreds of downloadable vocal presets, comes with 500 factory presets

Including Loops, Delays, Reverbs, Doubling, Hardtune, Harmonies, Filtering, Gating, Synth/Vocoder emulation, Transducer, Chorus, Flanger and more
45 Minutes Looping time (8 Mins per track limit)

Adaptive Tone for automatic EQ, compression, gating & de-essing
Allows for Audio recording, looping, automation
Easily record guitar & vocals directly to USB, straight to your DAW
Independent headphone mix for in-ear monitoring
Dedicated outputs for stereo PA, stereo guitar & monitoring
Designed & engineered in Canada
3-year warranty program*
Setbacks
Doesn't have backing track functionality – For that, take a look at the TC Helicon VoiceLive 3 Extreme Review
Rather expensive, but an investment for professional musicians/singers
Has had some programming issues in the past on specific units, but we think the company has fixed these issues, as TC Helicon have now been acquired by Music Tribe (parent company of Behringer, Bugera, Midas, Turbosound & Klark Teknik) – However, it comes with a 3-year warranty for reassurance, so we advise buying it and testing it during practices for a few weeks before taking it on-stage.
Controls
The TC Helicon Voice Live 3 has been designed to provide the most amount of functionality, in a processor which is both versatile and easy to use.
Even despite the unit's size, being a little larger than most vocal processors, we think that the company has done well to fit so many functions into this unit.
Let's delve deeper into the specific interface controls!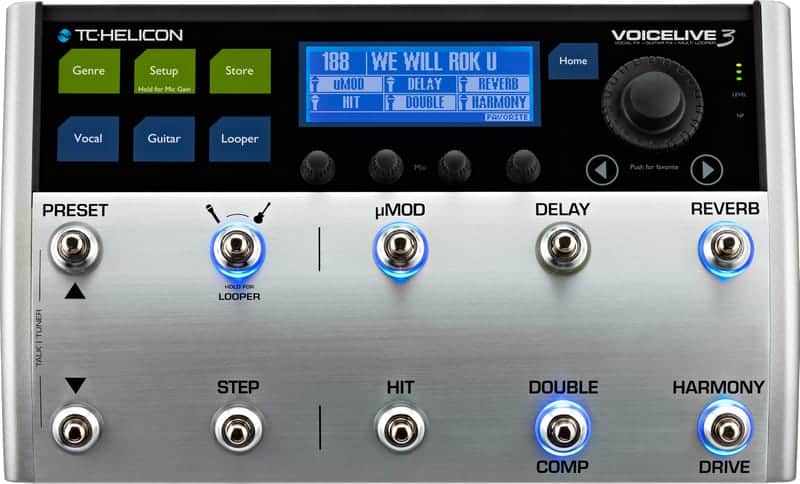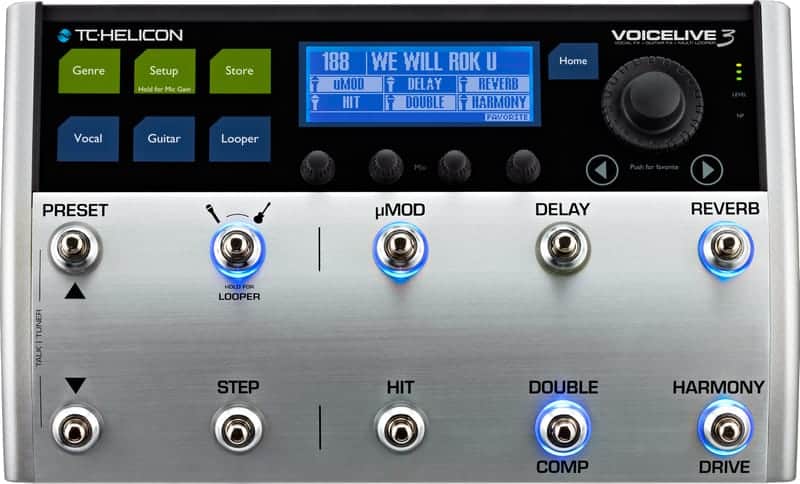 The first impression that we had about the interface's layout is the sheer amount of footswitches that are available to the user, which just makes the process of enabling/disabling certain aspects so much easier… as let's face it, singers need to be in the moment when giving a good performance, not thinking about how to operate their vocal effects unit.
As far as working the unit, it has three primary layers, which are for Vocal Processing, Guitar Processing & Looper Processing. These can be switched between by using the Looper Footswitch, located next to the Preset Footswitch.
Once you have selected either the Vocal, Guitar or Looper Track layer, the effects such as uMod, Delay, Reverb, Double/Com, Harmony/Drive and more, can then be used to further modify your mix.
The Genre button enables the user to choose presets that fit within their preferred genre/style of music… It simply allows for users to filter the presets, making it easier to find more suitable sounds that they can use.
However, the VoiceLive3 also allows users to search through presets without filtering via genre, which is great when you're still discovering all of the unit's features and presets.
The Setup button allows you to access of the VL3X's system settings, including input, output, guitar, MIDI and tone settings. VL3X system calibration can be done by holding the Setup button down and following the on-screen instructions.
The Vocal button can be used to make changes to the vocal effects for your current preset. Similarly, the Guitar button can be used to make changes,  to the guitar effects for your current presets, and finally the Looper button allows for loop options to be controlled.
The Mix knobs, located under the main screen, are used to make specific parameter changes for effects/presets.
The unit's Home button enables the user to visit the main menu at any point, useful if you've got lost in a sub-menu.
Take a listen to this video which explains all of this in a visual format:
Now let's talk more about the back of this unit, and more specifically about the connectivity options that you have:


As you can see, the TC Helicon VoiceLive 3 has a range of inputs/outputs located on the back of the unit, all of which make it incredibly useful and versatile whether or not you're playing at a rehearsal, a live performance or simply recording in your home studio.
Regarding the specific inputs, from left to right, they include:
Mic/Line combination input
Guitar Thru & Input
Aux (1/8″ inch jack) stereo input
Monitor Input & Thru
Outputs include:
L (Mono) XLR output
R (Dry) XLR output
Guitar L + R output
Footswitch TRS output
Expression TRS output
Also, it includes:
MIDI input/output
USB
Micro USB
12V DC power adapter input
Power switch
Performance
We've included a demonstration of the VL3 in action, and as far as we're concerned, it sounds awesome with the combination of high-quality vocals, guitar input, and added effects:
Conclusion
The VoiceLive 3 is clearly a unit which provides high-quality audio and effects for both guitar and vocals. And overall we quite like this unit.
Although one specific aspect that we're not keen on is the price… It seems to be priced higher than the TC Helicon VoiceLive 3 Extreme, which is an "upgraded" version, providing backing track functionality and 4x added loop time.
Therefore, although we like the unit, we simply cannot recommend it over the upgraded version.
None-the-less, the VoiceLive 3 comes with a 3-year warranty, so you can rest assured that if any technical issues arise, they can be resolved quickly and without any expense.
Overall, we have to give this unit a thumbs up, but as we mentioned, the price of the upgraded version is cheaper, so we can't recommend it!